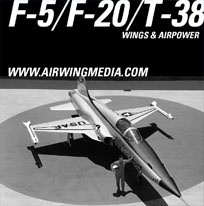 Price: $29.95
CD contains 10 magazines
All in Acrobat PDF format
Content is keyword searchable
Print a personal copy
Allow 1 week for US delivery
Top Gun school of Dogfighting
Italy's Cant Bombers
Last of the P-40 Line
Four Decades of Jet Trainers, from T-33 to T-46
Red Bomber Mainstays 1935 to 1945
McDonnell F-85 "Goblin" – Fighter on a Trapeze
F-14 to F-20, Handicapping the Best of the West
Today's Combat Fighters, Rules of the Dogfight
Flying an Aerial Refueling Mission with CF-5As
Mystery of the Northrop 3A and Vought 143
British Nimrod from Comet Airliner to Airborne Early Warning Snooper
Top Gun at Twenty
The Real Stuff for the Right Stuff
Flying the operational B-1B
Can the V-22 Osprey be Rescued from Oblivion?
Northrop Light Brigade – T-38, F-5, and F-20
The Great F-20 Scandal
Training the Assault Glider Pilots of WWII
Northrop's Skoshi F-5 Tiger
The Desert Air War
US Air Force Test Pilot School – We fly with the Air Force's best
Jet Engines – The inside story
Bristol Beaufighter – Was it Britain's best attacker? Never before seen photos!
Industry in a tailspin – What happened to U.S. Aerospace?
F-20 Tigershark
Alouette II – World's first jet helicopter
Bonus Features
CF-5A Operating Instructions 1969
F-5E Flight Manual 1978
F-5EF Non-Nuclear Weapons Delivery 1980
F-20A Utility Flight Manual 1984
NF-5B Operating Instructions 1974
T-38 Flight Manual 2003
T-38A Flight Operating Difference 1974
T-38AB Flight Manual 1978
T-38C Optimal Landing Technique 2010
Nearly 300 Photos
Related Products via Amazon
You will purchase these items separately on the Amazon web site. These links will open a new web browser window.