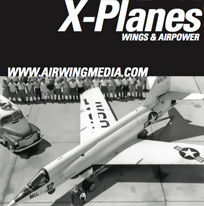 Price: $39.95
CD contains 13 magazines
All in Acrobat PDF format
Content is keyword searchable
Print a personal copy
Allow 1 week for US delivery
Mach 3.0, Breaking the Sound Barrier in the Bell X-2
Mach 3.0, Exploring the Edges of Outer Space in the Bell X-2
Behind The Bell X-1 Rocket Plane Crashes
Stiletto, A Detailed Look At Douglas Aircraft's Needle-Nosed, Supersonic Research Ship, The X-3.
Machbusters, Memoirs Of A Veteran Test Pilot
Rendezvous At Mach 1, Commemorating The Breaking Of The Sound Barrier!
"Toward The Unknown", Filming the 1956 Warner Brothers Classic about the Bell X-2
Father of the Motherships, The Planes that Launched the Legends and the Pilots that Flew Them
Swingin' on a Spar, the Bell X-5 variable geometry wing
Dueling Test Pilots, Yeager vs. Crossfield
Salute to "The Right Stuff"
Back in the Saddle, the story of Pancho Barnes
Bonus Features
X-1A Pilot's Handbook 1951
X-3 Operating Instructions 1951
X-4 Operating Instructions 1948
X-5 Research Plane 1954
American X-Vehicles X-1 to X-50
X-Planes Specifications
Related Products via Amazon
You will purchase these items separately on the Amazon web site. These links will open a new web browser window.