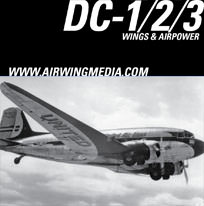 Price: $49.95
CD contains 10 magazines
All in Acrobat PDF format
Content is keyword searchable
Print a personal copy
Allow 1 week for US delivery
Allow 2 weeks for International
Douglas DC, Part II – The Gooney Goes To War
"Go In and Get A Hit!" – Flying the TBD Devastator & TBF Avenger
Night Creature, flying WWII's most fearsome night fighter, the P-61 Black Widow
Flying Machines The Fates Forgot, concluding the Emsco story
DC-3 Goes To War
Wild Weasel Thuds in Vietnam
Vigilante, The Navy's Last Heavyweight
Douglas C-47 Gooney Bird Markings
Israel's 1948 Three Bomber Air Force
Northrop's Forgotten Floatplane, the N-3PB
Japan's DC-4 Bomber
Convair F-105 Delta Dart
The DC-3/C-47 in Foreign Service
The F-106 Bows Out
Grumman's F-11F – The Reluctant Tiger
Flying Forever, the Turbo version of the Douglas DC-3
Storm Bird, The Me-262 Jet Fighter
Flying the Berlin Airlift
Ultimate P-6E Hawk
Dornier Bombers of the Luftwaffe
What Happened to the V-22 Osprey?
History of US Military Aircraft… C-47, C-54, C-82, C-119, C-123, XC-99, C-124, C-130, C-133, C-141, C-5A, C-17
Graphic gallery of Air Transport
Allied airpower's D-Day invasion failures, great interdiction
Douglas DC-3
J-35 Draken! – 50 years of Sweden's Mach 2 delta
The airplanes that wouldn't die – First in a series
Aircraft designations – Mysteries revealed!
Mr. Naval Aviation – The R.G. Smith Story
Cockpits – It's what's up front that counts!
Bell 47 – The whirlybird
Bonus Features
DC-3 Operation Manual
C-47 Flight Handbook
C-47 Flight Manual
C-47 Operating Instructions
C-47 Pilot Training Manual
C-47 Skytrain Manual
C-117D Flight Manual
Vital Statistics
General Characteristics
Crew: 2 pilots
Capacity: 12 passengers
Length: 60 ft 0 in (18.29 m)
Wingspan: 85 ft 0 in (25.91 m)
Height: 16 ft 0 in (4.88 m)
Wing area: 942 sq ft (87.5 m²)
Empty weight: 11,780 lb (5,343 kg)
Loaded weight: 17,500 lb (7,938 kg)
Powerplant: 2 × Wright Cyclone SGR-1820F3 9-cylinder radial engines, 710 hp (530 kW) each
Performance
Maximum speed: 210 mph (183 knots, 338 km/h)
Cruise speed: 190 mph (165 knots, 306 km/h) at 8,000 ft (2,440 m)
Range: 1,000 mi (870 nmi, 1,610 km)
Service ceiling: 23,000 ft (7,010 m)
General Characteristics
Crew: two-three
Capacity: 14 passengers
Length: 62 ft 6 in (19.1 m)
Wingspan: 85 ft 0 in (25.9 m)
Height: 15 ft 10 in (4.8 m)
Wing area: 940 ft² (87.3 m²)
Empty weight: 12,455 lb (5,650 kg)
Loaded weight: 18,560 lb (8,420 kg)
Powerplant: 2 × Wright GR-1820-F53 Cyclone 9-cylinder radial engines, 730 hp (540 kW) each
Performance
Maximum speed: 210 mph at 6,800ft (338 km/h / 182 kts)
Range: 1,085 mi (1,750 km)
Service ceiling: 22,750 ft (6,930 m)
Rate of climb: 1,030 ft/min (310 m/min)
General Characteristics
Crew: two
Capacity: 21–32 passengers
Length: 64 ft 8 in (19.7 m)
Wingspan: 95 ft 2 in (29.0 m)
Height: 16 ft 11 in (5.16 m)
Wing area: 987 sq ft (91.7 m2)
Empty weight: 16,865 lb (7,650 kg)
Gross weight: 25,199 lb (11,430 kg)
Fuel capacity: 822 gal. (3736 l)
Powerplant: 2 × Wright R-1820 Cyclone 9-cyl. air-cooled radial piston engine, 1,100 hp (820 kW) each
Powerplant: 2 × Pratt & Whitney R-1830-S1C3G Twin Wasp 14-cyl. air-cooled two row radial piston engine, 1,200 hp (890 kW) each
Propellers: 3-bladed Hamilton Standard 23E50 series, 11.5 ft (3.5 m) diameter
Performance
Maximum speed: 200 kn; 370 km/h (230 mph) at 8,500 ft (2,590 m)
Cruise speed: 180 kn; 333 km/h (207 mph)
Stall speed: 58.2 kn (67 mph; 108 km/h)
Service ceiling: 23,200 ft (7,100 m)
Rate of climb: 1,130 ft/min (5.7 m/s)
Wing loading: 25.5 lb/sq ft (125 kg/m2)
Power/mass: 0.0952 hp/lb (156.5 W/kg)
General Characteristics
Crew: four (pilot, co-pilot, navigator, radio operator)
Capacity: 28 troops
Payload: 6,000 lb (2,700 kg)
Length: 63 ft 9 in (19.43 m)
Wingspan: 95 ft 6 in (29.41 m)
Height: 17 ft 0 in (5.18 m)
Wing area: 987 ft² (91.70 m²)
Airfoil: NACA2215 / NACA2206
Empty weight: 18,135 lb (8,226 kg)
Loaded weight: 26,000 lb (11,793 kg)
Max. takeoff weight: 31,000 lb (14,061 kg)
Powerplant: 2 × Pratt & Whitney R-1830-90C Twin Wasp 14-cylinder radial engines, 1,200 hp (895 kW) each
Performance
Maximum speed: 224 mph (195 kn, 360 km/h) at 10,000 ft (3,050 m)
Cruise speed: 160 mph (139 kn, 257 km/h)
Range: 1,600 mi (1,391 nmi, 2,575 km)
Ferry range: 3,600 mi (3,130 nmi, 5,795 km)
Service ceiling: 26,400 ft (8,045 m)
Climb to 10,000 ft (3,050 m): 9.5 min