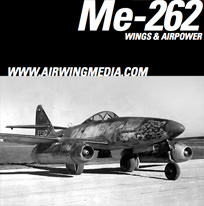 Price: $24.95
CD contains 5 magazines
All in Acrobat PDF format
Content is keyword searchable
Print a personal copy
Allow 1 week for US delivery
Allow 2 weeks for International
Germany's Messerschmitt Me-262
Lockheed AC-130 Gunship
Luftwaffe's Autobahn Fighters
McDonnell's F-101 Voodoo
Interview with America's second leading WWI ace
Uncovering the mystery of the Me-262
Douglas DC-3, Is it the answer for small airlines?
Me-262, The real story of the first jet fighter
Boeing's flying wings
Caravelle! World's first rear-engine jet
Factory Fresh, the F-104 Starfighter
Blitzkrieg over Muroc, Part II of "Testing German Jets" series
Class of '56, A good year for new planes
Bat-eye squadron, Marine night fighters of WWII
Turboprops, why didn't these advanced designs succeed?
Bonus Features
Me-262 Pilot's Handbook 1946
Me-262 Service Manual (German) 1944
Nearly 300 Me-262 photos!
Vital Statistics
General Characteristics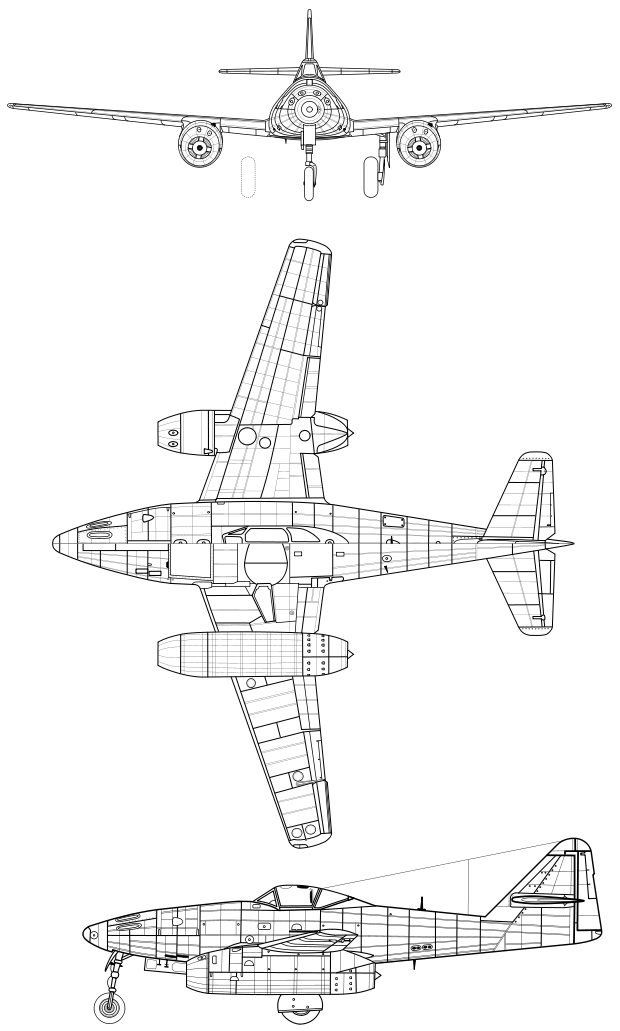 Crew: 1
Length: 10.60 m (34 ft 9 in)
Wingspan: 12.60 m (41 ft 6 in)
Height: 3.50 m (11 ft 6 in)
Wing area: 21.7 m² (234 ft²)
Empty weight: 3,795 kg (8,366 lb)
Loaded weight: 6,473 kg (14,272 lb)
Max. takeoff weight: 7,130 kg (15,720 lb)
Powerplant: 2 × Junkers Jumo 004 B-1 turbojets, 8.8 kN (1,980 lbf) each
Aspect ratio: 7.32
Performance
Maximum speed: 900 km/h (559 mph)
Range: 1,050 km (652 mi)
Service ceiling: 11,450 m (37,565 ft)
Rate of climb: 1,200 m/min (At max weight of 7,130 kg) (3,900 ft/min)
Thrust/weight: 0.28
Armament
Guns: 4 × 30 mm (A-2a: two cannons)
Rockets: 24 × 55 mm (2.2 in) R4M rockets
Bombs: 2 × 250 kg (550 lb) bombs or 2 × 500 kg (1,100 lb) bombs (A-2a variant)
Me 262 A-0 – Pre-production aircraft fitted with two Jumo 004B turbojet engines, 23 built.
Me 262 A-1a "Schwalbe" – Primary production version, usable as both fighter (interceptor) and fighter-bomber.
Me 262 A-1a/R1 – Equipped with provisions for R4M air-to-air rockets
Me 262 A-1a/U1 – Single prototype with a total of six nose mounted guns, two 20 mm MG 151/20 cannons, two 30 mm (1.18 in) MK 103 cannons, and two 30 mm (1.18 in) MK 108 cannons.
Me 262 A-1a/U2 – Single prototype with FuG 220 Lichtenstein SN-2 90 MHz radar transceiver and Hirschgeweih antenna array, for trials as a night-fighter.
Me 262 A-1a/U3 – Reconnaissance version modified in small numbers, with Reihenbildner RB 20/30 cameras mounted in the nose (sometimes one RB 20/20 and one RB 75/30). Some retained one 30 mm (1.18 in) cannon, but most were unarmed.
Me 262 A-1a/U4 – Bomber destroyer version, two prototypes with an adapted 50 mm (2 in) MK 214 (or BK-5 for tests) anti-tank gun in nose.
Me 262 A-1a/U5 – Heavy jet fighter with six 30 mm (1.18 in) MK 108s in the nose
Me 262 A-1b – Trio of A-1a evaluation versions, starting with Werknummer 170 078, re-engined with two BMW 003 turbojets in place of the Jumos, maximum speed 800 km/h (497 mph)
Me 262 A-2a "Sturmvogel" – Definitive bomber version retaining only the two lower 30 mm (1.18 in) MK 108s.
Me 262 A-2a/U1 – Single prototype with advanced bombsight.
Me 262 A-2a/U2 – Two prototypes with glazed nose for accommodating a bombardier.
Me 262 A-3a – Proposed ground-attack version.
Me 262 A-4a – Reconnaissance version.
Me 262 A-5a – Definitive reconnaissance version used in small numbers at end of the war.
Me 262 B-1a – Two-seat trainer.
Me 262 B-1a/U1 –  Me 262 B-1a trainers converted into provisional night fighters, FuG 218 Neptun radar, with Hirschgeweih eight-dipole antenna array.
Me 262 B-2 – Proposed night fighter version with stretched fuselage.
Me 262 C-1a – Single prototype [made from Me 262A Werknummer 130 186] of rocket-boosted interceptor (Heimatschützer I) with Walter HWK 109-509 rocket in tail, first flown with combined jet/rocket power on 27 February 1945.
Me 262 C-2b – Single prototype [made from Me 262A Werknummer 170 074] of rocket-boosted interceptor (Heimatschützer II) with two BMW 003R "combined" powerplants (BMW 003 jet, with a single 1,000 kg thrust BMW 718 rocket engine mounted atop the rear of each jet exhaust) for boosted thrust, only flown once with combined jet/rocket power on 26 March 1945.
Me 262 C-3a – Never-completed concept design for a Heimatschützer III prototype of rocket-boosted interceptor with Walter rocket motor housed in permanent belly pack.
Me 262 D-1 – Proposed variant to carry Jagdfaust mortars.
Me 262 E-1 – Proposed variant based on A-1a/U4 with a Mk 114 cannon.
Me 262 E-2 – Proposed rocket-armed variant carrying up to 48 × R4M rockets.
Me 262 S – Zero-series model for Me 262 A-1a
Me 262 W – Provisional designation for Me 262 with pulse jet engines
Postwar Variants
Avia S-92 – Czech-built Me 262 A-1a (fighter)
Avia CS-92 – Czech-built Me 262 B-1a (fighter trainer, two seats)
Me 262A, W.Nr.500071 White 3, III./JG 7
Deutsches Museum, Munich, Germany. This aircraft, flown by Hans Guido Mutke while a pilot of 9. Staffel/JG 7, was confiscated by Swiss authorities on 25 April 1945 after Mutke made an emergency landing in Switzerland due to lack of fuel (80 litres were remaining, 35 litres were usually burnt in one minute).
Me 262 A-1a
Reconstructed from parts of crashed and incomplete Me 262s. Luftwaffenmuseum der Bundeswehr, Germany.
Me 262 A-1a W.Nr.501232 Yellow 5, 3./KG(J)6
National Museum of the United States Air Force, Wright-Patterson Air Force Base, Dayton, Ohio, USA.
Me 262 A-1a/U3 W.Nr.500453
Flying Heritage Collection, Everett, Washington, USA, currently in US undergoing restoration to flying condition. It is intended to fly using its original Jumo 004 engines. The aircraft was bought from The Planes Of Fame, Chino, California.
Me 262 A-1a W.Nr.500491 Yellow 7, II./JG 7
National Air and Space Museum, Smithsonian Institution, Washington, DC, USA.
Me 262 A-2a W.Nr.112372
RAF Museum Hendon, London, United Kingdom.
Me 262 A-2a W.Nr.500200 Black X 9K+XK, 2 Staffel./KG 51
Australian War Memorial, Canberra, Australia. Built at Regensburg in March 1945, same batch from which the Deutsches Museum White 3 was built. Flown by Fahnenjunker Oberfeldwebel Fröhlich and surrendered at Fassberg. She remains the only Me 262 left in existence wearing her original (albeit worn, as seen in the picture) colours. Her markings show both the Unit signatures along with the Air Ministry colours applied at Farnborough, where she was allocated reference Air Min 81. Restoration was completed in 1985 and aircraft was put up on display.
Me 262 B-1a/U1, W.Nr.110305 Red 8
South African National Museum of Military History, Johannesburg, South Africa.
Me 262 B-1a, W.Nr.110639 White 35
National Museum of Naval Aviation, Pensacola, Florida (previously at NAS/JRB Willow Grove, Willow Grove, Pennsylvania, USA)
Avia S-92
Prague Aviation Museum, Kbely, Prague, Czech Republic.
Avia CS-92
Prague Aviation Museum, Kbely, Prague, Czech Republic.