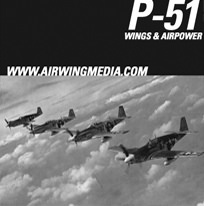 Price: $79.95
DVD contains 21 magazines
All in Acrobat PDF format
Content is keyword searchable
Print a personal copy
Allow 1 week for US delivery
Allow 2 weeks for International
The First Mustangs, P-51A & A-36
NA-73 The Forgotten Mustang
More Mustangs to Meet the Eye
Mustang Ace Kit Carson
Eighth Air Force P-51Ds
Destroying the Luftwaffe, A P-51 Ace's Personal Story
The 8th Air Force's Greatest Day, Fighting the Luftwaffe at 30,000ft
The Last of the Breed, Decoying the Luftwaffe – P-51Ds
Combat Flying Against the Luftwaffe's Last Ditch Jets
The Making of the Mustang, A P-51 Ace's Narrative
Mating the Rolls Royce Merlin to the P-51 Mustang
The Escort Mustangs of Iwo Jima, Attacking the Japanese Empire across 1,500 Miles of Ocean
Pursue & Destroy, P-51 Mustang Portfolio Preview
Mustang Milestones, A Pictorial Evolution of the P-51 Mustang
Mustang Men, The Fighter Pilots & Ground Crew of the 8th Air Force
Blakesleewaffe, A Pictorial History Of The 4th Fighter Group
The Mustang's Last Hurrah, The P-51 Mustang in the Korean War
Special P-51 Mustang Edition, From NA-73 to P-51H
Down! – Battle Damage, Bail Outs &Crash Landings, 339th Fighter Gp. Pilots Tell All!
Pursuit Plane 51 – The Why & Wherefore Of The Mustang Fighter's Long-Lived Combat Legend
"Big Day" Point Of No Return, Destroying The Luftwaffe's Fighter Arm
Why the P-51 and P-47 were The War's most Effective Fighters
1944 The Ides of March, The Art of Long Range Escort
Bonus Features
F-51D Flight Handbook (1954)
F-51D Mustang Pilot's Manual (1952)
F-51D, TF-51D and F-51K Parts Catalog (1954)
F-51H Mustang Characteristics (1949)
P-51 Drag and Lift (1943)
P-51 Flight Manual
P-51 Mustang – Allison V-1710 engine (1941)
P-51 Mustang III Flight test (1946)
P-51 Mustang Pilot Training Manual (1945)
P-51 Pilot Training Manual
P-51 POH (1950)
P-51B & P-51D Drag (1991)
P-51B Flight Operating Instructions (1943)
P-51D (1944)
P-51D Flight Handbook (1952)
P-51D Parts Catalogue (1954)
P-51D Performance Data
P-51D-K Parts Catalog (1949)
XP-51 Drag Characteristics (1946
Over 380 photos!
P-51D Statistics
General characteristics
Crew: 1
Length: 32 ft 3 in (9.83 m)
Wingspan: 37 ft 0 in (11.28 m)
Height: 13 ft 4½ in (4.08 m:tail wheel on ground, vertical propeller blade.)
Wing area: 235 sq ft (21.83 m²)
Airfoil: NAA/NACA 45-100 / NAA/NACA 45-100
Empty weight: 7,635 lb (3,465 kg)
Loaded weight: 9,200 lb (4,175 kg)
Max. takeoff weight: 12,100 lb (5,490 kg)
Maximum fuel capacity: 419 US gal (349 imp gal; 1,590 l)
Zero-lift drag coefficient: 0.0163
Drag area: 3.80 sqft (0.35 m²)
Aspect ratio: 5.83
Powerplant: 1 × Packard V-1650-7 liquid-cooled V-12, with a 2 stage intercooled supercharger, 1,490 hp (1,111 kW) at 3,000 rpm;[121] 1,720 hp (1,282 kW) at WEP
Propellers: constant-speed, variable-pitch Hamilton Standard, propeller
Propeller diameter: 11 ft 2 in (3.40 m)
Performance
Maximum speed: ~440 mph (383 kn, 708 km/h) at 25,000 ft (7,600 m)
Cruise speed: 362 mph (315 kn, 580 km/h)
Stall speed: 100 mph (87 kn, 160 km/h)
Range: 1,650 mi (1,434 nmi, 2,755 km) with external tanks
Service ceiling: 41,900 ft (12,800 m)
Rate of climb: 3,200 ft/min (16.3 m/s)
Wing loading: 39 lb/sqft (192 kg/m²)
Power/mass: 0.18 hp/lb (300 W/kg)
Lift-to-drag ratio: 14.6
Recommended Mach limit 0.8
Armament
Guns: 6 × 0.50 caliber (12.7mm) AN/M2 Browning machine guns with 1,840 total rounds (380 rounds for each on the inboard pair, and 270 rounds for each of the outer two pair)
Rockets: 6 or 10 × 5.0 in (127 mm) T64 H.V.A.R rockets (P-51D-25, P-51K-10 on)
Bombs: 1,000 lb (453 kg) total on two wing hardpoints
Each hardpoint: 1 × 100 lb (45 kg) bomb, 1 × 250 lb (113 kg) bomb or 1 × 500 lb (226 kg) bomb)
Variants
| Variant | Number built | Notes |
| --- | --- | --- |
| NA-73X | 1 | Prototype |
| XP-51 | 2 | Prototypes |
| Mustang Mk I | 620 | Built for RAF at Inglewood, California |
| A-36 Apache | 500 | Dive-bomber variant of P-51; also known as "Invader" or "Mustang" |
| P-51 | 150 | Built at Inglewood, California. 93 were Lend-Leased to the UK, operated by RAF as the "Mustang Mk Ia". 57 were retained by the USAAF and fitted with Allison V-1710-39 engines. |
| P-51A-NA | 310 | Built at Inglewood, California. 50 Lend-Leased to the RAF, service name "Mustang Mk II". |
| XP-51B | 2 | Prototypes of P-51B |
| P-51B-NA | 1,987 | Built at Inglewood, California. First production version to be equipped with the Merlin engine. 308 supplied under Lend-Lease and operated by the RAF as "Mustang Mk III". |
| P-51C-NT | 1,750 | First P-51 variant to be built at North American's Dallas plant. Identical to P-51B. Mustangs built by North American in Dallas were suffixed "-NT". 636 were supplied under Lend-Lease to the RAF as the Mustang Mk III. |
| XP-51D | 3 | Prototypes of P-51D |
| P-51D-NA/-NT | 8,200 | 6,600 built at Inglewood, 1,600 built at Dallas. 100 P-51D-1-NA were sent unassembled to Australia. 282 under Lend-Lease served in the RAF as the "Mustang Mk IV". |
| XP-51F | 3 | Lightweight version |
| XP-51G | 2 | Lightweight version; five-bladed propeller |
| P-51H-NA | 555 | Built at Inglewood, California |
| XP-51J | 2 | Allison-engined lightweight development. |
| P-51K-NT | 1,500 | Built at Dallas, Texas. Identical to the P-51D except fitted with four-bladed Aeroproducts propeller. 600 Lend-Lease to the RAF as the "Mustang Mk IVa". |
| P-51M-NT | 1 | Same as P-51H with V-1650-9A engine non-water injection for low level operations. Built at Dallas; contract later cancelled |