Bonus 1971 Content!
This CD features a completely restored special edition of the first edition of Wings magazine, August 1971 Volume 1, Number 1. That's 13 feature-packed magazines for the same low price! Get yours today!
The First Fortresses – Special B-17 Portfolio
Flying the FW-190 Rammokommando – Hitler's Suicide Squadrons
Curtiss SB2C Helldiver – The last divebomber
Fokker's Jinxed Giant – Too big to fly!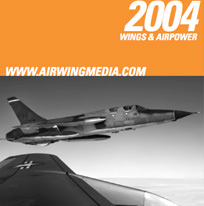 Price: $29.95
CD contains 12 magazines
That's $2.50 per magazine!
All in Acrobat PDF format
Content is keyword searchable
Print a personal copy
Allow 1 week for US delivery
Allow 2 weeks International
XF-103! Was it ten years too soon?
Haulin' Buns – Cargo transports of the Korean war
Flying in Civvies – Factory test pilots
Factory Fresh – F-86 Dog Sabre
USS Akron, Macon – Doomed Dirigibles
P-38 Color Portfolio
Douglas DC-6 – Was it the world's greatest airliner?
F-104s of NASA
World War II Bombing
X-15 Accidents
Operation Iraqi Freedom
Passenger Helicopters
Cross Flying Wing Concept
WW II Light Twins – The Unsung Heroes
Tex Johnston Flying Boeing's Best! From B-47 to 707, He Flew Them All
Passenger 'Copters – Part II New York Airways
1950s Air Force Missiles
Boeing's Dash 80 – Was it the airplane that changed the world?
F7F Tigercats – Night Fighers in Korea
US Air Force Test Pilot School – We fly with the Air Force's best
Jet Engines – The inside story
Bristol Beaufighter – Was it Britain's best attacker? Never before seen photos!
Marine Corps Helicopters – The Hunter Killers
C-46s of Air America – Secret ops in Southeast Asia
Piper – He gave America wings
Factory Fresh – DC-7 Golden Falcon
Boeing 707 – America's First Jetliner!
Andre Tupolev – From Prison to Flightline: An incredible story of survival!
Golden age of Aviation Advertising
Was there an Army Air Force Helldiver?
North American's Incredible XF-108!
Factory Fresh – Lockheed Vega
Itazuke Air Base ramp tour
X-5 to F-14 Swing-Wings – We unlock the secrets of variable geometry!
T-46 Debacle – What really happened to kill Republic?
Lockheed's incredible radar Connies
Secret wonder weapons of WWII – Declassified mysteries
Salute to Naval Aviation
USS Constellation Farewell
Blue Angels Retrospective
WWII Catapult Aircraft – Zero to Sixty in 50 Feet
F2H Banshee – McDonnell's Korean War Superstar
Tribute to Pete Knight
A Wings Exclusive – SR-71 Big Tail
Berlin Airlift
Hughes H-1 Racer