Price: $6.95
2 magazines, 1 manuals, & photos
PDF contains 326 pages
Content is keyword searchable
Print a personal copy
Pay via PayPal or Credit Card
International orders welcome!
Download files upon payment
Purchase This PDF
Northrop YF-23A and the great ATF flyoff
America vs. Japan aircraft design wars
Lockheed Constellation goes to war
Lockheed YF-22 vs. Northrop YF-23
P-61 Black Widow, Prowler of the Night
Manuals & Photos
YF-23A Flight Manual, 1990
44 YF-23 photos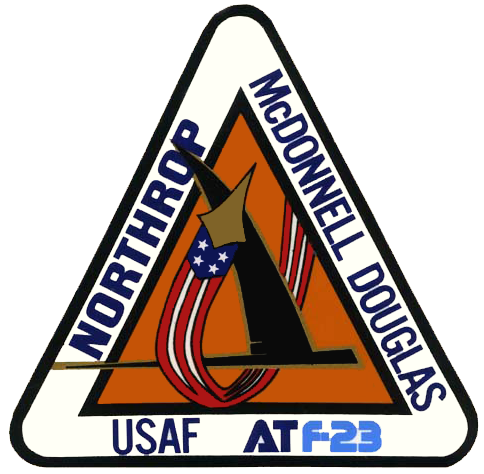 Northrop YF-23 Black Widow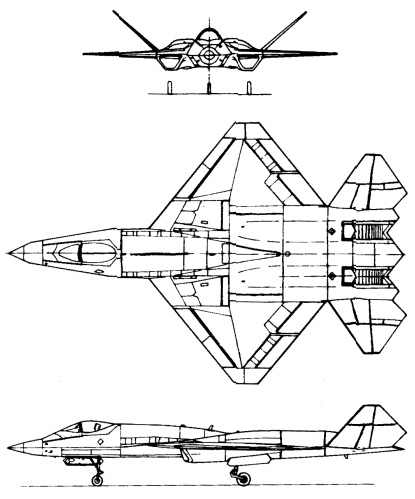 General Characteristics
Crew: 1 (pilot)
Length: 67 ft 5 in (20.60 m)
Wingspan: 43 ft 7 in (13.30 m)
Height: 13 ft 11 in (4.30 m)
Wing area: 900 ft2 (88 m2)
Empty weight: 29,000 lb (13,100 kg)
Loaded weight: 51,320 lb (23,327 kg)
Max. takeoff weight: 62,000 lb (29,000 kg)
Powerplant: 2 × Pratt & Whitney YF119 or General Electric YF120 afterburning turbofan, 35,000 lbf (156 kN) each
Performance
Maximum speed:

At altitude: Mach 2.2+ (1,450+ mph, 2,335+ km/h)
Supercruise: Mach 1.6+ (1,060+ mph, 1,706+ km/h)

Range: over 2,790 mi (over 4,500 km)
Combat radius: 750–800 nmi (865–920 mi, 1,380–1480 km)
Service ceiling: 65,000 ft (19,800 m)
Wing loading: 54 lb/ft2 (265 kg/m2)
Thrust/weight: 1.36
Armament
None as tested but provisions made for:
1 × 20 mm (0.79 in) M61 Vulcan cannon
4 × AIM-120 AMRAAM or AIM-7 Sparrow medium-range air-to-air missiles
2 × AIM-9 Sidewinder short-range air-to-air missiles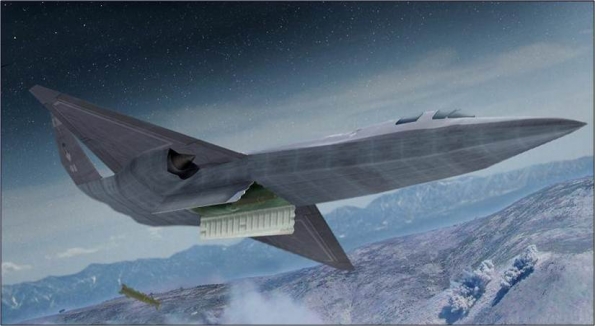 In 2004, Northrop Grumman proposed a YF-23-based bomber to meet a USAF need for an interim bomber, for which the FB-22 and B-1R were also competing. Northrop modified aircraft PAV-2 to serve as a display model for its proposed interim bomber.
The possibility of a YF-23-based interim bomber ended with the 2006 Quadrennial Defense Review, which favored a long-range bomber with much greater range. The USAF has since moved on to the Next-Generation Bomber program.
Both YF-23 airframes remained in storage until mid-1996, when the aircraft were transferred to museums.
YF-23A PAV-1, Air Force serial number 87-0800, registration number N231YF, is on display in the Research and Development hangar of the National Museum of the United States Air Force near Dayton, Ohio.
YF-23A PAV-2, AF ser. no. 87-0801, registration number N232YF, was on exhibit at the Western Museum of Flight until 2004, when it was reclaimed by Northrop Grumman and used as a display model for a YF-23-based bomber. PAV-2 was returned to the Western Museum of Flight and was on display as of 2010 at the museum's new location at Zamperini Field, Torrance, California.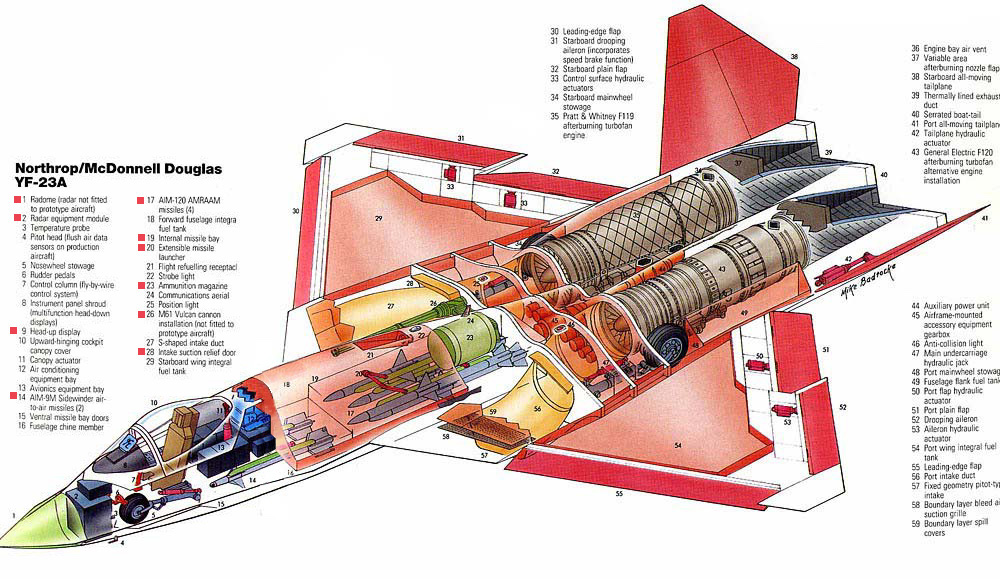 YF-23 First Appearance on the World Stage
---
---
YF-23 DEM/VAL Presentation by Test Pilots Paul Metz and Jim Sandberg
---
YF-23 Walk Around and Design Features by Test Pilot Paul Metz