Apollo 50th Anniversary Mission PDF eBooks | Apollo 6-17 Complete Set
Apollo 6 | Apollo 7 | Apollo 8 | Apollo 9 | Apollo 10 | Apollo 11 | Apollo 12 | Apollo 13 | Apollo 14 | Apollo 15 | Apollo 16 | Apollo 17
"I believe that this nation should commit itself to achieving the goal, before this decade is out, of landing a man on the Moon and returning him safely to the Earth." - President John F. Kennedy, May 25, 1961
Price: $19.95
79 documents & 4,933 photos
PDF contains 14,581 pages
Content is keyword searchable
Print a personal copy
Pay via PayPal or Credit Card
International orders welcome!
Download files upon payment
Purchase This PDF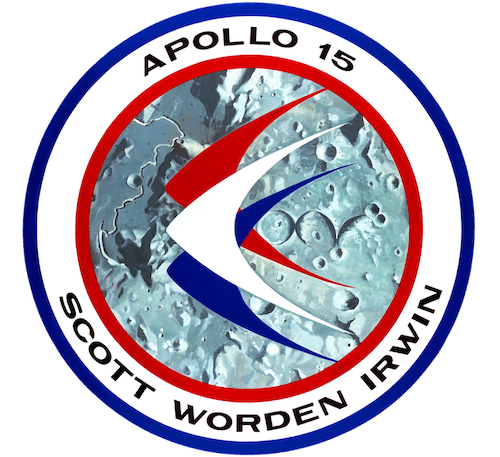 The Apollo 15 command module "Endeavour" is on display in the Space Gallery at the National Museum of the United States Air Force in Dayton, Ohio.
Apollo 15 Mission
Apollo 15 began on July 26 and ended on August 7, with the lunar surface exploration taking place between July 30 and August 2. Commander David Scott and Lunar Module Pilot James Irwin landed near Hadley Rille and explored the local area using the rover, allowing them to travel further from the lunar module than had been possible on previous missions. They spent 181.5 hours on the Moon's surface on extravehicular activity (EVA), and collected 170 pounds (77 kg) of surface material.
At the same time, Command Module Pilot Alfred Worden orbited the Moon, operating the sensors in the scientific instrument module (SIM) bay of the service module. At the end of Apollo 15's 74th lunar orbit, the engine was fired for the journey home. During the return trip, Worden performed the first spacewalk in deep space.
The mission also saw the collection of the Genesis Rock, thought to be part of the Moon's early crust, and Scott's use of a hammer and a feather to validate Galileo's theory that when there is no air resistance, objects fall at the same rate due to gravity regardless of their mass.
The Apollo 15 mission splashed down safely on August 7 despite the loss of one of its three parachutes.
PDF Contents
Mission Overview
Press Kit
Flight Plan
Apollo 15 At Hadley Base
Mission Rules
Apollo 15 On The Moon
Mission Operations Report
Science Operations Support Plan
Saturn V Launch
Saturn V AS-510 Flight Evaluation Report
Saturn V AS-510 Flight Manual
Saturn V AS-510 Postflight Trajectory
Crew & Communications
Crew Training Log
Crew Training Summary
Transcript CM
Transcript LM
Transcript Lunar Geology
Transcript Mission Commentary
Transcript PAO
Transcript Technical Air-To-Ground
MCC Operational Configuration
MSFN Coverage
Checklists & Cue Cards
CMC Data Cards
CSM Entry Checklist
CSM GNC Checklist
CSM Launch Checklist
CSM Software, Delco
CSM Systems Checklist
EVA-1 Cuff Checklist CDR
LM Activation Checklist
LM Cue Cards
LM Data Card Book
Lunar Surface Checklist
Lunar Surface Procedures
LRV Stowage Location
LRV Stowage
Stowage List Lunar Rover
Stowage List
Equipment
Laser Rangefinder
LM 6 Environmental Control
LM EVA VHF Communications
SM Sim Bay Photographic Equipment
Traverse Planning
Color Television Subsystem
Ground Commanded Television Assembly
Lunar Surface TV Operations Plan
Television System
EMU Handbook, Vol 1 System Description
EMU Handbook, Vol 2 Operational Procedures
EVA Capabilities & Constraints
LRV Boeing Brochure
LRV Operations Handbook Revised
LRV Systems Handbook
Photography & Samples
Index of 70mm Photographs
Index of Mapping & Panorama Camera Photographs
Lunar Photography
Lunar Sample Catalog
Lunar Sample Coarse Fines
Photographic Evaluation Data Book
Preliminary Orbital Science Report
Preliminary Science Report
Rock Catalog 1 of 3
Rock Catalog 2 of 3
Rock Catalog 3 of 3
X-Ray Fluorescence Experiment
Debriefing
5 Day Report
Mission Report 2
Mission Report
Preliminary Orbital Science Results
Systems Debriefing
Technical Crew Debriefing
30 Day Failure Anomaly Listing Report
GNC Performance Evaluation
LM Ascent Propulsion Evaluation
LM Descent Propulsion Evaluation
LM EVA Transmission Losses
Loss of CSM TV Anomaly
LRV Mobility Performance
Parachute Failure Report
SPS Performance Evaluation
Time and Motion Study
Apollo 15 Videos
Apollo 50th Anniversary Mission PDF eBooks | Apollo 6-17 Complete Set
Apollo 6 | Apollo 7 | Apollo 8 | Apollo 9 | Apollo 10 | Apollo 11 | Apollo 12 | Apollo 13 | Apollo 14 | Apollo 15 | Apollo 16 | Apollo 17
"I believe that this nation should commit itself to achieving the goal, before this decade is out, of landing a man on the Moon and returning him safely to the Earth." - President John F. Kennedy, May 25, 1961