Price: $19.95
5 magazines, 6 documents, & photos
PDF contains 1,556 pages
Content is keyword searchable
Print a personal copy
Pay via PayPal or Credit Card
International orders welcome!
Download files upon payment
Purchase This PDF
X-15, North American's Hypersonic Bullet
Convair's Tradewind
Flying the X-15 at Mach 6
Mass Producing the P-51 Mustang
Vultee's Attack Planes
Joe Engle, Fighter Pilot and X-15 Astronaut
B-25s in North Africa
Navy Jet Seaplanes
X-15 Accidents
World War II Bombing
Operating Iraqi Freedom
Passenger Helicopters
X-15 Pilots in Space
Popeye Intercept
80 Years of Schneider Cup Races
Manuals & Photos
X-15 Flight Manual 1962
X-15 30th Anniversary 1989
X-15 Advanced Research Airplane 1955
X-15 Frontiers Of Flight, NASA
X-15 Hypersonics Before the Shuttle 2000
X-15 Research Results 1965
Over 200 X-15 photos
North American X-15
General Characteristics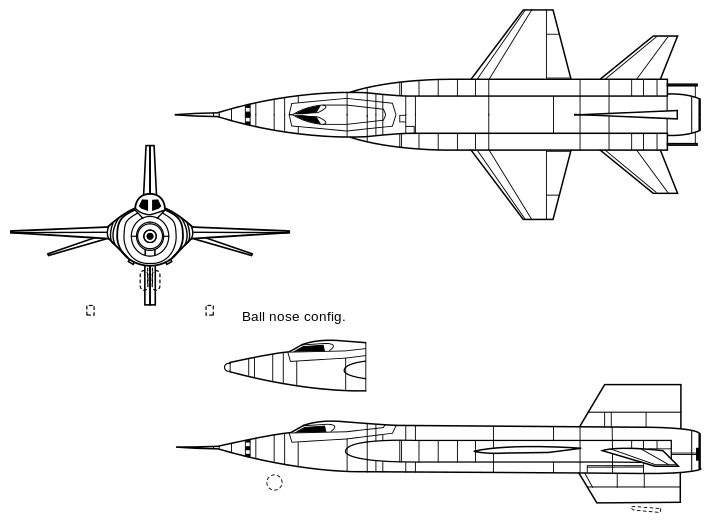 Crew: one
Length: 50 ft 9 in (15.45 m)
Wingspan: 22 ft 4 in (6.8 m)
Height: 13 ft 6 in (4.12 m)
Wing area: 200 ft2 (18.6 m2)
Empty weight: 14,600 lb (6,620 kg)
Loaded weight: 34,000 lb (15,420 kg)
Max. takeoff weight: 34,000 lb (15,420 kg)
Powerplant: 1 × Thiokol XLR99-RM-2 liquid-fuel rocket engine, 70,400 lbf at 30 km (313 kN)
Performance
Maximum speed: 4,520 mph (7,274 km/h)
Range: 280 mi (450 km)
Service ceiling: 67 mi (108 km, 354,330 ft)
Rate of climb: 60,000 ft/min (18,288 m/min)
Wing loading: 170 lb/ft2 (829 kg/m2)
Thrust/weight: 2.07
X-15 Aircraft
X-15A-1 (AF Ser. No. 56-6670) is on display in the National Air and Space Museum "Milestones of Flight" gallery, Washington, D.C.
X-15A-2 (AF Ser. No. 56-6671) is at the National Museum of the United States Air Force, at Wright-Patterson Air Force Base, near Dayton, Ohio. It was retired to the Museum in October 1969. The aircraft is displayed in the Museum's Research & Development Hangar alongside other "X-planes", including the Bell X-1B and Douglas X-3 Stiletto.
Mockups
Neil A. Armstrong Flight Research Center, Edwards AFB, California, USA (painted with AF Ser. No. 56-6672)
Pima Air & Space Museum, adjacent to Davis-Monthan AFB, Tucson, Arizona (painted with AF Ser. No. 56-6671)
Evergreen Aviation & Space Museum, McMinnville, Oregon (painted with AF Ser. No. 56-6672). A full-scale wooden mockup of the X-15, it is displayed along with one of the rocket motors.
B-52 Stratofortress Mother Ships
NB-52A (AF Ser. No. 52-003) is displayed at the Pima Air & Space Museum adjacent to Davis–Monthan AFB in Tucson, Arizona. It launched the X-15-1 30 times, the X-15-2, 11 times, and the X-15-3 31 times (as well as the M2-F2 four times, the HL-10 11 times and the X-24A twice).
NB-52B (AF Ser. No. 52-008) is displayed at the Dryden Flight Research Center at Edwards AFB, California. It launched the majority of X-15 flights.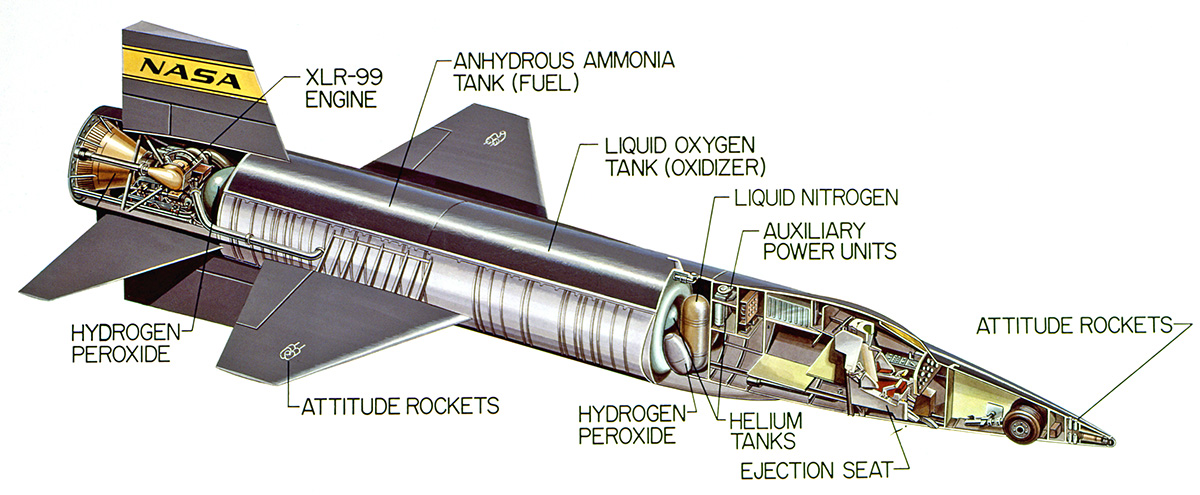 X-15 Annual Report 1960 – US Air Force / North American Aviation / NASA
Coverage of X-15 flight test program including the record making flights of Scott Crossfield, Maj. Robert White, Joseph Walker, Cmdr. Peterson, Jack McKay, Capt. Rushworth, and Neil Armstrong.

---
USAF Maj. Gen. Joe Engle: X-15 Experiences
Joe gives his X-15 Experiences. He later trained as the LM Pilot for Apollo 17, but was replaced by geologist Harrison (Jack) Schmitt fairly close to launch time when Apollo 18 was cancelled. Joe was commander of one of the two crews that flew the Space Shuttle Approach and Landing Test Flights from June through October 1977. Joe flew as Commander on the second flight of the Space Shuttle, STS-2. He was also mission commander on STS-51-I and logged over 225 hours in space.

---
X-15 Flight by Capt. Joe Engle (1964)
X-15 simulator training, and a flight of the X-15A-3 ( 56-6672 ) by then Air Force Captain Joe Engle, (later a Space Shuttle astronaut) during 1964.

---
Development of the X-15 Rocket Plane (1962) NASA Documentary
---
The Fastest X-Plane – Mach 7 North American X-15
Describes how the X-15 Aircraft was designed and built by North American Aviation. Engineered to be the worlds fastest aircraft, the North American X-15 was a hypersonic rocket-powered aircraft operated by the USAF and the National Aeronautics and Space Administration (NASA) as part of the X-plane experimental aerospace projects. The X-15 set speed and altitude records in the 1960s, reaching the edge of outer space and returning with valuable data later used in aircraft design. As of September 2015, the X-15 holds the official world record for the highest speed ever recorded by a manned, powered aircraft. It would ultimately reach a top speed of 4,520 miles per hour (7,274 km/h), or Mach 6.72.

---
X-15
X-15 is a 1961 dramatic aviation film that presents a fictionalized account of the X-15 research rocket aircraft program, the test pilots who flew the aircraft, and the associated NASA community that supported the program. X-15 starred David McLean, Charles Bronson, Mary Tyler Moore, Kenneth Tobey and James Gregory. The film marked the directorial debut of Richard Donner, and was narrated by James Stewart.

---
The North American X-15
---
EDGE of SPACE: X-15 World's Fastest Rocket Plane
---
North American X-15 Promo Film