Price: $24.95
6 magazines and 6 manuals
PDF contains 778 pages
Content is keyword searchable
Print a personal copy
Pay via PayPal or Credit Card
International orders welcome!
Download files upon payment
Purchase This PDF
The First Fortresses, Special B-17 Portfolio
Flying the Fw-190
Rammkommando, Hitlers Suicide Squadrons
Curtiss SB2C Helldiver, The Last Dive Bomber
Too Big To Fly! Fokkers Jinxed Giant
Old Ironsides, Part II (Ju 52)
Eagles of the Sea (Combat Carrier Aircraft 1930-1945)
The Great SB2C Helldiver Scandal
Vought SB2U Vindicators
Lockheeds Cheyenne Attack Helicopter
Douglas Skyshark, Denizen of the Deep Blue
The Great Curtiss Collapse
US Carrier Aviation Special Edition
From Biplanes to WWII to the Dawn of the Jet Age
Tumbling in Bells P-39 Airacobra
Curtiss SB2C Helldiver, the Carrier Fleets Last Dive-Bomber
Manuals & Photos
SB2C Pilot and Beast
SB2C Pilot's Handbook, 1944
SB2C-1 Pilot's Handbook, 1942
SB2C-3/4 Pilot's Handbook, 1944
SB2C-5 Pilot's Handbook, 1945
SB2C-5 SBW-5 Pilot's Handbook, 1945
Over 270 Curtiss SB2C Helldiver photos
* Some pages missing
Curtiss SB2C Helldiver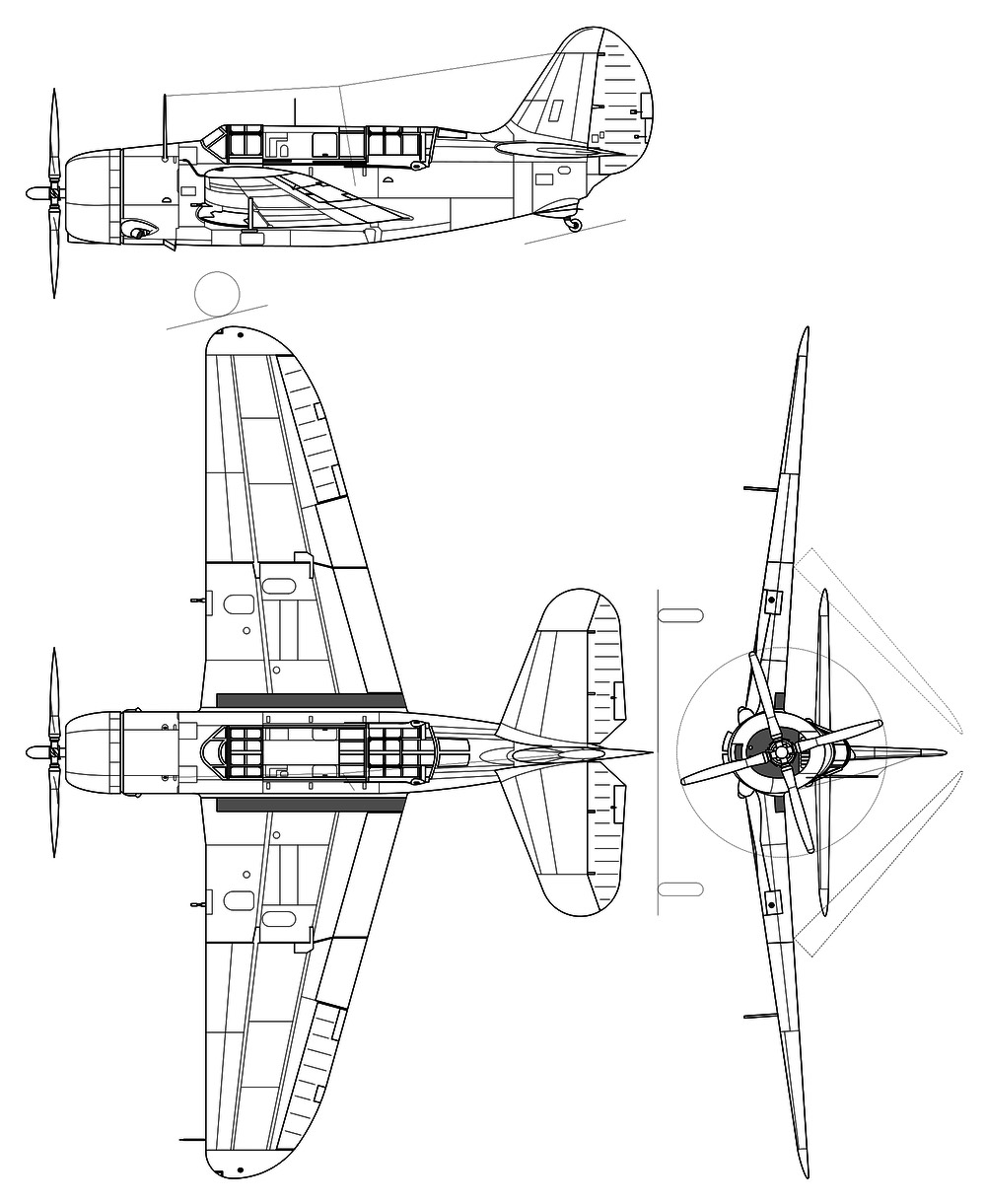 General Characteristics
Crew: 2
Length: 36ft 8in (11.18m)
Wingspan: 49ft 9in (15.16m)
Height: 13ft 2in (4.01m)
Wing area: 422sqft (39.2m2)
Airfoil: root: NACA 23017; tip: NACA 23009
Empty weight: 10,547lb (4,784kg)
Gross weight: 16,616lb (7,537kg)
Powerplant: 1 Wright R-2600-20 Twin Cyclone 14-cylinder air-cooled radial piston engine, 1,900hp (1,400kW)
Propellers: 4-bladed constant-speed propeller
Performance
Maximum speed: 295mph (475km/h, 256kn) at 16,700ft (5,100m)
Cruise speed: 158mph (254km/h, 137kn)
Combat range: 1,165mi (1,875km, 1,012nmi) with 1,000lb (450kg) bomb-load
Service ceiling: 29,100ft (8,900m)
Rate of climb: 1,800ft/min (9.1m/s)
Armament
Guns: **2 20mm (0.787in) AN/M2 cannon in the wings

2 0.30in (7.6mm) M1919 Browning machine guns in the rear cockpit
4 X 0.50in (13mm) M2 Browning machine guns, two each in gunpods mounted on underwing hardpoints (optional)

Rockets: 8 5in (127mm) High Velocity Aircraft Rockets
Bombs: in internal bay: 2,000lb (910kg) of bombs or 1 Mark 13-2 torpedoon underwing hardpoints: 500lb (230kg) of bombs each
XSB2C-1 Prototype powered by a 1,700 hp (1,268 kW) R-2600-8 engine
SB2C-1 Production version for United States Navy with four 0.50 in (12.7 mm) wing guns and one 0.30 in (7.62 mm) dorsal gun, 200 built.
SB2C-1A Original designation for United States Army Air Corps version which became A-25A later used for 410 A-25As transferred to the United States Marine Corps.
SB2C-1C SB2C-1 with two 20 mm (0.79 in) wing-mounted cannons and hydraulically operated flaps, 778 built. First to see combat.
XSB2C-2 One SB2C-1 fitted with twin floats in 1942.
SB2C-2 Production float plane version, 287 cancelled and not built.
XSB2C-3 One SB2C-1 re-engined with a 1,900 hp (1,417 kW) R-2600-20.
SB2C-3 As SB2C-1c re-engined with a 1,900 hp (1,417 kW) R-2600-20 and four-bladed propeller, 1,112 built.
SB2C-3E SB2C-3s fitted with APS-4 radar.
SB2C-4 SB2C-1c but fitted with wing racks for eight 5 in (127 mm) rockets or 1,000 lb (454 kg) bombs, 2,045 built.
SB2C-4E SB2C-4s fitted with APS-4 radar.
XSB2C-5 Two SB2C-4s converted as prototypes for -5 variant.
SB2C-5 SB2C-4 with increased fuel capacity, frameless sliding canopy, tailhook fixed in extended position, and deletion of the ASB radar, 970 built (2,500 cancelled).
XSB2C-6 Two SB2C-1Cs fitted with 2,100 hp (1,566 kW) R-2600-22 engine and increased fuel capacity.
SBF-1 Canadian built version of the SB2C-1, 50 built by Fairchild-Canada
SBF-3 Canadian built version of the SB2C-3, 150 built by Fairchild-Canada.
SBF-4E Canadian built version of the SB2C-4E, 100 built by Fairchild-Canada.
SBW-1 Canadian built version of the SB2C-1, 38 built by Canadian Car & Foundry company.
SBW-1B Canadian built version for lend-lease to the Royal Navy as the Helldiver I, 28 aircraft built by Canadian Car & Foundry company.
SBW-3 Canadian built version of the SB2C-3, 413 built by Canadian Car & Foundry company.
SBW-4E Canadian built version of the SB2C-4E, 270 built by Canadian Car & Foundry company.
SBW-5 Canadian-built version of the SB2C-5, 85 built (165 cancelled) by the Canadian Car & Foundry company.
A-25A Shrike United States Army Air Corps version without arrester gear or folding wings and equipment changed, 900 built
Helldiver I Royal Navy designation for 28 Canadian-built SBW-1Bs
Greece
SB2C-5
83321 – Hellenic Air Force Museum, Decelea Air Base.
Thailand
SB2C-5
83410 – Royal Thai Air Force Museum, Don Muang Royal Thai Air Force Base, Bangkok.
United States
Airworthy
SB2C-5
83589 – based at the Commemorative Air Force (West Texas Wing) in Houston, Texas. This late-production Helldiver, built in 1945, makes frequent air show appearances. In 1982, it experienced engine failure and a hard emergency landing that caused extensive damage; volunteers of the CAF put in thousands of hours and spent in excess of $200,000 to restore the aircraft to flying condition once more. As of October 2018, it is still the only flying example in the world.
On display
SB2C-5
83479 – Steven F. Udvar-Hazy Center of the National Air and Space Museum in Chantilly, Virginia.
Under restoration
A-25A Shrike/SB2C-1A
75552 – under restoration at the National Museum of World War II Aviation in Colorado Springs, Colorado.
76805 – for display at the National Museum of the United States Air Force at Wright-Patterson AFB in Dayton, Ohio.
SB2C-3
19075 – for display at the Yanks Air Museum in Chino, California
SB2C-4
19866 – for display at the National Naval Aviation Museum at Naval Air Station Pensacola, Florida. It crashed on 28 May 1945 in Lower Otay Reservoir, near San Diego, California after engine failure during a training exercise. Both pilot E.D. Frazer and his passenger escaped uninjured, but the Helldiver sank in 90ft. of water. The aircraft was discovered in February 2010 by a fisherman and recovered on 20 August 2010 for restoration.
SB2C-5
83393 – for display at the Fagen Fighters WWII Museum in Granite Falls, Minnesota.
Wrecks
A SB2C-4E Helldiver belonging to the United States Navy crashed and burned in foul weather on October 9, 1945, while en route from New Cumberland, Pennsylvania to its base at Naval Air Station Grosse Ile, Michigan after participating in Nimitz Day celebrations held in Washington, D.C. Pilot Frank Campbell and gunner George Cohlmia, both World War II veterans, were killed in the crash. The remains of the plane are still located at the crash site on Laurel Hill in Ligonier Township, Pennsylvania, three miles southeast of the village of Waterford.
In January 2010, a scuba diver discovered a SB2C-1C Helldiver that was ditched in Maalaea Bay off South Maui in August 1944.The Helldiver is covered in coral and is missing its tail section. The aircraft experienced problems with its empennage after dive bombing maneuvers which forced pilot Lieutenant William Dill to ditch.It lies in 50ft of water facing east. The site, which is protected under state and federal law, is in the process of being marked with a plaque by the U.S. Navy. A mooring may be installed at a later point in time to facilitate dives on the site.
On 25 March 2010, the Oregon State Police, Tillamook County Sheriff's Office, and the United States Navy announced that during a logging operation near Rockaway Beach, Oregon, the wreck of an SB2C Helldiver was located. Initial responders believe there may be human remains on the scene.
On 19 December 2011 Scuba divers off the coast of Jupiter, Florida came across an SB2C Helldiver while under water. The aircraft is mostly intact and was found inverted with the landing gear retracted. In May 2012, the US Navy conducted a survey of the aircraft, recovering a data plate from the horizontal stabilizer. The Naval History and Heritage Command's Underwater Archaeology Branch is actively trying to determine if the numbers stamped on the data plate are readable and will identify the aircraft.