Price: $24.95
4 magazines, 8 manuals, & photos
PDF contains 3,121 pages
Content is keyword searchable
Print a personal copy
Pay via PayPal or Credit Card
International orders welcome!
Download files upon payment
Purchase This PDF
Valiant: First of the V Bombers
Hitler's Wonder Weapon Arsenal
Lockheed's XP-58 "Chain Lightning"
Vulcan, World's first delta-winged bomber
Lockheed P-58, Part II
Germany's Slingshot Catapult Birds
Handley Page Victor Bomber
Hughes Flying Boat
Aerial Gunpower
France's Nieuport Half-Wingers
Avro Vulcan Bomber
Lockheed P-2V Anti-Submarine Warfare
Manuals & Photos
Vulcan B. Mk 2 Aircrew Manual, 1970
Vulcan B. Mk 1A Pilot Notes, 1961
Vulcan Structural Repair Manual, 1966
Vulcan B Mk.2 Aircraft Servicing Manual, 1968
Vulcan B Mk.1 & Mk.1a Aircraft Servicing Manual, 1967
Victor B Mk.1 & Mk.1a Pilot's Notes, 1963
Victor B Mk.2 (Blue Steel) Pilot's Notes, 1964
Valiant Pilot's Notes, 1964
Over 400 photos of the Valiant, Victor, and Vulcan bombers
Valiant, Victor, and Vulcan bombers
Vickers Valiant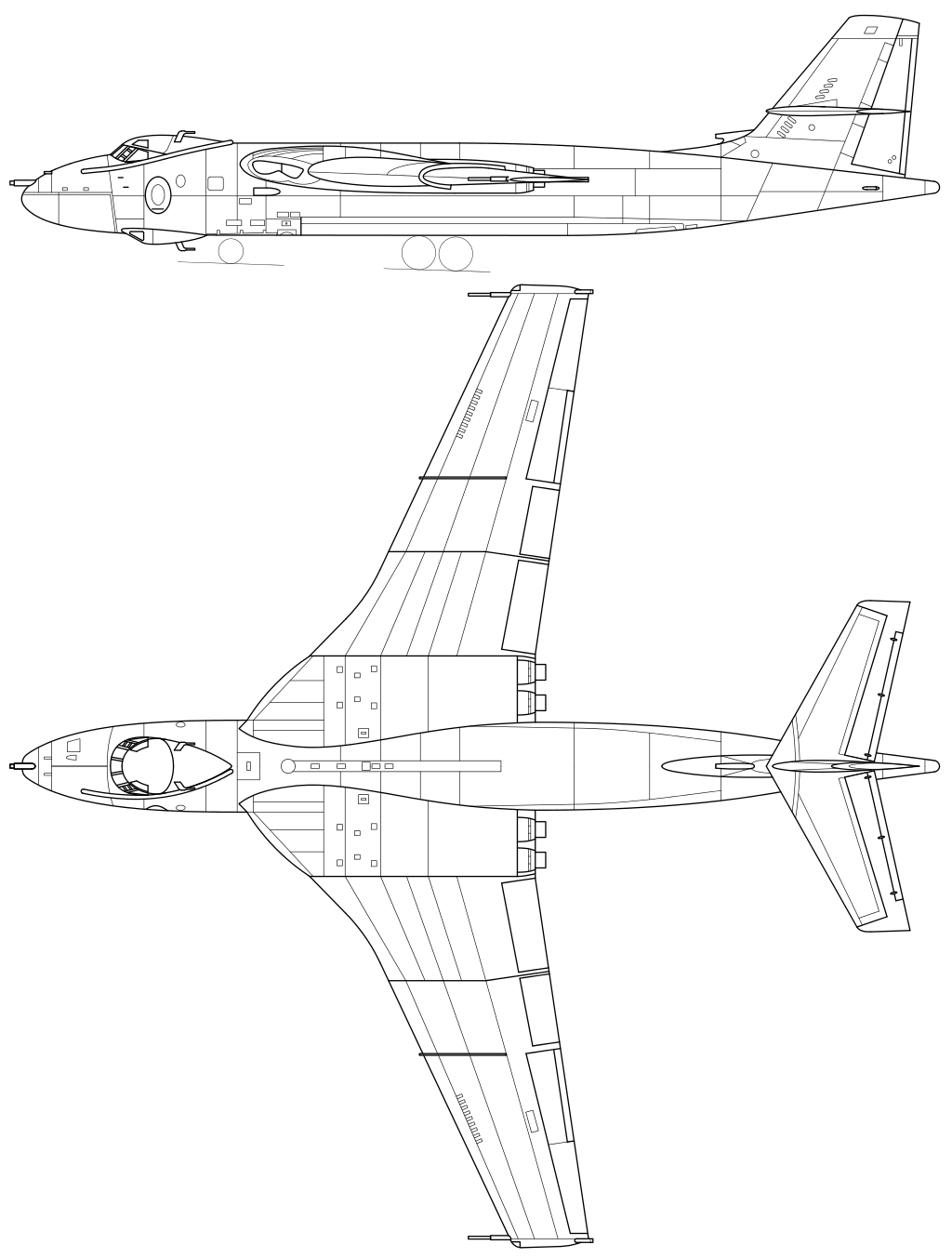 General Characteristics
Crew: five – two pilots, two navigators (one navigator plotter + one navigator bomber), air electronics officer
Length: 108 ft 3 in (32.99 m)
Wingspan: 114 ft 4 in (34.85 m)
Height: 32 ft 2 in (9.80 m)
Wing area: 2,362 ft² (219 m²)
Empty weight: 75,881 lb (34,491 kg)
Max. takeoff weight: 140,000 lb (63,600 kg))
Powerplant: 4 × Rolls-Royce Avon RA28 Mk 204 turbojet, 10,000 lb (44.6 kN) each
Performance
Maximum speed: 567 mph (493 knots, 913 km/h) at 30,000 ft (9,150 m)
Range: 4,500 mi (3,910 nmi, 7,245 km) with underwing tanks
Service ceiling: 54,000 ft (16,500 m)
Rate of climb: 4,000 ft/min (20 m/s)
Armament
Bombs:

1 × 10,000 lb (4500 kg) Blue Danube nuclear bomb or
21 × 1,000 lb (450 kg) bombs
On Display
Vickers Valiant B1 XD818 – RAF Museum Cosford, on display with the other two V bombers, the Victor and Vulcan in the National Cold War Exhibition, this is the only fully intact example in existence, and so is the only place where an example of all three V bombers can be seen together.
Cockpit sections surviving comprise XD816 at Brooklands Museum in Surrey and XD875 at the Highland Aviation Museum at Inverness Airport.A third surviving section is the cockpit of XD826 which is part of a private collection in Essex and the flight deck of XD857 is displayed at the Norfolk and Suffolk Aviation Museum at Flixton, Suffolk.
Handley Page Victor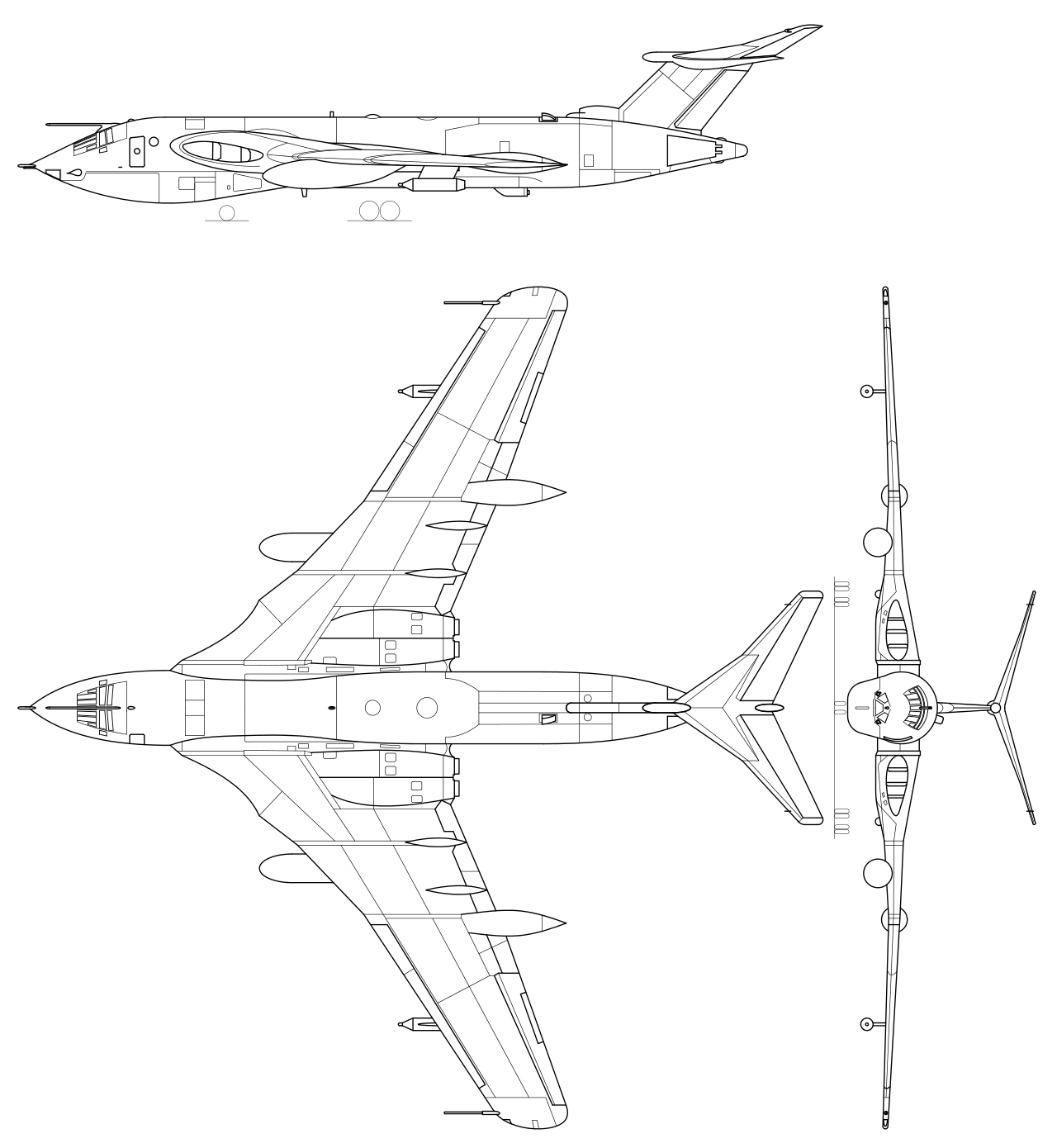 General Characteristics
Crew: 5
Length: 114 ft 11 in (35.05 m)
Wingspan: 110 ft 0 in (33.53 m)
Height: 28 ft 1½ in

 

(8.57 m)
Wing area: 2,406 sq ft (223.5 m²)
Empty weight: 89,030 lb (40,468 kg)
Max. takeoff weight: 205,000 lb (93,182 kg)
Powerplant: 4 × Armstrong Siddeley Sapphire A.S.Sa.7 turbojets, 11,050 lbf (49.27 kN) each
Performance
Maximum speed: 627 mph (545 knots, 1,009 km/h) at 36,000 ft (11,000 m)
Range: 6,000 mi (5,217 nmi, 9,660 km)
Service ceiling: 56,000 ft (17,000 m)
Armament
Up to 35 × 1,000 lb (450 kg) bombs or
1× Yellow Sun free-fall nuclear bomb
On Display
Victor B.1A
XH648: a B.1A (K.2P) at the Imperial War Museum Duxford, Cambridgeshire. This is the sole B.1 to survive.
Victor K.2
XH672: Maid Marian, at the Royal Air Force Museum, Cosford, Shropshire, in the National Cold War Exhibition.
XH673: Gate guardian at RAF Marham, Norfolk, the Victor's last home.
XL231: Lusty Lindy, at the Yorkshire Air Museum, York. The prototype for the B.2 to K.2 conversion.
XM715: Teasin' Tina/Meldrew, at the British Aviation Heritage Centre, Bruntingthorpe, Leicestershire.
Avro Vulcan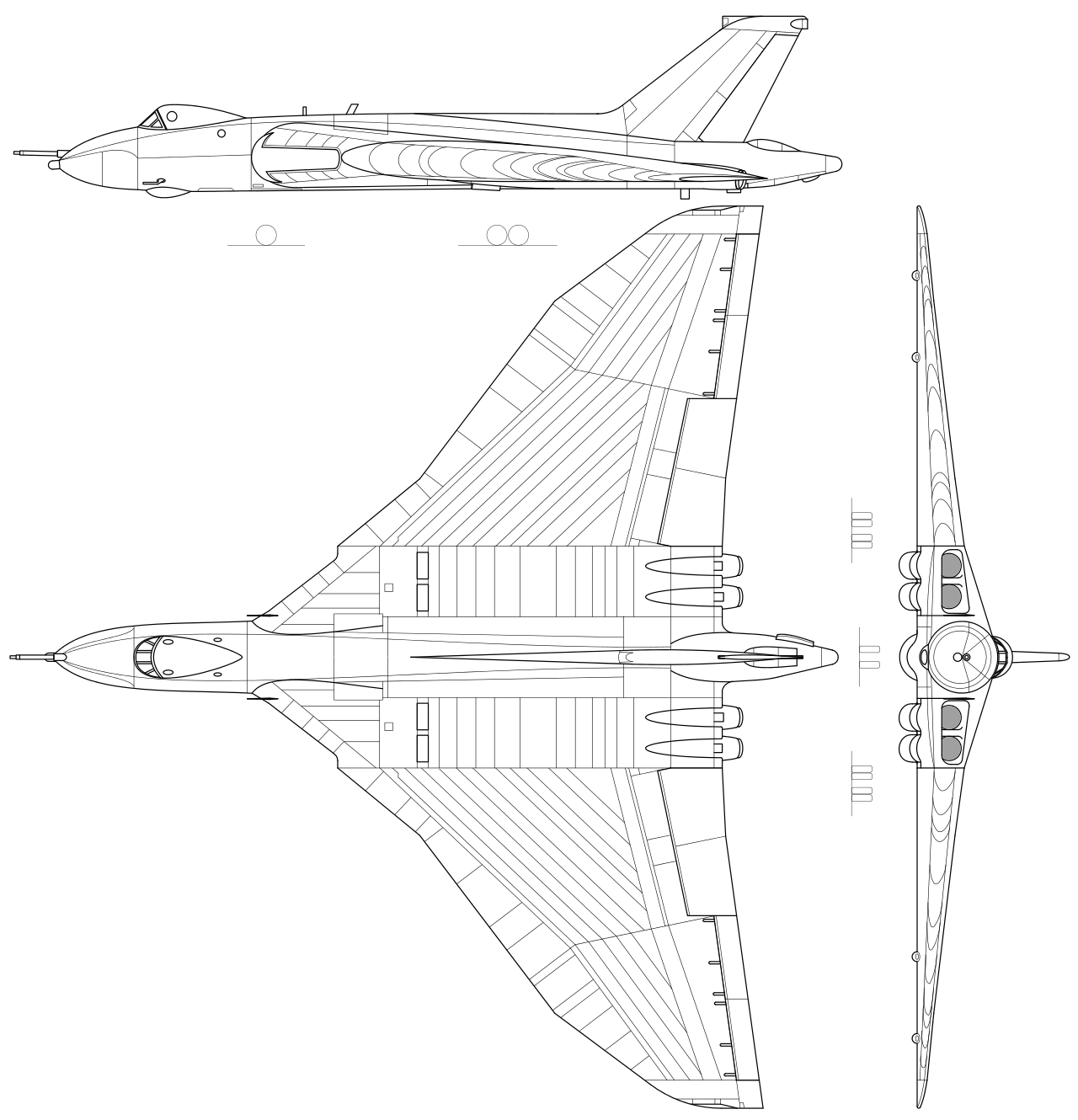 General Characteristics
Crew: 5 (pilot, co-pilot, AEO, Navigator Radar, Navigator Plotter)
Length: 97 ft 1 in (29.59 m)
Wingspan: 99 ft 5 in (30.3 m)
Height: 26 ft 6 in (8.0 m)
Wing area: 3,554 ft² (330.2 m²)
Empty weight: 83,573 lb (including crew) (37,144 kg)
Max. takeoff weight: 170,000 lb (77,111 kg)
Powerplant: 4 × Bristol Olympus 101, or 102 or 104 turbojet, 11,000 lbf (49 kN) each
Performance
Maximum speed: Mach 0.96 (645 mph ( 1038.03km/h)) at altitude
Cruise speed: Mach 0.86 (567 miles per hour (912 km/h)) at 45,000 ft
Range: 2,607 mi (4,171 km)
Service ceiling: 55,000 ft (17,000 m)
Thrust/weight: 0.31
Armament
21 × 1,000 pounds (454 kg) of conventional bombs
1 x Blue Danube nuclear gravity bomb
1 x Violet Club 400 kt nuclear gravity bomb
1 x U.S. Mark 5 nuclear gravity bomb supplied under Project E
1 x Yellow Sun Mk.1 400 kt nuclear gravity bomb
1 x Yellow Sun Mk 2 1.1 Mt thermonuclear gravity bomb
1 x Red Beard nuclear gravity bomb
On Display
XJ823 Vulcan B.2 – Solway Aviation Museum, Carlisle, Cumbria, England.
XJ824 Vulcan B.2 – Imperial War Museum Duxford, Cambridgeshire, England.
XL318 Vulcan B.2 – Royal Air Force Museum London, Hendon, England.
XL319 Vulcan B.2 – North East Aircraft Museum, Sunderland, England.
XL360 Vulcan B.2 – Midland Air Museum, Coventry, England.
XL361 Vulcan B.2 – CFB Goose Bay Goose Bay, Labrador, Canada
XL426 Vulcan B.2 (G-VJET) preserved in taxiable condition at Southend Airport, England.
XM573 Vulcan B.2 – Strategic Air and Space Museum – relocated from Offutt AFB to a site near Ashland, Nebraska, United States.
XM575 Vulcan B.2 – East Midlands Airport Aeropark, England.
XM594 Vulcan B.2 – Newark Air Museum, Newark-on-Trent, England.
XM597 Vulcan B.2 – National Museum of Flight, East Fortune, Scotland.
XM598 Vulcan B.2 – Royal Air Force Museum Cosford, Cosford, England.
XM603 Vulcan B.2 – Woodford Aerodrome, some parts removed for support of XH558, XM655 and XL426.
XM605 Vulcan B.2 – Castle Air Museum (former Castle AFB), Atwater, California, United States.
XM606 Vulcan B.2 – Barksdale AFB, United States.
XM607 Vulcan B.2 – RAF Waddington, England.
XM612 Vulcan B.2 – City of Norwich Aviation Museum, Norwich, England.
XM655 Vulcan B.2 (G-VULC) preserved in taxiable condition at Wellesbourne Mountford Airfield, England.
The Avro Vulcan – Technology Documentary (2006)
---
The Vulcan Story Video 1993
The Vulcan was designed in response to a specification issued in 1947; a four engined nuclear bomber was required as the growing menace of the Soviet Union made itself felt. Avro's chief designer, Roy Chadwick immediately began an unusual design based on a delta wing concept and a matter of months later, the design had been submitted and had won the contest (along with Handley Page's HP.80 design – later to become the Victor). The design was changed before the familiar Vulcan layout was settled on; fins on the wingtips became a single conventional fin, and the nose was extended along with the addition of a distinct fuselage section as opposed to the near-flying-wing idea originally envisaged. Tragically, Chadwick was killed in an air accident later in the year, but Stuart Davies, his assistant, survived the crash and continued development on the Avro Type 698 design, taking over as head of Avro's design team.
---
Avro Vulcan XH558 – The Final Flight (2015)
Filmed from the edge of the runway at Doncaster Finningley Airport.Just Amazing to be there to see such an historic event. Sit back and enjoy the final ever flying moments of one of the greatest aircraft ever to have flown.
---
Interview with Bill Ramsey on Vulcan XH558
Bill Ramsey chats about his time flying Vulcan XH558 from 2011-2015. He also talks about flying the Grob Tutor, Tornado GR1 and working with The Peoples Mosquito – http://www.peoplesmosquito.org.uk
---
Avro Vulcan XL426 – Let loose in the Cockpit (2015)
---
Vickers Valiant – The First British V-Bomber
When the Cold War made a new generation of British heavy bombers with nuclear capability vital, Vickers rose to the challenge and had the first Valiant flying by May 1951. In less than two years, the company delivered 108 aircraft for RAF service and production continued until 1957. The black-painted 'Pathfinder' version (B Mk II) showed extraordinary promise for high speed, ultra-low level attacks – but the need for this capability was not recognised until a decade later and it was sidelined. The Valiant was soon 'blooded' with conventional bombing raids during the 1956 Suez Crisis – flying ops from Malta – and also played an integral role in the Australian A-bomb tests in 1956 and dropped Britain's first H-bomb in the Pacific the following year.
---
Victor: Last of the V Force
---
XM607 Falklands' Most Daring Raid. (Operations Black Buck)
During the 1982 Falklands War, Operations Black Buck 1 to Black Buck 7 were a series of seven extremely long-range ground attack missions by Royal Air Force Vulcan bombers of the RAF Waddington Wing, comprising aircraft from 44 Squadron, 50 Squadron, 101 Squadron planned against Argentine positions in the Falkland Islands, of which five missions actually completed attacks on the Falklands. The objectives of all missions were to attack Port Stanley airfield and its associated defences.
The Operation Black Buck raids were staged from RAF Ascension Island, close to the equator. The aircraft carried either twenty-one 1,000 lb bombs internally or two or four Shrike anti-radar missiles externally. The overall effect of the raids on the war is difficult to determine. The raids did minimal damage to the runway and damage to radars was quickly repaired. Commonly dismissed as post-war propaganda, Argentine sources originally claimed that the Vulcan raids influenced Argentina to withdraw some of their Dassault Mirage III fighter aircraft from the Southern Argentina Defence Zone to the Buenos Aires Defence Zone. This dissuasive effect was however watered down when British officials made clear that there would be no strikes on air bases in Argentina.It has been suggested that the Black Buck raids were pressed home by the Royal Air Force because the British armed forces had been cut in the late seventies and the RAF may have desired a greater role in the conflict to prevent further cuts.
A single crater was produced on the runway, rendering it impossible for the airfield to be used by fast jets.[8] Argentine ground crew repaired the runway[9] within twenty-four hours,[10] to a level of quality suitable for the C-130 Hercules transport and Aermacchi MB-339 light attack jet.[11] Many sources[who?] claim that fake craters confounded British damage assessment;[citation needed] however, the British were well aware that the runway remained in use by C-130 military transport aircraft and IA 58 Pucará ground-attack aircraft.
The Vulcan lacked the range to fly to the Falklands without refuelling several times, as it had been designed for medium-range stand-off nuclear missions in Europe. The RAF's tanker planes were mostly converted Handley Page Victor bombers with similar range, so they too had to be refuelled in the air. A total of 11 tankers were required for two Vulcans, a huge logistical effort as all aircraft had to use the same strip. The raids, at almost 6,800 nautical miles (12,600 km) and 16 hours for the return journey, were the longest-ranged bombing raids in history at that time (surpassed in the Gulf War of 1991 by USAF Boeing B-52G Stratofortresses flying from the continental United States but using forward-positioned tankers). Of the five Black Buck raids flown to completion, three were against Stanley Airfield's runway and operational facilities, and the other two were anti-radar missions using Shrike anti-radiation missiles against defences in the Port Stanley area.