Apollo 50th Anniversary Mission PDF eBooks | Apollo 6-17 Complete Set
Apollo 6 | Apollo 7 | Apollo 8 | Apollo 9 | Apollo 10 | Apollo 11 | Apollo 12 | Apollo 13 | Apollo 14 | Apollo 15 | Apollo 16 | Apollo 17
"I believe that this nation should commit itself to achieving the goal, before this decade is out, of landing a man on the Moon and returning him safely to the Earth." - President John F. Kennedy, May 25, 1961
Price: $19.95
75 documents & 376 photos
PDFs contain 10,804 pages
Content is keyword searchable
Print a personal copy
Pay via PayPal or Credit Card
International orders welcome!
Download files upon payment
Purchase This PDF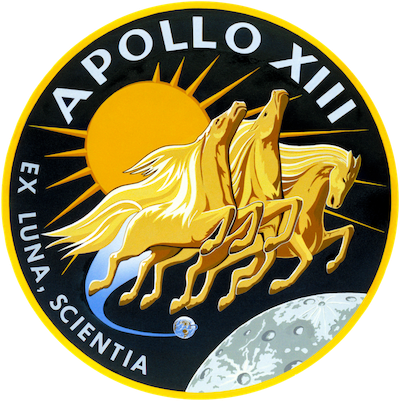 The Apollo 13 Command Module "Odyssey" is on display at the Kansas Cosmosphere and Space Center in Hutchinson, Kansas.
Apollo 13 Mission
Apollo 13 was the seventh crewed mission in the Apollo space program and the third meant to land on the Moon. The craft was launched from Kennedy Space Center on April 11, 1970, but the lunar landing was aborted after an oxygen tank in the service module (SM) failed two days into the mission. The crew instead looped around the Moon, and returned safely to Earth on April 17. The mission was commanded by Jim Lovell with Jack Swigert as command module (CM) pilot and Fred Haise as lunar module (LM) pilot. Swigert was a late replacement for Ken Mattingly, who was grounded after exposure to rubella.
A routine stir of an oxygen tank ignited damaged wire insulation inside it, causing an explosion that vented the contents of both of the SM's oxygen tanks to space. The CM's systems had to be shut down to conserve its remaining resources for reentry, forcing the crew to transfer to the LM as a lifeboat.
Although the LM was designed to support two men on the lunar surface for two days, Mission Control in Houston improvised new procedures so it could support three men for four days. The crew experienced great hardship caused by limited power, a chilly and wet cabin and a shortage of potable water. There was a critical need to adapt the CM's cartridges for the carbon dioxide removal system to work in the LM; the crew and mission controllers were successful in improvising a solution. The astronauts' peril briefly renewed public interest in the Apollo program; tens of millions watched their splashdown in the South Pacific Ocean on television on April 17, 1970.
PDF Contents
Mission Overview
Prelaunch Mission Operations Report 1970
PressKit (Restored)
Crew Training Summary 1969
Flight Plan original
Flight Plan revised
MSFN Mission Configuration System Description 1970
Lunar Trajectory Notes
Saturn V & Launch
Saturn V Flight Evaluation Report
Saturn V Postflight Trajectory Analysis 1970
Crew & Communications
CM On-Board Voice Transcript
PAO Spacecraft Commentary
Technical Air-to-Ground Transcript
Oral History – Fred Haise
Oral History – James Lovell
CSM & Trans Lunar Activities
CSM Launch Checklist
Stowage List
CSM G+C Checklist
G&N Dictionary
GNC Systems Performance Analysis
Lunar Module & Lunar Activities
ALSEP Mission Rules
CDR Cuff Checklist
Experiments Photography Summary 1970
LM Activation Checklist
LM Battery Anomaly 1970
LM Contingency Checklist
LM Data Card Book 1970
LM Data Card Book
LM Test Checkout Plan 1968
LM Test Checkout Requirements 1968
Lunar Exploration Experiments & Photography Summary
Photography & Video
Color Television Camera
Westinghouse TV Cameras
Westingthouse Press Release
Photographic & TV Procedures
Entry & Landing
Mission Debrief
Case Study Part 1 and 2
Guidance, Navigation, and Control Challenges
High Gain Antenna Acquisition Problem 1970
LiOH Canister Breakthrough Test
Mission Operations Report 1970
Mission Report 1970-03
Mission Report 1970-09
MSFN Article Bill Wood
Panel Separation Analysis 1970
Postlaunch Mission Operations Report 1970
Technical Crew Debriefing 1970
Accident Investigation
Report of Apollo 13 Review Board
Report of Apollo 13 Review Board Appendix A
Report of Apollo 13 Review Board Appendix B-E
Report of Apollo 13 Review Board Appendix F-H
Report Summaries
Panel 1 – Vol 1. Anomaly Investigation
Panel 1 – Vol 2. Manufacturing & Test History of Oxygen Tank
Panel 1 – Vol 3. Special Analyses & Tests
Panel 2 – Flight Crew Observations
Panel 3 – Flight Operations & Network
Panel 4 – Photo Handling, Processing, Cataloguing
Panel 5a – Corrective Action CSM
Panel 5b – Corrective Action LM
Panel 5c – Corrective Action Gov. Equipment
Panel 6 – Related Systems Vol 1. Summary
Panel 6 – Related Systems Vol 2. LM
Panel 6 – Related Systems Vol 3. CSM
Panel 6 – Related Systems Vol 4. Gov. Equipment
Panel 7 – Reaction Processes
Panel 8 – High Pressure Oxygen Systems
Panel 8 – High Pressure Oxygen Systems, Addendum 1
Panel 9 – Safety, Reliability, Quality Assurance
Panel 11 – Administration, Communications, and Procurement
Cryo Oxygen Tank 2 Anomaly
High Gain Acquisition Problem
Mission Operation Report – Prelaunch
5 Day Report
30 Day Report
Mission Report
Mission Report Change Document
Apollo 13 Videos
Apollo 13 Full Mission Videos via LunarModule5
View the complete series of Apollo 13 mission videos.
Apollo 50th Anniversary Mission PDF eBooks | Apollo 6-17 Complete Set
Apollo 6 | Apollo 7 | Apollo 8 | Apollo 9 | Apollo 10 | Apollo 11 | Apollo 12 | Apollo 13 | Apollo 14 | Apollo 15 | Apollo 16 | Apollo 17
"I believe that this nation should commit itself to achieving the goal, before this decade is out, of landing a man on the Moon and returning him safely to the Earth." - President John F. Kennedy, May 25, 1961