Price: $26.95
8 magazines, 5 manuals, & photos
PDF contains 2,878 pages
Content is keyword searchable
Print a personal copy
Pay via PayPal or Credit Card
International orders welcome!
Download files upon payment
Purchase This PDF
Saga of Consolidated's B-36 Peacemaker
Return of the Augsburg Eagle
Requiem for the German Air Force, Luftwaffe at Munich
B-17: Flying Phoenix, Atomic Target to Borate Bomber
B-36 Gunner's view of SAC from 50,000 feet
CF-18 Hornet in Canadian Service
MiG-29 Fulcrum, Soviet Union's newest interceptor
Requiem for Heavy Weights
Photographing the Big Ones, Capturing B-36 in Flight
B-36 Congressional Investigation
Hawaii Calls, PN-9 Flying/Sail Boat
Making of an Aviation Historian
Escape from Disaster, Carrier Landings
B For Bomber, 1927 to 1997
The Ryan Legend
Where Is This B-36?
Utmost Utility, the Fieseler Fi 156 Stork, And The Focke- Wulf 189 Flying Eye
Warriors on the Wing, World War II airpower
Curtiss vs. Boeing, Biplane Fighter Competition
Eight-Engined Giant, the Convair YB-60
Sting of the Scorpion, F-117 Nighthawk Stealth Fighter
The Mystery Ship, Hughes XF-11
Jet-Age Landing Gear
Stiletto, the Douglas X-3
Power in a Pod, from B-36 to YRB-49 Flying Wing
Coast-to-Coast in 5 Hours, Modern Jet Airliners
Manuals & Photos
B-36H Peacemaker Flight Handbook, 1954
B-36D Flight Manual
RB-36D/E Flight Handbook, 1955
B-36 Operating Instructions, 1947
B-36J Flight Handbook, 1953
Over 700 photos of the B-36 Peacemaker, YC-99, and YB-60
Convair B-36 Peacemaker
General Characteristics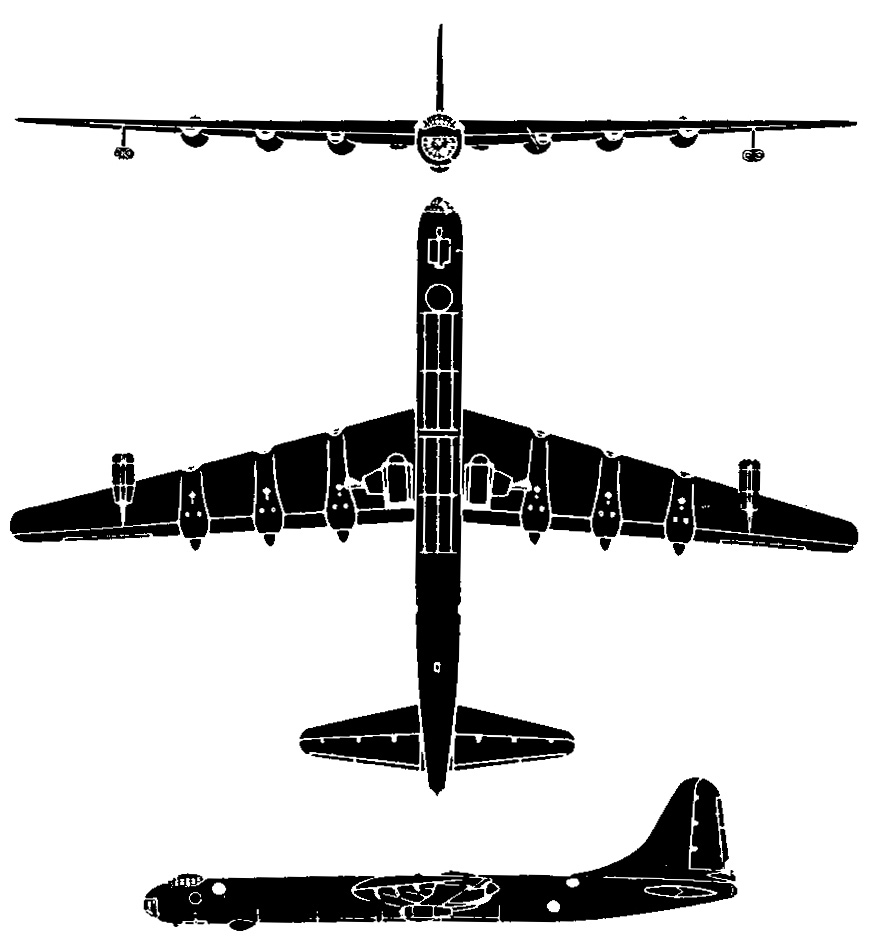 Crew: 13
Length: 162 ft 1 in (49.42 m)
Wingspan: 230 ft 0 in (70.12 m)
Height: 46 ft 9 in (14.25 m)
Wing area: 4,772 ft² (443.5 m²)
Airfoil: NACA 63(420)-422 root, NACA 63(420)-517 tip
Empty weight: 166,165 lb (75,530 kg)
Loaded weight: 262,500 lb (119,318 kg) (combat weight)
Max. takeoff weight: 410,000 lb (186,000 kg)
Powerplant:

4 × General Electric J47 turbojets, 5,200 lbf (23.2 kN) each
6 × Pratt & Whitney R-4360-53 "Wasp Major" radials, 3,800 hp (2,835 kW) each
Performance
Maximum speed: 418 mph (363 knots, 672 km/h)
Cruise speed: 230 mph (200 knots, 370 km/h)
Combat radius: 3,985 mi (3,465 nmi, 6,415 km)
Ferry range: 10,000 mi (8,700 nmi, 16,000 km)
Service ceiling: 43,600 ft (13,300 m)
Rate of climb: 1,995 ft/min (10.1m/s)
Armament
Guns: 1 remotely operated tail turret with 2× 20 mm (0.787 in) M24A1 auto-cannons
Bombs: 86,000 lb (39,000 kg) with weight restrictions, 72,000 lb (32,700 kg) normal
General Characteristics
Crew: Five duty + five reserve crew
Capacity: 400 troops
Payload: 100,000 lb (45,000 kg)
Length: 182 ft 6 in (55.64 m)
Wingspan: 230 ft 0 in (70.12 m)
Height: 57 ft 6 in (17.53 m)
Wing area: 4,772 ft² (443.5 m²)
Empty weight: 135,232 lb (61,469 kg)
Loaded weight: 265,000 lb (120,455 kg)
Max. takeoff weight: 320,000 lb (145,455 kg)
Powerplant: 6 × Pratt & Whitney R-4360-41 Wasp Major 28-cylinder air-cooled radial engine, 3,500 hp (2,611 kW) each
Performance
Maximum speed: 307 mph (267 knots, 494 km/h)
Range: 8,100 mi (7,043 nmi, 13,041 km)
Service ceiling: 30,000 ft (9,150 m)
General Characteristics
Crew: five (two pilots, navigator ,bombardier /radio operator ,radio operator/tail gunner )
Length: 171 ft (52.1 m)
Wingspan: 206 ft (62.8 m)
Height: 60 ft 6 in (18.4 m)
Wing area: 5,239 ft2 (486.7 m2)
Empty weight: 153,016 lb (69,407 kg)
Loaded weight: 160,000 lb (73,000 kg)
Max. takeoff weight: 300,000 lb (140,000 kg)
Powerplant: 8 × Pratt & Whitney J57-P-3 turbojets, 8,700 lbf (38 kN) each
Performance
Maximum speed: 508 mph (411 knots, 818 km/h) at 29,250 ft (8,915 m)
Stall speed: 115 knots (132 mph, 212 km/h)
Combat radius: 2,920 mi (2,540 nm, 4,700 km)
Ferry range: 8,000 mi (7,000 nm, 13,000 km)
Service ceiling: 53,300 ft (16,200 m)
Rate of climb: 1,060 ft/min (5.38 m/s)
Wing loading: 31 lb/ft2 (150 kg/m2)
Thrust/weight: 0.44
Armament
Guns: 2× 20 mm (0.787 in) cannon in tail
Bombs: 72,000 lb (33,000 kg)
XB-36 – Prototype powered by six 3,000 hp (2,200 kW) R-4360-25 engines and unarmed, one built.
YB-36 – Prototype, s/n 42-13571,[55] with modified nose and raised cockpit roof, one built later converted to YB-36A.
YB-36A – Former YB-36 with modified four-wheel landing gear, later modified as a RB-36E.
B-36A – Production variant, unarmed, used for training, 22 built, all but one converted to RB-36E.
XC-99 – A cargo/transport version of the B-36. One built.
B-36B – Armed production variant with six 3,500 hp (2,600 kW) R-4360-41 engines, 73 built, later conversions to RB-36D and B-36D.
RB-36B – Designation for 39 B-36Bs temporarily fitted with a camera installation.
YB-36C – Projected variant of the B-36B with six 4,300 hp (3,200 kW) R-4360-51 engines driving tractor propellers, not built.
B-36C – Production version of the YB-36, completed as B-36Bs.
B-36D – Same as B-36B, but fitted with four J47-GE-19 engines, two each in two underwing pods, 22 built and 64 conversions from B-36B.
RB-36D – Strategic reconnaissance variant with two bomb bays fitted with camera installation, 17 built and seven conversions from B-36B.
GRB-36D – Same as RB-36D, but modified to carry a GRF-84F Thunderstreak on a ventral trapeze as part of the FICON program, 10 modified.
RB-36E – The YB-36A and 21 B-36As converted to RB-36D standards.
B-36F – Same as B-36D, but fitted with six 3,800 hp (2,800 kW) R-4360-53 engines and four J47-GE-19 engines, 34 built.
RB-36F – Strategic reconnaissance variant of the B-36F with additional fuel capacity, 24 built.
YB-36G – See YB-60.
B-36H – Same as B-36F with improved cockpit and equipment changes, 83 built.
NB-36H – One B-36H fitted with a nuclear reactor installation for trials, had a revised cockpit and raised nose. This was intended to evolve into the Convair X-6.
RB-36H – Strategic reconnaissance variant of the B-36H, 73 built.
B-36J – High altitude variant with strengthened landing gear, increased fuel capacity, armament reduced to tail guns only and reduced crew, 33 built.
YB-60 – Originally designated the YB-36G, s/n 49-2676 and 49-2684.[56] Project for a jet-powered swept wing variant. Due to the differences from a standard B-36 its designation was changed to YB-60.
Only four complete (and one stored) B-36 type aircraft survive today, from the 384 produced.
YB-36/RB-36E
42-13571 – in the private collection of the late Walter Soplata in Newbury, Ohio. This was the first prototype to be converted to the bubble canopy used on production B-36s. It was on display in the 1950s and 1960s at the former site of the Air Force Museum, now the National Museum of the United States Air Force, at Wright-Patterson Air Force Base near Dayton, Ohio. When the museum's current location at Wright-Patterson was being developed in the late 1950s, the cost of moving the bomber was more than simply flying a different B-36 to the new location and the aircraft was slated to be scrapped. It was cut up at the old museum site by the summer of 1972. Instead, Soplata bought it and transported the pieces by truck to his farm, where it sits today in several large pieces. The bomb bay currently contains a complete P-47N still packed in its original shipping crate.
RB-36H
51-13730 – Castle Air Museum at the former Castle Air Force Base in Atwater, California. Previously displayed at Chanute Air Force Base in Rantoul, IL from 1957 to 1991.
B-36J
52-2217 – Strategic Air and Space Museum, formerly located at Offutt Air Force Base, and now just off base near Ashland, Nebraska.
52-2220 – National Museum of the United States Air Force, (formerly The U.S. Air Force Museum) at Wright-Patterson Air Force Base near Dayton, Ohio. Its flight to the museum from Davis-Monthan Air Force Base in Arizona on 30 April 1959 was the last flight of a B-36. This B-36J replaced the former Air Force Museum's original YB-36 AF Serial Number 42-13571 (see above). This was also the first aircraft to be placed in the Museum's new display hangar, and was not moved again until relocated to the Museum's latest addition in 2003. It is displayed alongside the only surviving example of the massive 9 ft (2.7 m) XB-36 lower main gear strut, single wheel and tire.
52-2827 – Pima Air & Space Museum, adjacent to Davis-Monthan Air Force Base in Tucson, Arizona. It was the final B-36 built, named "The City of Fort Worth", and loaned to the city of Fort Worth, Texas on 12 February 1959. It sat on the field at the Greater Southwest International Airport until that property was redeveloped as a business park (some attempts were made to begin restoration there, in the 1970s). It then moved to the short-lived Southwest Aero Museum, which was located between the former Carswell Air Force Base (now Naval Air Station Joint Reserve Base Fort Worth) and the former General Dynamics (now Lockheed Martin) assembly plant, where it was originally built; some restoration took place while at the plant. As Lockheed Martin had no place to display the finished aircraft, and local community efforts in Fort Worth to build a facility to house and maintain the massive aircraft fell short, the USAF Museum retook possession of the aircraft and it was transported to Tucson, Arizona for loan to the Pima Air & Space Museum. It is now restored and reassembled at that museum, just south of Davis-Monthan AFB, Arizona and is displayed at that location.
XC-99
43-52436 is part of the National Museum of the United States Air Force collection at Wright-Patterson AFB in Dayton, Ohio. The aircraft was disassembled at Kelly Air Force Base and its sections transported to Ohio for anti-corrosion preservation and reassembly there.