Price: $14.95
3 magazines, 3 manuals, & photos
PDF contains 1750 pages
Content is keyword searchable
Print a personal copy
Pay via PayPal or Credit Card
International orders welcome!
Download files upon payment
Purchase This PDF
A-10 Close Support
Dyna-Soar – Also Ran in the Race for Space
Navy Wings of Gold
Combat nose art for the 90s
E-2C Hawkeye, All seeing eye in the sky
Arado & the making of the Secret Luftwaffe
Convair 990 – Fastest Jetliner 'till the Concorde
Two-seat A-10 – Would it have made a difference?
"The High and the Mighty" – Hollywood movie magic with a DC-4
F-86E to F-4D – Korean War Ace to Vietnam Gunfighter
Manuals & Photos
A-10A Flight Manual 1988
A-10A Flight Manual Supplement 1987
A-10C Flight Manual 2012
Over 300 A-10 Thunderbolt II photos
Fairchild-Republic A-10 Thunderbolt II
General Characteristics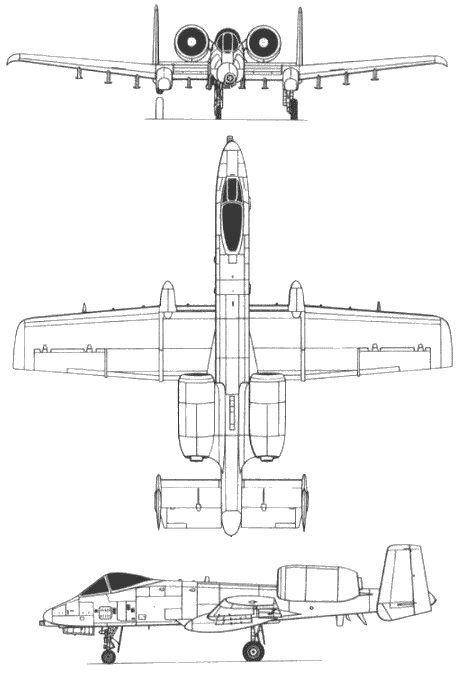 Crew: 1
Length: 53 ft 4 in (16.26 m)
Wingspan: 57 ft 6 in (17.53 m)
Height: 14 ft 8 in (4.47 m)
Wing area: 506 ft² (47.0 m²)
Airfoil: NACA 6716 root, NACA 6713 tip
Empty weight: 24,959 lb (11,321 kg)
Loaded weight: 30,384 lb (13,782 kg)
CAS mission: 47,094 lb (21,361 kg)
Anti-armor mission: 42,071 lb (19,083 kg)
Max. takeoff weight: 50,000 lb (23,000 kg)
Internal fuel capacity: 11,000 lb (4,990 kg)
Powerplant: 2 × General Electric TF34-GE-100Aturbofans, 9,065 lbf (40.32 kN) each
Performance
Never exceed speed: 450 knots (518 mph, 833 km/h) at 5,000 ft (1,500 m) with 18 Mk 82 bombs
Maximum speed: 381 knots (439 mph, 706 km/h) at sea level, clean
Cruise speed: 300 knots (340 mph, 560 km/h)
Stall speed: 120 knots (138 mph, 220 km/h)
Combat radius:

CAS mission: 250 nmi (288 mi, 460 km) at 1.88 hour loiter at 5,000 ft (1,500 m), 10 min combat
Anti-armor mission: 252 nmi (290 mi, 467 km), 40 nmi (45 mi, 75 km)) sea-level penetration and exit, 30 min combat

Ferry range: 2,240 nmi (2,580 mi, 4,150 km) with 50 knot (55 mph, 90 km/h) headwinds, 20 minutes reserve
Service ceiling: 45,000 ft (13,700 m)
Rate of climb: 6,000 ft/min (30 m/s)
Wing loading: 99 lb/ft² (482 kg/m²)
Thrust/weight: 0.36
Armament
Guns: 1× 30 mm (1.18 in) GAU-8/A Avengerrotary cannon with 1,174 rounds (capacity 1,350 rd)
Hardpoints: 11 (8× under-wing and 3× under-fuselage pylon stations) with a capacity of 16,000 lb (7,260 kg) and provisions to carry combinations of:

Rockets:

4× LAU-61/LAU-68 rocket pods (each with 19×/7× Hydra 70mm/APKWS rockets, respectively)
4× LAU-5003 rocket pods (each with 19× CRV7 70 mm rockets)
6× LAU-10 rocket pods (each with 4× 127 mm (5.0 in) Zuni rockets)

Missiles:

2× AIM-9 Sidewinder air-to-air missiles for self-defense
6× AGM-65 Maverick air-to-surface missiles

Bombs:

Mark 80 series of unguided iron bombs or
Mk 77 incendiary bombs or
BLU-1, BLU-27/B Rockeye II, Mk20, BL755 and CBU-52/58/71/87/89/97 cluster bombs or
Paveway series of Laser-guided bombs or
Joint Direct Attack Munition (JDAM) (A-10C) or
Wind Corrected Munitions Dispenser (A-10C)

Other:

SUU-42A/A Flares/Infrared decoys and chaff dispenser pod or
AN/ALQ-131 or AN/ALQ-184 ECM pods or
Lockheed Martin Sniper XR or LITENING targeting pods (A-10C) or
2× 600 US gal (2,300 L) Sargent Fletcher drop tanks for increased range/loitering time.
Avionics
AN/AAS-35(V) Pave Penny laser tracker pod (mounted beneath right side of cockpit) for use with Paveway LGBs (currently the Pave Penny is no longer in use)
Head-up display (HUD) for improved technical flying and air-to-ground support.
YA-10A

Pre-production variant. 12 were built.

A-10A

Single-seat close air support, ground-attack production version.

OA-10A

A-10As used for airborne forward air control.

YA-10B Night/Adverse Weather (N/AW)

Two-seat experimental prototype, for work at night and in bad weather. The one YA-10B prototype was converted from an A-10A.

A-10C

A-10As updated under the incremental Precision Engagement (PE) program. 

A-10PCAS

Proposed unmanned version developed by Raytheon and Aurora Flight Sciences as part of DARPA's Persistent Close Air Support program. The PCAS program eventually dropped the idea of using an optionally manned A-10.

Civilian A-10

Proposed by the South Dakota School of Mines and Technology to replace its North American T-28 Trojan thunderstorm penetration aircraft. The A-10 would have its military engines, avionics, and oxygen system replaced by civilian versions. The engines and airframe would receive protection from hail, and the GAU-8 Avenger would be replaced with ballast or scientific instruments.
Germany
A-10A
77-0264 – Spangdahlem AB, Bitburg
South Korea
A-10A
United Kingdom
A-10A
77-0259 – American Air Museum at Imperial War Museum Duxford
80-0219 – Bentwaters Cold War Museum
United States
YA-10A
71-1370 – Joint Base Langley-Eustis (Langley AFB), Hampton, Virginia
YA-10B
73-1664 – Air Force Flight Test Center Museum, Edwards AFB, California
A-10A
73-1666 – Hill Aerospace Museum, Hill AFB, Utah
73-1667 – Flying Tiger Heritage Park at the former England AFB, Louisiana
75-0263 – Empire State Aerosciences Museum, Glenville, New York
75-0270 – McChord Air Museum, McChord AFB, Washington
75-0293 – Wings of Eagles Discovery Center, Elmira, New York
75-0288 – Air Force Armament Museum, Eglin AFB, Florida
75-0289 – Heritage Park, Eielson AFB, Alaska
75-0298 – Pima Air & Space Museum (adjacent to Davis-Monthan AFB), Tucson, Arizona
75-0305 – Museum of Aviation, Robins AFB, Warner Robins, Georgia
75-0308 – Moody Heritage Park, Moody AFB, Valdosta, Georgia
75-0309 – Shaw AFB, Sumter, South Carolina. Marked as AF Ser. No. 81-0964 assigned to the 55 FS from 1994–96. The represented aircraft was credited with downing an Iraqi Mi-8 Hip helicopter on 15 Feb 1991 while assigned to the 511 TFS.
76-0516 – Wings of Freedom Aviation Museum at the former NAS Willow Grove, Horsham, Pennsylvania
76-0530 – Whiteman AFB, Missouri
76-0535 – Cradle of Aviation, Garden City, New York
76-0540 – Aerospace Museum of California, McClellan Airport (former McClellan AFB), Sacramento, California
77-0199 – Stafford Air & Space Museum, Weatherford, Oklahoma
77-0205 – USAF Academy collection, Colorado Springs, Colorado
77-0228 – Grissom Air Museum, Grissom ARB (former Grissom AFB), Peru, Indiana
77-0244 – Wisconsin Air National Guard Museum, Volk Field ANGB, Wisconsin
77-0252 – Cradle of Aviation, Garden City, New York (nose section only)
77-0667 – England AFB Heritage Park, Alexandria, Louisiana
78-0681 – National Museum of the United States Air Force, Wright-Patterson AFB, Dayton, Ohio
78-0687 – Don F. Pratt Memorial Museum, Fort Campbell, Kentucky
79-0097 – Warbird Park, former Myrtle Beach Air Force Base, South Carolina
79-0100 – Barnes Air National Guard Base, Westfield, Massachusetts
79-0103 – Bradley Air National Guard Base, Windsor Locks, Connecticut
79-0116 – Warrior Park, Davis-Monthan AFB, Tucson, Arizona
79-0173 – New England Air Museum, Windsor Locks, Connecticut
80-0247 – American Airpower Museum, Republic Airport, Farmingdale, New York
80-0708 – Selfridge Military Air Museum, Selfridge Air National Guard Base, Harrison Township, Michigan