Price: $9.95
4 magazines, 1 manual, & photos
PDF contains 306 pages
Content is keyword searchable
Print a personal copy
Pay via PayPal or Credit Card
International orders welcome!
Download files upon payment
Purchase This PDF
Rangefinder, Making the F-82 into the finest prop-driven photo plane ever
Clobbering, a primer of WWII fighter tactics
Winged Excalibur, the Douglas SBD Dauntless
Rocket Fighter, the Me-163 Comet
Escort Fighter, the story of the F-82 Twin Mustang
Gee Bee: Profile of a Legend
The Great Clippers, building the Boeing 314
Blunted Arrow, Regia Aeronautica's Fiat G.50
Double Trouble, the F-82 Twin Mustang in Korea
The Flying Hamburger, the Bv boats of Blohm & Voss
Sea Dart, the Navy goes to sea in a jet fighter that might have worked!
The Lonely Long Ranger… F-82 Twin Mustang, Long Range Escort
Blended Wing Body airliner, a Wings exclusive
Manuals & Photos
F-82E Operating Instructions 1948
Over 60 F-82 Photos
North American F-82 Twin Mustang
General Characteristics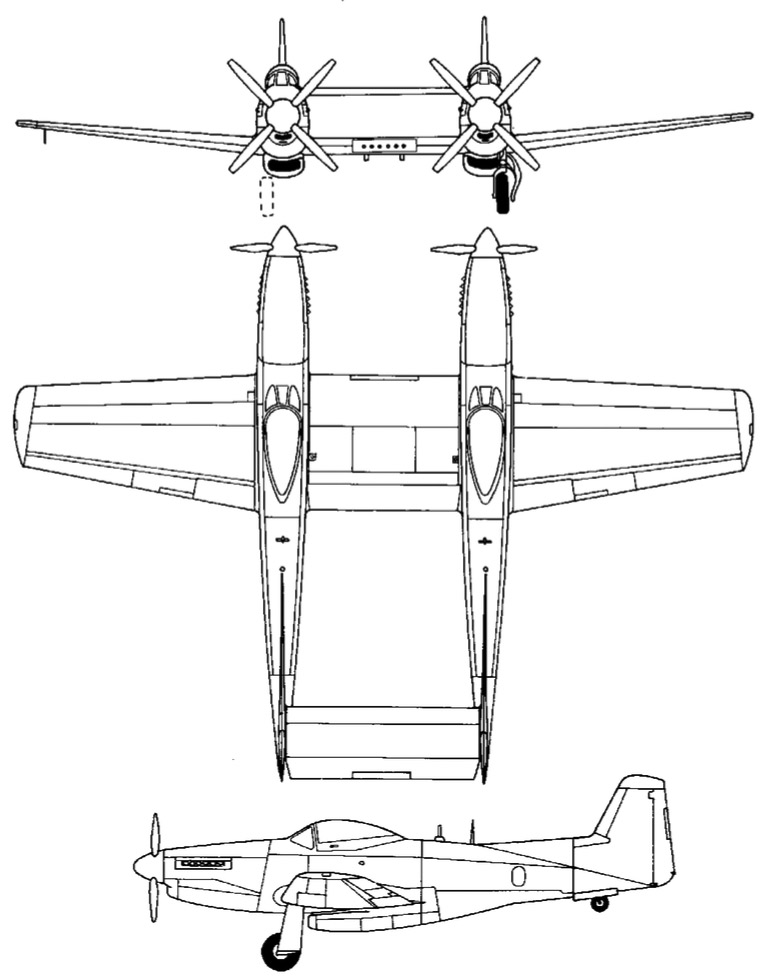 Crew: 2
Length: 42 ft 9 in (12.93 m)
Wingspan: 51 ft 3 in (15.62 m)
Height: 13 ft 10 in (4.22 m)
Wing area: 408 ft² (37.90 m²)
Empty weight: 15,997 lb (7,271 kg)
Max. takeoff weight: 25,591 lb (11,632 kg)
Powerplant: 2 × Allison V-1710-143/145 counter-rotating liquid-cooled V12 engines, 1,380 hp takeoff (1,029 kW each) each
Performance
Maximum speed: 482 mph (400 kn, 740 km/h) at 21,000 ft (6,400 m)
Range: 2,350 mi (1,950 nmi, 3,605 km)
Service ceiling: 38,900 ft (11,855 m)
Armament
Guns: 6 × .50 in (12.7 mm) Browning M3 machine guns

[24]

Rockets: 25 × 5 in (127 mm) rockets
Bombs: 4,000 lb (1,800 kg)
NA-123

Basic Development design. The NA-123 design was presented by North American Aircraft to the USAAF in February 1944. The design for the new aircraft was for a long-range fighter to penetrate deep into enemy territory. Its immediate role would be to escort the B-29 Superfortress bombers used in the Pacific Theater of Operations against Japan. The USAAF endorsed it at once. A letter contract to construct and test four experimental XP-82 aircraft (P-82 designation) gave way in the same month to an order for 500 production models.

XP-82 / XP-82A

Prototype. The USAAF accepted the first XP-82 in August 1945 and a second one in September. Both were equipped with Packard Merlin V-1650-23 and ?25 engines. The third experimental aircraft, designated XP-82A, had two Allison V-1710-119 engines. It was accepted in October 1945. There is no evidence that the XP-82A was ever actually flown, due to problems with the Allison engines. The fourth XP-82A prototype (44-83889) was canceled.

P-82B

Planned production version. With the end of World War II, production plans were cut back significantly. Against the 500 P-82Bs initially planned, overall procurement was finalized on 7 December 1945 at 270 P-82s. Included were 20 P-82Bs already on firm order and later allocated to testing as P-82Z. The USAAF accepted all P-82Zs in fiscal year 1947. Two aircraft were accepted in January 1946, four in February 1947, and 13 in March 1947. By December 1949, no P-82Bs (by then redesignated F-82Bs) remained in the Air Force inventory. These P-82Bs were basically similar to the XP-82, but differed in having provisions for underwing racks.
P-82C

Night fighter version. A P-82B, (44-65169) modified in late 1946, for testing as a night interceptor. The P-82C featured a new nacelle (under the center wing section) housing an SCR-720 radar. The SCR-720 was the same radar installation which was carried aboard the Northrop P-61 Black Widow, a considerably larger aircraft. The right-hand cockpit became the radar operator's position. The production version was designated P-82G.

P-82D

Night fighter version. Another P-82B (44-65170) modified with a different radar, the APS-4. The APS-4 was a much smaller set than the SCR-720, and operated in the 1.18 in (3 cm) waveband. As like the P-82C, the right-hand cockpit became the radar operator's position. The production version was designated P-82F.

F-82E

Escort fighter version. The F-82E followed the F-82B, which it so closely resembled. They were equipped with two counter-rotating Allison liquid-cooled engines, V-1710-143 and V-1710-145. The first four F-82Es were redesignated as F-82As and were allocated for engine testing. After production delays by engine problems and additional testing, F-82Es entered operational service in May 1948. The Air Force accepted 72 F-82Es in fiscal year 1948 (between January and June 1948), and 24 in fiscal year 1949 (22 in July 1948, one in October, and one in December).
F-82F/G/H

Night fighter versions. A nacelle beneath the center-wing that housed radar equipment (F-82F's AN/APG28 and F-82G's SCR-720C18); automatic pilot; and a radar operator replacing the second pilot. When winterization was added to the F or G, it became an F-82H. Entered operational service in September 1948. One F-82G was accepted in fiscal year 1948 (February 1948), all other F-82s (F, G, and H models) in fiscal year 1949. The last F-82G and six winterized F-82Hs were received in March 1949.
Five F-82s are known to still exist.
F-82B Twin Mustang, AF s/n 44-65162, is on display at the National Museum of the United States Air Force at Wright-Patterson AFB in Dayton, Ohio. It had been a "gate guard" for many years outside Lackland AFB in Texas, was acquired by the Commemorative Air Force in 1966 and was operated for many years by its Midland, Texas squadron. That F-82B stalled while landing at Valley Regional Airport in Harlingen, Texas in 1987. The aircraft was restorable but its unique props and landing gear were destroyed in the crash and replacement parts could not be obtained. In 2002, the CAF included it with a crashed P-38 in a trade for a flyable P-38 from a private organization, NPA Holdings. The USAF stepped in and demanded the F-82 be returned since it was only loaned to the CAF on the condition that the CAF return the aircraft to the U.S. Air Force if it was no longer wanted. In a published opinion, the U.S. Sixth Circuit Court of Appeals ruled in December 2009 that the F-82B must be returned to the National Museum of the U.S. Air Force from NPA Holdings because the CAF violated the terms of the loan agreement with the U.S. Air Force. This aircraft arrived at the National Museum of the United States Air Force in late 2009 and underwent an extensive restoration throughout 2010, modifying the aircraft to the appearance of an F-82G. In early 2011, the aircraft was placed on display in the museum's Korean War Gallery, modified and marked as the F-82G crewed by 1st Lt Charles Moran, pilot, and 1st Lt Fred Larkins, radar observer, 68th F(AW)S, when they shot down a North Korean La-7 on 27 June 1950, near Kimpo Air Base, South Korea. The aircraft is displayed without the F-82G's radar "long dong" pod, as none have been located.
F-82B Twin Mustang "Betty Jo", AF s/n 44-65168, is currently on display at the National Museum of the United States Air Force at Wright-Patterson AFB in Dayton, Ohio in its Cold War gallery. The aircraft is displayed in the markings of its historic Hawaii to New York flight in 1947, along with clothing and artifacts used in that record-breaking flight. "Betty Jo" was delivered to the Museum on 21 June 1957.
XP-82 Twin Mustang, AF s/n 44-83887 and FAA tail number N887XP, is currently under restoration to flying status by the B-25 Group, headed by aircraft restorer Tom Reilly, at Douglas Municipal Airport in Douglas, Georgia. A single fuselage and parts of the second XP-82 were located for many years on the farm of Walter Soplata in Newbury, Ohio; these were sold in April 2008 to Reilly and shipped to his facility in Douglas. With additional airframe parts sourced from Alaska, Colorado, and Florida; a left-turning engine found in Mexico City; control components from California; and other items fabricated at the Douglas facility, Reilly believes the aircraft can be restored to flying condition. During the restoration process, a number of written notes and graffiti by the original construction workers were found on internal surfaces. These have been preserved and will be reapplied to the interior of the finished aircraft.
F-82E Twin Mustang, AF s/n 46-0256, NACA s/n 133 and FAA tail number N142AM, is currently under restoration to flying status by James Harker in Birchwood, Wisconsin. It was an intact airframe formerly located at the Walter Soplata farm.
F-82E Twin Mustang, AF s/n 46-0262, is currently on display as a "gate guard" at Lackland AFB in Texas as part of the USAF History and Traditions Museum in San Antonio, Texas.