Apollo 50th Anniversary Mission PDF eBooks | Apollo 6-17 Complete Set
Apollo 6 | Apollo 7 | Apollo 8 | Apollo 9 | Apollo 10 | Apollo 11 | Apollo 12 | Apollo 13 | Apollo 14 | Apollo 15 | Apollo 16 | Apollo 17
"I believe that this nation should commit itself to achieving the goal, before this decade is out, of landing a man on the Moon and returning him safely to the Earth." - President John F. Kennedy, May 25, 1961
Price: $19.95
46 documents & 1645 photos
PDF contains 6,488 pages
Content is keyword searchable
Print a personal copy
Pay via PayPal or Credit Card
International orders welcome!
Download files upon payment
Purchase This PDF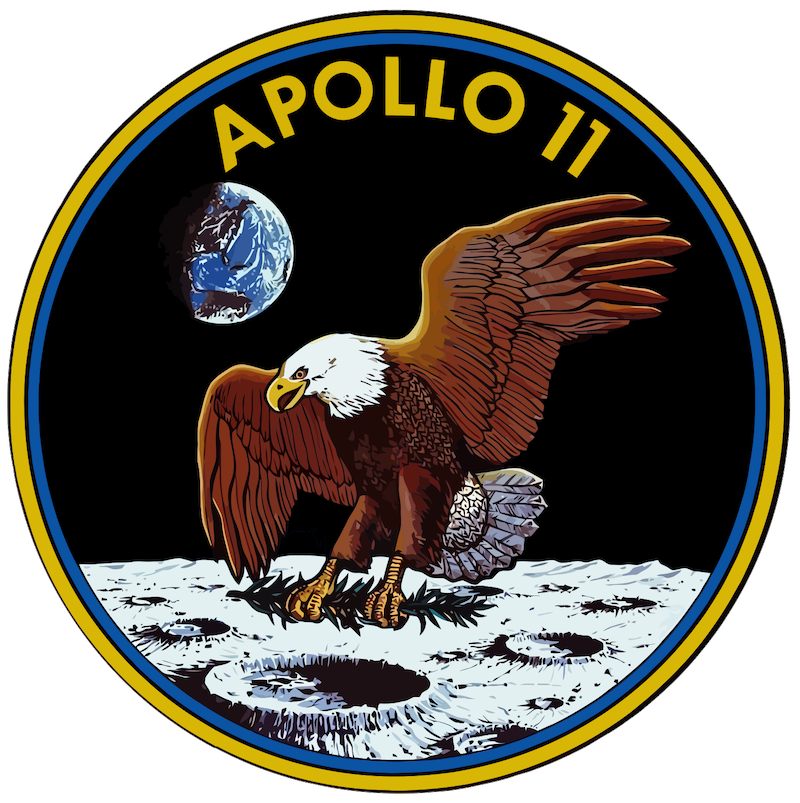 The Apollo 11 Command Module is on display at the The National Air and Space Museum of the Smithsonian Institution, Washington D.C..
Apollo 11 Mission
Apollo 11 was the spaceflight that first landed humans on the Moon. Apollo 11 was launched by a Saturn V rocket from Kennedy Space Center on Merritt Island, Florida, on July 16 at 13:32 UTC, and was the fifth crewed mission of NASA's Apollo program.
Commander Neil Armstrong and lunar module pilot Buzz Aldrin formed the American crew that landed the Apollo Lunar Module Eagle on July 20, 1969, at 20:17 UTC. Armstrong became the first person to step onto the lunar surface six hours 39 minutes later on July 21 at 02:56 UTC; Aldrin joined him 19 minutes later. They spent about two and a quarter hours together outside the spacecraft, and collected 47.5 pounds (21.5 kg) of lunar material to bring back to Earth. Command module pilot Michael Collins flew the command module Columbia alone in lunar orbit while they were on the Moon's surface. Armstrong and Aldrin spent 21 hours 31 minutes on the lunar surface at a site they named Tranquility Base before lifting off to rejoin Columbia in lunar orbit.
The astronauts used Eagle's ascent stage to lift off from the lunar surface and rejoin Collins in the command module. They jettisoned Eagle before they performed the maneuvers that propelled Columbia out of the last of its 30 lunar orbits onto a trajectory back to Earth. They returned to Earth and splashed down in the Pacific Ocean on July 24 after more than eight days in space.
PDF Contents
Mission Overview
Press Kit
Final Flight Plan
Crew Training Summaries
Mission Operation Report
Mission Rules
Saturn V Launch & Abort
Launch Operations Checklist, Mike Collins
AS-506 SaturnV Technical Summary
Hybrid Mission Abort Plans
Crew & Communications
Onboard Voice Transcription CM
Spacecraft Commentary
Technical Air-To-Ground Voice Transcription
Alternate & Contingency Checklist
CMP Michael Collins' Training Notebook
CMP Solo Book, Mike Collins
Operations Checklist, Mike Collins
Primary Guidance Navigation Control System
Stowage List, July 1969
Photography & Video
70mm 16mm Photo Index
Photo Frame Index
TV Manual
Lunar Module & Lunar Operations
Exegesis 1201 1202 Program Alarms
LM Abort Rescue Plan
LM Lunar Surface Checklist
LM RCS Performance
LM Timeline Book
LM-5 Construction Log Grumman
LM-5 Structures
Lunar Landmark Locations
Lunar Sample Catalog
Lunar Surface Operations Plan
Lunar Surface Temperatures
Mission Planning for LM Descent Ascent
Mission Debrief
AS-506 Flight Evaluation Report
Crew Systems Division
Entry Postflight Analysis
Flight Operations Reunion 20th Anniversary
Mike Collins Oral History
Mission Report Supplement 5
Neil Armstrong Oral History
Postlaunch Mission Operation Report
Preliminary Science Report
Technical Crew Debriefing
Trajectory Analysis
Brochures
Boeing & Apollo 11
In This Decade
Apollo 11 Videos
Apollo 11 Full Mission Videos via LunarModule5
Apollo 11 Mission Profile Diagram

Apollo 50th Anniversary Mission PDF eBooks | Apollo 6-17 Complete Set
Apollo 6 | Apollo 7 | Apollo 8 | Apollo 9 | Apollo 10 | Apollo 11 | Apollo 12 | Apollo 13 | Apollo 14 | Apollo 15 | Apollo 16 | Apollo 17
"I believe that this nation should commit itself to achieving the goal, before this decade is out, of landing a man on the Moon and returning him safely to the Earth." - President John F. Kennedy, May 25, 1961