Apollo 50th Anniversary Mission PDF eBooks | Apollo 6-17 Complete Set
Apollo 6 | Apollo 7 | Apollo 8 | Apollo 9 | Apollo 10 | Apollo 11 | Apollo 12 | Apollo 13 | Apollo 14 | Apollo 15 | Apollo 16 | Apollo 17
"I believe that this nation should commit itself to achieving the goal, before this decade is out, of landing a man on the Moon and returning him safely to the Earth." - President John F. Kennedy, May 25, 1961
Price: $9.95
19 documents & over 40 photos
PDF contains 3,001 pages
Content is keyword searchable
Print a personal copy
Pay via PayPal or Credit Card
International orders welcome!
Download files upon payment
Purchase This PDF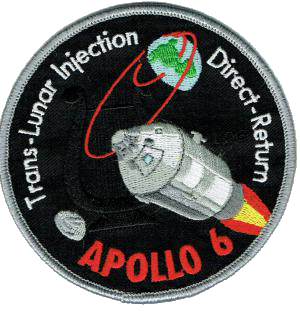 The Apollo 6 Command Module is on display at the Fernbank Science Center in Atlanta, Georgia.
Apollo 6 Mission
Apollo 6 (also known as AS-502), launched on April 4, 1968, was the final unmanned test of the Saturn V launch vehicle and Apollo Command & Service modules. The objectives of the flight test were to demonstrate trans-lunar injection capability of the Saturn V with a simulated payload equal to about 80% of a full Apollo spacecraft, and to repeat demonstration of the Command Module's (CM) heat shield capability to withstand a lunar re-entry. The flight plan called for following trans-lunar injection with a direct return abort using the Command/Service Module's (CSM) main engine, with a total flight time of about 10 hours.
A phenomenon known as pogo oscillation damaged some of the Rocketdyne J-2 engines in the second and third stages by rupturing internal fuel lines, causing two second-stage engines to shut down early. The vehicle's onboard guidance system was able to compensate by burning the second and third stages longer, though the resulting parking orbit was more elliptical than planned. The damaged third stage engine also failed to restart for trans-lunar injection. Flight controllers elected to repeat the flight profile of the previous Apollo 4 test, achieving a high orbit and high-speed return using the Service Module (SM) engine. Despite the engine failures, the flight provided NASA with enough confidence to use the Saturn V for manned launches.
PDF Contents
Apollo-Saturn V Results
Blackout Test Results
Cloud Comparison Photography
Entry Accuracy
Entry Postflight Analysis
Escape Vehicle Abort Plan
Final Flight Evaluation
Flight Evaluation Report
Guidance Control Systems
J-2 Engine Flight Report SII SIVB Vol 2
J-2 Engine Flight Report SII SIVB Vol 3
Lessons Learned
Mission Report
Postflight Radar Tracking Data
Postflight Trajectory
Mission Press Kit
Saturn V Flight Evaluation
Spacecraft Operational Trajectory
SPS Postflight Evaluation
Apollo 6 Mission Videos
Apollo 50th Anniversary Mission PDF eBooks | Apollo 6-17 Complete Set
Apollo 6 | Apollo 7 | Apollo 8 | Apollo 9 | Apollo 10 | Apollo 11 | Apollo 12 | Apollo 13 | Apollo 14 | Apollo 15 | Apollo 16 | Apollo 17
"I believe that this nation should commit itself to achieving the goal, before this decade is out, of landing a man on the Moon and returning him safely to the Earth." - President John F. Kennedy, May 25, 1961