Price: $29.95
1 magazine, 14 manuals, & photos
PDF contains 4,236 pages
Content is keyword searchable
Print a personal copy
Pay via PayPal or Credit Card
International orders welcome!
Download files upon payment
Purchase This PDF
A-10 Close Support
Dyna-Soar – Also Ran in the Race for Space
Navy Wings of Gold
Manuals & Photos
T-45A NATOPS Flight Manual
T-45A NATOPS Flight Manual Changes
T-45AC Performance Charts
T-45AC Pocket Checklist Changes
T-45C Advanced NFO Strike Procedures
T-45C NATOPS Flight Manual 2000
T-45C NATOPS Flight Manual 2007
T-45C Pilots Pocket Checklist Changes
T-45 Weapons Strike
T-45 Aerodynamics Workbook
T-45 Carrier Qualification Flight Procedures
T-45 Familiarization
T-45 Out of Control Flight
McDonnell-Douglas T-45 TS Brochure
Over 90 T-45 Goshawk photos
McDonnell-Douglas T-45 Goshawk
General Characteristics
Crew: 2
Length: 39 ft 4 in (11.99 m)
Wingspan: 30 ft 9.75 in (9.3917 m)
Height: 13 ft 6 in (4.11 m)
Wing area: 190.1 sq ft (17.66 m2)
Airfoil: root: Hawker 10.9%; tip: Hawker 9%
Empty weight: 9,394 lb (4,261 kg)
Gross weight: 12,750 lb (5,783 kg)
Max takeoff weight: 13,500 lb (6,123 kg)
Fuel capacity: 432 US gal (360 imp gal; 1,640 l) / 3,159 lb (1,433 kg) internal fuel (2,893 lb (1,312 kg) – early production aircraft), with provision for 2x 156 US gal (130 imp gal; 590 l) drop tanks underwing
Powerplant: 1 × Rolls-Royce Turbomeca F405-RR-401 turbofan engine, 5,527 lbf (24.59 kN) thrust de-rated (nominal thrust 5,845 lbf (25,999.86 N))
Performance
Maximum speed: 543 kn (625 mph, 1,006 km/h) at 8,000 ft (2,438 m), M0.84 at 30,000 ft (9,144 m)
Carrier launch speed: 121 kn (139 mph; 224 km/h)
Approach speed: 125 kn (144 mph; 232 km/h)
Never exceed speed: 575 kn (662 mph, 1,065 km/h) / M1.04 design dive limit at 3,281 m (10,764 ft)
Range: 700 nmi (810 mi, 1,300 km)
Ferry range: 700 nmi (810 mi, 1,300 km)
Service ceiling: 42,500 ft (13,000 m)
g limits: +7.33 –3
Rate of climb: 8,000 ft/min (41 m/s) at sea level
Time to altitude: 30,000 ft (9,144 m) in 7 minutes 40 seconds
Wing loading: 346.7 lb/sq ft (1,693 kg/m2)
Thrust/weight: 0.41
Take-off distance to 50 ft (15 m): 3,610 ft (1,100 m)
Landing distance from 50 ft (15 m): 3,310 ft (1,009 m)
Armament
Usually none: One hardpoint under each wing can be used to carry practice bomb racks (can carry up to 12 Mk-76 practice bombs), rocket pods, or fuel tanks. A centerline hardpoint can carry a cargo pod for crew baggage.
Avionics
Smiths Industries, Ltd. AN/USN-2(V) Standard Attitude Heading and Reference System, later replaced by the BAE/Marconi AN/ASN-180 Navigation Guidance System
Rockwell Collins AN/ARN-144 VHF Omnidirectional Radio Range / Instrument Landing System
Honeywell AN/APN-194 Radar altimeter
Northrop Grumman AN/ASN-166 Inertial Guidance Set [1] Incorporates a Northrop Grumman (formerly Litton) LN-100G ring laser gyroscope, a Rockwell Collins Global Positioning System, and a Kalman filter
Communications Suite
Rockwell Collins AN/ARC-182 UHF/VHF radio
Honeywell AN/APX-100 identification friend or foe system
T-45A

Two-seat basic and advanced jet trainer for the US Navy and US Marine Corps
T-45B

Proposed land-based version which would have been basically a conventional Hawk furnished with a US Navy-spec cockpit and no carrier capability. The US Navy had wanted to procure the T-45B so that trainee pilots could benefit from an earlier training capability, but abandoned the idea during 1984 in favor of less-costly updates to the TA-4J and T-2C.
T-45C

Improved T-45A, outfitted with a glass cockpit, inertial navigation, and other improvements. All existing T-45As have been upgraded to the T-45C standard.
T-45D

Tentative designation for an envisioned upgrade of the T-45, potentially incorporating various manufacturing improvements and additional equipment, such as helmet-mounted displays.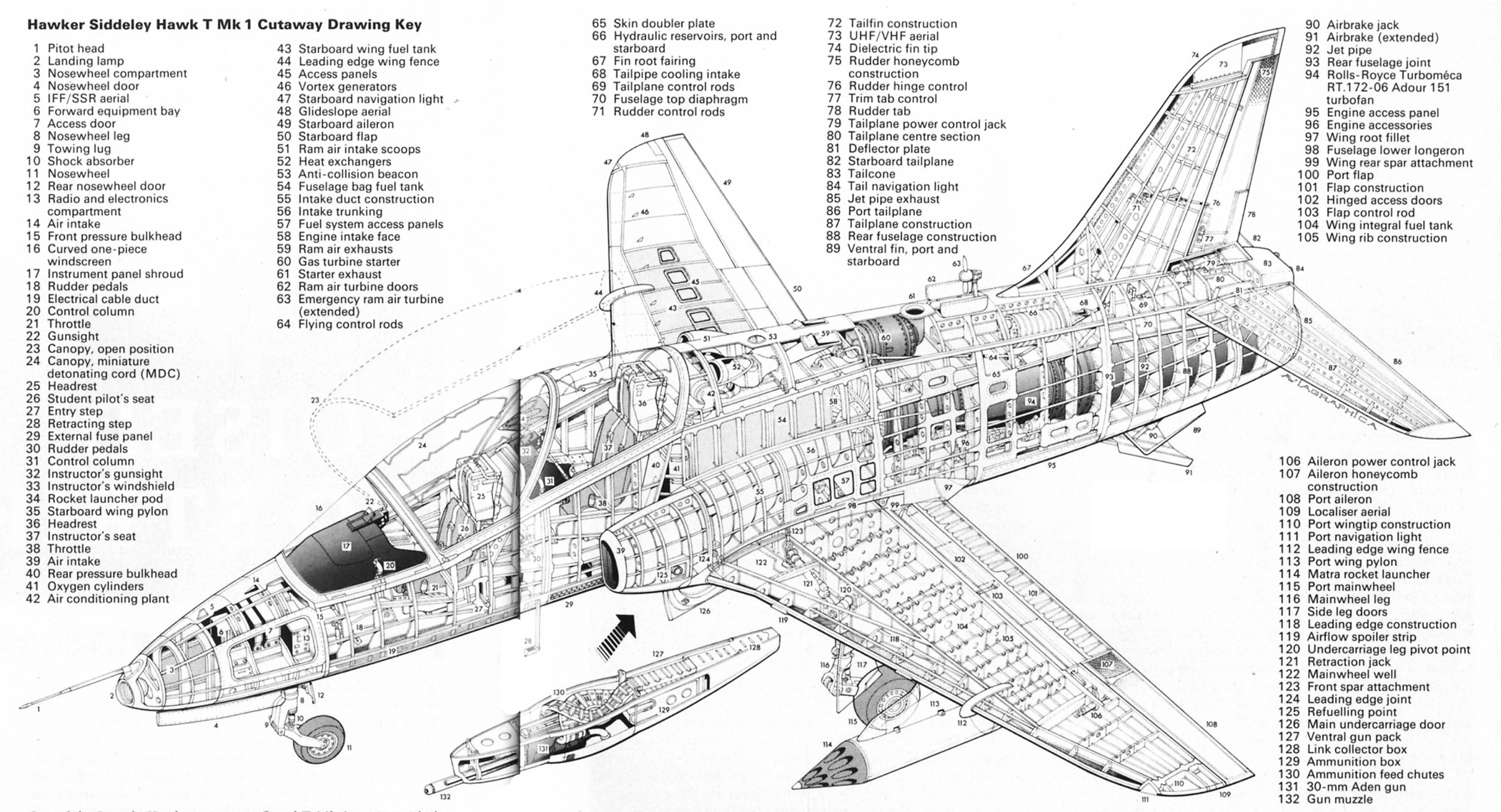 T-45C Low Level (Navy Advanced Jet Training)
---
T-45A Goshawk Jet Training 1994
---
T-45C Bombing in El Centro
---
Strike training in the T-45 Goshawk
---
US Navy Low Level Training in the T-45
---
T-45 Goshawk – USS Gerald R. Ford Flight Deck Operations
---
T-45 Goshawk Operations
---