Price: $24.95
9 magazines, 3 manuals, & photos
PDF contains 677 pages
Content is keyword searchable
Print a personal copy
Pay via PayPal or Credit Card
International orders welcome!
Download files upon payment
Purchase This PDF
Night Creature, P-61 Black Widow
Douglas DC Legend, the Gooney Goes to War
Flying the TBD Devastator and TBF Avenger
The Emsco Story, Flying Machines the Fates Forgot
Dark Lady, Design & Development of the P-61 Black Widow
Bicentennial Warhawk, Restoring a WWII P-40
Avenger in the Shadows
Star Strutter, Austria-Hungary's Hansa-Brandenberg D.1
Dark Lady, Part II of the Northrop P-61 Story
B-10, Restoration of the Year
Skybolt, Part IV – Lockheed Lightning Prepares for War
Fokker Stand In, Germany's Forgotten Pfalz Fighter
Dark Lady, P-61 Combat over Europe
The First Pursuit, Saga of the Thomas Morse Scouts
Skybolt, Part VII of the Lockheed P-38 Story
Dark Lady, Conclusion of the P-61 Story
Escort Mustangs of Iwo Jima
Secrets of Silver Hill, National Air & Space Museum's restoration projects
Forgotten Dreadnaught, Sikorski XPBS-1 Flying Boat
Terror in the Dark, Northrop P-61 Black Widow over China
F-4 Phantom Alert, 191st Michigan Fighter Interceptor Group
Sky King, Tony LeVier racing with the Menisci Buccaneer
The First F-15, Northrop P-61 as a Long Range Escort Fighter
Now You See It, Now You Don't, all about Camouflage
The Schneider Cup Racers, WWI fighters to record breaking racers
After Midnight, Combat in the Northrop P-61 Black Widow
21st Century Fly Off, Lockheed vs. Northrop
The Hybrids, turboprops with turbojets
On top of Old Smokey, the story of JATO
Crowding the Box, Jack Leynnwood model box wrap artist
Taming the P-61 Widow, with Northrop test pilot John Myer
Manuals & Photos
P-61 Pilot Training Manual
P-61 Flight Operation Instructions, 1945
P-61 Pilot's Operating Instructions, 1944
Nearly 100 photos of the P-61 Black Widow
Northrop P-61 Black Widow
General Characteristics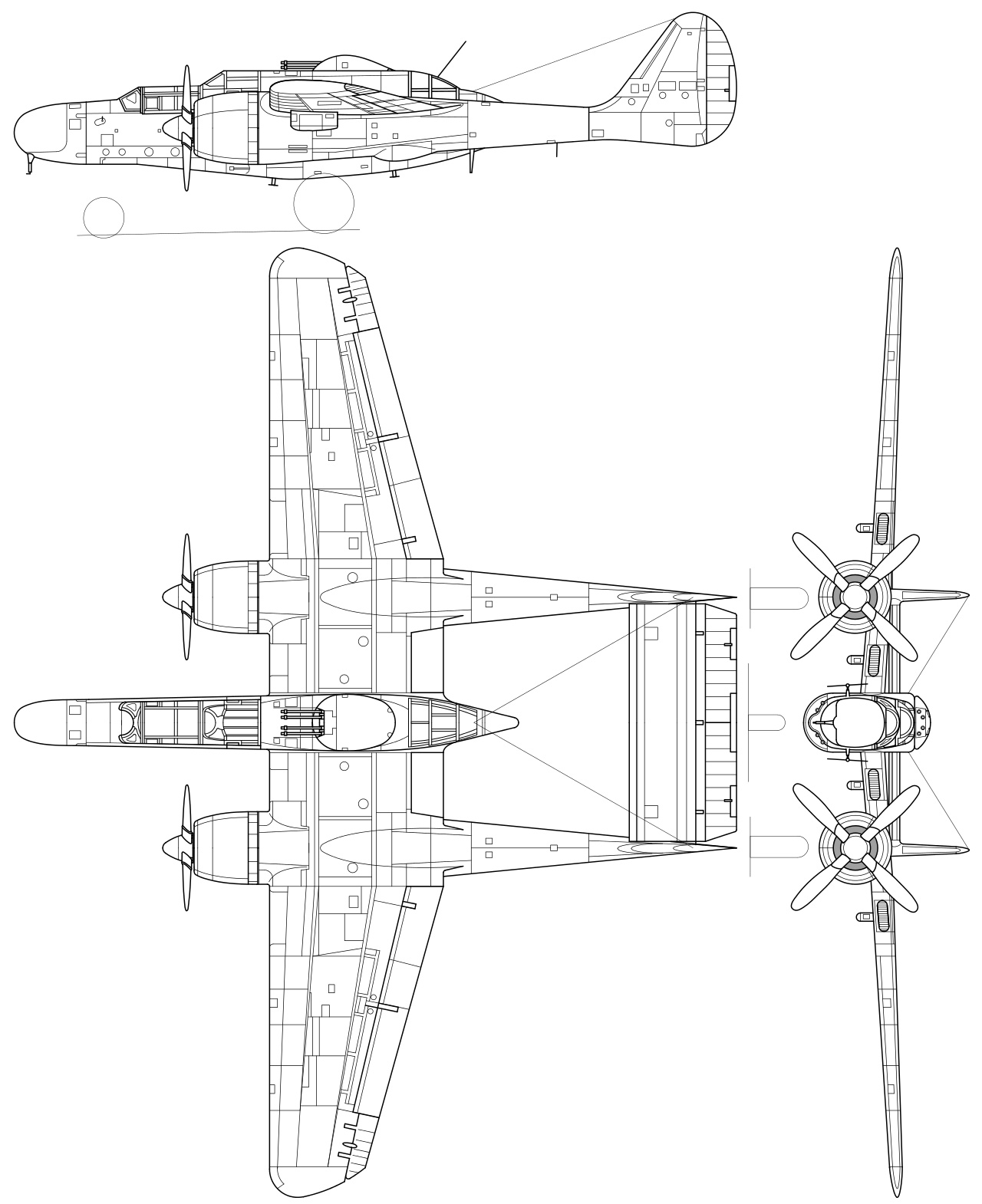 Crew: 2–3 (pilot, radar operator, optional gunner)
Length: 49 ft 7 in (15.11 m)
Wingspan: 66 ft 0 in (20.12 m)
Height: 14 ft 8 in (4.47 m)
Wing area: 662.36 ft² (61.53 m²)
Empty weight: 23,450 lb (10,637 kg)
Loaded weight: 29,700 lb (13,471 kg)
Max. takeoff weight: 36,200 lb (16,420 kg)
Powerplant: 2 × Pratt & Whitney R-2800-65W Double Wasp radial engines, 2,250 hp (1,680 kW) each
Propellers: four-bladed Curtiss Electric propeller, 1 per engine

Propeller diameter: 146 in (3.72 m)

Fuel capacity:

Internal: 640 gal (2,423 L) of AN-F-48 100/130-octane ratinggasoline
External: Up to four 165 gal (625 L) or 310 gal (1,173 L) tanks under the wings
Performance
Maximum speed: 366 mph (318 kn, 589 km/h) at 20,000 ft (6,095 m)
Combat range: 610 mi (520 nmi, 982 km)
Ferry range: 1,900 mi (1,650 nmi, 3,060 km) with four external fuel tanks
Service ceiling: 33,100 ft (10,600 m)
Rate of climb: 2,540 ft/min (12.9 m/s)
Wing loading: 45 lb/ft² (219 kg/m²)
Power/mass: 0.15 hp/lb (250 W/kg)
Time to altitude: 12 min to 20,000 ft (6,100 m) (1,667 ft/min)
Armament
Guns:

4 × 20 mm (.79 in) Hispano M2 cannon in ventral fuselage, 200 rounds per gun
4 × .50 in (12.7 mm) M2 Browning machine guns in remotely operated, full-traverse upper turret, 560 rpg

Bombs: for ground attack, four bombs of up to 1,600 lb (726 kg) each or six 5 in (127 mm) HVAR unguided rockets could be carried under the wings. Some aircraft could also carry one 1,000 lb (454 kg) bomb under the fuselage.
Avionics
SCR-720 (AI Mk.X) search radar
SCR-695 tail warning radar
XP-61 – The first two prototypes.
YP-61 – Pre-production series; 13 built.
P-61A-1 – First production version, R-2800-10 engines producing 2,000 hp (1,491 kW); 45 built, the last seven without the turret.
P-61A-5 – No turret, R-2800-65 engines producing 2,250 hp (1,678 kW); 35 built.
P-61A-10 – Water injection to increase duration of maximum power output; 100 built.
P-61A-11 – One hardpoint under each wing for bombs or fuel tanks; 20 built.
P-61B-1 – Nose stretched 8 in (20 cm), SCR-695 tail warning radar; 62 built.
P-61B-2 – Reinstated underwing hardpoints as on P-61A-11; 38 built.
P-61B-10 – Four underwing hardpoints; 46 built.
P-61B-11 – Reinstated turret with two 0.50 in (12.7 mm) machine guns; five built.
P-61B-15 – Turret with four 0.50 in (12.7 mm) machine guns; 153 built as largest production run of any P-61 version.
P-61B-16 – Turret armament reduced to two machine guns; six built.
P-61B-20 – New General Electric turret with four machine guns; 84 built.
P-61B-25 – Turret automatically aimed and fired by the APG-1 gun-laying radar connected to an analogue computer; six built.
P-61C – Turbosupercharged R-2800-73 engines producing 2,800 hp (2,088 kW), top speed increased to 430 mph (374 kn, 692 km/h) at 30,000 ft (9,145 m). However, the aircraft suffered from longitudinal instability at weights above 35,000 lb (15,875 kg) and from excessive takeoff runs—up to 3 mi (5 km) at a 40,000 lb (18,143 kg) takeoff weight; 41 built, 476 more cancelled after the end of the war.
TP-61C – P-61Cs converted to dual-control training aircraft.
XP-61D – One P-61A-5 (number 42-5559) and one P-61A-10 (number 42-5587) fitted with turbosupercharged R-2800-14 engines; cancelled when P-61C entered production.
XP-61E – Two P-61B-10s (numbers 42-39549 and 42-39557) converted to daytime long-range escort fighters. Tandem crew sat under a blown canopy which replaced the turret, additional fuel tanks were installed in place of the radar operator's cockpit in the rear of the fuselage pod, and four 0.50 in (12.7 mm) machine guns took place of the radar in the nose (the 20 mm/.79 in ventral cannon were retained as well). First flight 20 November 1944, cancelled after the war ended. The first prototype was converted to an XF-15, the second lost in take-off accident 11 April 1945.
XP-61F – Abandoned conversion of one P-61C to XP-61E standard.
P-61G – Sixteen P-61B converted for meteorological research.
F-15A Reporter – Photoreconnaissance variant with a new center pod with pilot and camera operator seated in tandem under a single bubble canopy, and six cameras taking place of radar in the nose. Powered by the same turbosupercharged R-2800-73 engines as the P-61C. The first prototype XF-15 was converted from the first XP-61E prototype, the second XF-15A was converted from a P-61C (number 43-8335). The aircraft had a takeoff weight of 32,145 lb (14,580 kg) and a top speed of 440 mph (382 kn, 708 km/h). Only 36 of the 175 ordered F-15As were built before the end of the war. After formation of the United States Air Force in 1947, F-15A was redesignated RF-61C. F-15As were responsible for most of the aerial maps of North Korea used at the start of the Korean War
F2T-1N – Twelve USAAF P-61B's transferred to the United States Marine Corps.
Four P-61s are known to survive today.
P-61B-1NO c/n 964 AAF Ser. No. 42-39445, is under restoration to flying status by the Mid-Atlantic Air Museum in Reading, Pennsylvania. The aircraft crashed on 10 January 1945 on Mount Victoria, Papua New Guinea, was recovered in 1989 by the Mid-Atlantic Air Museum of Reading, Pennsylvania. The aircraft has been undergoing a slow restoration since then with the intention of eventually returning it to flying condition, with the civilian registration N550NF. When finished, it is expected to be over 70% new construction. By May 2011, 80% of the restoration had been completed, with only the installation of the wings and engines remaining. As of June 2014, the engines (although not yet in running condition) were installed, as were the engine cowlings and cooling flaps. However, MAAM has only one usable propeller, and is attempting to raise funds for a second unit.
P-61B-15NO c/n 1234 AAF Ser. No. 42-39715 is on static display inside the Beijing Air and Space Museum at Beihang University in Beijing, China.

[35]

[36]

 This aircraft was manufactured by Northrop Aircraft, Hawthorne CA and accepted by the USAAF on 5 Feb 1945. It was sent to Newark, NJ for deployment 16 Feb 1945 and departed the US 26 Feb 1945. It was then assigned to the Tenth Air Force, China Burma India Theater of Operations, 427th NFS 3 March 1945. At the end of the war the Communist Chinese came to one of the forward airfields in Sichuan Province and ordered the Americans out, but instructed to leave their aircraft. It has been reported that there had been three P-61s taken and sometime later the Chinese wrecked two of them. P-61B-15NO c/n 1234 was stricken by the USAAF 31 December 1945. P-61B-15NO c/n 1234 was turned over to the Chengdu Institute of Aeronautical Engineering in 1947. When the Institute moved to its present location, it did not take this aircraft with them, instead shipping it to the Beijing University of Aeronautics and Astronautics in 1954 and placed on outside display with other aircraft as part of a museum. Sometime in 2008-2009 the museum closed and the display aircraft were moved to a parking lot approximately 200 metres south. The outer wing sections of P-61B-15NO c/n 1234 were removed during this transfer. It was confirmed in September 2012 that the museum's display aircraft were no longer at the parking lot. By April 2013 the P-61 had been reassembled and repainted in the new Beijing Air and Space Museum building with the other aircraft that were previously outside.
P-61C-1NO c/n 1376 AF Ser. No. 43-8330, is on display at the Steven F. Udvar-Hazy Center of the National Air and Space Museum in Chantilly, Virginia. The aircraft was delivered to the Army on 28 July 1945. By 18 October, this P-61 was flying at Ladd Field, in Alaskaconducting cold weather tests, where it remained until 30 March 1946. The airplane was later moved to Pinecastle AAF in Florida for participation in the National Thunderstorm Project. Pinecastle AAF personnel removed the guns and turret from 43-8330 in July 1946 to make room for new equipment. In September the aircraft moved to Clinton County Army Air Base in Ohio, where it remained until January 1948. The Air Force then reassigned the aircraft to the Flight Test Division at Wright-Patterson Air Force Base in Dayton, Ohio. After being declared surplus in 1950 it was donated by the U.S. Air Force to the National Air Museum in Washington, D.C.(which became the National Air and Space Museum in 1966). On 3 October 1950, the P-61C was transferred to Park Ridge, Illinois where it was stored along with other important aircraft destined for eventual display at the museum. The aircraft was moved temporarily to the museum's storage facility at Chicago's O'Hare International Airport, but before the museum could arrange to ferry the aircraft to Washington, D.C. the National Advisory Committee for Aeronautics asked to borrow it. In a letter to museum director Paul E. Garber dated 30 November 1950, NACA director for research I.H. Abbott described his agency's "urgent" need for the P-61 to use as a high-altitude research craft. Garber agreed to an indefinite loan of the aircraft, and the Black Widow arrived at the Ames Aeronautical Laboratory, at Naval Air Station Moffett Field in California, on 14 February 1951. When NACA returned the aircraft to the Smithsonian in 1954 it had accumulated only 530 total flight hours. From 1951 to 1954 the Black Widow was flown on roughly 50 flights as a mothership, dropping recoverable swept-wing test bodies as part of a National Advisory Committee for Aeronautics program to test swept-wing aerodynamics. NACA test pilot Donovan Heinle made the aircraft's last flight when he ferried it from Moffett Fieldto Andrews Air Force Base, arriving on 10 August 1954. The aircraft was stored there for seven years before Smithsonian personnel trucked it to the museum's Garber storage facility in Suitland, Maryland. In January 2006 the P-61C was moved into Building 10 so that Garber's 19 restoration specialists, three conservationists and three shop volunteers could work exclusively on the aircraft for its unveiling at the Steven F. Udvar-Hazy Center on 8 June. The aircraft was restored to its configuration as a flight test aircraft for swept-wing aeronautics, so the armament and turret were not replaced. A group of former P-61 air crews were present at the aircraft's unveiling, including former Northrop test pilot John Myers.
P-61C-1NO c/n 1399 AAF Ser. No. 43-8353 is currently on display at the National Museum of the United States Air Force at Wright-Patterson AFB in Dayton, Ohio.

[40]

 It is marked as P-61B-1NO 42-39468 and painted to represent "Moonlight Serenade" of the 550th Night Fighter Squadron. The aircraft was presented to the Boy Scouts of America following World War II and kept at Grimes Fieldin Urbana, Ohio. On June 20, 1958 it was returned to the museum by the Tecumseh Chapter of the Boy Scouts of America in Springfield, Ohio. The aircraft recently had a reproduction turret installed, which was fabricated by the Museum's restoration team.