Price: $39.95
9 magazines, 10 documents, & photos
PDF contains 2,384 pages
Content is keyword searchable
Print a personal copy
Pay via PayPal or Credit Card
International orders welcome!
Download files upon payment
Purchase This PDF
Super Bomber, Designing and Building Boeing's B-29
Boeing's Battle Of Wichita, The Greatest Mass Production Feat Of WW II…Building The B-29 Under Pressure
"High Tide" At High Altitude, Perfecting The Precarious Art Of lnflight Refueling, From F-84 To B-1!
By Bombing Alone – The B-29 And The Great Incendiary Raids Against Japan. How Curtis LeMay And Hap Arnold Evolved A New Strategy
Burning Japan To The Ground, On The Flight Deck Of A Boeing B-29 During The Great Firestorm Raids
Boeing B-50, SAC's Unsung Hero
Silverplate B-29s: World's First Atomic Bombers
Finale For The Fortress: The mighty Boeing B-29 Superfortress.
"Fill 'er up! Inflight Refueling from KC-97 to KC-135 to KC-10
Manuals & Photos
B-29 Combat Crew Manual, 1944
B-29 Flight Manual, 1945
B-29 Commander Training Manual, 1945
KB-50 Flight Handbook, 1956
B-29 Remote Gun Turrets, 1958
B-29 Flight Engineer Handbook, 1944
B-29/B-50 Gunner Procedures, 1948
B-29 Nuclear Decontamination Study
B-29 Pilot's Handling
No Movie Tonite – 24-Hours at a B-29 Airfield
Over 600 photos of the B-29 & B-50 Superfortress!
Boeing B-29 / B-50 Superfortress
General Characteristics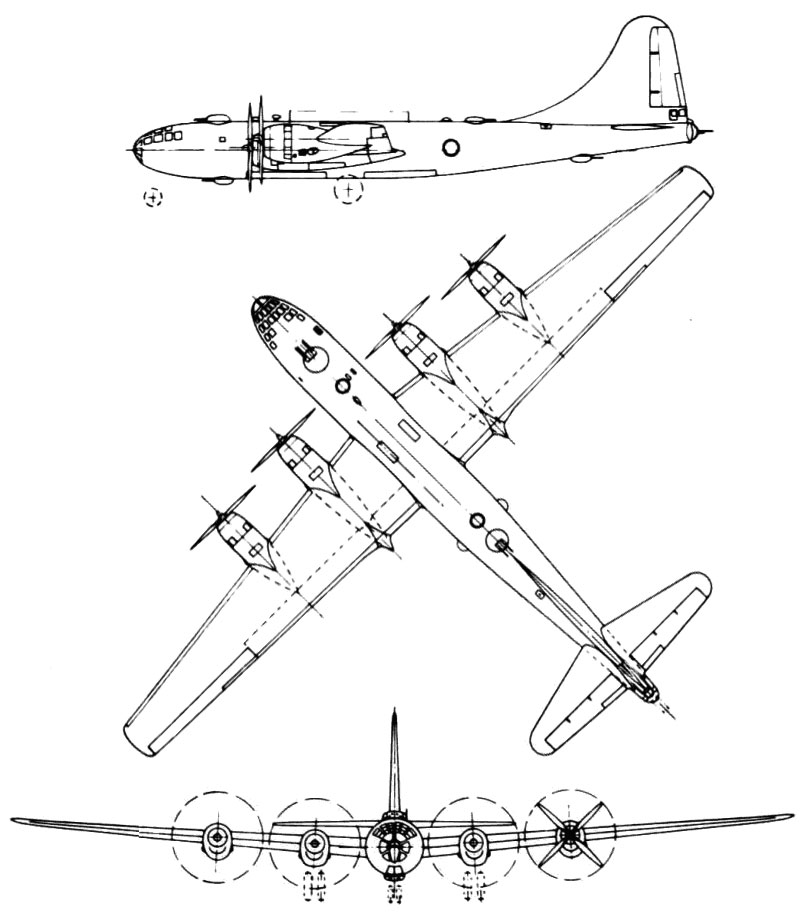 Crew: 11 (Pilot, Co-pilot, Bombardier, Flight Engineer, Navigator, Radio Operator, Radar Observer, Right Gunner, Left Gunner, Central Fire Control, Tail Gunner)
Length: 99 ft 0 in (30.18 m)
Wingspan: 141 ft 3 in (43.06 m)
Height: 27 ft 9 in (8.45 m)
Wing area: 1,736 sq ft (161.3 m²)
Aspect ratio: 11.50:1
Empty weight: 74,500 lb (33,800 kg)
Loaded weight: 120,000 lb (54,000 kg)
Max. takeoff weight: 133,500 lb (60,560 kg) ; 135,000 lb plus combat load
Powerplant: 4 × Wright R-3350 -23 and 23A Duplex Cyclone turbosupercharged radial engines, 2,200 hp (1,640 kW) each
Zero-lift drag coefficient: 0.0241
Drag area: 41.16 ft² (3.82 m²)
Performance
Maximum speed: 357 mph (310 knots, 574 km/h)
Cruise speed: 220 mph (190 knots, 350 km/h)
Stall speed: 105 mph (91 knots, 170 km/h)
Range: 3,250 mi (2,820 nmi, 5,230 km)
Ferry range: 5,600 mi (4,900 nmi, 9,000 km)
Service ceiling: 31850 ft 

[21]

 (9,710 m)
Rate of climb: 900 ft/min (4.6 m/s)
Wing loading: 69.12 lb/sqft (337 kg/m²)
Power/mass: 0.073 hp/lb (121 W/kg)
Lift-to-drag ratio: 16.8
Armament
Guns:

10× .50 in (12.7 mm) Browning M2/ANs in remote-controlled turrets.
2× .50 BMG and 1× 20 mm M2 cannon in tail position (the cannon was later removed)

Bombs: 20,000 lb (9,000 kg) standard loadout.
Greenland
Wrecks
B-29
45-21768 Kee Bird – caught fire and burned after an attempted recovery. Currently sitting broken, on an ice shelf on the surface.
Puerto Rico
Wrecks
B-29
42-65287 – in the ocean off the coast of Aquadilla, Puerto Rico, near the former Ramey AFB.
South Korea
On display
B-29
45-21739 Unification Kia – indoors at the KAI Aerospace Museum in Sachon.
United Kingdom
On display
B-29A
44-61748 It's Hawg Wild – indoors at the American Air Museum, part of the Imperial War Museum Duxford.
United States
Airworthy
B-29A
44-62070 Fifi – Commemorative Air Force (B-24/B-29 Squadron) in Addison, Texas. This aircraft was used for the flight sequences in the movie The Right Stuff. Fifiwas returned to airworthy status in August 2010 and flew for the first time since 2006.
On display (complete airframes)
B-29
42-65281 Miss America 62 – outdoors at the Travis AFB Heritage Center in Fairfield, California.
44-27297 Bockscar – indoors at the National Museum of the United States Air Force at Wright-Patterson AFB in Dayton, Ohio.
44-27343 (unnamed) – outdoors at Tinker AFB in Oklahoma City, Oklahoma.
44-70016 Sentimental Journey – indoors in Hangar 4 at the Pima Air and Space Museum adjacent to Davis-Monthan AFB in Tucson, Arizona.
44-70113 Miss Marilyn Gay – outdoors at Dobbins ARB in Marietta, Georgia on display as Sweet Eloise.
44-84076 Lucky Lady – indoors at the Strategic Air and Space Museum in Ashland, Nebraska.
44-86292 Enola Gay – indoors at the Steven F. Udvar-Hazy Center of the National Air and Space Museum in Chantilly, Virginia.
44-86408 Hagarty's Hag – outdoors at the Hill Aerospace Museum at Hill AFB in Ogden, Utah.

[29]

44-87627 (unnamed) – outdoors at the Barksdale Global Power Museum at Barksdale AFB in Shreveport, Louisiana.
44-87779 Legal Eagle II – outdoors at the South Dakota Air and Space Museumadjacent to Ellsworth AFB in Rapid City, South Dakota.
45-21748 (unnamed) – outdoors at the National Museum of Nuclear Science & Historyadjacent to Kirtland AFB in Albuquerque, New Mexico.
B-29A
42-93967 City of Lansford, PA – outdoors at the Georgia Veterans Memorial State Parkin Cordele, Georgia.
44-61535 Raz'n Hell – outdoors at the Castle Air Museum at the former Castle AFB in Atwater, California. It is actually a composite of three B-29s : 44-61535 – tail, 44-84084 – wings, 44-70064 fuselage.
44-61669 Flagship 500 – outdoors at March Field Air Museum at March ARB (former March AFB) in Riverside, California.
44-61671 The Great Artiste – originally modified to be an SB-29 "Super Dumbo", now marked to replicate the Silverplate airframe 44-27393, is on static display at the "Spirit Gate" of Whiteman AFB in Knob Noster, Missouri.
44-61975 Jack's Hack – on display indoors at the New England Air Museum in Windsor Locks, Connecticut.
44-62022 Peachy – on display indoors at the Pueblo Weisbrod Aircraft Museum in Pueblo, Colorado.
44-62220 Joltin Josie – outdoors at the USAF History & Traditions Museum on the grounds of Lackland AFB in San Antonio, Texas.
B-29B
44-84053 (unnamed) – indoors at the Museum of Aviation at Robins AFB in Warner Robins, Georgia.
On display (partial airframes)
B-29
42-65401 (nose section only) – Stockton Field Aviation Museum in Stockton, California. Privately owned by Nick Veronico.
B-29A
44-61739 (nose section only) – Museum of Aviation at Robins AFB in Warner Robins, Georgia.
44-62139 (forward fuselage section only) – National Museum of the United States Air Force at Wright-Patterson AFB in Dayton, Ohio. Painted to represent Command Decision (s/n 44-87657) .
Under restoration or in storage (complete airframes)
B-29
44-69729 – shrink-wrapped and stored outdoors with the outer wing panels removed at the Museum of Flight in Seattle, Washington. Facilities to store the aircraft indoors with the Museum's B-17 are in the final planning stages.
44-69972 Doc – being restored to active flying status. After a three year absence due to lack of funds, restoration has resumed in February 2013 in a Boeing hangar across from the Kansas Aviation Museum in Wichita, Kansas; no longer accessible to the general public.
44-70049 – in storage for Kermit Weeks at Borrego Springs, California. One of four B-29s obtained by Walt Disney Studios from the U.S. Navy at NAWS China Lake, California for use in the movie The Last Flight of Noah's Ark.
45-21787 Fertile Myrtle – in storage at Fantasy of Flight in Polk City, Florida. This aircraft was used for the flight sequences in the Walt Disney Studios film, The Last Flight of Noah's Ark.
Under restoration or in storage (partial airframes)
B-29
42-24791 The Big Time Operator (nose section only) – currently in Maryland awaiting restoration for the QuestMasters Online Museum May 2014. previously in storage at the Edward F. Beale Museum at Beale AFB in Marysville, CA.
44-69957 (wreckage) – in storage at Naval Air Weapons Station China Lake in California. Took a direct hit from weapons testing. The nose was used in the restoration of 'Doc'.
44-70102 Here's Hopin – in storage at the Naval Museum of Armament & Technologyadjacent to Naval Air Weapons Station China Lake in Ridgecrest, California.
44-84084 – in storage for Kermit Weeks at Borrego Springs, California. One of four B-29s obtained by Walt Disney Studios from the U.S. Navy at NAWS China Lake for use in the movie The Last Flight of Noah's Ark (see 44-70049 above for the other surviving example). Outer wings were installed on 44-61535; other two Disney B-29s were destroyed (44-62112 and 44-62222).
B-29A
44-62134 – in storage at Naval Air Weapons Station China Lake, California.
Wrecks
B-29
45-21847 – ditched in Lake Mead near Las Vegas, Nevada in 1948 and discovered intact in 2002.
WB-29A
44-62214 – Submerged in a lake on Eielson AFB, south of Fairbanks, Alaska, where it was placed after being a "hangar queen" (1954) and having been cannibalized for parts. It was moved to its present location (possible between 1955-1956) and is believed to have been used for water ditching training exercises for aircrew members. 44-62214 is the first aircraft to detect a Soviet atomic detonation. It is not a wrecked aircraft as much as it is an abandoned aircraft.
XB-29
The XB-29, Boeing Model 345, was the first accepted prototype or experimental model delivered to the Army Air Corps, incorporating a number of improvements on the design originally submitted, including more and larger guns and self-sealing fuel tanks. Two aircraft were ordered in 1940 August, and a third was ordered in December. A mockup was completed in the spring of 1941, and it first flew on September 21, 1942.
Testing continued until February 18, 1943, when the second prototype crashed. Flown by Boeing's chief test pilot, Edmund T. "Eddie" Allen on a two-hour powerplant performance test, leaking fuel from a filler cap in the wing leading edge ran down inside the leading-edge and ignited, spreading to the engines. Due to the much reduced power, the aircraft, unable to climb, crashed into the Frye meat-packing plant, demolishing the majority of the packing plant and killing all eleven crew, 22 employees at the plant and one fireman. The crash killed many élite Boeing personnel involved in the design; the pilot, Allen, was chief of the Research Division. After the crash, the United States Army Air Forces and a congressional committee headed by then-Senator Harry S. Truman investigated the B-29 program issuing a scathing report, prompting the Army Air Forces to take over the program.
YB-29
The YB-29 was an improved XB-29 and 14 were built for service testing. Testing began in the summer of 1943, and dozens of modifications were made to the planes. The engines were upgraded from Wright R-3350-13s to R-3350-21s. Where the XB-29 had three-bladed props, the YB-29 had four-bladed propellers. Various alternatives to the remote-sighted defensive systems were tested on a number of them, particularly the fourth one delivered. After alternative arrangements had been fully tested, defensive armament was standardised at ten .50-calibre machine guns in turret-mounted pairs. The YB-29 also featured a better fire control system.
B-29
The B-29 was the original production version of the Superfortress. Since the new bomber was urgently needed, the production design was developed in tandem with the service testing. In fact, the first B-29 was completed only two months after the delivery of the first YB-29. Forty-six B-29s of this variant, built by the Glenn L. Martin Companyat its Omaha plant, were used as the aircraft for the atomic bomb missions, modified to Silverplate specifications.
Some 2,513 B-29s were manufactured by Boeing-Wichita (1,620), Bell-Atlanta (357), and Martin-Omaha (536).
B-29A
The B-29A was an improved version of the original B-29 production model. All 1,119 B-29A's were built exclusively at the Boeing plant in Renton, Washington, formerly used by the United States Navy.
Enhancements made in the B-29A included a better wing design and defensive modifications. Due to a demonstrated weakness to head-on fighter attacks, the number of machine guns in the forward dorsal turrets was doubled to four. Where the wings of previous models had been made by the sub-assembly of two sections, the B-29A began the trend of using three. This made construction easier, and increased the strength of the airframe. The B-29A was produced until May 1946, when the last aircraft was completed. It was much used during the Korean War, but was quickly phased out when the jet bomber (B-47 Stratojet) became operational.
Washington B Mk 1 – This was the service name given to 88 B-29As supplied to the Royal Air Force.
B-29B
The B-29B was a modification used for low-level raids, designed with the intent of firebombing Japan. Since fighter opposition was minimal over Japan in late 1944, many of the Army Air Force leadership — most notably Curtis LeMay, commander of the XXI Bomber Command — felt that a (lighter) faster bomber would better evade Japanese flak.
In the B-29B, as with the atomic raid-dedicated Silverplate versions earlier, all defensive armament was removed except for that in the tail turret. Initially the armament was two .50 in M2/AN machine guns and one 20 mm M2 cannon which was soon changed to three .50 in M2/ANs. The weight saved by removing the gun system increased the top speed from 357 mph to 364 mph (574 km/h to 586 km/h).
Also incorporated on this version was an improved APQ-7 "Eagle" bombing-through-overcast radar that was fitted in an airfoil-shaped radome under the fuselage.
All 311 B-29Bs were built at the Bell plant in Marietta, Georgia ("Bell-Atlanta").
B-29C
The B-29C was a modification of the B-29A re-engined with improved Wright R-3350engines. The Army Air Force originally ordered 5,000, but cancelled its request when World War II ended and none were built.
B-29D (XB-44)
The B-29D was an improved version of the original B-29 design, featuring 28-cylinder Pratt & Whitney R-4360-35 Wasp Major engines of 3500 hp (2600 kW) each — nearly 60% more powerful than the usual Duplex-Cyclone. It also had a taller vertical stabilizer and a strengthened wing. The XB-44 was the testbed designation for the D model.
When World War II ended, the B-29D was given the quartet of Wasp Major engines to become the B-50, which served throughout the 1950s in the U.S. bomber fleet.
Test beds
A number of B-29s were converted to serve as test beds for new systems. These all received variant designation, even though many existed only as a single converted aircraft.
XB-29E
The XB-29E for fire-control systems (one converted) was a model B-29-45-BW.
XB-29F
The B-29F for cold-weather operation in Alaska were six converted B-29-BWs.
XB-29G
It was also used in the development of jet engines. Stripped of armament, a converted B-29B-55-BA (44-84043)(Bell) designated the XB-29G carried experimental jet engines in its bomb bay, which it would extend into the airstream for testing during flight. This plane was used to test the Allison J35, General Electric J47 and J73 jet engines.
XB-29H
The XB-29H to test armament configurations was a converted B-29A.
YB-29J, YKB-29J, RB-29J
Experimentation in engines continued. For example, six B-29s (redesignated YB-29J) of various designation were upgraded to R-3350-79 engines. Other engine-associated items were also upgraded, including new Curtiss propellers, and 'Andy Gump' cowlings, in which the oil coolers have separate air intakes. Two were later converted to aerial refueling tanker prototypes, and redesignated YKB-29J. The remainder were used for reconnaissance, and designated RB-29J.
EB-29
The EB-29 (E stands for exempt), was used as a carrier aircraft in which the bomb bay was modified to accept and launch experimental aircraft. They were converted in the years following World War II. One EB-29 was converted to carry the famous Bell X-1 until it was replaced by a B-50. Another was used to carry and test the XF-85 'parasite fighter'. This fighter was intended to be carried by the Convair B-36 on long-range missions to protect it from Soviet fighters. Yet another EB-29 was used to carry two EF-84B Thunderjet fighters as part of Project Tom-Tom. All three Tom-Tom aircraft and their crews were lost in a crash on April 24, 1953.
RB-29J (RB-29, FB-29J, F-13, F-13A)
Early B-29/B-29As that were modified for photo reconnaissance carried the F-13/F-13Adesignations, with "F" meaning 'photo'. The aircraft (118 modified B-29BWs and B-29As) carried three K-17B, two K-22 and one K-18 cameras. Between the end of the war and 1948 the designation was changed to FB-29J. In 1948, the F-13/FB-29s were redesignated RB-29 and RB-29A.
Six B-29A/F-13As were modified with the Wright 3350-CA-2 fuel injected engines and designated at YB-29Js. These were then converted to RB-29Js.[35]
In January 1949, RB-29s were assigned to the 91st Strategic Reconnaissance Wing and moved to Yokota AB, Japan in December 1950; to provide support to the Korean War and attached to the 15th Air Force, Far East Air Force.
SB-29
The SB-29 'Super Dumbo' was a version of the B-29 adapted for air-sea rescue duty near the end of World War II. Sixteen 29s were modified to carry a droppable A-3 lifeboat under the fuselage, the SB-29 was used mainly as rescue support for air units that flew long distances over water. With the exception of the forward lower gun turret, all defensive armament was retained. They also carried a variety of radio equipment, provisions, survival kits, and extra crew. It was used throughout the Korean War into the mid-1950s. It received its nickname from "Dumbo", the Disney character, whose name was given to the aircraft used in previous missions to pick airmen up when they crashed at sea.
TB-29
The TB-29 was a trainer conversion of B-29 used to train crew for bombing missions; some were also used to tow targets, and the designation included B-29s modified solely for that purpose. Their most important role was serving as radar targets in the 1950s when the United States Air Force was developing intercept tactics for its fighters.
WB-29
The WB-29s were production aircraft modified to perform weather monitoring missions. An observation position was fitted above the central fuselage section. They conducted standard data-gathering flights, including from the UK over the Atlantic, but were also ordered to fly into the eye of a hurricane or typhoon to gather information. Following nuclear weapons tests, some WB-29s would use air sampling scoops to test radiation levels. On 3 September 1949, a WB-29 returning from Yokota AB, Japan, to Eielson AFB, Alaska, recovered radioactive debris in air sampling scoops from the cloud generated by the first atomic bomb test by the Soviet Union on 29 August.
Airborne Early Warning
In the middle of 1951, three B-29s were modified to participate in the Airborne Early Warning programme. The upper section of the forward fuselage was extensively modified to house an AN/APS-20C search radar, and the interior was modified to house radar and Electronic Counter Measures (ECM) equipment. This development led to production radar picket aircraft, including the EC-121 Warning Star. (×3, converted)
MX-767 Banshee
A study for the conversion of B-29s to long-range cruise missiles was conducted by the Air Material Command between 1946 and 1950; given the designation MX-767, it was given the codename Project Banshee. Flight tests were conducted, however no full conversions were carried out before the project was abandoned.
XB-39 Superfortress
The XB-39 Superfortress was a single YB-29 modified to use water-cooled Allison V-3420-17 inline engines. Since the Army Air Force was concerned that problems might develop with their first choice of engine, the Wright R-3350, they contracted General Motors to do testing on a modified aircraft to show that it could still be used even if the R-3350 failed. Since the R-3350 did not have significant enough problems to prevent its use, no XB-39s were ordered.
Tupolev Tu-4
In 1945, three B-29s were forced to land in Soviet territory after a bombing raid on Japan because of lack of fuel. Since the Soviet Union was not at war with Japan at the time, the aircraft and crew were interned. Eventually, the B-29 crew members were returned, but the aircraft remained in Russian hands. Seeking a modern long-range bomber, Joseph Stalin ordered the Tupolev OKB to reverse-engineer the Superfortress.
The resulting aircraft first flew on May 19, 1947 and immediately began series production. Although largely identical in appearance to American B-29's the Tu-4 (Nato reporting name: "Bull"), had Soviet-designed defensive guns and had been re-engineered to suit production using material of metricthicknesses, resulting in an aircraft that was slightly heavier and slower than the B-29. The Tu-4 presented a significant leap forward in Soviet strategic bombing. Not only did the Red Air Force have the means to deliver nuclear weapons, but the Tu-4 had sufficient range to reach the United States on a one-way trip. On October 18, 1949, a Tu-4 was used in the first air-drop test of a Soviet atomic bomb.
Although the "Bull" never dropped a bomb in anger, the Tu-4 influenced Soviet aircraft technology, particularly airframe construction and onboard systems. The People's Liberation Army Air Force of China attempted to use the Tu-4 airframe in KJ-1AWACS aircraft.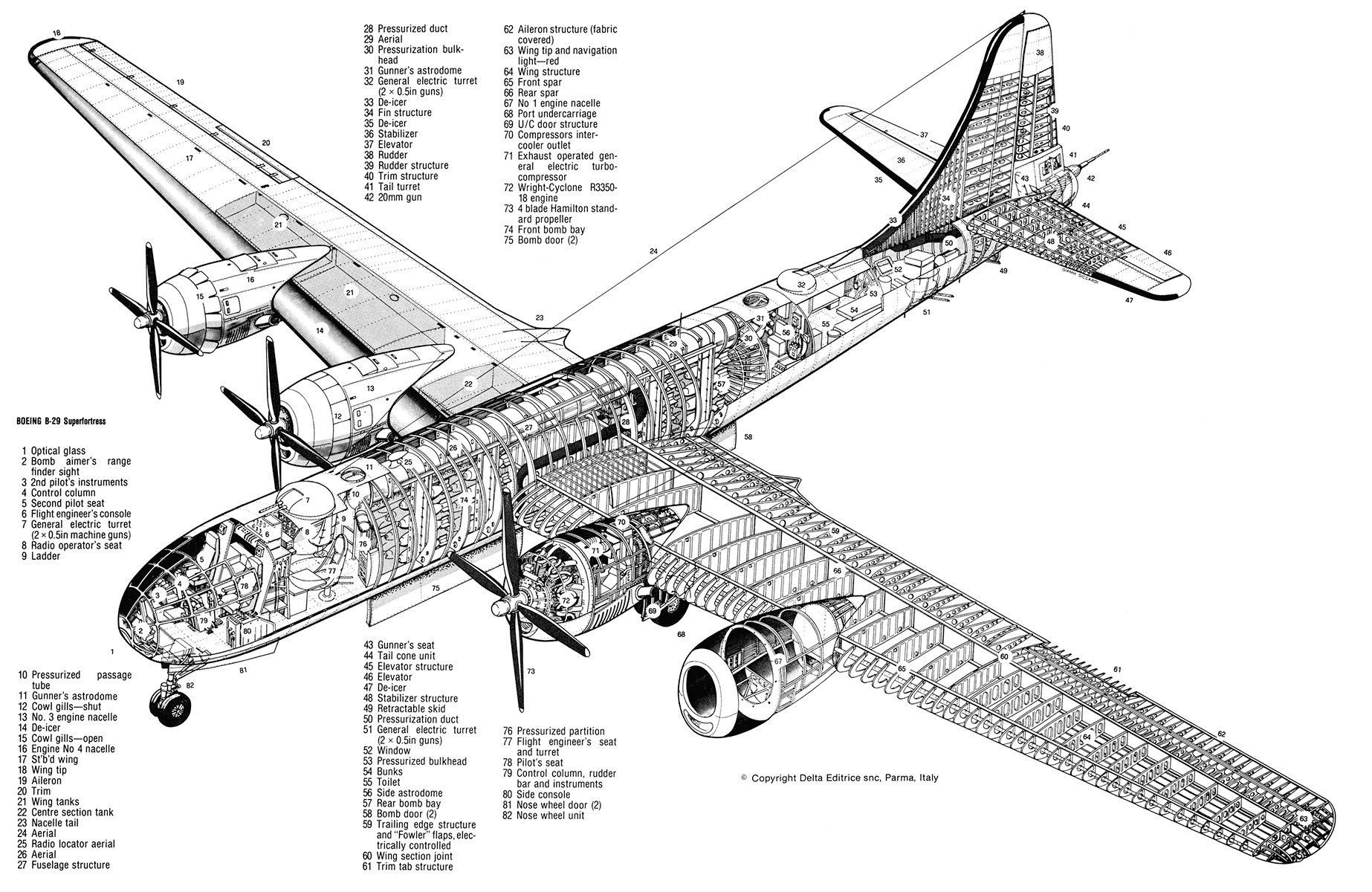 General Characteristics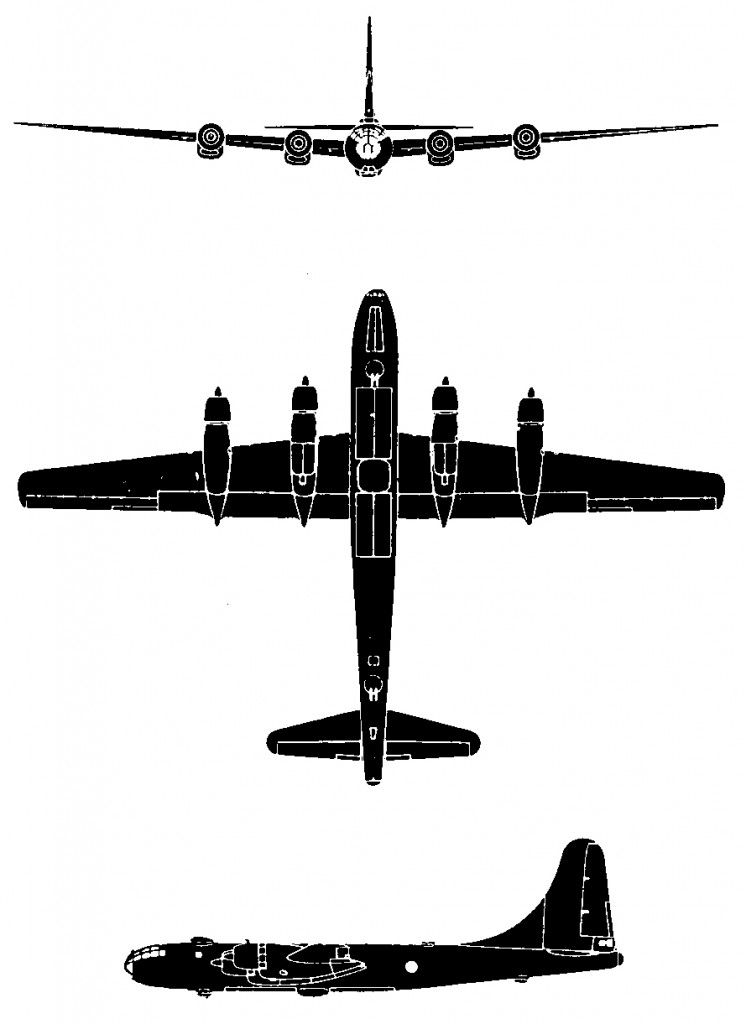 Crew: 8 to 10: Pilot, co-pilot, bombardier, navigator, flight engineer, radio/electronic countermeasures operator, two side gunners, top gunner and tail gunner
Length: 99 ft 0 in (30.18 m)
Wingspan: 141 ft 3 in (43.05 m)
Height: 32 ft 8 in (9.96 m)
Wing area: 1,720 sq ft (160 m2)
Empty weight: 84,714 lb (38,426 kg)
Gross weight: 121,850 lb (55,270 kg)
Max takeoff weight: 173,000 lb (78,471 kg) (max overload weight)
Powerplant: 4 × Pratt & Whitney R-4360-3528 Cyl. four-row air-cooled radial piston engine, 3,500 hp (2,600 kW) each
Powerplant: 2 × General Electric J47-GE-23 Turbojet, 5,200 lbf (23 kN) thrust each (KB-50 auxiliary engines)
Performance
Maximum speed: 394 mph (634 km/h; 342 kn) at 30,000 ft (9,150 m)
Cruise speed: 244 mph (212 kn; 393 km/h)
Combat range: 2,394 mi (2,080 nmi; 3,853 km)
Ferry range: 7,750 mi (6,735 nmi; 12,472 km)
Service ceiling: 36,900 ft (11,247 m)
Rate of climb: 2,200 ft/min (11 m/s)
Wing loading: 70.19 lb/sq ft (342.7 kg/m2)
Power/mass: 0.115hp/lb
Armament
Guns:

13× .50 in (12.7 mm) M2 Browning machine guns in 4 × remote controlled and manned tail turret

Bombs:

20,000 lb (9,100 kg) internally
8,000 lb (3,600 kg) on external hardpoints
Of the 370 produced, only five B-50 aircraft survive today:
B-50A
AF Ser. No. 46-0010 Lucky Lady II – Flew around the world from 26 Feb-2 Mar 1949 non-stop. She was disassembled after a serious accident and her forward fuselage is stored outside at Planes of Fame in Chino, California.
WB-50D
AF Ser. No. 49-0310 – National Museum of the United States Air Force at Wright-Patterson Air Force Base in Dayton, Ohio.
AF Ser. No. 49-0351 Flight Of The Phoenix – Castle Air Museum at the former Castle Air Force Base in Atwater, California. This was the last B-50 to be flown, being delivered to MASDC at Davis-Monthan AFB, Arizona on 6 October 1965. She was put on display at the Castle Air Museum in 1980.
KB-50J
AF Ser No. 49-0372 – Pima Air & Space Museum adjacent to Davis-Monthan Air Force Base in Tucson, Arizona.
AF Ser. No. 49-0389 – MacDill Memorial Park at MacDill Air Force Base in Tampa, Florida. Although accessible to active and reserve military personnel, military retirees and associated military family members, she is not accessible to the general public.
XB-44

One B-29A was handed over to Pratt & Whitney to be used as a testbed for the installation of the new Wasp Major 28-cylinder engines in the B-29.

B-29D

Wasp Major powered bomber, with stronger structure and taller tail. Redesignated B-50A in December 1945.

B-50A

First production version of the B-50. Four R-4360-35 Wasp Major engines, 168,500 lb (76,550 kg) max take-off weight. A total of 79 were built.
TB-50A – Conversion of 11 B-50As as crew trainers for units operating the B-36.

B-50B

Improved version, with increased maximum take-off weight (170,400 lb (77,290 kg)) and new, lightweight fuel tanks. 45 built.
EB-50B – Single B-50B modified as test-bed for bicycle undercarriage, later used to test "caterpillar track" landing gear.
RB-50B – Conversion of B-50B for strategic reconnaissance, with capsule in rear fuselage carrying nine cameras in four stations, weather instruments, and extra crew. Could be fitted with two 700 U.S. gallon (2,840 L) drop tanks under outer wings. 44 converted from B-50B.

YB-50C

Prototype for B-54 bomber, to have Variable Discharge Turbine (i.e. turbo-compound) version of the R-4360 engine, longer fuselage and bigger, stronger wings. One prototype started but canceled before completion.

B-50D

Definitive bomber version of the B-50. Higher max takeoff weight (173,000 lb (78,600 kg)). Fitted with receptacle for Flying boom in-flight refueling and provision for underwing drop tanks. Modified nose glazing with 7-piece nose cone window was replaced by a single plastic cone and a flat bomb-aimer's window. A total of 222 were built.
DB-50D – Single B-50D converted as drone director conversion of a B-50D, for trials with the GAM-63 RASCAL missile.
KB-50D – Prototype conversion of two B-50Ds as three-point aerial refueling tanker, using drogue-type hoses. Used as the basis for later production KB-50J and KB-50K conversions. A further conversion from a TB-50D was also designated KB-50D.
TB-50D – Conversion of early B-50Ds lacking aerial-refueling receptacles as unarmed crew trainers. Eleven were converted.
WB-50D – Conversion of surplus B-50Ds as weather reconnaissance aircraft to replace worn out WB-29s. Fitted with doppler radar, atmospheric sampler and other specialist equipment, and extra fuel in the bomb bay. Some were used to carry out highly classified missions for atmospheric sampling from 1953-1955 to detect Soviet detonation of atomic weapons.

RB-50E

14 RB-50Bs converted at Wichita for specialist photographic reconnaissance.

RB-50F

Conversion of 14 RB-50Bs as survey aircraft, fitted with SHORAN navigation radar.

RB-50G

Conversion of the RB-50B for electronic reconnaissance. Fitted with Shoran for navigation, and six electronic stations, with 16-man crew; 15 converted.

TB-50H

Unarmed crew trainer for B-47 squadrons. 24 completed, the last B-50s built. All later converted to KB-50K tankers.

KB-50J

Conversions to air-to-air refueling tankers with improved performance from two extra General Electric J47 turbojets under the outer wings, 112 converted from B-50D, TB-50D, RB-50E, RB-50F and RB-50G aircraft.

KB-50

136 conversions to three point hose-drogue tankers by Hayes Industries, with the auxiliary fuel tanks outboard of the engines and hose pod under the wing-tips.

KB-50K

Tanker conversions of the TB-50H trainer aircraft. 24 converted.

B-54A

Proposed version of the YB-50C.

RB-54A

Proposed reconnaissance version of the YB-50C.

WB-50

Weather reconnaissance aircraft converted from B-50A aircraft.