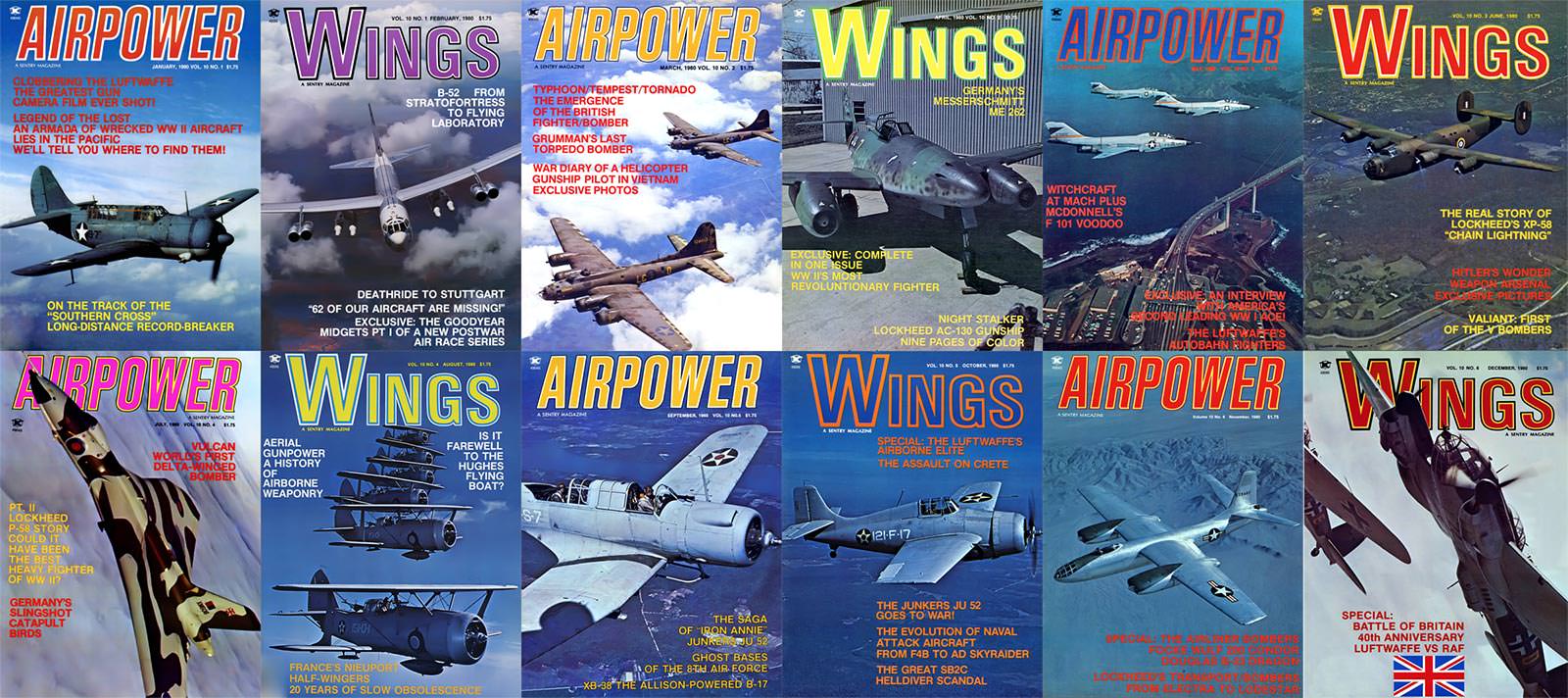 Price: $17.95
PDF contains 12 magazines
That's just $1.50 per magazine!
Content is keyword searchable
Print a personal copy
Pay via PayPal or Credit Card
International orders welcome!
Download PDF upon payment
Gun Camera, Destruction Of The Luftwaffe As Seen From
Behind The Tracer Stream
F-100D Super Sabre
Legend of the Lost, Graveyards Of WW II Aviation
Curtiss SB2C-1 Helldiver
The Southern Cross, Kingsford-Smith's Ageless Fokker Triplane
Eagle & The Turtle, Exploring Antarctica in A Staggerwing Beech
Big Bluff Buff (Boeing B-52 Stratofortress)
Bomber Command, Night Raid To Stuttgart
Mighty Mites, Part I (1947 Goodyear Midgets)
Typhoon, Tornado, Tempest
F-86F Sabres
Hunter / Killer (Grumman AF-2S Guardian)
Sky Soldiers, Vietnam War As Seen From Cockpit Of A Bell UH-1 Gunship!
Watch on the Rhine, Hitler's "Fortress Europa"
Return of the Swallow (Messerschmitt Me-262 Jet)
Night Spectre (Lockheed C-130 Gunship)
Fairey Aviation's Forgotten Long-Distance Monoplane
Autobahn Air Force
It's Witchcraft, McDonnell's F-101 Voodoo
Bill Lambert, America's Forgotten Ace
Mighty Mites, Part II
Wonder Weapons of the Luftwaffe
Double or Nothing! (Lockheed XP-58 Chain Lightning)
Valiant as in V-Bomber (Vickers Valiant)
Russian Refugees
Double or Nothing! Part II (Lockheed P-58 Chain Lightning)
Vulcan's Forge, RAF's Delta-Winged Bomber
Mit Luftpost, Seaplane Mail Delivery
Nieuport's 1.5 Winged Fighter (F4B/P-12)
Flying Guns, Manned Aerial Weapons & Gun Turrets
V for Victor (Handley Page Victor Bomber)
Curtiss SBC-4s
Farewell to the Hughes Flying Boat?
Boeing's Forgotten Fortress (B-17 and XB-38 testbed)
Old Ironsides (Ju 52)
Ghosts of the RAF
Mighty Mites, Part III
Old Ironsides, Part II (Ju 52)
Eagles of the Sea (Combat Carrier Aircraft 1930-1945)
The Great SB2C Helldiver Scandal
Vought SB2U Vindicators
Douglas Aircraft's B-23 Dragon
Lockheed Electra
Lockheed A29 Hudson
FW-200 Condor – Scourge of the Atlantic
Battle of Britain, Luftwaffe vs. RAF
Men in the Oxygen Masks
That Damnable DH-4, Part II
Sky Salon, One Look at the Aviation Artist