Price: $19.95
4 magazines and 3 manuals
PDF contains 500 pages
Content is keyword searchable
Print a personal copy
Pay via PayPal or Credit Card
International orders welcome!
Download files upon payment
Purchase This PDF
Martin's Mighty Mariner, Flying the PBM
Samurai, Japan's Legendary Zero
Night Stalker, Canada's Midnight Raiders
Shell Wings, Jimmy Doolittle's Record Breaking Racers
Nieuport's 1.5 Winged Fighter (F4B/P-12)
Flying Guns, Manned Aerial Weapons & Gun Turrets
V for Victor (Handley Page Victor Bomber)
Curtiss SBC-4s
Farewell to the Hughes Flying Boat?
Boeing's Forgotten Fortress (B-17 and XB-38 testbed)
Old Ironsides (Ju 52)
Ghosts of the RAF
Mighty Mites, Part III
WWII's Incomparable Liquid-Cooled Powerplants
Martin PBM Patrol Bomber Portfolio
Manuals
PBM-3D-S Pilot's Handbook, 1944
PBM-3S-S Pilot's Handbook
PBM-5 Pilot's Handbook, 1944
Over 120 Martin PBM Mariner Photos
Martin PBM Mariner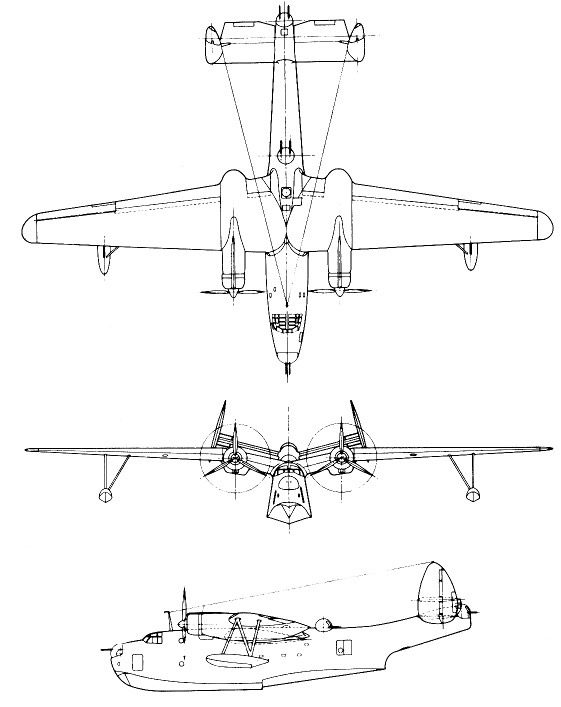 General Characteristics
Crew: Seven
Length: 79 ft 10 in (23.50 m)
Wingspan: 118 ft 0 in (36 m)
Height: 27 ft 6 in (5.33 m)
Wing area: 1,408 sq ft (131 m2)
Empty weight: 33,175 lb (15,048 kg)
Gross weight: 56,000 lb (25,425 kg)
Powerplant: 2 × Wright R-2600-6 14-cylinder radial engines, 1,600 hp (1,194 kW) each
Performance
Maximum speed: 178 kn (205 mph, 330 km/h)
Range: 2,600 nmi (3,000 mi, 4,800 km)
Service ceiling: 19,800 ft (6,040 m)
Rate of climb: 800 ft/min (4.1 m/s)
Armament
Guns: 8 × .50 in (12.7 mm) M2 Browning machine guns (two each in nose, dorsal and tail turrets, one each in blisters amidships)
Bombs: 4,000 lb (1,800 kg) of bombs or depth charges or 2 × Mark 13 torpedoes
XPBM-1 (Model 162) – Prototype. Powered by two 1,600 hp (1,194 kW) R-2600-6 engines.
PBM-1 (Model 162) – Initial production version. 5× .50 inch (12.7 mm) machine guns. Two R-2600-6 engines; 21 built.
XPBM-2 (Model 162) – Conversion of one PBM-1 as experimental catapult-launched long-range strategic bomber.
PBM-3 (Model 162B) – Improved version. 1,700 hp (1,270 kW) R-2600-12 engines; 32 built.
PBM-3R (Model 162B) – Unarmed transport version of PBM-3. 18 new build plus 31 converted from PBM-3.
PBM-3C (Model 162C) – Improved patrol version with twin .50 in machine guns in nose and dorsal turrets, and single guns in tail turret and waist positions. AN/APS-15 radar in radome behind cockpit; 274 built.
PBM-3B (Model 162C) – Designation for ex-RAF Mariner GR.1A after return to U.S. Navy.
PBM-3S (Model 162C) – Dedicated anti-submarine aircraft with reduced armament (2× fixed 0.50 in machine guns in nose, single machine gun in port waist position, and single gun in tail turret) and increased range; 94 built as new plus 62 conversions.
PBM-3D (Model 162D) – Patrol bomber with increased power (two 1,900 hp (1,417 kW) R-2600-22s) and increased armament (twin 0.50 in machine guns in nose, dorsal, and tail turrets, plus two waist guns). 259 built.
PBM-4 (Model 162E) – Proposed version with two 2,700 hp (2,015 kW) Wright R-3350 engines; unbuilt.
PBM-5 (Model 162F) – Version with 2,100 hp (1,566 kW) Pratt & Whitney R-2800 engines;[21] 628 built.
PBM-5E – Variant of PBM-5 with improved radar.
PBM-5S – Lightened anti-submarine variant of PBM-5.
PBM-5S2 – Improved anti-submarine aircraft with revised radar installation.
PBM-5A (Model 162G) – Amphibian version of PBM-5, with retractable tricycle undercarriage; 36 built plus four conversions.
Mariner I – British designation for 32 PBM-3B supplied to the Royal Air Force.
United States Navy PBM-5A (Bureau Number (BuNo) 122071) is the only surviving Mariner. It is on loan from the National Air and Space Museum in Washington, D.C. and is currently on display at the Pima Air & Space Museum adjacent to Davis–Monthan Air Force Base in Tucson, Arizona. Operated by the USN between 1948 and 1956, it is painted in the markings of Transport Squadron 21 (VR-21) and coded RZ 051 of the early 1950s.
PBM-5 BuNo 59172 lies upside down under Lake Washington. It crashed on 6 May 1949, and after a number of unsuccessful attempts to recover the wreck over the following decades, it is now used as a training site for divers.
The Model 162A (registered NX19168), the piloted ? scale test aircraft, is on display at the Baltimore Museum of Industry.