Price: $12.95
3 magazines, 3 manuals, & photos
PDF contains 1,582 pages
Content is keyword searchable
Print a personal copy
Pay via PayPal or Credit Card
International orders welcome!
Download files upon payment
Purchase This PDF
B-1 Bomber Special Edition
Top Gun at Twenty
The Real Stuff for the Right Stuff
Flying the operational B-1B
North American's Incredible XF-108!
Factory Fresh – Lockheed Vega
Itazuke Air Base ramp tour
X-5 to F-14 Swing-Wings – We unlock the secrets of variable geometry!
Manuals & Photos
B-1 Flight Manual 1976
B-1 Flight Manual 1979
B-1B Systems Familarization 1982
and over 200 B-1 Lancer photos!
Rockwell B-1 Lancer
General Characteristics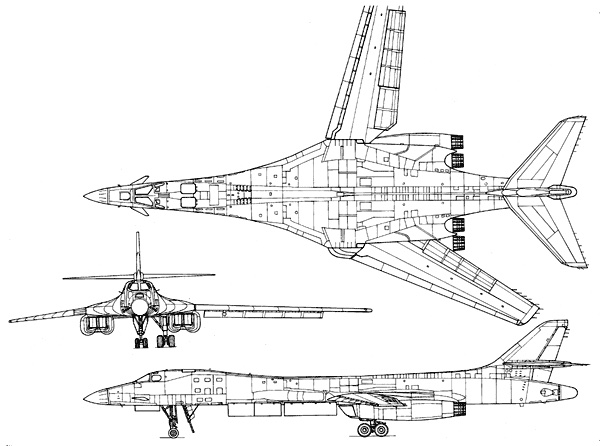 Crew: 4 (aircraft commander, copilot, offensive systems officer, and defensive systems officer)
Payload: 125,000 lb (56,700 kg) ; internal and external ordnance combined
Length: 146 ft (44.5 m)
Wingspan:

Extended: 137 ft (42 m)
Swept: 79 ft (24 m)

Height: 34 ft (10.4 m)
Wing area: 1,950 ft² (181.2 m²)
Airfoil: NACA69-190-2
Empty weight: 192,000 lb (87,100 kg)
Loaded weight: 326,000 lb (148,000 kg)
Max. takeoff weight: 477,000 lb (216,400 kg)
Fuel capacity, optional: 10,000 U.S. gal (37,900 L) fuel tank each in 1-3 internal weapons bays
Powerplant: 4 × General Electric F101-GE-102 augmented turbofans

Dry thrust: 17,390 lbf (77.4 kN) each
Thrust with afterburner: 30,780 lbf (136.92 kN) each
Performance
Maximum speed:

At altitude: Mach 1.25 (830 mph, 720 kn, 1,340 km/h) at 40,000 ft (12,000 m) altitude
At low level: Mach 0.92 (700 mph, 610 kn, 1,100 km/h) at 200-500 ft (60-150 m) altitude

Range: 5,100 nmi (5,900 mi; 9,400 km)
Combat radius: 2,993 nmi (3,444 mi; 5,543 km)
Service ceiling: 60,000 ft (18,000 m)
Rate of climb: 5,678 ft/min  (28.86 m/s)
Wing loading: 167 lb/ft² (816 kg/m²)
Thrust/weight: 0.28
Armament
Hardpoints:

6 external hardpoints for 50,000 pounds (23,000 kg) of ordnance (use for weapons restricted by arms treaties)
3 internal bomb bays for 75,000 pounds (34,000 kg) of ordnance.

Bombs:

84× Mk-82 Air inflatable retarder (AIR) general purpose (GP) bombs
81× Mk-82 low drag general purpose (LDGP) bombs
84× Mk-62 Quickstrike sea mines
24× Mk-84 general purpose bombs
24× Mk-65 naval mines
30× CBU-87/89/CBU-97 Cluster Bomb Units (CBU)
30× CBU-103/104/105 Wind Corrected Munitions Dispenser (WCMD) CBUs
24× GBU-31 JDAM GPS guided bombs (Mk-84 GP or BLU-109 warhead)
15× GBU-38 JDAM GPS guided bombs (Mk-82 GP warhead)
48× GBU-38 JDAM (using rotary launcher mounted multiple ejector racks)
48× GBU-54 LaserJDAM (using rotary launcher mounted multiple ejector racks)
96× or 144× GBU-39 Small Diameter Bomb GPS guided bombs (not fielded on B-1 yet)
24× AGM-154 Joint Standoff Weapon (JSOW)
24× AGM-158 Joint Air to Surface Standoff Missile (JASSM)
Previously up to 24× B61 or B83 nuclear bombs could be carried.
Avionics
1× AN/APQ-164 forward-looking offensive Passive electronically scanned array radar
1× AN/ALQ-161 radar warning receiver and defensive jamming equipment
1× AN/ASQ-184 defensive management system
1× Sniper Advanced Targeting Pod (optional)
B-1A
The B-1A was the original B-1 design with variable engine intakes and Mach 2.2 top speed. Four prototypes were built; no production units were manufactured.
B-1B
The B-1B is a revised B-1 design with reduced radar signature and a top speed of Mach 1.25. It is optimized for low-level penetration. A total of 100 B-1Bs were produced.
B-1R
The B-1R was a proposed upgrade of existing B-1B aircraft. The B-1R (R for "regional") would be fitted with advanced radars, air-to-air missiles, and new Pratt & Whitney F119 engines. This variant would have a top speed of Mach 2.2, but with 20% shorter range. Existing external hardpoints would be modified to allow multiple conventional weapons to be carried, increasing overall loadout. For air-to-air defense, an active electronically scanned array (AESA) radar would be added and some existing hardpoints modified to carry air-to-air missiles. If needed the B-1R could escape from unfavorable air-to-air encounters with its Mach 2+ speed. Few aircraft are capable of sustained speeds over Mach 2.
B-1A
74-0160 – Wings Over the Rockies Museum at the former Lowry Air Force Base in Denver, Colorado.
76-0174 – Strategic Air Command & Aerospace Museum near Ashland, Nebraska. This aircraft has conventional ejection seats and other features used on the B-1B variant.
B-1B
83-0065 Star of Abilene – Dyess Linear Air Park at Dyess Air Force Base, Texas. This was the first aircraft delivered to the U.S. Air Force. Dyess AFB is home to one of two active Air Force B-1B wings.
83-0066 Ole Puss – Heritage Park at Mountain Home Air Force Base, Idaho with wheels in the wells.
83-0067 Texas Raider – South Dakota Air and Space Museum at Ellsworth Air Force Base, South Dakota. Ellsworth AFB is home to one of two active Air Force B-1B wings.
83-0068 Spuds – Reflections of Freedom Air Park at McConnell Air Force Base in Wichita, Kansas, a former Air Force and Air National Guard B-1B base.
83-0069 Silent Penetrator – Museum of Aviation at Robins Air Force Base in Warner Robins, Georgia, a former Air National Guard B-1B base. This aircraft was the sixth B-1 produced, and was delivered to the 96th Bomb Wing at Dyess AFB, Texas on 13 March 1986. This aircraft arrived at Robins AFB in September 2002. Robins AFB was previously home to one of two Air National Guard B-1B wings. Renamed Midnight Train From Georgia by April 2015
83-0070 7 Wishes – Hill Aerospace Museum at Hill Air Force Base in Ogden, Utah.
83-0071 Spit Fire – near the main gate at Tinker Air Force Base, Oklahoma. This aircraft was one of two that suffered an in-flight engine failure in 1990 that led to grounding of the fleet.
84-0051 Boss Hawg – National Museum of the United States Air Force at Wright-Patterson AFB near Dayton, Ohio. It is displayed in the Museum's Cold War Gallery, and replaces the B-1A (76-0174) formerly on display.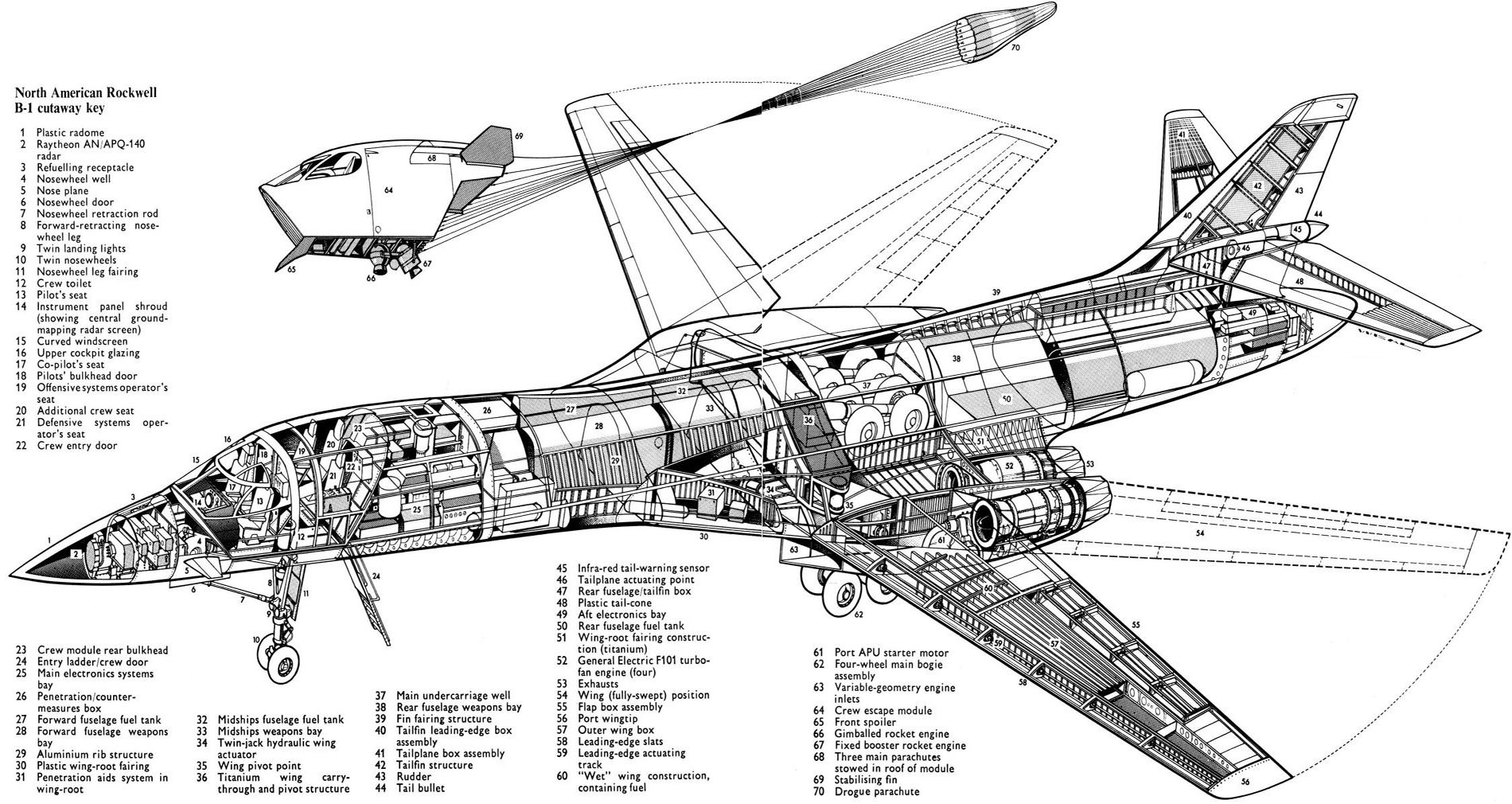 B-1 Lancer walkaround and cockpit (McChord Airshow, 2016)
---
Early 80's look at the United States Air Force B-1 program
---
Stunning Video of B-1 Lancer in Action • Takeoff & Landing
---
The US B-1 Lancer Show Its INSANE Capability
---
USAF B1-B Lancer EARTH SHATTERING Full Afterburner takeoff
---
B-1 Bomber Pilot Prep & Takeoff • Inside The Bone