Apollo 50th Anniversary Mission PDF eBooks
Apollo 6 | Apollo 7 | Apollo 8 | Apollo 9 | Apollo 10 | Apollo 11 | Apollo 12 | Apollo 13 | Apollo 14 | Apollo 15
"I believe that this nation should commit itself to achieving the goal, before this decade is out, of landing a man on the Moon and returning him safely to the Earth." - President John F. Kennedy, May 25, 1961
Price: $19.95
22 documents & over 400 photos
PDF contains 4,785 pages
Content is keyword searchable
Print a personal copy
Pay via PayPal or Credit Card
International orders welcome!
Download files upon payment
Purchase This PDF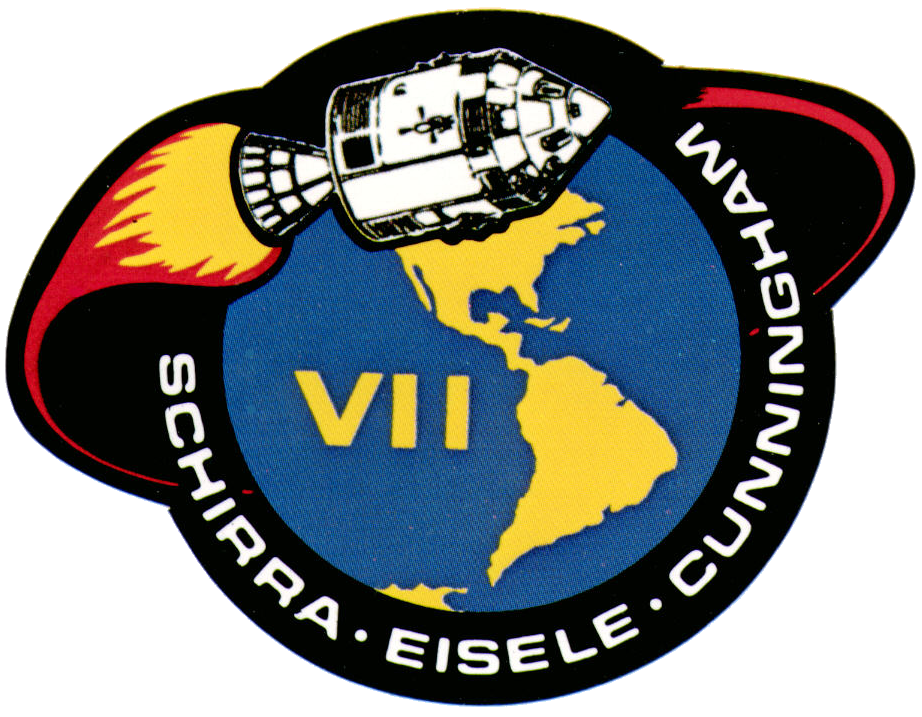 The Apollo 7 Command Module is on display at the Frontiers of Flight Museum located next to Love Field in Dallas, Texas.
Apollo 7 Mission
The Apollo 7 crew was commanded by Walter M. Schirra, with senior pilot / navigator Donn F. Eisele, and pilot / systems engineer R. Walter Cunningham. Their mission was Apollo's 'C' mission, an 11-day Earth-orbital test flight to check out the redesigned Block II Command & Service Module (CSM) with a crew on board. It was the first time a Saturn IB launch vehicle put a crew into space; Apollo 7 was the first three-person American space mission, and the first to include a live TV broadcast from an American spacecraft. Apollo 7 fulfilled Apollo 1's mission of testing the Apollo CSM in low Earth orbit.
Apollo 7 was launched on October 11, 1968, from what was then known as Cape Kennedy Air Force Station, Florida. Despite tension between the crew and ground controllers, the mission was a complete technical success, giving NASA the confidence to send Apollo 8 into orbit around the Moon two months later. The flight would prove to be the final space flight for all of its three crew members—and the only one for both Cunningham and Eisele—when it splashed down in the Atlantic Ocean on October 22, 1968. It was also the only manned launch from Launch Complex 34, as well as the last launch from the complex.
PDF Contents
Air-To-Ground Voice Transcription
Apollo 7 Mission 3 Day Report
Abort Plan for Apollo 7
Crew Voice Transcription
Entry Postflight Analysis
Entry Postflight Analysis Supplement
Excessive Entry Loads Abort Trajectories
Final Flight Evaluation Report
Ground Voice Contact Analysis
Guidance Navigation Control Supplement 3
Launch Vehicle Reference Trajectory
Medical Aspects of Apollo 7 & 8
Apollo 7 Mission Report
Operational Intercommunication
PAO Voice Transcription
Preliminary Launch Abort Study
Apollo 7 Press Kit
Apollo 7 Rendezvous Procedures
Saturn CSM Postflight Trajectory
Saturn IB Report for the Apollo 7 Mission
Saturn S-IVB Flight Evaluation Report
Science Photography Earth Resources
Apollo 7 Mission Videos
Apollo 50th Anniversary Mission PDF eBooks
Apollo 6 | Apollo 7 | Apollo 8 | Apollo 9 | Apollo 10 | Apollo 11 | Apollo 12 | Apollo 13 | Apollo 14 | Apollo 15
"I believe that this nation should commit itself to achieving the goal, before this decade is out, of landing a man on the Moon and returning him safely to the Earth." - President John F. Kennedy, May 25, 1961