Price: $39.95
11 magazines, 9 manuals, & photos
PDF contains 2,237 pages
Content is keyword searchable
Print a personal copy
Pay via PayPal or Credit Card
International orders welcome!
Download files upon payment
Purchase This PDF
Agony Wagons, The Greenhouse B-24 Liberators
The Phantom Brigade, Combat over Spain
Pylon Polisher
Air Mail Special Delivery, Building Boeing's Monomail
Requiem for a Heavyweight, True Pilot's Story of the B-24 Liberator
Rotabuggy Man, Incredible RAF Gadgets
Moskito, Germany's Ta-154 Night Fighter
The Ghost Sentai, Japanese WWII Aircraft
Flying Frigates of the Forties, Giant Patrol Planes of WWII
Soldiers of Fortune, Air Forces of the Spanish Civil War
One Day Off The Hornet, A Hellcat Pilot's Combat Diary
Liberator Logbook, Gallery of B-24 Photos & Artwork
Shark Fighter, Luftwaffe's Me-110 Heavy Fighter
Sea Scouts, Curtiss Scout Observation Planes 1935-1945
Cheaper by the Thousands, Saga of the B-24 Liberator
The Aggressors Go To War, F-16s in Desert Storm
Down On Flames, Ex-Military Firefighting Bombers
Rocketship, Grumman's XF5F Fighter
Reclaiming A Mentor, T-34 Trainer wins Best In Show at Oshkosh 1991
The First Ploesti Raid, B-24 Battle Damage
Escort at Midway
Frenchmen On Floats, Latecoere 298 Torpedo Planes
Bomb Truck, Many Faces of the B-24 Liberator
Two Wings & Not Even A Prayer, The Unknown Gregor Biplane Fighter
Jet Cat, Grumman's F9F Panther
Working Warbirds, PB4Y Privateer Air Tanker Catches Fire
Thunderbird to Thud Ridge, Colonel Jack Broughton
Top Guns of Yankee Station
Too Much Too Late, The Marine EF-10B
Convair's Contribution, Revisiting the B-24
Fastest Man on Earth! Colonel John Paul Stapp
The Final Days of the Korean Air War
Factory Fresh, Consolidated B-24 Liberator
Boeing 314 in Detail
Bell X-2 Color Schemes
"Mission Berlin" Part II
Manuals & Photos
B-24D Flight Manual, 1942
B-24 Pilot Training Manual, 1944
B-24 Engineer's Handbook, 1944
B-24 Pilot Training Manual, 1945
B-24C/D Service Instructions, 1942
B-24D Flight Manual, 1947
PB4Y Emergency Procedures, 1945
PB4Y-2 Flight Manual, 1945
Over 2,000 B-24 photos
Over 180 PB4Y photos
Consolidated B-24 Liberator / PB4Y Privateer
General Characteristics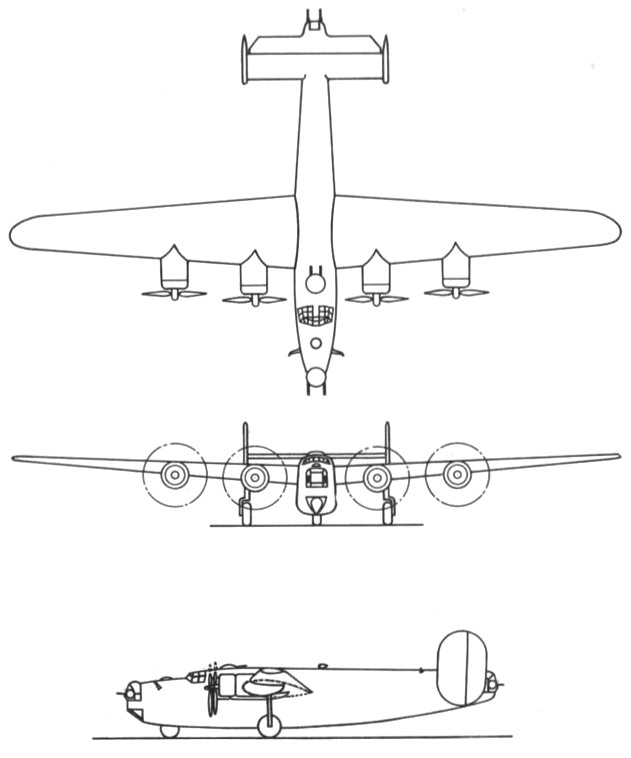 Crew: 11 (pilot, co-pilot, navigator, bombardier, radio operator, nose turret, top turret, 2 waist gunners, ball turret, tail gunner)
Length: 67 ft 8 in (20.6 m)
Wingspan: 110 ft 0 in (33.5 m)
Height: 18 ft 0 in (5.5 m)
Wing area: 1,048 ft² (97.4 m²)
Airfoil: Davis 22% / Davis 9.3%
Empty weight: 36,500 lb (16,590 kg)
Loaded weight: 55,000 lb (25,000 kg)
Max. takeoff weight: 65,000 lb (29,500 kg)
Powerplant: 4 × Pratt & Whitney R-1830-35 or -41 turbosuperchargedradial engines, 1,200 hp (900 kW) each
Zero-lift drag coefficient: 0.0406
Drag area: 42.54 sq ft (3.952 m2)
Aspect ratio: 11.55
Performance
Maximum speed: 290 mph (250 kn, 488 km/h)
Cruise speed: 215 mph (187 kn, 346 km/h)
Stall speed: 95 mph (83 kn, 153 km/h)
Range: 2,100 mi (1,800 nautical miles (3,300 kilometres))
Ferry range: 3,700 mi (3,200 nmi (5,900 km))
Service ceiling: 28,000 ft (8,500 m)
Rate of climb: 1,025 ft/min (5.2 m/s)
Wing loading: 52.5 lb/ft² (256 kg/m²)
Power/mass: 0.0873 hp/lb (144 W/kg)
Lift-to-drag ratio: 12.9
Armament
Guns: 10 × .50 caliber (12.7 mm) M2 Browning machine guns in 4 turrets and two waist positions
Bombs:

Short range (˜400 mi [640 km]): 8,000 pounds (3,600 kg)
Long range (˜800 mi [1,300 km]): 5,000 pounds (2,300 kg)
Very long range (˜1,200 mi [1,900 km]): 2,700 pounds (1,200 kg)
General Characteristics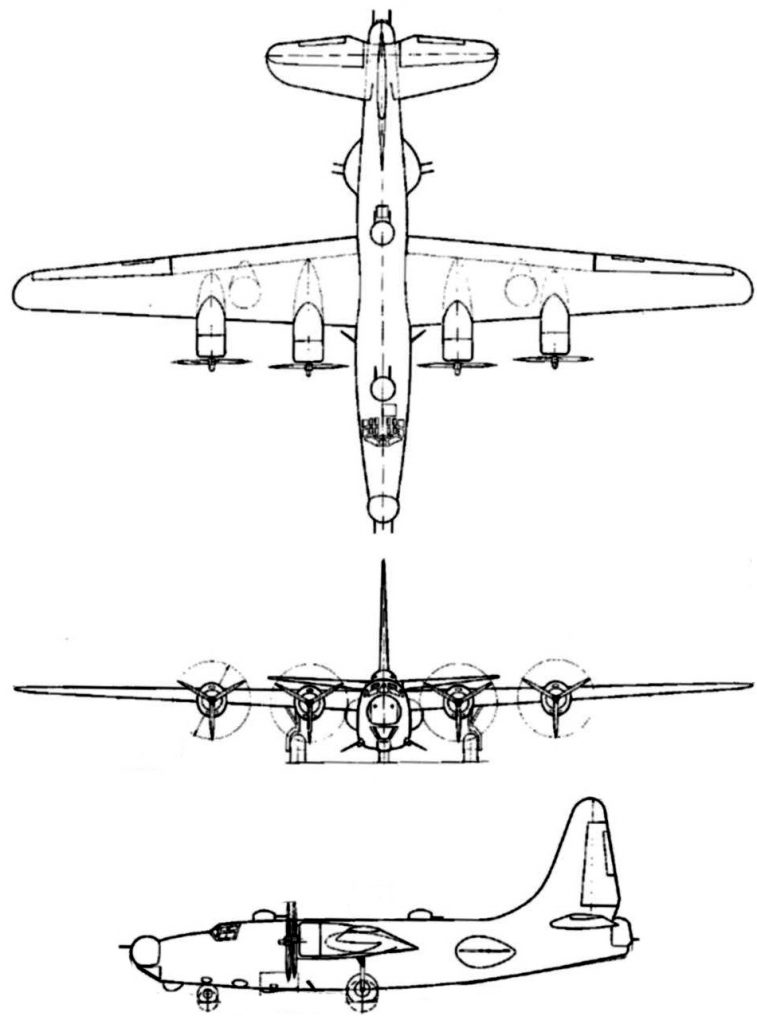 Crew: 11: two pilots, navigator, bombardier, five gunners, two radio operators
Length: 74 ft 7 in (22.73 m)
Wingspan: 110 ft 0 in (33.53 m)
Height: 30 ft 1 in (9.17 m)
Wing area: 1,048 ft² (97.4 m²)
Empty weight: 27,485 lb (12,467 kg)
Max. takeoff weight: 65,000 lb (29,500 kg)
Powerplant: 4 × Pratt & Whitney R-1830-94 radial engines, 1,350 hp (1,007 kW) each
Performance
Maximum speed: 300 mph (261 kn, 482 km/h)
Cruise speed: 175 mph (121 kn, 224 km/h)
Range: 2,820 mi (2,450 nmi, 4,540 km)
Service ceiling: 21,000 ft (6,400 m)
Wing loading: 62 lb/ft² (300 kg/m²)
Armament
Guns: 12 × .50 in (12.7 mm) M2 Browning machine guns in six turrets
Bombs: Up to 12,800 lb (5,800 kg) of bombs, mines, or torpedoes
U.S. Army Air Forces variants
XB-24 – Single prototype ordered by Army Air Corps on 30 March 1939. Powered by four Pratt & Whitney R-1830-33 Twin Wasps rated at 1,200 horsepower (890 kW) for takeoff and 1,000 horsepower (750 kW) at 14,500 feet (4,400 m). Bombload of eight 1,000 lb (450 kg) bombs, with defensive armament of three 0.5 in (12.7 mm) and four 0.30 in (7.62 mm) machine guns. First flew 29 December 1939. Later converted to XB-24B.
YB-24/LB-30A Pre-production prototypes – Six examples were sold to Great Britain directly as designated LB-30A. US funds and serial numbers were deferred to the B-24D production. The seventh (40-702) remained in U.S. Service as the sole YB-24 for service test. (Total: 7)
B-24 – Ordered on 27 April 1939, less than 30 days after the XB-24 was ordered and before its completion. A number of minor modifications were made: elimination of leading edge slots, addition of de-icing boots. (Total: 1 conversion of YB-24.)
B-24A/LB-30B – Ordered in 1939, the B-24A was the first production model. Due to the need for long range aircraft, the B-24A was ordered before any version of the B-24 flew. The main improvement over the XB-24 was improved aerodynamics, which led to better performance. Nine as transports transferred to Ferrying Command. Twenty (20) sold directly to Great Britain as LB-30B. Deferred US funds and serial numbers allocated to future B-24D production. (Total: 29 LB-30B; 9 B-24A)
XB-24B – A newly funded conversion of the XB-24 after it failed to reach its projected top speed. The Pratt & Whitney R-1830-33 radials rated at 1,000 hp (750 kW) it carried were replaced with R-1830-41 turbo-supercharged radials rated at 1,200 hp (890 kW), increasing its top speed by 37 mph (60 km/h). The engine cowlings were made elliptical to accommodate the addition of the turbo-superchargers. The XB-24B version also lacked the engine slots of the original. It was re-serial numbered. (Total: one converted XB-24)  : XB-24B 39-680 was converted into a luxury airliner for ConsAirways. The conversion included gutting the interior, cutting new windows and dividing the interior into compartments with individual and bench seating, and two-tier Pullman-style sleeping berths. It featured generous trim – possibly for sound-proofing – an in-flight galley with refrigerator and hot plates in bare metal (probably stainless steel) with lighting and services for the main deck controlled by a panel over the main passenger door, but photographs of the conversion dated 19 April 1945 show no visible seat belts or other passenger safety arrangements.
B-24C – New production funded from deferred funds after LB-30A to Britain. Used the engine package prototyped in the XB-24B and the new fuselage of the LB-30. The tail air gunner position was improved by adding a hydraulically powered Consolidated A-6 turret with twin .50 caliber (12.7 mm) machine guns; a Martin powered dorsal turret was added to the forward fuselage. One (#84) converted to prototype the "three in nose" armament for the B-24D. FY funds and serial numbers transferred from B-24A. (Total: nine)
B-24D – First model produced on a large scale; ordered from 1940 to 1942, as a B-24C with better engines (R-1830-43 supercharged engines). The D model was initially equipped with a remotely operated and periscopically sighted Bendix belly turret, as the first examples of the B-17E Flying Fortress and some early models of the B-25 Mitchell medium bomber had used, but this proved unsatisfactory in service and was discontinued after the 287th aircraft. Production aircraft reverted to the earlier manually operated "tunnel" mounting with a single .50 caliber (12.7 mm) machine. The tunnel gun was eventually replaced by the Sperry ball turret, which had also been adopted by the later B-17E Fortresses, but made retractable for the Liberator when not in use as the ventral area of its fuselage was very close to the ground on landing. In late B-24Ds, "cheek" guns mounted on either side of the forward nose, just behind the framed "greenhouse" nose glazing were added. (Total: 2,696: 2,381 Consolidated, San Diego; 305 Consolidated, Fort Worth; 10 Douglas, Tulsa, Oklahoma).
B-24E – A slight alteration of the B-24D built by Ford, using R-1830-65 engines. Unlike the B-24D, the B-24E retained the tunnel gun in the belly. The USAAF used the B-24Es primarily as training aircraft since this series and other technology as were the aircraft being produced by Consolidated / San Diego (CO). Ford also built sub-assemblies for Douglas and Convair Fort Worth; these sub-assemblies were identical to Ford-built B-24Es, except that they used the same engines as the B-24D (R-1830-43 radials). These sub-assemblies were called KD (knock down) ships and were trucked from Willow Run to the Southwest for the final assembly . (Total: 801)
XB-24F – A prototype made to test thermal de-icers instead of the standard inflatable rubber "boots". (Total: one converted B-24D)
B-24G – Designation for B-24D aircraft built by North American Aviation pursuant to a 1942 contract. Equipped with Sperry ball turret and three .50 caliber (12.7 mm) machine guns in nose. (Total: 25)
B-24G-1 – as B-24G but with A-6 nose turret. Most B-24G aircraft were delivered to the 15th Air Force in Italy. (Total: 405)
B-24H – Because of obvious vulnerability of the B-24 to head-on attack with the earlier, 24-panel "greenhouse" nose glazing, the B-24H design incorporated an electrically powered Emerson A-15 nose turret above the bombardier's position, somewhat similar to where the Frazer-Nash FN5 nose turret on the Avro Lancaster was placed. Approximately 50 other airframe changes were made, including a redesigned bombardier compartment possessing a glazed three-panel bombsight window unit replacing the "greenhouse" nose design. The tail turret was given larger windows for better visibility and the Martin A-3 dorsal turret received an enlarged "high hat" dome. The waist gunner positions were enclosed with Plexiglas windows and laterally offset (as the later B-17G's waist positions had been) to reduce mutual interference between the two waist gunners during battle. Most H model aircraft were built by Ford at the Willow Run factory. (Total: 3,100)
B-24J – The B-24J was very similar to the B-24H, but shortages of the Emerson nose turret required use of a modified, hydraulically powered Consolidated A-6 turret in most J model aircraft built at Consolidated's San Diego and Fort Worth factories. The B-24J featured an improved autopilot (type C-1) and a bombsight of the M-1 series. B-24H sub-assemblies made by Ford and constructed by other companies and any model with a C-1 or M-1 retrofit, were all designated B-24J. The J model was the only version to be built by all five factories involved in B-24 production. (Total: 6,678)
XB-24K – Developed from the B-24ST, with the B-23 Dragon empennage replaced by the tail of a Douglas C-54 Skymaster.[11] The improved performance and handling of the B-24ST and XB-24K led to the decision to incorporate a single tail in the PB4Y-2 and B-24N. (Total: one converted B-24D)
B-24L – Because of the excessively high gross weight of the B-24J, the Army pushed for a lighter version. In the B-24L, the Sperry ball turret was replaced by a floor ring mount with two .50 caliber (12.7 mm) machine guns, and the A-6B tail turret by an M-6A. Later aircraft were delivered from the factory without tail armament. An A-6B, M-6A, or a manually operated twin .50 caliber (12.7 mm) mounting was then installed at a depot before arrival at operational units. The L model was built only at Willow Run and Consolidated's San Diego factory. (Total: 1,667)
B-24M – An enhancement of the B-24L with further weight-saving devices. The B-24M used a more lightweight version of the A-6B tail turret; the waist gunner positions were left open, and the retractable Sperry ventral ball turret was reintroduced. For better visibility from the flight deck, the windshield in Ford-built aircraft was replaced by a version with less framing from Block 20 onward. The B-24M became the last production model of the B-24; a number of the B-24s built flew only the course between the factory and the scrapheap. (Total: 2,593)
XB-24N – A redesign of the B-24J, made to accommodate a single tail. It also featured an Emerson 128 ball turret in the nose and a stationary tail gunner's position. While 5,168 B-24Ns were ordered, the end of the war resulted in cancellation of all contracts before production could begin. Its single tail was said to be the inspiration for the PB4Y-2 Privateer's similar single fin/rudder tail design.(Total: one)
YB-24N – Pre-production service test version of the XB-24N. (Total: seven)
XB-24P – A modified B-24D, used by Sperry Gyroscope Company to test airborne fire control systems. (Total: one converted B-24D)
XB-24Q – A General Electric conversion of the B-24L. Used to test a radar-controlled tail turret intended for use in the Boeing B-47 Stratojet. (Total: one converted B-24L)
XB-41 – Because there were no fighters capable of escorting bomber formations on deep strike missions early in World War II, the Army authorized tests for heavily armed bombers to act as "gunship" escorts for bombing missions, which inspired both the B-17 derived YB-40 Flying Fortress gunship and its Liberator-derived XB-41 counterpart. The XB-41 had fourteen .50 caliber (12.7 mm) machine guns, including a Bendix chin turret and a second Martin A-3 turret on the upper fuselage. A single aircraft was completed in 1942. Performance changed drastically with the addition of more turrets. The escorts were also unable to keep up with bomber formations once the bombs had been dropped. The results of 1943 testing were very negative and the project was quickly canceled. (Total: one converted B-24D)
B-24ST – An experimental aircraft, The B-24ST (for Single Tail, an unofficial designation applied by Ford) was made by Ford by fitting a Douglas B-23 Dragon empennage onto a B-24D airframe. The aircraft was more stable and had better handling than other models. It was used as the basis of the XB-24K.
AT-22 or TB-24 –C-87 used for flight engineer training.
RB-24L: Developed for training B-29 gunners on an identical remote gun system installed on a B-24L.
TB-24L: As with the RB-24L, but with additional radar equipment.
C-87 Liberator Express –Passenger transports with accommodation for 20 passengers.
C-87A: VIP transports with R-1830-45 instead of -43 engines and sleep accommodations for 16 passengers.
C-87B: Projected armed transport variant with nose guns, dorsal turret, and ventral tunnel gun; never produced.
C-87C: U.S. Army Air Force/Air Force designation for the RY-3.
XC-109/C-109 – Tankers with specialized equipment to help prevent explosions, used to ferry fuel from India to China to support initial B-29 raids against Japan.
XF-7 – Photographic reconnaissance variant developed from the B-24D.
F-7 – Photographic reconnaissance variant developed from the B-24H; -FO block.
F-7A – Photographic reconnaissance variant developed from the B-24J; three cameras in the nose and three in the bomb bay.
F-7B – Photographic reconnaissance variant developed from the B-24J; six cameras in the bomb bay.
BQ-8 – A number of worn-out B-24D and B-24Js were converted as radio-controlled flying bombs to attack German targets. Joseph P. Kennedy, Jr. was killed in a BQ-8 during Operation Anvil.
U.S. Navy nomenclature and sub-variants
PB4Y-1 U.S. Navy designation applied to 976 navalized B-24D, J, L and M models built at Consolidated's San Diego factory, as well as one North American-built B-24G. Later aircraft were equipped with an ERCO bow turret.
PB4Y-1P Photographic reconnaissance variant developed from the PB4Y-1.
PB4Y-2 Privateer A developed PB4Y with a large single fin and many other improvements and changes.
P5Y Proposed twin-engined patrol version of PB4Y-1. Unbuilt.
RY-1 U.S. Navy designation for the C-87A.
RY-2 U.S. Navy designation for the C-87.
RY-3 Transport variant of the PB4Y-2.
R2Y Liberator Liner built using a new fuselage for the US Navy as an airliner with 48 seats
British Commonwealth nomenclature and sub-variants
Liberator B Mk I B-24A, direct purchase aircraft for the RAF. (Total: 20) Considered unsuitable for combat, some rebuilt as the GR.1 and used in British anti-submarine patrol squadrons.
Liberator B Mk II The first combat-ready B-24. The modifications included a three-foot nose extension as well as a deeper aft fuselage and wider tailplane—there was no direct B-24 equivalent but similar to the B-24C, built to meet British specifications with British equipment and armament. A small series of B Mk IIs were reconstructed as unarmed transports, designated the LB-30 with the USAAF. (Total production: 165)
Liberator B Mk III B-24D variant with single .303 in (7.7 mm) Browning machine gun in the nose, two in each waist position, and four in a Boulton Paul tail turret—similar to that on contemporary British heavy bombers such as the Halifax—as well as other British equipment. The Martin dorsal turret was retained. (Total: 156)
Liberator B Mk IIIA Lend-Lease B-24Ds with American equipment and weapons.
Liberator B Mk IV Reserved for the B-24E, but there is no record of the RAF actually receiving any.
Liberator B Mk V B-24D modified for extra fuel capacity at the cost or armor, with the same armament fit as the Liberator Mk III.
Liberator B Mk VI B-24Hs in RAF service fitted with Boulton Paul tail turrets, but retaining the rest of their armament.
Liberator B Mk VIII RAF designation for B-24Js.
Liberator GR Mk V B-24D modified by RAF Coastal Command for the anti-submarine role with search radar and Leigh Light. Some were fitted with eight zero-length rocket launchers, four on each wing.
Liberator GR Mk VI B-24G/H/J type used as a long-range general reconnaissance aircraft by RAF Coastal Command.
Liberator GR Mk VIII B-24J modified by RAF Coastal Command for the anti-submarine role.
Liberator C Mk VI Liberator B Mk VIII converted for use as a transport.
Liberator C Mk VII British designation for C-87.
Liberator C Mk VIII Liberator G Mk VIII converted for use as a transport.
Liberator C Mk IX RAF designation for the RY-3/C-87C Late in the war RAF Liberator aircraft modified in England for use in South East Asia had the suffix "Snake" stenciled below the serial number to give them priority delivery through the Mediterranean and Middle East.
Australia
44-41956 B-24M – under restoration by the B-24 Liberator Memorial Restoration Fund in Werribee, Victoria. About 2000 visitors a year come to the hangar to view the restoration in progress. Completion is expected in 2020, but it has not been confirmed that the aircraft will be airworthy at that point.
Canada
44-50154 B-24L – National Aviation Museum in Rockcliffe Park, Ontario.
India
44-44213 B-24J – Indian Air Force Museum in Palam Air Base, New Delhi.
Libya
41-24301 B-24D Lady Be Good – in storage at the Jamal Abdelnasser Air Force Base in Tobruk, Libya
Papua New Guinea
42-40885 B-24D – Crashed on October 18, 1943. Wreckage is situated north of Gona at 8°35'55.42″S 148°14'58.60″E.
Turkey
41-24311 B-24D Hadley's Harem (wreckage) – Istanbul.
United Kingdom
44-50206 B-24L Liberator B.VI (formerly KN751 of the RAF and HE807 of the IAF) – RAF Museum, Hendon.
44-51228 B-24M Dugan – Imperial War Museum, Duxford.
United States
40-2366 B-24A Diamond Lil (formerly Ol' 927) – Commemorative Air Force(B-24/B-29 Squadron) in Addison, Texas This B-24 is number 18 off the assembly line, and is one of a handful of surviving early-war aircraft. Most notable about this aircraft is that it is the only surviving "A" model of the B-24, as the "A" was critically under-armed and under-armored. From the Commemorative Air Force's page on Diamond Lil, "On a training flight from Eagles Nest Airport, N.M., prior to its delivery to England, AM-927 experienced a landing accident. The damage was major enough that the aircraft had to be returned to San Diego for repairs. The plane was deleted from the order to be shipped to England and was converted to a transport aircraft. This was to be the prototype for the C-87 transport and AM-927 served as a flying test bed for further development of important B-24 features, such as modifying the control surfaces to help with lighter control forces for the pilots. For this reason, Diamond Lil was spared from the slaughter in Europe. In 1971, she was painted in the colors of the 98th BG and given the name Diamond Lil. During 2006-2007 the aircraft was reconfigured back to her B-24A/LB-30B roots and was given the Ol 927 nose art. In April of 2012, she was renamed back to Diamond Lil. The aircraft was involved in a nose-gear collapse upon landing at Charlotte-Douglas Airport in North Carolina on 26 May 2012. Damage was minimal and none of the 16 aboard were injured. She was featured in the film Beautiful Dreamer (2006).
44-44052 B-24J Witchcraft – Collings Foundation in Stow, Massachusetts. This B-24 is the most widely recognized restored example worldwide. It is the only fully authentic B-24J model that still flies. It originally flew for the RAF as a bombing and resupply aircraft at the beginning of WWII. after an extensive service debut the B-24 was transferred to the Indian Air Force to fly a similar role, by 1968 the aircraft found itself scrapped and abandoned in a field after the IAF decommissioned and retired it. It remained in this location for over a decade before an extensive recovery team led by British aircraft collector Doug Arnold located the derelict airframe in 1981, Arnold had the wreckage airlifted to England where he advertised it in "as is" condition. Shortly afterwards in 1984 the wreck was purchased by the Collings Foundation, a non-profit organization known for restoring aircraft that is based in Stow, MA. the wrecked Liberator was shipped across the Atlantic to Boston, MA that year before being trucked in three separate loads to Stow, MA. although originally intended to be restored exclusively as a static display in Stow, thousands of dollars of additional funding and restoration corporations and volunteers persuaded the foundation to return the unique aircraft to airworthy status. Since it flew again for the first time on September 10, 1989 the B-24 has gone through three separate paint schemes each honoring a different squadron and theater of the war. It was first painted as "ALL AMERICAN" (1989-1998) a former 15th Air Force bomber that flew missions over Italy. it was then repainted as "the Dragon and His Tail" (1998-2005), thought to be the "most expansive" example of WW II Allied military aircraft nose art, as the original "dragon" artwork ran nearly the entire length of the fuselage sides. The third paint scheme had the B-24 repainted as "Witchcraft" (2005–Present) to honor the 8th Air Force of the European Theater in perhaps its most significant nose art of the three. Witchcraft still flies for the Collings Foundation and is currently based at New Smyrna Beach Municipal Airport at the American Aero Services where it was restored, it has flown with the famous Wings of Freedom Tour since 1989 where it visits around 120 airports year round across the entire continental U.S alongside the Foundation's B-17G Flying Fortress and P-51C Mustang educating the public on the historical significance of the last airworthy B-24J 
On display (complete airframes)
41-23908 B-24D (unnamed) – Hill Aerospace Museum at Hill AFB in Utah.
42-72843 B-24D Strawberry Bitch – National Museum of the United States Air Force at Wright-Patterson AFB in Dayton, Ohio
44-44175 B-24J Bungay Buckaroo – Pima Air & Space Museum adjacent to Davis-Monthan Air Force Base in Tucson, Arizona.
44-48781 B-24J Louisiana Belle II – Barksdale Global Power Museum at Barksdale AFB in Louisiana.
44-41916 B-24M Shady Lady – Castle Air Museum at the former Castle Air Force Base in Atwater, California.
On display (partial airframes)
41-11825 B-24D Hail Columbia (nose only) – Fantasy of Flight Museum in Polk City, Florida.
42-40557 B-24D Fightin' Sam (nose only) (Liberator GR.V formerly BZ755 of the RCAF) – Mighty Eighth Air Force Museum in Savannah, Georgia. The nose on display is a re-creation belonging to the Imperial War Museum Duxford.
42-40461 B-24D Grumpy (nose only) is on display at the Virginia Air and Space Center in Hampton, Virginia.
Under restoration or in storage
AL557 LB-30 – in storage at Vintage Aircraft Ltd. in Fort Collins, Colorado.
44-44272 B-24J Joe – (last flown in 1997) – to airworthiness by Fantasy of Flight in Polk City, Florida. Another former Indian Air Force aircraft that after retirement was donated to the aircraft collection of Lynn Garrison and later purchased by David Tallichett in the 1980s, The aircraft was then bought by Kermit Weeks, owner of the Fantasy of Flight museum in Polk City, Florida and made air show appearances throughout The Southern U.S during the 1990s, Although reported to still be airworthy the aircraft has largely been a static display at the Museum having not flown since 1997. From then until the mid-2000s it remained open to the public in one of Fantasy of Flight's display hangars but in recent years it was towed to the Maintenance and Storage facilities behind the museum and is currently only visible to the public via tram tour. It will undergo a complete restoration before it flies again.
Wrecks
40-2367 B-24D – wreckage is on Atka Island. This wreck is part of the World War II Valor in the Pacific National Monument. Coordinates 52.030395, -175.136921 (for best image use Bing Maps)
Airworthy
59882 PB4Y-2 – Bob J. Hawkins in Greybull, Wyoming.
66300 PB4Y-2 – Yanks Air Museum in Chino, California.
66302 PB4Y-2 – P4Y-2 LLC in Phoenix, Arizona
On Display
59819 PB4Y-2 – Lone Star Flight Museum in Galveston, Texas.

Moving to Pima Air and Space, Tucson AZ 23 Nov 2015
59876 PB4Y-2 – Yankee Air Force in Belleville, Michigan.
59932 PB4Y-2 (nose only) Over Exposed – National World War II Museum in New Orleans, Louisiana. Displayed as a B-24D.
66261 PB4Y-2 – National Naval Aviation Museum at Naval Air Station Pensacola, Florida.