Price: $15.95
4 magazines, 2 manuals, & photos
PDF contains 1,244 pages
Content is keyword searchable
Print a personal copy
Pay via PayPal or Credit Card
International orders welcome!
Download files upon payment
Purchase This PDF
History of a Hustler, What Ever Happened to the B-58 and Why?
Across the Pacific, Flying non-stop Tokyo to New York in 1942
The Best of the Breed, Handicapping German & Allied Fighters
Cry Havoc, the A-20 goes to War, Part II
Supersonic Spearhead, Convair's B-58 Hustler
Clipped Wings, the future of American Aerospace
Flying Terminated Inventory, the B-32 bomber
Convair's B-58 Hustler, a Technological Triumph 20 Years Ahead of its Time
A visit to a Focke-Wulf 190 Production Plant
Factory Fresh, the Convair B-58 Hustler
Record Breakers: Higher, Faster, Farther
Combat Lancer: Early F-111 Operations in Vietnam
Manuals & Photos
B-58A Flight Manual 1965
RB/B-58A Flight Manual 1959
Over 200 B-58 Hustler photos
Convair B-58 Hustler
General Characteristics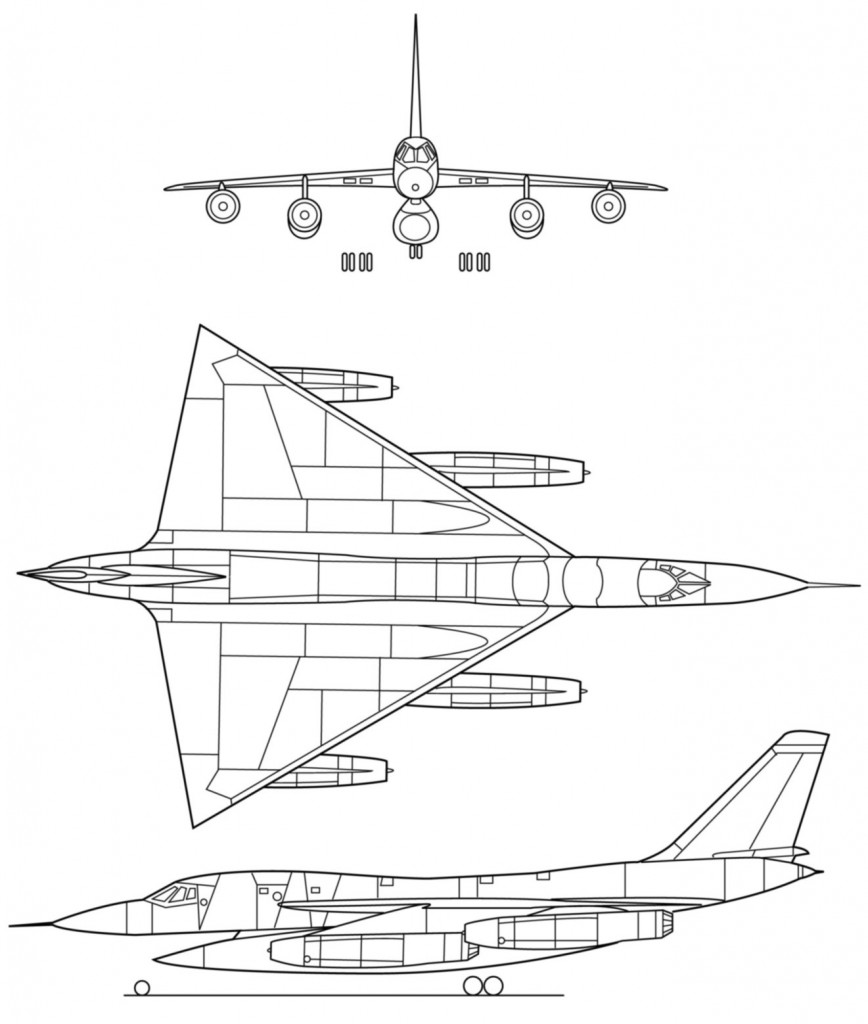 Crew: 3: pilot; observer (navigator, radar operator, bombardier); defense system operator (DSO; electronic countermeasures operator and pilot assistant).
Length: 96 ft 10 in (29.5 m)
Wingspan: 56 ft 9 in (17.3 m)
Height: 29 ft 11 in (8.9 m)
Wing area: 1,542 ft² (143.3 m²)
Airfoil: NACA 0003.46-64.069 root, NACA 0004.08-63 tip
Empty weight: 55,560 lb (25,200 kg)
Loaded weight: 67,871 lb (30,786 kg)
Max. takeoff weight: 176,890 lb (80,240 kg)
Powerplant: 4 × General Electric J79-GE-5A turbojet
Zero-lift drag coefficient: 0.0068
Drag area: 10.49 ft² (0.97 m²)
Aspect ratio: 2.09
Performance
Maximum speed: Mach 2.0 (1,319mph) at 40,000 ft (12,000 m)
Cruise speed: 610 mph (530 kn, 985 km/h)
Combat radius: 1,740 mi (1,510 nmi, 3,220 km)
Ferry range: 4,100 nmi (4,700 mi, 7,600 km)
Service ceiling: 63,400 ft (19,300 m)
Rate of climb: 17,400 ft/min (88 m/s) at gross weight
Wing loading: 44.0 lb/ft² (215 kg/m²)
Thrust/weight: 0.919 lbf/lb
Lift-to-drag ratio: 11.3 (without weapons/fuel pod)
Armament
Guns: 1× 20 mm (0.79 in) T171 cannon
Bombs: 4× B43 or B61 nuclear bombs; maximum weapons load was 19,450 lb (8,820 kg)
Avionics
AN/APB-2 Bombing radar
AN/APN-110 Doppler navigational radar (part of Sperry AN/ASQ-42 Navigation & Bombing System)
AN/APN-170 Terrain-following radar
AN/APR-12 Radar warning receiver
Hughes Aircraft AN/APQ-69 podded side-looking aperture radar (mounted on RB-58A)
Goodyear AN/APS-73 podded synthetic aperture radar (mounted on RB-58A)
Serial Number
Aircraft Type
City
State
Location
Notes
55-663
YB-58
TB-58
Peru
IN
Grissom Air Park
Displayed outdoors.
55-666
YB-58
TB-58
Rantoul
IL
Octave Chanute Aerospace Museum
Former Chanute AFB, last photographed outdoors but now is on display indoors. Marked as 61-2059 (the SAC Museum airframe).
55-668
YB-58
TB-58
Jacksonville
AR
Little Rock AFB
Formerly at Carswell AFB in Fort Worth. Nicknamed "Wild Child II" and "Peeping Tom".
59-2437
B-58A
San Antonio
TX
Kelly USA
Nicknamed "Firefly II" and "Rigley's Baby". On display in front of the administration building at the former Kelly AFB.
59-2458
B-58A
Dayton
OH
US Air Force Museum
Displayed in cold war gallery. Nicknamed "Cowtown Hustler".
61-2059
B-58A
Ashland
NE
Strategic Air Command Museum
Display in new museum building. Nicknamed "Can Do" and "Greased Lightning".
61-2080
B-58A
Tucson
AZ
Pima County Aerospace Museum
Displayed outdoors. Last B-58 to be delivered.
XB-58: Prototype; two built.
YB-58A: Pre-production aircraft, 11 built.
B-58A: Three-seat medium-range strategic bomber aircraft, 86 built.
TB-58A: Training aircraft, eight conversions from YB-58A.
NB-58A: This designation was given to a YB-58A, which was used for testing the J93 engine. The engine was originally intended for the North American XB-70 Valkyrie Mach 3 bomber.
RB-58A: Variant with ventral reconnaissance pod, 17 built.
B-58B: Unbuilt version. SAC planned to order 185 of these improved bombers which had uprated J79-GE-9 engines, a stretched fuselage for extra fuel capacity, canards and could carry conventional weapons.

A prototype B-58B was ordered (S/N 60-1109), but the entire project was canceled before construction began, due to budgetary considerations. The B variant was also planned to be the "mothership" for a Mach 4 parasite called the FISH (for First Invisible Super Hustler). Because It was to be faster and larger than the B-58A, it could carry the FISH instead of the external pod. At an altitude of at least 35,000 feet (11,000 metres) at speeds in excess of Mach 2 the FISHs three ramjet engines could be started. The Super Hustler would then disengage from the B-58B and climb up to 90,000 feet (27,000 metres) and accelerate to Mach 4.2 to complete its mission.
B-58C: Unbuilt version. Enlarged version with more fuel and 32,500 lbf (145 kN) J58, the same engine used on the Lockheed SR-71. Design studies were conducted with two and four engine designs, the C model had an estimated top speed approaching Mach 3, a supersonic cruise capability of approximately Mach 2, and a service ceiling of about 70,000 ft (21,300 m) along with the capability of carrying conventional bombs. Convair estimated maximum range at 5,200 nautical miles (6,000 mi; 9,600 km). The B-58C was proposed as a lower cost alternative to the North American XB-70. As enemy defenses against high-speed, high-altitude penetration bombers improved, the value of the B-58C diminished and the program was canceled in early 1961.