Price: $19.95
4 magazines, 4 manuals, & photos
PDF contains 1,671 pages
Content is keyword searchable
Print a personal copy
Pay via PayPal or Credit Card
International orders welcome!
Download files upon payment
Purchase This PDF
History of a Hustler, What Ever Happened to the B-58 and Why?
Across the Pacific, Flying non-stop Tokyo to New York in 1942
The Best of the Breed, Handicapping German & Allied Fighters
Cry Havoc, the A-20 goes to War, Part II
Supersonic Spearhead, Convair's B-58 Hustler
Clipped Wings, the future of American Aerospace
Flying Terminated Inventory, the B-32 bomber
Convair's B-58 Hustler, a Technological Triumph 20 Years Ahead of its Time
A visit to a Focke-Wulf 190 Production Plant
Factory Fresh, the Convair B-58 Hustler
Record Breakers: Higher, Faster, Farther
Combat Lancer: Early F-111 Operations in Vietnam
Manuals & Photos
B-58A Flight Manual 1965
RB/B-58A Flight Manual 1959
B-58A Flight Manual Supplement 1966
B-58 Ejection Seat Brochure
Over 200 B-58 Hustler photos
Convair B-58 Hustler
General Characteristics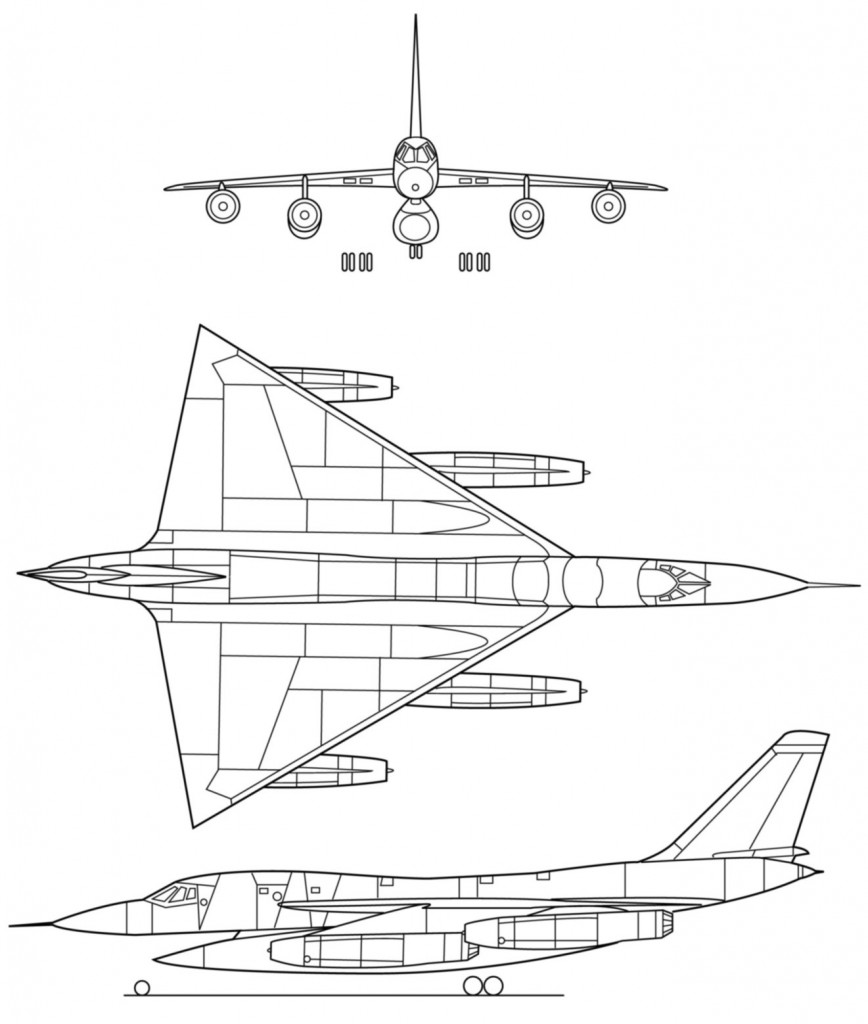 Crew: 3: pilot; observer (navigator, radar operator, bombardier); defense system operator (DSO; electronic countermeasures operator and pilot assistant).
Length: 96 ft 10 in (29.5 m)
Wingspan: 56 ft 9 in (17.3 m)
Height: 29 ft 11 in (8.9 m)
Wing area: 1,542 ft² (143.3 m²)
Airfoil: NACA 0003.46-64.069 root, NACA 0004.08-63 tip
Empty weight: 55,560 lb (25,200 kg)
Loaded weight: 67,871 lb (30,786 kg)
Max. takeoff weight: 176,890 lb (80,240 kg)
Powerplant: 4 × General Electric J79-GE-5A turbojet
Zero-lift drag coefficient: 0.0068
Drag area: 10.49 ft² (0.97 m²)
Aspect ratio: 2.09
Performance
Maximum speed: Mach 2.0 (1,319mph) at 40,000 ft (12,000 m)
Cruise speed: 610 mph (530 kn, 985 km/h)
Combat radius: 1,740 mi (1,510 nmi, 3,220 km)
Ferry range: 4,100 nmi (4,700 mi, 7,600 km)
Service ceiling: 63,400 ft (19,300 m)
Rate of climb: 17,400 ft/min (88 m/s) at gross weight
Wing loading: 44.0 lb/ft² (215 kg/m²)
Thrust/weight: 0.919 lbf/lb
Lift-to-drag ratio: 11.3 (without weapons/fuel pod)
Armament
Guns: 1× 20 mm (0.79 in) T171 cannon
Bombs: 4× B43 or B61 nuclear bombs; maximum weapons load was 19,450 lb (8,820 kg)
Avionics
AN/APB-2 Bombing radar
AN/APN-110 Doppler navigational radar (part of Sperry AN/ASQ-42 Navigation & Bombing System)
AN/APN-170 Terrain-following radar
AN/APR-12 Radar warning receiver
Hughes Aircraft AN/APQ-69 podded side-looking aperture radar (mounted on RB-58A)
Goodyear AN/APS-73 podded synthetic aperture radar (mounted on RB-58A)
Serial Number
Aircraft Type
City
State
Location
Notes
55-663
YB-58
TB-58
Peru
IN
Grissom Air Park
Displayed outdoors.
55-666
YB-58
TB-58
Rantoul
IL
Octave Chanute Aerospace Museum
Former Chanute AFB, last photographed outdoors but now is on display indoors. Marked as 61-2059 (the SAC Museum airframe).
55-668
YB-58
TB-58
Jacksonville
AR
Little Rock AFB
Formerly at Carswell AFB in Fort Worth. Nicknamed "Wild Child II" and "Peeping Tom".
59-2437
B-58A
San Antonio
TX
Kelly USA
Nicknamed "Firefly II" and "Rigley's Baby". On display in front of the administration building at the former Kelly AFB.
59-2458
B-58A
Dayton
OH
US Air Force Museum
Displayed in cold war gallery. Nicknamed "Cowtown Hustler".
61-2059
B-58A
Ashland
NE
Strategic Air Command Museum
Display in new museum building. Nicknamed "Can Do" and "Greased Lightning".
61-2080
B-58A
Tucson
AZ
Pima County Aerospace Museum
Displayed outdoors. Last B-58 to be delivered.
XB-58: Prototype; two built.
YB-58A: Pre-production aircraft, 11 built.
B-58A: Three-seat medium-range strategic bomber aircraft, 86 built.
TB-58A: Training aircraft, eight conversions from YB-58A.
NB-58A: This designation was given to a YB-58A, which was used for testing the J93 engine. The engine was originally intended for the North American XB-70 Valkyrie Mach 3 bomber.
RB-58A: Variant with ventral reconnaissance pod, 17 built.
B-58B: Unbuilt version. SAC planned to order 185 of these improved bombers which had uprated J79-GE-9 engines, a stretched fuselage for extra fuel capacity, canards and could carry conventional weapons.

A prototype B-58B was ordered (S/N 60-1109), but the entire project was canceled before construction began, due to budgetary considerations. The B variant was also planned to be the "mothership" for a Mach 4 parasite called the FISH (for First Invisible Super Hustler). Because It was to be faster and larger than the B-58A, it could carry the FISH instead of the external pod. At an altitude of at least 35,000 feet (11,000 metres) at speeds in excess of Mach 2 the FISHs three ramjet engines could be started. The Super Hustler would then disengage from the B-58B and climb up to 90,000 feet (27,000 metres) and accelerate to Mach 4.2 to complete its mission.
B-58C: Unbuilt version. Enlarged version with more fuel and 32,500 lbf (145 kN) J58, the same engine used on the Lockheed SR-71. Design studies were conducted with two and four engine designs, the C model had an estimated top speed approaching Mach 3, a supersonic cruise capability of approximately Mach 2, and a service ceiling of about 70,000 ft (21,300 m) along with the capability of carrying conventional bombs. Convair estimated maximum range at 5,200 nautical miles (6,000 mi; 9,600 km). The B-58C was proposed as a lower cost alternative to the North American XB-70. As enemy defenses against high-speed, high-altitude penetration bombers improved, the value of the B-58C diminished and the program was canceled in early 1961.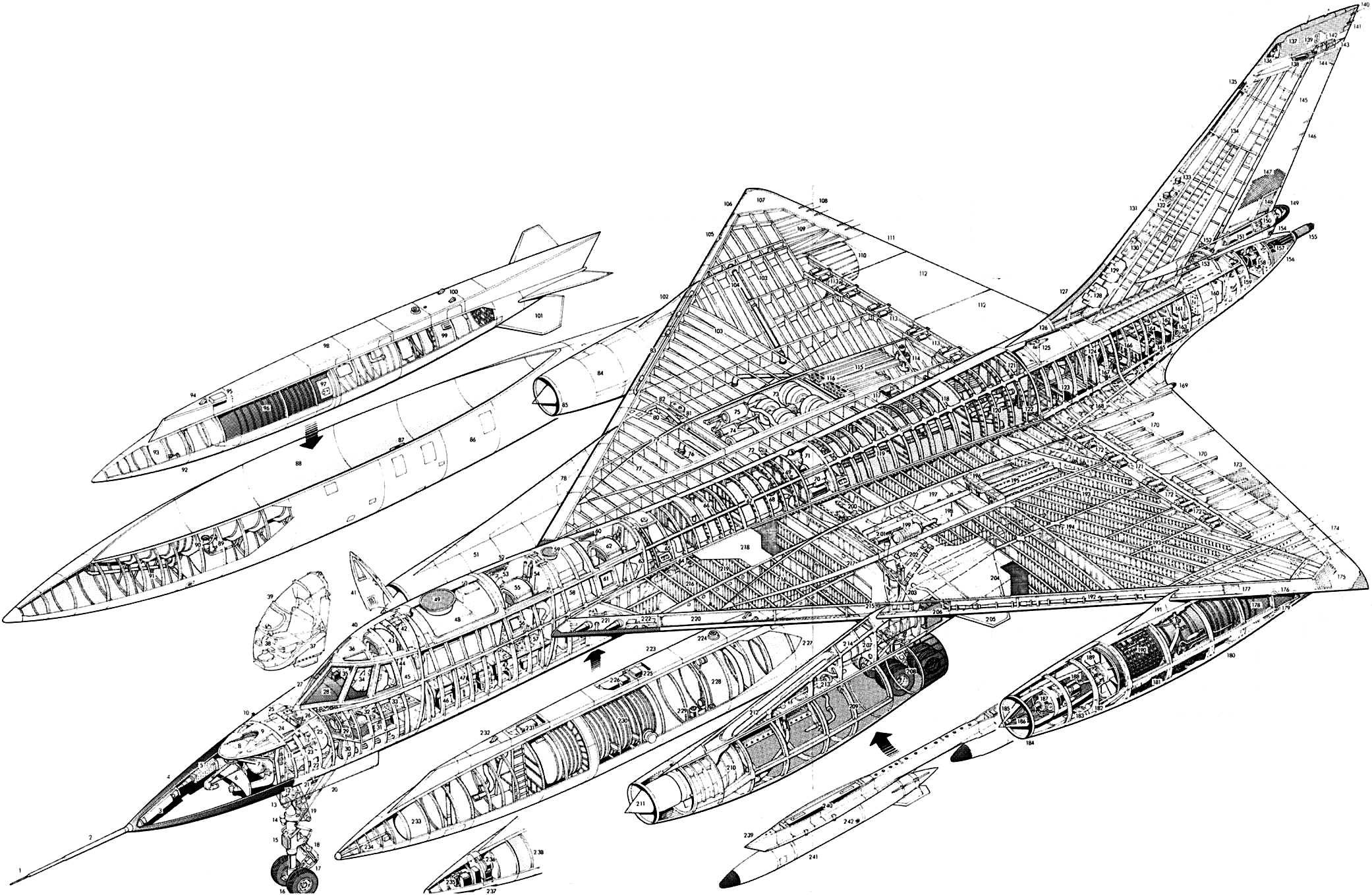 Convair B-58 Hustler – Champion of Champions – James Stewart
The supersonic Convair B-58 Hustler stars in this ultimate Cold War propaganda film. Veteran actor James Stewart (BrigGen U.S. Air Force Reserve) co-stars in this tribute to SAC and the Hustler, and gives a not-too-subliminal message to the Soviets.
---
B-58 Hustler Wins the Bendix Trophy (Restored Color -1962)
On March 5th, 1962, Capt Robert G Sauer & his crew in "Tall Man 55" took off from Carswell AFB, Fort Worth, Texas to break three transcontinental speed records in one day, over 4,500 miles in "Operation Heat Rise." The starting gate was Los Angeles, where the Hustler topped up her fuel. Along the way, she slowed briefly again for quick in air refuels, shown in detail, and reached New York City in just 2 hours & 56 seconds. Then, back to the West Coast, nonstop in 2hrs 15 minutes. The round trip was a total of 4 hours 41 minutes, including refueling, and all three times were transcontinental speed record.
---
B-58 Hustler First Test Flight (Restored Color – 1956)
A pilot once said of the Convair B-58, "She looked like she was breaking the sound barrier just sitting on the tarmac."At Mach 2 +, the B-58 wasn't just one of the fastest bombers of her day, she was one of the fastest military planes period. A first cousin of the hot "century series" of fighters, the delta winged "Hustler' medium bomber combined outstanding performance with a striking, javelin-like profile that spawned a mystique that survives to this day. In the early 1960s, at the height of the Cold War, in just two years the B-58 captured 14 speed and performance records, many previously held by Soviet aircraft. She was not only capable of extended 700 mph on-the deck missions at 500 feet (then unheard of for a bomber and without the advantages of today's ground hugging radar or fly-by-wire) she also set altitude and climb records. The B-58 was capable of doing whatever was necessary to invade enemy air space. In this video, you will see both the low and high speed taxi testing, including front wheel lift off, that proceeded the B-58's first flight, delivering excellent footage of the silvery prototype from a number of angles. The first flight takes the aircraft to Mach .7 at 20,000′ and back down again without a hitch.
---
Ken Smith – Convair B-58 Hustler pilot
Ken Smith, retired SAC B-58 pilot, describes his experiences with the Convair B-58 HUSTLER supersonic bomber.
---
Charlie Hooker – Convair B-58 Hustler pilot
Charlie Hooker describes his experiences with the Convair B-58 HUSTLER.
---
"Escape and Survive" – B-58 Hustler Escape Module Development
"Escape and Survive" B-58 escape module development. Third of a series, this one by Convair and Stanley Aeronautics Corp.
---
Convair B-58 Hustler Low Level Bombing Capabilities
The mach 2 Convair B-58 HUSTLER was the vanguard of low-level bombing techniques used in later aircraft. This old film, salvaged from antiquainted 2″ studio tape, reveals the capabilities of this amazing 1950s aircraft.
---
Convair B-58 HUSTLER supersonic ejection tests
This short film details ejection tests using bears and small primates which resulted in a successful supersonic ejection of a human.
---
B-58 Hustler Aircraft Description
This is a video with voice over describing the B-58 Hustler, the 4 jet-engine mach 2 bomber, and a short flight depiction.
---
B-58 Hustler First Flight, 1956
The first flight of the Convair B-58 in 1956 is documented in this film. This footage is taken from the rocket.aero DVD "Hustler: The B-58 Bomber."
---
Convair B-58 HUSTLER Flight Control Systems Part 2
---
Convair B-58 "Hustler" MITO Tests (Restored Color 1963)
There's some beautiful color B-58 Hustler take-off footage here, shot from many angles, including overhead helicopter shots of dual launches and afterburners lighting up the night. I digitally restored the color.
During the depths of the Cold War, SAC bombers had only 15 to 20-minutes to get airborne between the launch of enemy missiles and their arrival at US targets. That meant that the ability get US air forces on their way quickly and efficiently was absolutely essential for survivability, striking power and deterrence. A critical element in this quick response was "MITO" – "Minimum Interval Take-Off." This involved determining the optimum interval between the launching aircraft to achieve the fastest possible deployment, while avoiding jet thrust and wing turbulence from preceding aircraft while allowing an adequate safety margin in case an individual plane had to abort. In January, 1963, SAC B-58 units conducted a series of tests to determine optimum MITO for the Hustler for day and night launches, singly and in pairs, with up to a half dozen B-58s queuing up on the flight line.
---
Convair B-58 Hustler 1960 propaganda film "Tall Man 55"
One of many Cold War propaganda films. This one about the B-58 HUSTLER supersonic bomber, meant to strike fear into the hearts and minds of the Soviets.
---
First Tactical B-58 Hustler
This selection "Aircraft #31," highlights delivery of the first tactical B-58 bomber, and is taken from the rocket.aero DVD "Hustler: The B-58 Bomber."
---
B-58 Hustler Low Level Bombing
The low-level bombing capabilities of the B-58 are highlighted in this footage, taken from the rocket.aero DVD "Hustler: The B-58 Bomber."
---
B-58 Air Launched Ballistic Missile
In addition to its role as a bomber, the B-58 was considered as a potential platform for air launched ballistic missiles, as shown in this archival film. This footage is taken from the rocket.aero DVD "Hustler: The B-58 Bomber."
---
George Haloulakos discusses the B-58 Hustler at the San Diego Air and Space Museum
Author and lecturer George Haloulakos discusses the Convair B-58 Hustler and its operational involvement in the Cold War, specifically the Cuban Missile Crisis. Mr. Haloulakos is a University of California San Diego professor who uses the B-58 and its history and usage as a featured subject in his game theory class.