Price: $19.95
6 magazines, 5 manuals, & photos
PDF contains 938 pages
Content is keyword searchable
Print a personal copy
Pay via PayPal or Credit Card
International orders welcome!
Download files upon payment
Purchase This PDF
Magruder's Marauder, interview with the designer of the B-26
Good Vibrations, flight training in the BT-13, circa 1943
Combat Flying in the F-4 Phantom
Martin's Torpedo Trucks
Magruder's Marauder, Part II of building & flying the B-26
Commando Extraordinaire, the Curtiss C-46
The Gallant Gamma, John Northrop's Feat of Classic Engineering
Aces of the Silver Screen
Pictorial History of the 391st Bomber Group, Martin Marauder
Skybolt Pt IX, Escort Fighter over Europe
Buy British, Conclusion of the B-57 Canberra Story
The Real Story of "Flak Bait", WWII's Legendary Marauder
Mustang Combat Portfolio
Short Sunderland Flying Boat
Combat Diary of a B-26 Marauder
Mussolini's Hunchbacked Torpedo Bomber, the SM.79
Combat Flying The Martin B-26 In The Unsung Airwar Over The Mediterranean And Southern Europe
Blakesleewaffe, A Pictorial History Of The 4th Fighter Group's Top-Scoring Fighter
The XP-41, Granddaddy Of The P-47 Thunderbolt
Demons By The Dozen, The Curtiss Lightweight Fighters And The Great Export Wars Of The Thirties
Manuals & Photos
B-26 Flight Operations
B-26 Pilot Training Manual
B-26 A & B Flight Instructions
RB-26 A & B Flight Instructions
B-26 Instructions
Over 120 photos of the B-26 Marauder
Martin B-26 Marauder
General Characteristics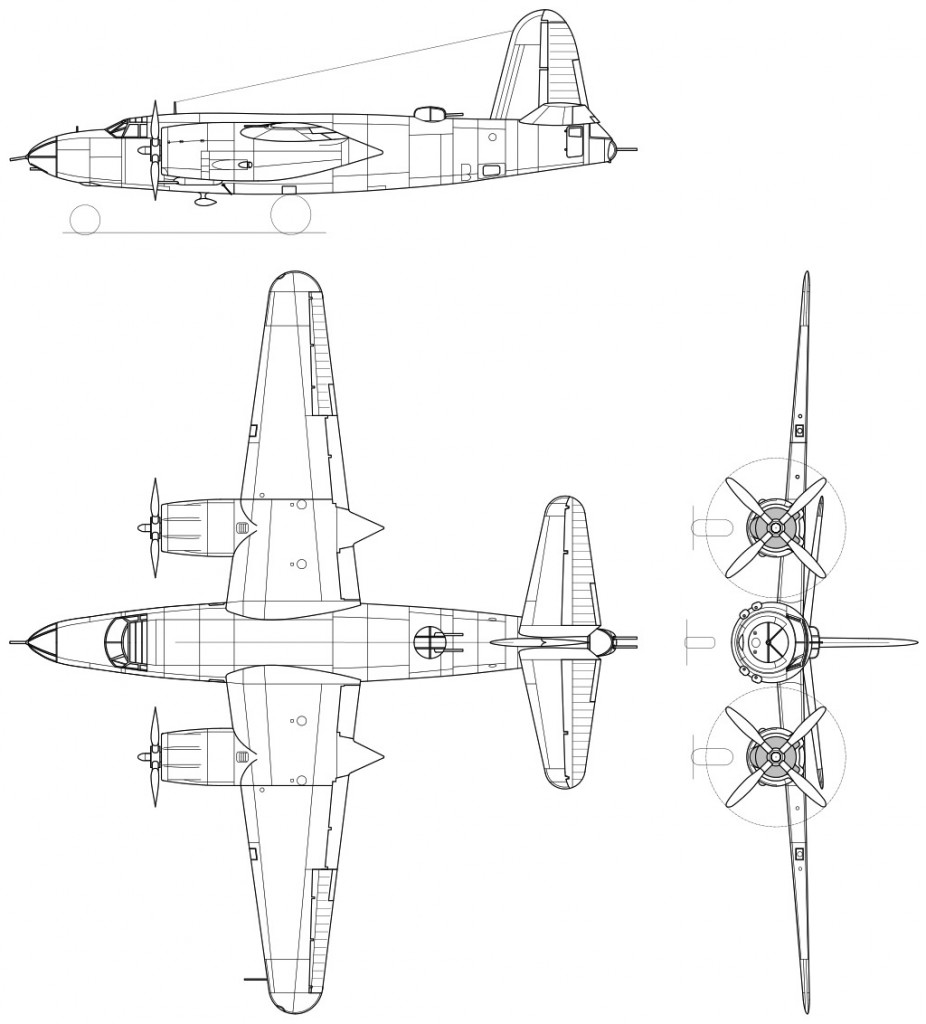 Crew: 7: (2 pilots, bombardier, navigator/radio operator, 3 gunners)
Length: 58 ft 3 in (17.8 m)
Wingspan: 71 ft 0 in (21.65 m)
Height: 21 ft 6 in (6.55 m)
Wing area: 658 ft2 (61.1 m2)
Empty weight: 24,000 lb (11,000 kg)
Loaded weight: 37,000 lb (17,000 kg)
Powerplant: 2 × Pratt & Whitney R-2800-43 radial engines, 2,000-2,200 hp (1,491 kW) each
Performance
Maximum speed: 287 mph (250 knots, 460 km/h) at 5,000 feet (1,500 m)
Cruise speed: 216 mph (188 knots, 358 km/h)
Landing speed: 114 mph (90 knots, 167 km/h))
Combat radius: 1,150 mi (999 nmi, 1,850 km)
Ferry range: 2,850 mi (2,480 nmi, 4,590 km)
Service ceiling: 21,000 ft (6,400 m)
Wing loading: 46.4 lb/ft² (228 kg/m²)
Power/mass: 0.10 hp/lb (170 W/kg)
Armament
Guns: 12 × .50 in (12.7 mm) Browning machine guns
Bombs: 4,000 pounds (1,800 kg)
B-26—The first 201 planes were ordered based upon design alone. Prototypes were not distinguished with the usual "X" or "Y" designations. Two Pratt & Whitney R-2800-5 engines. The armament consisted of two .30 caliber and two .50 caliber machine guns.

(The last model was armed with nearly three times that number.) Approximate cost then: $80,226.80/aircraft. (201 built)
B-26A—Incorporated changes made on the production line to the B-26, including upgrading the two .30 caliber machine guns in the nose and tail to .50 caliber. A total of 52 B-26As were delivered to the Royal Air Force, which were used as the Marauder Mk I.Approximate cost then: $102,659.33/aircraft (139 built)
B-26B—Model with further improvements on the B-26A, including revised tail gunner's glazing. Nineteen were delivered to the Royal Air Forces as the Marauder Mk.IA. Production blocks of the 1,883 aircraft built:

AT-23A or TB-26B—208 B-26Bs converted into target tugs and gunnery trainers designated JM-1 by the Navy.
B-26B—Single tail gun replaced with twin gun; belly-mounted "tunnel gun" added. (81-built)
B-26B-1—Improved B-26B. (225 built)
B-26B-2—Pratt & Whitney R-2800-41 radials. (96 built)
B-26B-3—Larger carburetor intakes; upgrade to R-2800-43 radials. (28 built)
B-26B-4—Improved B-26B-3. (211 built)
B-26B-10 through B-26B-55—Beginning with block 10, the wingspan was increased from 65 feet (20 m) to 71 feet (22 m), to improve handling problems during landing caused by a high wing load; flaps were added outboard of the engine nacelles for this purpose also. The vertical stabilizer height was increased from 19 feet 10 inches (6.05 m) to 21 feet 6 inches (6.55 m). The armament was increased from six to twelve .50 caliber machine guns; this was done in the forward section so that the B-26 could perform strafing missions. The tail gun was upgraded from manual to power operated. Armor was added to protect the pilot and copilot. (1,242-built)
CB-26B—12 B-26Bs were converted into transport aircraft (all were delivered to the US Marine Corps for use in the Philippines).

B-26C—Designation assigned to those B-26Bs built in Omaha, Nebraska instead of Baltimore, Maryland. Although nominally the B-26B-10 was the first variant to receive the longer wing, it was actually installed on B-26Cs before the B-26B-10, both being in production simultaneously. A total of 123 B-26Cs were used by the RAF and SAAF as the Marauder Mk II. Approximate cost then: $138,551.27/aircraft (1,210 built)

TB-26C—Originally designated AT-23B. Trainer modification of B-26C. (Approximately 300 modified)

XB-26D—Modified B-26 used to test hot air de-icing equipment, in which heat exchangers transferred heat from engine exhaust to air circulated to the leading and trailing edges of the wing and empennage surfaces. This system, while promising, was not incorporated into any production aircraft made during World War II. (One converted)
B-26E—Modified B-26B constructed to test the effectiveness of moving the dorsal gun turret from the aft fuselage to just behind the cockpit. The offensive and defensive abilities of the B-26E was tested in combat simulations against normal aircraft. Although test showed that gains were made with the new arrangement, the gain was insignificant. After a cost analysis, it was concluded that the effort needed to convert production lines to the B-26E arrangement was not worth the effort. (one converted)
B-26F—Angle-of-incidence of wings increased by 3.5º; fixed .50 caliber machine gun in nose removed; tail turret and associated armour improved. The first B-26F was produced in February 1944. One hundred of these were B-26F-1-MAs. Starting with 42-96231, a revised oil cooler was added, along with wing bottom panels redesigned for easier removal. A total of 200 of the 300 aircraft were B-26F-2s and F-6s, all of which were used by the RAF and SAAF as the Marauder Mk III. The F-2 had the Bell M-6 power turret replaced by an M-6A with a flexible canvas cover over the guns. The T-1 bombsight was installed instead of the M-series sight. British bomb fusing and radio equipment were provided. (300 built)
B-26G—B-26F with standardized interior equipment. A total of 150 bombers were used by the RAF as the Marauder Mk III. (893-built)

TB-26G—B-26G converted for crew training. Most, possibly all, were delivered to the United States Navy as the JM-2. (57 converted)

XB-26H—Test aircraft for tandem landing gear, and nicknamed the "Middle River Stump Jumper" from its "bicycle" gear configuration, to see if it could be used on the Martin XB-48. (One converted)
JM-1P—A small number of JM-1s were converted into photo-reconnaissance aircraft for the US Navy.
Marauder I

British designation for 52 B-26As for the Royal Air Force.

Marauder IA

British designation for 19 B-26Bs for the Royal Air Force.

Maurader II

British designation for 123 B-26Cs for the Royal Air Force and South African Air Force.

Maurader III

British designation for 350 B-26F and B-26Gs for the Royal Air Force and South African Air Force.
With the exception of the B-26C, all models and variants of the B-26 were produced at Martin's Middle River, Maryland manufacturing plant. The B-26C was built at the Martin plant in Omaha, Nebraska
France
B-26G – 44-68219 Dinah Might – Utah Beach Museum (Musée du Débarquement Utah Beach) on loan from the Musée de l'Air et de l'Espace in Le Bourget. It was previously recovered from the Air France training school.
United States

Airworthy
B-26 – 40-1464 – part of the Fantasy of Flight collection in Polk City, Florida.

 This aircraft is reported to be maintained in flying condition, though it has not flown in several years. A B-26 that originally saw service as an aircrew training aircraft awaiting deployment in WWII after being delivered to the USAAF sometime in 1940. The aircraft made a forced landing in the Smith River, BC on January 15, 1942 while on a training mission, it remained at this location for nearly the next three decades. The Military Aircraft Restoration Corp. located the wreck in 1971, and after an extensive recovery effort between September and November of that year, the intact sections of the aircraft were transported to Chino, CA for possible restoration. From then on it went under a long term restoration at the MARC at Chino Airport. It was finally restored to airworthiness in 1991 and was registered by the FAA as N4297J in April 1991. It appeared at several local air shows and aviation events throughout California and the Midwestern U.S during the 1990s as one of just two airworthy B-26 Marauders worldwide. Sometime in 1998 the aircraft was purchased by aircraft collector Kermit Weeks and flew from Chino to Polk City, FL with several stops. That year its ownership was transferred to Fantasy of Flight, a local air museum owned by Kermit Weeks. In the late 1990s and early 2000s it made frequent public appearances throughout Florida and surrounding states. After Weeks acquired other important restorations, B-26 flights decreased. Its last confirmed flight was in 2004 during the MacDill Air Force Base air show. Since then, it has remained in the display hangars of Fantasy of Flight available for public viewing regularly and occasionally being towed outside during special events at the museum. Although it is still a very popular attraction and one of the most iconic aircraft among Kermit Week's vast collection, plans to fly the aircraft have been obscure; on the Fantasy of Flight official website the aircraft is still reported to be in airworthy condition, but if it will ever fly again is undetermined.
On display

B-26G – 43-34581 Shootin In – National Museum of the United States Air Force at Wright-Patterson AFB in Dayton, Ohio. This aircraft was flown in combat by the Free French Air Force during the final months of World War II. It was obtained from the mechanics' training school of French airline Air France near Paris in June 1965. It is painted as a 9th Air Force B-26B assigned to the 387th Bombardment Group in 1945.

Under restoration

B-26

40-1370 – for display by Hill Aerospace Museum, Hill Air Force Base, Utah.
40-1459 – for display by MAPS Air Museum in Akron, Ohio.
40-1501 – for display by David Tallichet's Military Aircraft Restoration Corporation of Anaheim, California; at the Pima Air & Space Museum, adjacent to Davis-Monthan AFBin Tucson, Arizona.

B-26B

41-31773 Flak Bait – for display at the Steven F. Udvar-Hazy Center of the National Air and Space Museum in Chantilly, Virginia. This aircraft survived 207 operational missions over Europe, more than any other American aircraft during World War II.