Price: $19.95
7 magazines, 4 manuals, & photos
PDF contains 2,533 pages
Content is keyword searchable
Print a personal copy
Pay via PayPal or Credit Card
International orders welcome!
Download files upon payment
Purchase This PDF
Return of the Thunderbirds
Vought's XC-142, origin of VTOL flight
Ernst Heinkel and his Empire
F-16 Fighting Falcon, Riding the Electric Jet
Burning Japan to the Ground
B-29 Firebomb raids of WWII
Prelude to the Atomic Age
F-16 Pilots, Dogfighting to Air Defense to Ground Support
Story of the Douglas A-26 Invader
The F-16 Aggressor Squadron, America's Secret Soviet Air Force
WWII Germany's two decade head start in helicopter development
The F-16 Aggressor Squadrons Last Stand
Consolidated B-24 Liberator, The Forgotten Warrior
Training Today's Fighter Pilots
Aerial Blackmail, The Munich Crisis
Imperial Japan's Kawanishi George Fighter
Fighter Market Place, F-16 and F-16XL
Boeing's Stratoliner
Fiat's CR.32 Flying Cockroach
Manuals & Photos
F-16A/C Flight Manual 1995
F-16C/D Flight Manual 2003
F-16C/D Supplemental Flight Manual 2003
F-16C/D Checklist 2003
Over 700 F-16 photos
General Dynamics F-16 Fighting Falcon
General Characteristics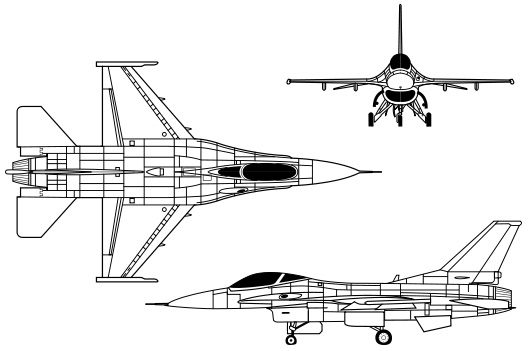 Crew: 1
Length: 49 ft 5 in (15.06 m)
Wingspan: 32 ft 8 in (9.96 m)
Height: 16 ft (4.88 m)
Wing area: 300 ft² (27.87 m²)
Airfoil: NACA 64A204 root and tip
Empty weight: 18,900 lb (8,570 kg)
Loaded weight: 26,500 lb (12,000 kg)
Max. takeoff weight: 42,300 lb (19,200 kg)
Powerplant: 1 × F110-GE-100 afterburning turbofan
Dry thrust: 17,155 lbf (76.3 kN)
Thrust with afterburner: 28,600 lbf (127 kN)
Performance
Maximum speed: At sea level: Mach 1.2 (915 mph, 1,470 km/h), At altitude: Mach 2 (1,320 mph, 2,120 km/h) clean configuration
Combat radius: 340 mi (295 nmi, 550 km) on a hi-lo-hi mission with four 1,000 lb (450 kg) bombs
Ferry range: 2,280 nmi (2,620 mi, 4,220 km) with drop tanks
Service ceiling: 50,000+ ft (15,240+ m)
Rate of climb: 50,000 ft/min (254 m/s)
Wing loading: 88.3 lb/ft² (431 kg/m²)
Thrust/weight: 1.095
Maximum g-load: +9.0 g
Armament
Guns: 1× 20 mm (0.787 in) M61A1 Vulcan 6-barrel Gatling cannon, 511 rounds
Hardpoints: 2× wing-tip Air-to-air missile launch rails, 6× under-wing, and 3× under-fuselage pylon (2 of 3 for sensors) stations with a capacity of up to 17,000 lb (7,700 kg) of stores
Rockets:
4×LAU-61/LAU-68 rocket pods (each with 19× /7× Hydra 70 mm rockets, respectively)
4×LAU-5003 rocket pods (each with 19× CRV7 70 mm rockets)
4×LAU-10 rocket pods (each with 4× Zuni 127 mm rockets)
Missiles:
Air-to-air missiles:
2× AIM-7 Sparrow
6× AIM-9 Sidewinder
6× AIM-120 AMRAAM
6× IRIS-T
6× Python-4
Air-to-ground missiles:
6× AGM-65 Maverick
4× AGM-88 HARM
AGM-158 Joint Air-to-Surface Standoff Missile (JASSM)
Anti-ship missiles:
2× AGM-84 Harpoon
4× AGM-119 Penguin
Bombs:
8× CBU-87 Combined Effects Munition
8× CBU-89 Gator mine
8× CBU-97 Sensor Fuzed Weapon
4× Mark 84 general-purpose bombs
8× Mark 83 GP bombs
12× Mark 82 GP bombs
8× GBU-39 Small Diameter Bomb (SDB)
4× GBU-10 Paveway II
6× GBU-12 Paveway II
4× GBU-24 Paveway III
4× GBU-27 Paveway III
4× Joint Direct Attack Munition (JDAM) series
4× AGM-154 Joint Standoff Weapon (JSOW)
Wind Corrected Munitions Dispenser (WCMD)
B61 nuclear bomb
B83 nuclear bomb
Others:
SUU-42A/A Flares/Infrared decoys dispenser pod and chaff pod or
AN/ALQ-131 & AN/ALQ-184 ECM pods or
LANTIRN, Lockheed Martin Sniper XR & LITENING targeting pods or
up to 3× 300/330/370/600 US gallon Sargent Fletcher drop tanks for ferry flight/extended range/loitering time or
UTC Aerospace DB-110 long range EO/IR sensor pod on centerline
Avionics
AN/APG-68 radar
MIL-STD-1553 bus
YF-16
72-1567 – Virginia Air and Space Center, Hampton, Virginia
YF-16B
75-0752 – Frontiers of Flight Museum, Dallas, Texas
F-16A
75-0746 – Pylon-mounted gate guard, McEntire Air National Guard Base, South Carolina
75-0748 – Cadet Area Quadrangle, U.S. Air Force Academy, Colorado
75-0750 – On display at the Experimental Aircraft Display Hangar, National Museum of the United States Air Force, Wright-Patterson AFB, Ohio
78-0001 – Langley AFB Memorial Park, Langley AFB, Virginia. First production model F-16A delivered to USAF.
78-0005 – 162d Fighter Wing Park, Tucson Air National Guard Base, Arizona
78-0025 – Gate guard, Burlington Air National Guard Base, Vermont
78-0042 – Gate guard, Montgomery Air National Guard Base/Dannelly Field, Alabama
78-0052 – Eielson AFB Heritage Park, Eielson AFB, Alaska
78-0053 – Pylon display at Misawa AB, Japan
78-0057 – Pylon display at Spangdahlem AB, Germany
78-0059 – Selfridge Military Air Museum and Air Park, Selfridge ANGB, Michigan
78-0065 – 388th Fighter Wing and 419th Fighter Wing combined Headquarters, Hill AFB, Utah
78-0066 – On display in Kansas Air National Guard Memorial Park area, McConnell AFB, Kansas
79-0290 – On display at Great Falls Air National Guard Base, Montana.
79-0296 – Gate guard, Jacksonville Air National Guard Base, Florida
79-0307 – On display at Cannon AFB Air Park, Cannon AFB, New Mexico
79-0309 – Base park area adjacent to USAFCENT Headquarters, Shaw AFB, South Carolina. Painted as 20th Fighter Wing F-16C 93-0534. Memorial to Maj Brinson Phillips, 20 FW, killed 19 Mar 2000 while flying F-16C 93-0534
79-0312 – On pylon display, Veterans Memorial Park, Douglas, Arizona
79-0326 – Gate guard, Homestead Air Reserve Base, Florida
79-0327 – Pedestal mounted memorial, Luke AFB, Arizona. Painted in 302d Fighter Squadron markings, to include World War II Tuskegee Airmen "Red Tails" empennage
79-0334 – USS Alabama Battleship Memorial Park, Mobile, Alabama
79-0337 – Ground-mobile static display aircraft, normally located at Hancock Field Air National Guard Base, New York. Utilized by New York Air National Guard's 174th Attack Wing (former 174th Fighter Wing) at fairs and expositions for Air National Guard recruiting.
79-0352 – On static display with 23d Wing at Moody AFB, Georgia
79-0366 – Memorial park static display, Mountain Home AFB, Idaho
79-0388 – Hill Aerospace Museum, Hill AFB, Utah
79-0373 – On display at Buckley AFB, Colorado. Aircraft painted in markings of Colorado Air National Guard's 140th Fighter Wing based at Buckley AFB.
79-0402 – Hill Aerospace Museum, Hill AFB, Utah
79-0403 – Intrepid Sea, Air & Space Museum, New York City, New York
80-0481 – Display on Parade Ground, Sheppard AFB, Texas.
80-0527 – Former Arizona Air National Guard 162d Fighter Wing aircraft destined for transfer to/display at the Pima Air and Space Museum, Tucson, Arizona.
80-0528 – City park in Pinellas Park, Florida. Painted in markings of 56th Tactical Training Wing-cum-56th Fighter Wing, previously assigned to nearby MacDill AFB in the 1980s and early 1990s.
80-0573 – Air Force Armament Museum, Eglin AFB, Florida
80-0612 – Memorial park static display at Puerto Rico National Guard's Camp Santiago, Salinas, Puerto Rico. Former Puerto Rico Air National Guard F-16ADF, painted in markings of PRANG's former 198th Fighter Squadron, but marked as 81612.
81-0663 – On display in United States Air Force Thunderbirds markings at the National Museum of the United States Air Force, Wright-Patterson AFB, Dayton, Ohio.
81-0676 – Museum of Aviation, Robins AFB, Warner Robins, Georgia
81-0721 – MacDill AFB Memorial Park, MacDill AFB, Florida. Former Florida Air National Guard 125th Fighter Wing F-16ADF repainted in markings of a 56th Fighter Wing F-16A previously assigned to MacDill in the 1980s.
82-0930 – On display at Ellington Field Joint Reserve Base, Houston, Texas
FA-01 – On display at the Royal Museum of the Armed Forces and Military History in Brussels, Belgium
F-16B
78-0088 – On display at the Naval Air Station Wildwood Aviation Museum, Cape May County Airport, New Jersey
78-0107 – On display adjacent to Parade Ground, Lackland AFB, Texas
79-0430 – Stafford Air & Space Museum, Weatherford, Oklahoma
81-0816 – Pylon display gate guard, Atlantic City Air National Guard Base, New Jersey
81-0817 – On display at the Russell Military Museum located in Russell, Illinois.
F-16C
83-1126 – Pylon display at Hill Memorial Park, Hill AFB, Utah
84-1264 – Air park display, Fort Wayne Air National Guard Station, Indiana. Aircraft retains Air Force Heritage paint scheme honoring 358th Fighter Group during World War II.
84-1393 – Pylon display at Texas National Guard's Camp Mabry, Austin, Texas. Former Texas Air National Guard 147th Fighter Wing/111th Fighter Squadron aircraft.
85-1469 – Static display at Joe Foss Field Air National Guard Station, South Dakota
87-0323 – Preserved as Thunderbird 1 in front of the USAF Air Demonstration Squadron/United States Air Force Thunderbirds hangar, Nellis AFB, Nevada. Assigned to Thunderbirds in the 1992–2008 timeframe. Had number 1 attached on 11 Jun 1999; number 2 in the 2004 season; number 3 on 3 Mar 2003 and number 4 on 1 Apr 2005.
F-16N
163269 – San Diego Aerospace Museum, San Diego, California
163271 – Pacific Coast Air Museum, Santa Rosa, California
163277 – Palm Springs Air Museum, Palm Springs, California
163572 – National Naval Aviation Museum, Naval Air Station Pensacola, Pensacola, Florida
163576 – Air Power Park, Naval Air Station Fallon, Nevada
F-16A/B
The F-16A (single seat) and F-16B (two seat) were initial production variants. These variants include the Block 1, 5, 10 and 20 versions. Block 15 was the first major change to the F-16 with larger horizontal stabilizers. It is the most numerous F-16 variant with 475 produced.
F-16C/D
The F-16C (single seat) and F-16D (two seat) variants entered production in 1984. The first C/D version was the Block 25 with improved cockpit avionics and radar which added all-weather capability with beyond-visual-range (BVR) AIM-7 and AIM-120 air-air missiles. Block 30/32, 40/42, and 50/52 were later C/D versions.[123] The F-16C/D had a unit cost of US$18.8 million (1998).[2] Operational cost per flight hour has been estimated at $7,000[124] to $22,470[125] or $24,000, depending on calculation method.
F-16E/F
The F-16E (single seat) and F-16F (two seat) are newer F-16 variants. The Block 60 version is based on the F-16C/D Block 50/52 and has been developed especially for the United Arab Emirates (UAE). It features improved AN/APG-80 Active Electronically Scanned Array (AESA) radar, avionics, conformal fuel tanks (CFTs), and the more powerful GE F110-132 engine.
F-16IN
For the Indian MRCA competition for the Indian Air Force, Lockheed Martin offered the F-16IN Super Viper.[129] The F-16IN is based on the F-16E/F Block 60 and features conformal fuel tanks; AN/APG-80 AESA radar, GE F110-132A engine with FADEC controls; electronic warfare suite and infra-red searching (IRST); updated glass cockpit; and a helmet-mounted cueing system.[130] As of 2011, the F-16IN is no longer in the competition.
F-16IQ
In September 2010, the Defense Security Cooperation Agency informed the United States Congress of a possible Foreign Military Sale of 18 F-16IQ aircraft along with the associated equipment and services to the newly reformed Iraqi Air Force. Total value of sale is estimated at US$4.2 billion.
F-16N
The F-16N is an adversary aircraft operated by the U.S. Navy. It is based on the standard F-16C/D Block 30 and is powered by the General Electric F110-GE-100 engine. However, the F-16N has a strengthened wing and is capable of carrying an Air Combat Maneuvering Instrumentation (ACMI) pod on the starboard wingtip. Although the single-seat F-16Ns and twin-seat (T)F-16Ns are based on the early-production small-inlet Block 30 F-16C/D airframe, they retain the APG-66 radar of the F-16A/B. In addition, the aircraft's 20 mm cannon has been removed, as has the ASPJ, and they carry no missiles. Their EW fit consists of an ALR-69 radar warning receiver (RWR) and an ALE-40 chaff/flare dispenser. The F-16Ns and (T)F-16Ns have the standard Air Force tailhook and undercarriage and are not aircraft carrier capable. Production totaled 26 airframes, of which 22 are single-seat F-16Ns and 4 are twin-seat TF-16Ns. The initial batch of aircraft were in service between 1988 and 1998. At that time, hairline cracks were discovered in several bulkheads and the Navy did not have the resources to replace them, so the aircraft were eventually retired and placed in storage at Davis-Monthan AFB. These were later replaced by embargoed ex-Pakistani F-16C/Ds in 2003. F-16Ns were previously operated by adversary squadrons at NAS Oceana, Virginia; NAS Key West, Florida and the former NAS Miramar, California. They are operated by the Naval Strike and Air Warfare Center at NAS Fallon, Nevada.
F-16V
At the 2012 Singapore Air Show Lockheed Martin unveiled plans for the new F-16V variant with the V suffix referencing its Viper nickname. It is to feature an active electronically scanned array (AESA) radar, a new mission computer and electronic warfare suite, and various cockpit improvements; this package can be retrofitted to previous F-16s, including the Block 60.
QF-16
In September 2013, an empty F-16 tested by Boeing and US Air Force, with two US Air Force pilots controlling the plane from the ground as it flew from Tyndall AFB over the Gulf of Mexico.[138][139] The QF-16, having previously been mothballed at Davis-Monthan AFB, Arizona, flew at an altitude of 40,000 ft (12.2 km), a speed of Mach 1.47 (1,119 mph/1,800 km/h) and reportedly reached 7 g.