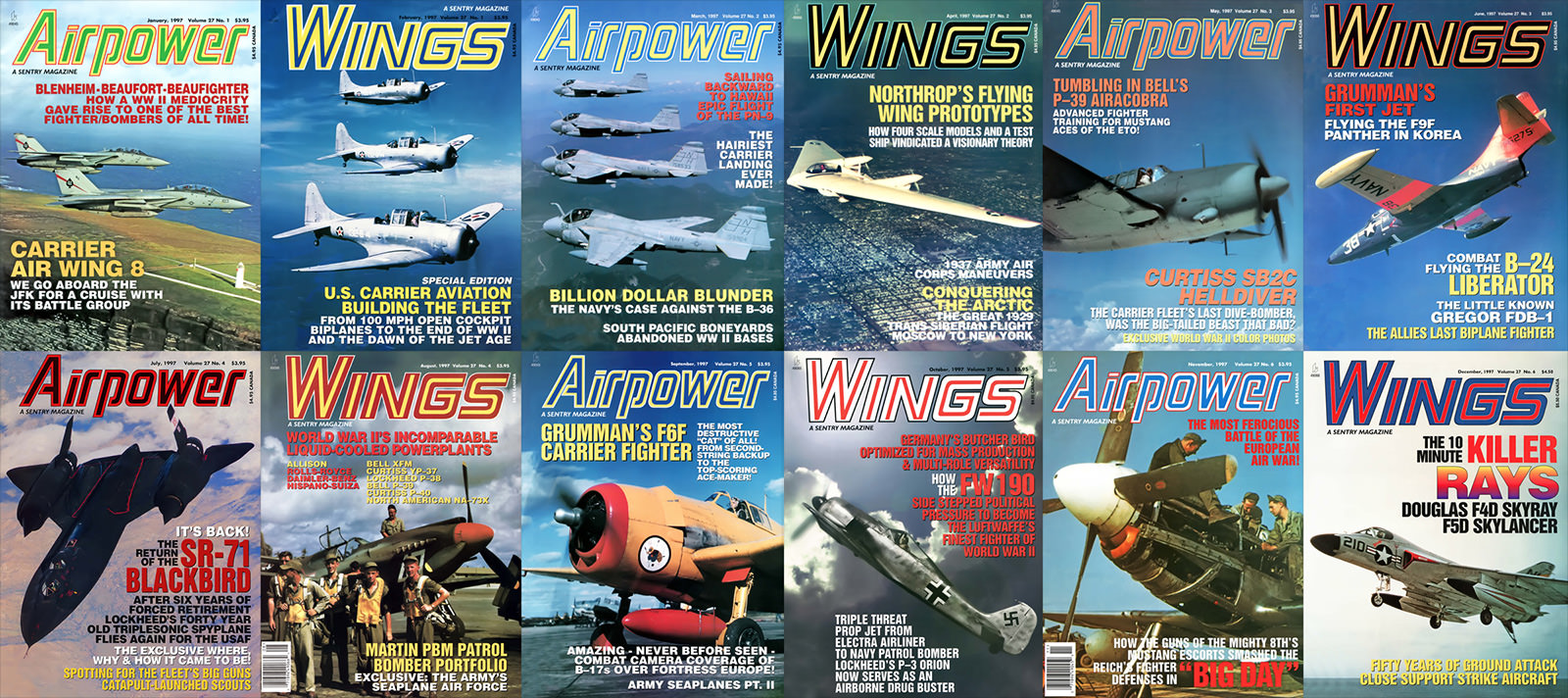 Price: $17.95
PDF contains 12 magazines
That's just $1.50 per magazine!
Content is keyword searchable
Print a personal copy
Pay via PayPal or Credit Card
International orders welcome!
Download PDF upon payment
Carrier Air Wing 8, We Go Aboard the JFK and its Battle Group
Blenheim/Beaufort/Beaufighter
US Carrier Aviation Special Edition
From Biplanes to WWII to the Dawn of the Jet Age
Billion Dollar Blunder, Navy's case against the B-36
South Pacific Boneyards, Abandoned WWII Bases
Sailing Backwards to Hawaii, Epic flight of the PN-9
The hairiest carrier landing ever made!
Northrop's Flying Wing Prototypes
1937 Army Air Corps Maneuvers
Conquering the Arctic, the Great 1929 Trans-Siberian Flight
Tumbling in Bell's P-39 Airacobra
Curtiss SB2C Helldiver, the Carrier Fleet's Last Dive-Bomber
Grumman's First Jet, Flying the F9F Panther in Korea
Combat Flying the B-24 Liberator
The Gregor FDB-1, the Allies Last Biplane Fighter
The Return of the SR-71 Blackbird
Spotting the Fleet's Big Guns, Catapult-Launched Scouts
WWII's Incomparable Liquid-Cooled Powerplants
Martin PBM Patrol Bomber Portfolio
Grumman's F6F Carrier Fighter
Combat Coverage of B-17s over Fortress Europe!
Army Seaplanes Part II
How the Fw-190 became the Luftwaffe's Finest Fighter of WWII
Triple-threat Prop Jet, Lockheed's P-3 Orion now serving as an airborne drug buster
How the Guns of the Mighty 8th's Mustang escorts smashed the Reich's Fighter Defenses in "Big Day"
The most ferocious battle of the European Air War!
Killer Rays, the Douglas F4D Skyray and F5D Skylancer