Price: $34.95
5 magazines, 12 manuals, & photos
PDF contains 4,830 pages
Content is keyword searchable
Print a personal copy
Pay via PayPal or Credit Card
International orders welcome!
Download files upon payment
Purchase This PDF
Super Sabre, North American's Versatile and Longlived F-100
Secret of the Shrike, America's First Modern Attack Plane
Fly-Off, First Open Observation Competition of Rare, Almost Forgotten Birds
The Luftwaffe's Last Stand, The Wreck of Germany's Once Mighty Air Arm
Super Sabre, Conclusion of Classic Fighter/Bomber Story of the F-100
Blitzkrieg, The Tank Busting Ju-87 Stuka
Farewell to the Fleet, Last of England's Aircraft Carriers
Staggerwing, Wichita's Wondrous Warbird
F-100 Super Sabre, First of the Supersonic Century Series
The First Gulf Air War, RAF fought Germany, Italy, & France in the Skies over Iran & Syria
F-105D Thuds in action over Vietnam
Wings over Hollywood with Paul Mantz and Frank Tallman
Date with the Dragon Lady, Part II of Lockheed U-2's 50th Anniversary
Hun Heaven, the Inside Scoop of the North American F-100 Super Sabre by Dennis Jenkins
Flights in to the Future, the Hughes XF-11 and Republic XF-12
Top Ten Best, We ask Ten USAF Pilots which are their Favorites
Models of Yesteryear, the USAF in miniature
Manuals & Photos
F-100 Performance Data, 1964
F-100A Flight Manual, 1968
F-100A Flight Manual, 1971
F-100C Flight Manual, 1959
F-100C Hydraulic Systems, 1958
F-100D/F Flight Manual, 1973
F-100C Technical Manual, 1959
F-100D Electrical Systems
F-100D Flight Control Systems, 1957
F-100D Flight Control Systems Supplement, 1975
F-100D Fuel Utility Systems, 1957
F-100D/F Structural Repair, 1957
Over 90 F-100 Super Sabre photos!
North American F-100 Super Sabre
General Characteristics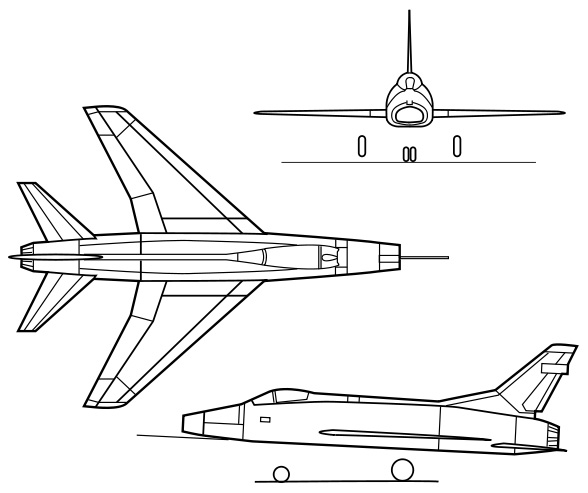 Crew: 1
Length: 50 ft (15.2 m)
Wingspan: 38 ft 9 in (11.81 m)
Height: 16 ft 2¾ in (4.95 m)
Wing area: 400 ft² (37 m²)
Empty weight: 21,000 lb (9,500 kg)
Loaded weight: 28,847 lb (13,085 kg)
Max. takeoff weight: 34,832 lb (15,800 kg)
Powerplant: 1 × Pratt & Whitney J57-P-21/21A turbojet
Dry thrust: 10,200 lbf (45 kN)
Thrust with afterburner: 16,000 lbf (71 kN)
*Zero-lift drag coefficient: 0.0130
Drag area: 5.0 ft² (0.46 m²)
Aspect ratio: 3.76
Performance
Maximum speed: 750 kn (864 mph, 1,390 km/h, Mach 1.3)
Range: 1,733 NM (1,995 mi, 3,210 km)
Service ceiling: 50,000 ft (15,000 m)
Rate of climb: 22,400 ft/min (114 m/s)
Wing loading: 72.1 lb/ft² (352 kg/m²)
Thrust/weight: 0.55
Lift-to-drag ratio: 13.9
Armament
Guns: 4× 20 mm (0.787 in) Pontiac M39A1 revolver cannon
Missiles: ** 4× AIM-9 Sidewinder or
2× AGM-12 Bullpup or
2× or 4× LAU-3/A 2.75″ unguided rocket dispenser[124]
Bombs: 7,040 lb (3,190 kg) of weapons, including
Conventional bombs or
Special stores:
Mark 7 nuclear bomb or
Mk 28 nuclear bomb or
Mk 38 nuclear bomb or
Mk 43 nuclear bomb
Avionics
Minneapolis-Honeywell MB-3 automatic pilot
AN/AJB-1B low-altitude bombing system
AN/APR-26 rearward radar warning
YF-100A – Prototype, Model NA-180 two built, s/n 52-5754 and 5755.[24]
YQF-100 – Nine test unmanned drone version: two D-models, one YQF-100F F-model,see DF-100F, and six other test versions.[25]
F-100A – Single-seat day fighter; 203 built, Model NA-192.[24]
RF-100A ("Slick Chick") – Six F-100A aircraft modified for photo reconnaissance in 1954. Unarmed, with camera installations in lower fuselage bay. Used for overflights of Soviet Bloc countries in Europe and the Far-East. Retired from USAF service in 1958, the surviving four aircraft were transferred to the Republic of China Air Force and retired in 1960.
F-100B – See North American F-107
F-100BI – Proposed interceptor version of F-100B, did not advance beyond mock-up.
F-100C – Seventy Model NA-214 and 381 Model NA-217.[24] Additional fuel tanks in the wings, fighter-bomber capability, probe-and-drogue refueling capability, uprated J57-P-21 engine on late production aircraft. First flight: March 1954; 476 built.
TF-100C – One F-100C converted into a two-seat training aircraft.
F-100D – Single-seat fighter-bomber, more advanced avionics, larger wing and tail fin, landing flaps. First flight: 24 January 1956; 1,274 built.
F-100F – Two-seat training version, armament decreased from four to two cannon. First flight: 7 March 1957; 339 built.
DF-100F – This designation was given to one F-100F that was used as drone director.[25]
NF-100F – Three F-100Fs used for test purposes, the prefix "N" indicates that modifications prevented return to regular operational service.
TF-100F – Specific Danish designation given to 14 F-100Fs exported to Denmark in 1974, in order to distinguish these from the 10 F-100Fs delivered 1959–1961.
QF-100 – Another 209 D and F models were ordered and converted to unmanned radio-controlled FSAT (Full Scale Aerial Target)[26] drone and drone directors for testing and destruction by modern air-to-air missiles used by current U.S. Air Force fighter jets.[25]
F-100J – Unbuilt all-weather export version for Japan.
F-100K – Unbuilt design study for a two-seat F-100F powered by a J57-P-55 engine.
F-100L – Unbuilt design study for a single-seat F-100D powered by a J57-P-55 engine.
F-100N – Unbuilt version with simplified avionics for NATO customers.
F-100S – Proposed French-built F-100F with Rolls-Royce Spey turbofan engine.
1953 May 25 — First operational aircraft to exceed Mach 1 in level flight – YF-100A flown by George Welch.
1953 October 26 — New world speed record – 755.19 mph over Salton Sea, F-100A, Lt. Col. Frank Everest.
1954 October — First American Fighter unit equipped with supersonic jets – 479th FDW, George AFB, CA F-100As.
1954 December 17 — Collier Trophy awarded to NAA by Pres. Eisenhower for development of the first operational supersonic fighter.
1955 February — First supersonic ejection – George Smith from F-100A at 8,000 ft.
1955 August — New world speed record — 822.5 mph over Mojave Desert., Col. Horace Hanes F-100C
1955 September 4 — Col. Carlos Talbott won the Bendix Trophy in an F-100C that traversed the 2,325 mile transcontinental distance with an average speed of 610mph.
1956 — First supersonic jet fighter to equip the Thunderbird Aerial Demonstration Team — 1956-1964 and 1964-1968, 13 years total.
1956 September — Start of the F-100F – First two seater supersonic trainer aircraft.
1956 September — Project Mobile Baker — first tactical jets to fly non-stop from Foster AFB, TX to Landstuhl, Germany (across the Atlantic), F-100Cs, 13 hrs, 50 min.
1956 December — two F-100Ds became the first-ever aircraft to successfully perform buddy refueling.
1957 February — First Air National Guard unit to be equipped with supersonic fighter jets – 188th TFS, Kirtland AFB, NM ANG.
1957 November — Project Mobil Zebra — First tactical jets to fly non-stop across the Pacific ocean – 16 F-100Cs and 16 F-100Ds from George AFB, CA to Philippine Is.
1957 May — three F-100Cs set a new world distance record for single-engine aircraft by covering the 6,710 mi (5,835 nmi, 10,805 km) distance from London to Los Angeles in 14 hours and 4 minutes. The flight was accomplished using inflight refueling.
1958 — First supersonic jet fighter to equip an allied nation, France, with F-100Ds and F-100Fs.
1958 March — First supersonic jet to make a ZEro Length launch (ZEL) — Al Blackburn.
1958 March — First fighter to be able to deliver a nuclear weapon at supersonic speed – TAC Cmdr. Gen. O. P. Weyland, F-100D.
1958 May — First foreign country to be equipped with supersonic jet fighters – Military Assistance Program, France.
1959 August — two F-100Fs became the first-ever jet fighters to fly over the North Pole. April 1961 – F-100s were the first USAF combat jets to enter the Vietnam War.
1965 April — An F-100 was the first USAF aircraft to engage in aerial jet combat during the Vietnam War, while escorting F-105 Thunderchiefs to target.
1972 — Flew more sorties in the Vietnam War than all other combat fighter aircraft combined, 360,283 sorties, 242 F-100s lost (198 in combat, 54 non-combat).
1980 — First operational high-performance fighter to demonstrate remote controlled attack capability – QF-100 Full Scale Aerial Target 1979-1998.
Airworthy
F-100F
56-3842 – Big Sky Warriors LCC in Belgrade, Montana.
56-3844 – Collings Foundation, Rocky Hill, Connecticut.
56-3916 – Big Sky Warriors LCC in Belgrade, Montana.
56-3948 – American Horizons Ltd. Inc. in Fort Wayne, Indiana.
56-3971 – Big Sky Warriors LCC in Belgrade, Montana.
56-3996 – Big Sky Warriors LCC in Belgrade, Montana.
Static Display
YF-100A
52-5755 – Keesler AFB Air Park, Keesler AFB, Mississippi.
F-100A
52-5759 – USAF History and Traditions Museum, Lackland AFB, Texas.
52-5760 – Air Force Flight Test Center Museum Edwards AFB, California.
52-5761 – New England Air Museum, Bradley International Airport, Connecticut.
52-5762 – Grand Haven Memorial Airpark, Grand Haven, Michigan.
52-5773 – Commemorative Air Force Headquarters, Midland, Texas.
52-5777 – Hill Aerospace Museum, Hill AFB, Utah.
53-1532 – 150th Fighter Wing / New Mexico Air National Guard area, Kirtland AFB, Albuquerque, New Mexico.
53-1559 – 178th Fighter Wing / Springfield Air National Guard Base, Springfield-Beckley Municipal Airport, Springfield, Ohio.
53-1573 – Goodfellow AFB, Texas.
53-1578 – 140th Fighter Wing / Colorado Air National Guard compound, Buckley AFB, Aurora, Colorado.
F-100C
53-1709 (painted as F-100D 55-2879) – Castle Air Museum (former Castle AFB), Atwater, California
53-1712 – Grissom Air Museum, Grissom ARB (former Grissom AFB), Peru, Indiana.
53-1716 – Luke Air Force Base Air Park, Luke AFB, Phoenix, Arizona.
54-1752 – Dyess Linear Air Park, Dyess AFB, Texas.
54-1753 – Southern Museum of Flight, Birmingham, Alabama.
54-1784 – Octave Chanute Aerospace Museum, former Chanute AFB, Rantoul, Illinois.
54-1785 – Prairie Aviation Museum, Bloomington, Illinois
54-1786 – March Field Air Museum, March ARB (former March AFB), Riverside, California.
54-1823 – Pima Air & Space Museum (adjacent to Davis-Monthan AFB), Tucson, Arizona.
54-1986 (painted as F-100C 54-1954 as flown by former northwest Florida resident and Medal of Honor recipient, Colonel George Bud Day, USAF Ret Dec) – Air Force Armament Museum, Eglin AFB, Florida.
54-1993 – Freedom Historical Air Park, Wichita, Kansas.
54-2002 – 185th Air Refueling Wing / Sioux City Air National Guard Base, Sioux Gateway Airport, Sioux City, Iowa.
54-2091 – Yanks Air Museum, Chino, California.
54-2106 – Volk Field Air National Guard Base, Wisconsin.
F-100D
54-2145 – Air Power Park near Langley AFB in Hampton, Virginia.
54-2151 – Sheppard AFB Air Park, Sheppard AFB, Texas.
54-2281 – Harry Bonsall Park, Glendale, Arizona
54-2299 – Joe Davies Heritage Airpark, Air Force Plant 42, Palmdale, California
55-2884 – 121st Air Refueling Wing / Rickenbacker ANGB, Columbus, Ohio.
55-3503 – Pueblo Weisbrod Aircraft Museum, Pueblo, Colorado.
55-3595 – Nellis AFB, Nevada.
55-3650 – 180th Fighter Wing / Toledo Air National Guard Base, Swanton, Ohio.
55-3667 – Missouri Air National Guard / Lambert Field Air National Guard Base]] , Bridgeton, Missouri.
55-3678 – Maxwell AFB Air Park, Maxwell AFB, Alabama.
55-3754 – National Museum of the United States Air Force, Wright-Patterson AFB, Ohio.
55-3805 – Connecticut ANGB – 103rd FG, Windsor Locks, Connecticut.
56-2928 – Dobbins ARB, Marietta, Georgia.
56-2940 – Cannon AFB, New Mexico.
56-2993 – New York ANGB – 107th FG, Niagara Falls, New York.
56-2995 – Massachusetts ANGB – 102nd FW, Otis ANGB, Falmouth, Massachusetts.
56-3000 – Texas ANG – 149th FG, San Antonio, Texas.
56-3008 – Massachusetts ANGB – 104th FW, Westfield, Massachusetts.
56-3020 – Louisiana ANG, New Orleans, Louisiana.
56-3055 – Arizona ANGB – 162nd FG, Tucson, Arizona.
56-3081 – MAPS Air Museum, Akron/Canton Airport Ohio. Previously located at Florida Military Aviation Museum, St. Petersburg-Clearwater International Airport, Clearwater, Florida.[101] Obtained by MAPS Air Museum upon closure/dissolution/liquidation of Florida Military Aviation Museum.
56-3154 – Lone Star Flight Museum, Galveston, Texas.
56-3187 – South Dakota ANG – 114th FG, Sioux Falls, South Dakota.
56-3220 – Holloman AFB, New Mexico.
56-3288 – Aerospace Museum of California, Sacramento, California.
56-3299 – Colorado ANGB – 140th FW, Aurora, Colorado.
56-3320 – Indiana ANGB – 181st FG, Terre Haute, Indiana.
56-3417 – Wings Over the Rockies Air and Space Museum (former Lowry AFB), Denver, Colorado.
56-3426 – Iowa ANGB – 132nd FW, Des Moines, Iowa.
56-3440 – Steven F. Udvar-Hazy Center, Fairfax County, Virginia
F-100F
unknown – Davis-Monthan AFB, Arizona.
56-3727 – Davis-Monthan AFB, Arizona.
56-3730 – USAF Academy, Colorado.
56-3813 – Riverside Park, Independence, Kansas
56-3832 – Evergreen Aviation and Space Museum, McMinnville, Oregon.
56-3837 – National Museum of the United States Air Force, Wright-Patterson AFB, Ohio.
56-3897 – New Jersey ANGB – 177th FG, Atlantic City, New Jersey.
56-3899 – Glenn L. Martin Aviation Museum, Middle River, Maryland.
56-3904 – Aviation Cadet Museum, Silver Wings Field, Eureka Springs, Arkansas.
56-3905 – Glenn L. Martin Aviation Museum, Middle River, Maryland.
58-1232 – Edward H. White II Memorial Museum, Brooks AFB, Texas.