Price: $16.95
2 magazines, 6 manuals, & photos
PDF contains 3,296 pages
Content is keyword searchable
Print a personal copy
Pay via PayPal or Credit Card
International orders welcome!
Download files upon payment
Purchase This PDF
Douglas A-3 Skywarrior, B-66 Destroyer
The Great Schneider Cup Races, Part 1
British aviation firsts – VTOL fighters to jet airliner to aircraft carrier deck
Did Pratt's biggest engine power the XB-35 flying wing?
Douglas RB-66 – Secret recon jet of the cold war
R-4360 WASP major
Manuals & Photos
A-3 Flight Manual 1966
B-66 Familiarization Manual 1956
B-66B Flight Manual 1963
EB-66B Flight Manual 1969
RA-3B Flight Manual 1965
WB-66B Flight Manual 1958
Over 300 A-3 Skywarrior & B-66 Destroyer photos
Douglas A-3 Skywarrior / B-66 Destroyer
General Characteristics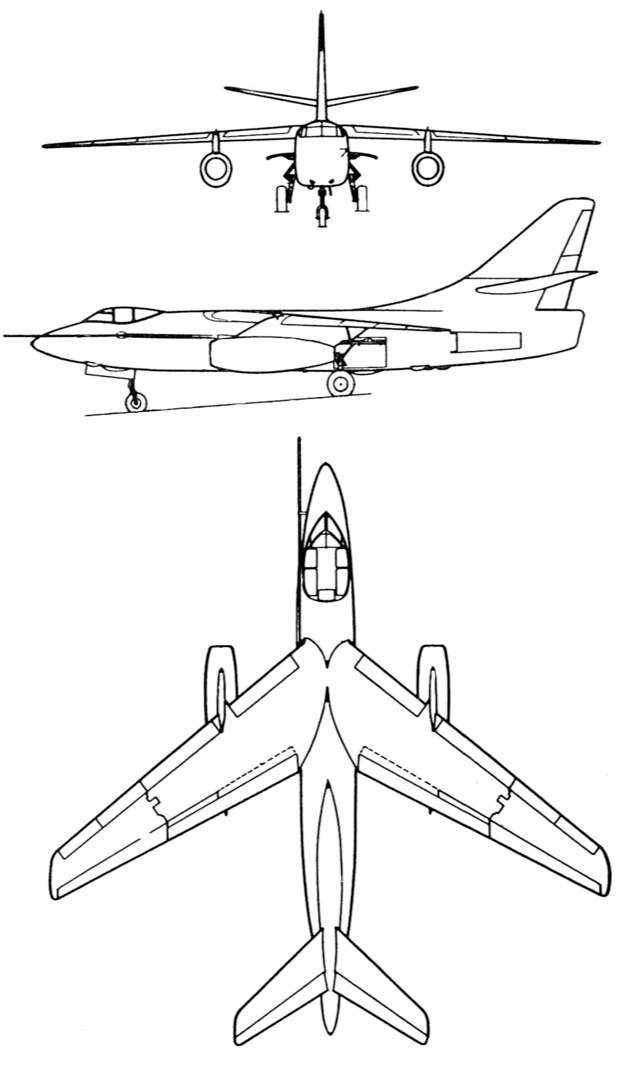 Crew: 3
Length: 76 ft 4 in (23.27 m)
Wingspan: 72 ft 6 in (22.10 m)
Height: 22 ft 9½ in (6.95 m)
Wing area: 812 ft² (75.4 m²)
Empty weight: 39,409 lb (17,876 kg)
Loaded weight: 70,000 lb (31,750 kg)
Max. takeoff weight: 82,000 lb (37,195 kg)
Powerplant: 2 × Pratt & Whitney J57-P-10 turbojet, 10,500 lbf (46.7 kN) dry (12,400 lbf (55.3 kN with water injection)) each
Performance
Maximum speed: 530 knots (610 mph, 982 km/h) at 10,000 ft (3,050 m)
Cruise speed: 452 knots (520 mph, 837 km/h)
Range: 1,826 nmi (2,100 mi, 3,380 km)
Service ceiling: 41,000 ft (12,495 m)
Wing loading: 86.2 lb/ft² (421 kg/m²)
Armament
Guns: 2 20 mm M3L cannon in the tail turret
Bombs: 12,800 pounds (5,800 kg) of free-fall bombs or mines, including any combination of:

12 500 pounds (230 kg) Mark 82 bombs or
6 1,000 pounds (450 kg) Mark 83 bombs or
8 1,600 pounds (730 kg) armor-piercing bombs or
4 2,000 pounds (910 kg) bombs
1 free-fall nuclear weapon
XA3D-1: Two prototypes with Westinghouse J40 turbojets, no cannon in tail turret.
YA3D-1 (YA-3A): One pre-production prototype with Pratt & Whitney J57 engines. Later used for tests at the Pacific Missile Test Center.
A3D-1 (A-3A): 49 initial production versions, serving largely in developmental role in carrier service.
A3D-1P (RA-3A): One A3D-1 converted as a prototype for the A3D-2P with camera pack in the weapon bay.
A3D-1Q (EA-3A): Five A3D-1s converted for the electronic reconnaissance (ELINT) role, with ECM equipment and four operators in weapons bay.
A3D-2 (A-3B): Definitive production bomber version, with stronger airframe, more powerful engines, slightly larger wing area (812 ft²/75 m² versus 779 ft²/72 m²), provision for in-flight refueling reel for tanker role. Final 21 built had new AN/ASB-7 bombing system, reshaped nose; deleted tail turret in favor of electronic warfare installation.
A3D-2P (RA-3B): 30 photo-reconnaissance aircraft with weapons bay package for up to 12 cameras plus photoflash bombs. Increased pressurization allowed camera operator to enter the bay to check the cameras. Some retained tail guns, but most were later converted to ECM tail of late A-3Bs.
A3D-2Q (EA-3B): 24 electronic warfare versions with pressurized compartment in former weapon bay for one Electronic Warfare Officer and three ESM operators, various sensors. This was the longest serving version of the "Whale" and the most widely known throughout the fleet. Some early models had tail guns, but these were replaced with the ECM tail. The EA-3B was assigned to fleet reconnaissance squadrons VQ-1 (Japan and later Guam) and VQ-2 (Rota. Spain) where they flew alongside the Lockheed EC-121 Warning Star and the EP-3B and EP-3E. It served in the fleet for almost 40 years, and was replaced by the ES-3A Shadow flown by two Fleet Air Reconnaissance (VQ) squadrons: VQ-5 at NAS North Island, California and VQ-6 at NAS Cecil Field, Florida. They were decommissioned less than 10 years after their commissioning due to budget constraints.
A3D-2T (TA-3B): 12 bomber-trainer versions. Five later converted as VIP transports (two redesignated UTA-3B).
KA-3B: 85 A-3B bombers refitted in 1967 for the tanker role with probe-and-drogue system in place of bombing equipment.
EKA-3B: 34 KA-3B tankers refitted for dual Electronic countermeasures (ECM)/tanker role, with electronic warfare equipment and tail fairing in place of rear turret. Most were converted back to KA-3B configuration (with no ECM gear) after 1975.
ERA-3B: Eight RA-3Bs converted as electronic aggressor aircraft (primarily for war-at sea exercises) with ECM in new extended tail cone, ventral "canoe" fairing, cylindrical fairing atop vertical fin, and two detachable ram-air turbine powered ALQ-76 countermeasures pods (one under each wing). Added chaff (radar countermeasure) dispensers (streaming chaff from the tail cone and two self-protection chaff dispensers on the aft fuselage) and four ram-air turbines (two per side) to power the equipment located in the former bomb bay. Crew increased to four: pilot, navigator, crew chief, and Electronic Countermeasures Officer (ECMO) with one generally unused "jumpseat" in the aft crew compartment (formerly the weapon bay). There was no equipment position for a second Electronic Countermeasures Officer or enlisted crewman in the converted weapon bay. The "jump seat" was used for qualified instructor ECMOs training new ECMOs, for guest observers on operational flights, or for passengers during operational deployment transits. While the ERA-3B could withstand the stresses of a cable arrested landing, the ALT-40 and ALR-75 equipment in the former bomb bay was not stressed to withstand a catapult launch and the ERA-3B was never deployed aboard carriers. The ERA-3B served with VAQ-33 and later with VAQ-34.
NRA-3B: Six RA-3Bs converted for various non-combat test purposes.
VA-3B: Two EA-3B converted as VIP transports. Both aircraft were assigned to the Chief of Naval Operations flying from Andrews AFB in Washington, DC.
NTA-3B: One aircraft converted by Hughes/Raytheon used to test radar for the F-14D Tomcat.
On display
XA3D-1
125413 – Fulton County Airport, Johnstown, New York.
A-3A
135434 – Restored in September 2011 by members of reserve squadron 65 (VP-65) at Edwards Air Force Flight Test Center Museum, Edwards AFB, California.
NA-3A
135418 – National Naval Aviation Museum, NAS Pensacola, Florida.
YEA-3A
130361 – Pima Air and Space Museum (adjacent to Davis-Monthan AFB), Tucson, Arizona.
A-3B
142246 – New England Air Museum, Windsor Locks, Connecticut.
EA-3B
146448 – National Cryptologic Museum, National Vigilance Park, Fort Meade, Maryland.
146457 – Patriots Point Naval and Maritime Museum, Mount Pleasant, South Carolina(previously displayed in front of Daum Hall Bachelor Officers Quarters, Naval Station Rota, Spain).
KA-3B
138944 – U.S.S. Lexington Museum, Corpus Christi, Texas.
147648 – NAS Key West, Boca Chica Key, Florida.
147666 – Oakland Aviation Museum in Oakland, California.
NA-3B
142630 – Celebrity Row, Davis-Monthan AFB, Tucson, Arizona.
EKA-3B
142251 – USS Midway Museum, San Diego, California.
NEA-3B
144865 – National Naval Aviation Museum, NAS Pensacola, Florida.
NRA-3B
144825 – A-3 Skywarrior Whidbey Memorial Foundation, NAS Whidbey Island, Washington.
Under Restoration
EA-3B
146453 – Vintage Flying Museum, Meacham Field, Fort Worth, Texas.
KA-3B
138965 – Yanks Air Museum, Chino, California.
ERA-3B
144843 – Castle Air Museum (former Castle AFB), Atwater, California.
NTA-3B
144867 – Pacific Aviation Museum, Pearl Harbor, Honolulu, Hawaii.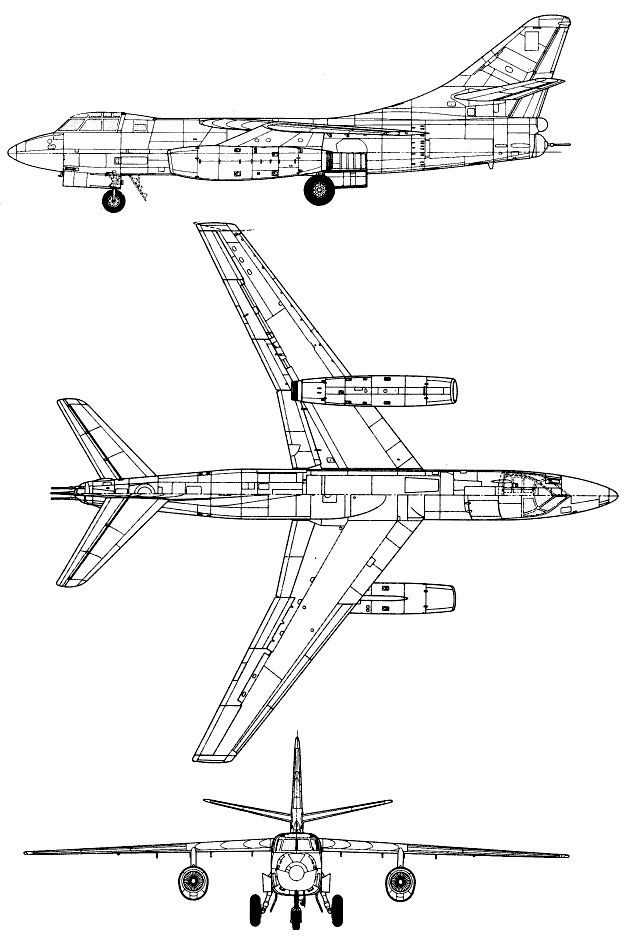 General Characteristics
Crew: 3 (Pilot, Navigator and EWO)
Length: 75 ft 2 in (22.9 m)
Wingspan: 72 ft 6 in (22.1 m)
Height: 23 ft 7 in (7.2 m)
Wing area: 780 ft² (72.5 m²)
Empty weight: 42,540 lb (19,300 kg)
Loaded weight: 57,800 lb (26,200 kg)
Max. takeoff weight: 83,000 lb (38,000 kg)
Powerplant: 2 × Allison J71-A-11 or -13 turbojets, 10,200 lbf (45 kN) each
Performance
Maximum speed: 631 mph (548 kn, 1,020 km/h)
Combat radius: 900 mi (780 nmi, 1,500 km)
Ferry range: 2,470 mi (2,150 nmi, 3,970 km)
Service ceiling: 39,400 ft (12,000 m)
Rate of climb: 5,000 ft/min (25 m/s)
Wing loading: 74.1 lb/ft² (361.4 kg/m²)
Thrust/weight: 0.35
Armament
Guns: 2 20 mm M24 cannons in radar-controlled/remotely operated tail turret
Bombs: 15000 lb (6,803.9 kg)
Avionics
RB-66A (Douglas Model 1326) – All-weather photo-reconnaissance variant, five built.
RB-66B (Douglas Model 1329) – Variant of the RB-66A with production J71-A-13 engines and higher gross weight, 149 built.
B-66B (Douglas Model 1327A) – Tactical bomber variant of the RB-66B, 72 built.
NB-66B – One B-66B used for testing and a RB-66B used for F-111 radar trials.
RB-66C – Electronic reconnaissance variant of the RB-66B, included an additional compartment for four equipment operators, 36 built.
EB-66C – Four RB-66Cs with uprated electronic counter measures equipment.
WB-66D – Electronic weather reconnaissance variant with the crew compartment modified for two observers, 36 built with two later modified to X-21A.
EB-66E – Specialized electronic reconnaissance conversion of the RB-66B.
RB-66B
53-0466 – Dyess Linear Air Park, Dyess AFB, Texas.
53-0475 – National Museum of the United States Air Force at Wright-Patterson AFB, Ohio.
RB-66C
54-0465 – Shaw AFB, South Carolina.
JRB-66D
53-0412 – Chanute Aerospace Museum at the former Chanute AFB, Illinois. With the closing of the museum in October 2015, no other museums were able to recover the aircraft, so it was offered at auction for scrapping by sealed bid beginning on September 25, 2017.
WB-66D
55-0390 – USAF History and Traditions Museum at Lackland AFB, Texas.
55-0392 – Museum of Aviation, Robins AFB, Georgia.
55-0395 – Pima Air and Space Museum, adjacent to Davis-Monthan AFB in Tucson, Arizona.