Price: $29.95
2 magazines, 10 manuals, & photos
PDF contains 4,359 pages
Content is keyword searchable
Print a personal copy
Pay via PayPal or Credit Card
International orders welcome!
Download files upon payment
Purchase This PDF
Typhoon, Tornado, Tempest
F-86F Sabres
Hunter / Killer (Grumman AF-2S Guardian)
Sky Soldiers, Vietnam War As Seen From Cockpit Of A Bell UH-1 Gunship!
BRING IN THE CHOPPERS! Evolution of the large military helicopter.
ALASKAN TWIN MUSTANGS: North American F-82 Twin Mustang
PETE BOWERS REMEMBERED: NATIONAL AIR RACES 1946: 1946 National Air Races in Cleveland, Ohio.
Manuals & Photos
Boeing 234 ER Brochure
CH-47 Aircrew Training Cargo, 1990
CH-47 Aircrew Training Cargo, 2007
CH-47 Depot Maintenance, 2005
CH-47 Maintenance Test Flight Handbook,1968
CH-47-Theory-of-Operations
CH-47D Maintenance Manual, 1992
CH-47D Maintenance Test Flight Manual, 2003
CH-47D Operator Crewmember Checklist, 2003
CH-47D Operators Manual, 2003
Over 600 Boeing CH-47 Chinook photos
Boeing CH-47 Chinook
General Characteristics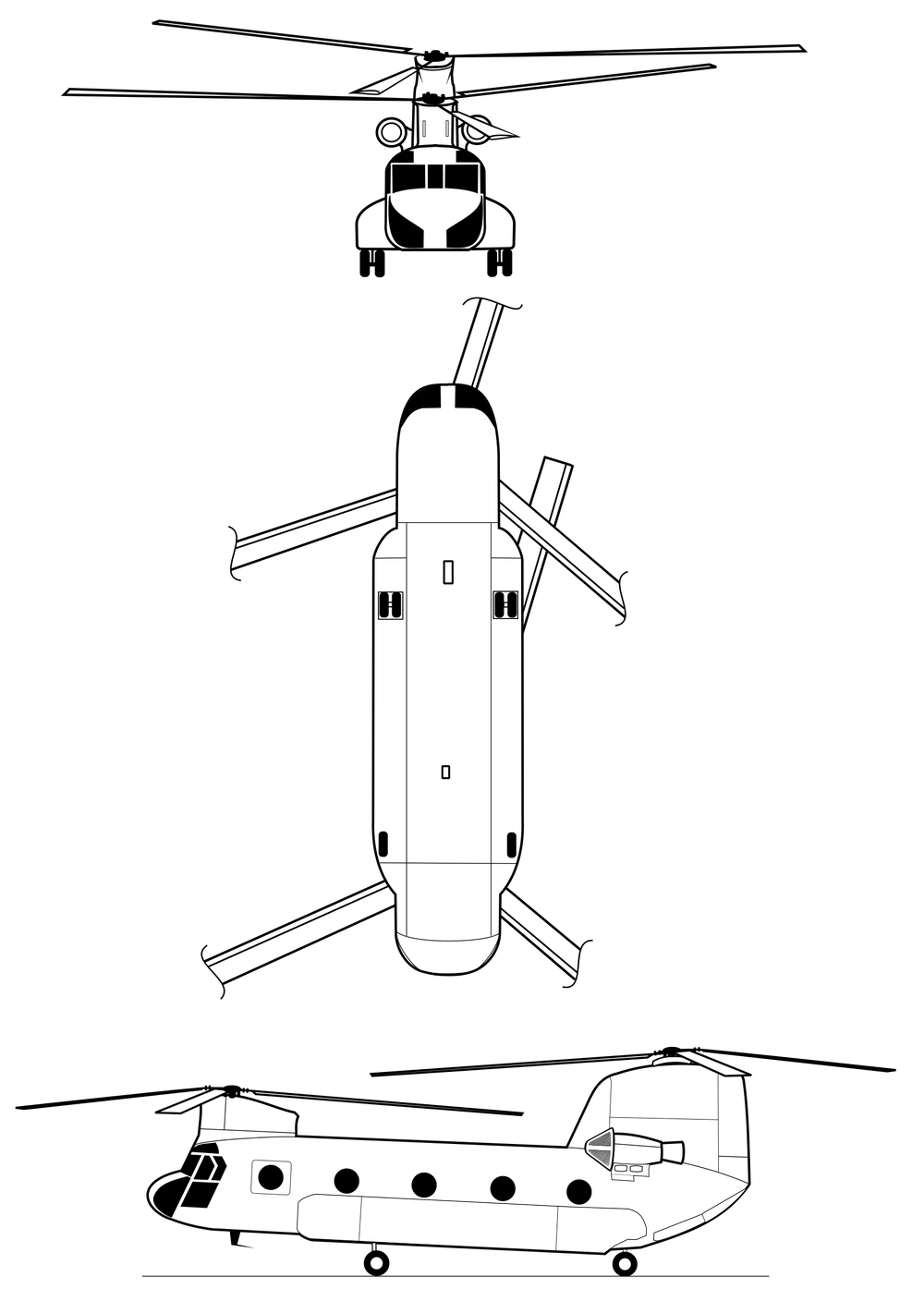 Crew: 3 (pilot, copilot, flight engineer or loadmaster)
Capacity:

33–55 troops or
24 stretchers and 3 attendants or
24,000 lb (10,886 kg) payload

Length: 98 ft (30 m)
Fuselage length: 52 ft (16 m)
Width: 12 ft 5 in (3.78 m) (fuselage)
Height: 18 ft 11 in (5.77 m)
Empty weight: 24,578 lb (11,148 kg)
Max takeoff weight: 50,000 lb (22,680 kg)
Powerplant: 2 × Lycoming T55-GA-714A turboshaft engines, 4,733 shp (3,529 kW) each
Main rotor diameter: 2× 60 ft (18 m)
Main rotor area: 5,600 sq ft (520 m2)
Blade section: root: Boeing VR-7 ; tip: Boeing VR-8
Performance
Maximum speed: 170 kn (200 mph, 310 km/h)
Cruise speed: 160 kn (180 mph, 300 km/h)
Range: 400 nmi (460 mi, 740 km)
Combat range: 200 nmi (230 mi, 370 km)
Ferry range: 1,216 nmi (1,399 mi, 2,252 km)
Service ceiling: 20,000 ft (6,100 m)
Rate of climb: 1,522 ft/min (7.73 m/s)
Disk loading: 9.5 lb/sq ft (46 kg/m2)
Power/mass: 0.28 hp/lb (0.46 kW/kg)
Armament
Up to 3 pintle-mounted medium machine guns (1 on loading ramp and 2 at shoulder windows), generally 7.62 mm (0.308 in) M240/FN MAG machine guns, and can be armed with the 7.62 mm M134 Minigun rotary machine gun.
Avionics
Rockwell Collins Common Avionics Architecture System (CAAS) (MH-47G/CH-47F)
HC-1B
The pre-1962 designation for Model 114 development aircraft that would be redesignated CH-47 Chinook
CH-47A
The all-weather, medium-lift CH-47A Chinook was powered initially by Lycoming T55-L-5 engines rated at 2,200 horsepower (1,640 kW), but then replaced by the T55-L-7 rated at 2,650 hp (1,980 kW) engines or T55-L-7C engines rated at 2,850 hp (2,130 kW). The CH-47A had a maximum gross weight of 33,000 lb (15,000 kg), allowing for a maximum payload around 10,000 lb (4,500 kg). Initial delivery of the CH-47A Chinook to the U.S. Army was in August 1962. A total of 349 were built.
ACH-47A
The ACH-47A was originally known as the Armed/Armored CH-47A (or A/ACH-47A). It was officially designated ACH-47A as a U.S. Army Attack Cargo Helicopter, and unofficially referred to as Guns A Go-Go. Four CH-47A helicopters were converted to gunships by Boeing Vertol in late 1965. Three were assigned to the 53rd Aviation Detachment in South Vietnam for testing, with the remaining one retained in the U.S. for weapons testing. By 1966, the 53rd was redesignated the 1st Aviation Detachment (Provisional) and attached to the 228th Assault Support Helicopter Battalion of the 1st Cavalry Division (Airmobile). By 1968, only one gunship remained, and logistical concerns prevented more conversions. It was returned to the United States, and the program stopped.
The ACH-47A carried five M60D 7.62 × 51 mm machine guns or M2HB .50-caliber machine guns, provided by the XM32 and XM33 armament subsystems, two M24A1 20 mm cannons, two XM159B/XM159C 19-Tube 2.75-inch (70 mm) rocket launchers or sometimes two M18/M18A1 7.62 × 51 mm gun pods, and a single M75 40 mm grenade launcher in the XM5/M5 armament subsystem (more commonly seen on the UH-1 series of helicopters). The surviving aircraft, Easy Money, has been restored and is on display at Redstone Arsenal, Alabama.
CH-47B
The CH-47B was an interim solution while Boeing worked on a more substantially improved CH-47C. The CH-47B was powered by two Lycoming T55-L-7C 2,850 shp (2,130 kW) engines. It featured a blunted rear rotor pylon, redesigned asymmetrical rotor blades, and strakes along the rear ramp and fuselage to improve flying characteristics. It could be equipped with two door-mounted M60D 7.62 mm NATO machine guns on the M24 armament subsystem and a ramp-mounted M60D using the M41 armament subsystem. Some CH-47 "bombers" were equipped to drop tear gas or napalm from the rear cargo ramp onto Viet Cong bunkers. The CH-47B could be equipped with a hoist and cargo hook. The Chinook proved especially valuable in "Pipe Smoke" aircraft recovery missions. The "Hook" recovered about 12,000 aircraft valued at over $3.6 billion during the war; 108 were built.
CH-47C
The CH-47C principally featured more powerful engines and transmissions. Three sub-versions were built; the first had Lycoming T55-L-7C engines delivering 2,850 shp (2,130 kW). The "Super C" included Lycoming T55-L-11 engines delivering 3,750 shp (2,800 kW), an upgraded maximum gross weight of 46,000 lb (21,000 kg), and a pitch stability augmentation system. The T55-L-11 engines suffered difficulties, as they had been hurriedly introduced to increase payload; thus, they were temporarily replaced by the more reliable Lycoming T55-L-7C. The type was distinguishable from the standard "C" by the uprated maximum gross weight.
The type was unable to receive FAA certification to engage in civil activities due to the nonredundant hydraulic flight boost system drive. A redesign of the hydraulic boost system drive was incorporated in the succeeding CH-47D, allowing that model to achieve certification as the Boeing Model 234. A total of 233 CH-47Cs were built. Canada bought a total of eight CH-47Cs; deliveries of the type began in 1974. Receiving the Canadian designation "CH-147", these were fitted with a power hoist above the crew door; other changes included a flight engineer station in the rear cabin: operators referred to the configuration as the "Super C". The CH-47C was used widely during the Vietnam War, eventually replacing the older H-21 Shawnee in the combat assault support role.
CH-47D
The CH-47D shares the same airframe as earlier models, the main difference being the adoption of more powerful engines. Early CH-47Ds were originally powered by two T55-L-712 engines, the most common engine is the later T55-GA-714A. With its triple-hook cargo system, the CH-47D can carry heavy payloads internally and up to 26,000 pounds (12 t) (such as 40-foot or 12-metre containers) externally. It was first introduced into service in 1979. In air assault operations, it often serves as the principal mover of the 155 mm M198 howitzer, accompanying 30 rounds of ammunition, and an 11-man crew. The CH-47D also has advanced avionics, such as the Global Positioning System. Nearly all US Army CH-47D were conversions from previous A, B, and C models, a total of 472 being converted. The last U.S. Army CH-47D built was delivered to the U.S. Army Reserve, located at Fort Hood, Texas, in 2002.
The Netherlands acquired all seven of the Canadian Forces' surviving CH-147s and upgraded them to CH-47D standard. Six more new-build CH-47Ds were delivered in 1995 for a total of 13. The Dutch CH-47Ds feature a number of improvements over U.S. Army CH-47Ds, including a long nose for Bendix weather radar, a "glass cockpit", and improved T55-L-714 engines. As of 2011, the Netherlands shall upgrade 11 of these which will be updated to the CH-47F standard at a later date. As of 2011, Singapore has 18 CH-47D/SDs, which includes twelve "Super D" Chinooks, in service. In 2008, Canada purchased 6 CH-47Ds from the U.S. for the Canadian Helicopter Force Afghanistan for $252 million. With 1 CH-47D lost to an accident, the remaining five were sold in 2011 after the end of Canada's mission in Afghanistan and replaced with seven CH-147Fs.
MH-47D
The MH-47D variant was developed for special forces operations and has inflight refueling capability, a fast rope-rappelling system, and other upgrades. The MH-47D was used by U.S. Army 160th Special Operations Aviation Regiment. 12 MH-47D helicopters were produced. Six were conversions from CH-47A models and six were conversions from CH-47C models.
MH-47E
The MH-47E has been used by U.S. Army Special Operations. Beginning with the E-model prototype manufactured in 1991, a total of 26 Special Operations Aircraft were produced. All aircraft were assigned to 2–160th SOAR(A) "Nightstalkers", home based at Fort Campbell, Kentucky. E models were conversions from existing CH-47C model airframes. The MH-47E has similar capabilities as the MH-47D, but includes an increased fuel capacity similar to the CH-47SD and terrain following/terrain avoidance radar.
In 1995, the Royal Air Force ordered eight Chinook HC3s, effectively a low-cost version of the MH-47E for the special operations role. They were delivered in 2001, but never entered operational service due to technical issues with their avionics fit, unique to the HC3. In 2008, work started to revert the HC3s to HC2 standard, to enable them to enter service. They have since been upgraded to HC5 standard with a digital automated flight control system. 
CH-47F
In 2001, the first CH-47F, an upgraded CH-47D, made its maiden flight; the first production model rolled out on 15 June 2006 at Boeing's facility in Ridley Park, Pennsylvania, and first flew on 23 October 2006. Upgrades include 4,868-shaft-horsepower (3,630 kW) Honeywell engines and the airframe featuring greater single-piece construction to lower maintenance requirements.
The milled construction reduces vibration, as well as inspection and repair needs, and eliminates flexing points to increase service life. The CH-47F can fly at speeds of over 175 mph (282 km/h) with a payload of more than 21,000 lb (9.5 t). New avionics include a Rockwell Collins Common Avionics Architecture System (CAAS) cockpit, and BAE Systems' Digital Advanced Flight Control System (DAFCS). AgustaWestlandassembles the CH-47F under license, known as the Chinook ICH-47F, for several customers. Boeing delivered 48 CH-47Fs to the U.S. Army through August 2008; at that time Boeing announced a $4.8 billion contract with the Army for 191 Chinooks.
In February 2007, the Royal Netherlands Air Force became the first international customer, ordering six CH-47Fs, expanding their fleet to 17. On 10 August 2009, Canada signed a contract for 15 extensively modified and upgraded CH-47Fs for the Canadian Forces, later delivered in 2013–2014 with the Canadian designation CH-147F. On 15 December 2009, Britain announced its Future Helicopter Strategy, including the purchase of 24 new CH-47Fs to be delivered from 2012. Australia ordered seven CH-47Fs in March 2010 to replace its six CH-47Ds between 2014 and 2017. In late 2015, Australia has sought permission to order three more CH-47Fs. In September 2015 India approved purchase of 15 CH-47F Chinooks. On 7 November 2016, Singapore announced that the CH-47F would replace its older Chinooks, which had been in service since 1994. This would enable the Republic of Singapore Air Force to meet its requirements for various operations, including Search and Rescue (SAR), Aeromedical Evacuation (AME), and Humanitarian Assistance and Disaster Relief (HADR) operations.
A CH-47F Block 2 is planned to be introduced after 2020. The Block 2 aims for a payload of 22,000 lb (10,000 kg) with 4,000 ft (1,200 m) and 95 °F (35 °C) high and hot hover performance, eventually increased up to 6,000 ft (1,800 m), to carry the Joint Light Tactical Vehicle; maximum takeoff weight would be raised to 24,500 kg (54,000 lb). It features the composite-based Advanced Chinook Rotor Blade (derived from the cancelled RAH-66 Comanche) 20% more powerful Honeywell T55-715 engines, and the active parallel actuator system (APAS); the APAS enhances the digital advanced flight-control system, providing an exact torque split between the rotors for greater efficiency. A new fuel system combines the three fuel cells in each sponson into one larger fuel cell and eliminating intracell fuel transfer hardware, reducing weight by 90 kg (200 lb) and increasing fuel capacity. Electrical capacity is increased by three 60 kVA generators.
The U.S. Army plans for a Block 3 upgrade after 2025, which could include a new 6,000 shp-class engine with boosted power capacity of the transmission and drive train developed under the future affordable turbine engine (FATE) program and a lengthened fuselage. The Future Vertical Lift program plans to begin replacing the Army's rotorcraft fleet in the mid-2030s, initially focusing on medium-lift helicopters, thus the CH-47 is planned to be in service beyond 2060, over 100 years after first entering service.
MH-47G
The MH-47G Special Operations Aviation (SOA) version is currently being delivered to the U.S. Army. It is similar to the MH-47E, but features more sophisticated avionics including a digital Common Avionics Architecture System (CAAS). The CAAS is a common glass cockpit used by different helicopters such as MH-60K/Ls, CH-53E/Ks, and ARH-70As. The MH-47G also incorporates all of the new sections of the CH-47F.
The new modernization program improves MH-47D and MH-47E Special Operations Chinooks to the MH-47G design specs. A total of 25 MH-47E and 11 MH-47D aircraft were upgraded by the end of 2003. In 2002 the army announced plans to expand the Special Operations Aviation Regiment via an additional 12 MH-47G helicopters. The final MH-47G Chinook was delivered to the U.S. Army Special Operations Command on 10 February 2011. Modernization of MH-47D/E Chinooks to MH-47G standard is due for completion in 2015.
The British MOD confirmed that while the US does not currently export the model, the two countries are currently in discussion regarding the MH-47G. On 19 October 2018, the Defense Security Cooperation Agency notified Congress of a possible sale of 16 H-47 Chinooks (Extended Range) to the UK.
CH-47J
The CH-47J is a medium-transport helicopter for the Japan Ground Self-Defense Force (JGSDF), and the Japan Air Self-Defense Force (JASDF). The differences between the CH-47J and the CH-47D are the engine, rotor brake and avionics, for use for general transportation, SAR and disaster activity like U.S. forces. The CH-47JA, introduced in 1993, is a long-range version of the CH-47J, fitted with an enlarged fuel tank, an AAQ-16 FLIR in a turret under the nose, and a partial glass cockpit. Both versions are built under license in Japan by Kawasaki Heavy Industries, who produced 61 aircraft by April 2001.
The Japan Defense Agency ordered 54 aircraft of which 39 were for the JGSDF and 15 were for the JASDF. Boeing supplied flyable aircraft, to which Kawasaki added full avionics, interior, and final paint. The CH-47J model Chinook (N7425H) made its first flight in January 1986, and it was sent to Kawasaki in April. Boeing began delivering five CH-47J kits in September 1985 for assembly at Kawasaki.
HH-47
On 9 November 2006, the HH-47, a new variant of the Chinook based on the MH-47G, was selected by the U.S. Air Force as the winner of the Combat Search and Rescue (CSAR-X) competition. Four development HH-47s were to be built, with the first of 141 production aircraft planned to enter service in 2012. However, in February 2007 the contract award was protested and the GAO ordered the CSAR-X project to be re-bid. The CSAR-X program was again terminated in 2009. In February 2010, the USAF announced plans to replace aging HH-60G helicopters, and deferred secondary combat search and rescue requirements calling for a larger helicopter.
Sea Chinook
For years US Navy has been operating different versions of the CH-53 helicopter. CH-47s regularly conduct ship-based operations for U.S. Special Forces and other international operators. Due to budget issues, technical problems and delays with CH-53K, the director of the Pentagon's cost assessment office directed US Navy to consider maritime versions of CH-47. Naval versions must be protected against the corrosive seaborne environment and be able to operate from aircraft carriers and amphibious ships.
Export Models
The Royal Air Force version of the CH-47C is designated Chinook HC1; its versions of the CH-47D are designated Chinook HC2 and HC2A.
The export version of the CH-47C Chinook for the Italian Army was designated "CH-47C Plus".
The HH-47D is a search and rescue version for the Republic of Korea Air Force.
The CH-47DG is an upgraded version of the CH-47C for Greece.
While the CH-47SD (also known as the "Super D") is a modified variant for Singapore of the CH-47D, with extended range fuel tanks and higher payload carrying capacity; the CH-47SD is currently in use by the Republic of Singapore Air Force, Hellenic Army and the Republic of China Army.
Eight CH-47Cs were delivered to the Canadian Forces in 1974. These helicopters were in Canadian service until 1991, with the designation CH-147. These aircraft were subsequently sold to the Netherlands and are now operated by the Royal Netherlands Air Force as CH-47Ds. Older aircraft will be phased out by 2020 and replaced by CH-47F-NL models.
Civilian Models
Model 234LR (long range): Commercial transport helicopter. The Model 234LR can be fitted out as an all-passenger, all-cargo, or cargo/passenger transport helicopter.
Model 234ER (extended range): Commercial transport version.
Model MLR (multi-purpose long range): Commercial transport version.
Model 234UT (utility transport): Utility transport helicopter.
Model 414: The Model 414 is the international export version of the CH-47D. It is also known as the CH-47D International Chinook.
Derivatives
In 1969, work on the experimental Model 347 was begun. It was a CH-47A with a lengthened fuselage, four-blade rotors, detachable wings mounted on top of the fuselage and other changes. It first flew on 27 May 1970 and was evaluated for a few years.
In 1973, the Army contracted with Boeing to design a "Heavy Lift Helicopter" (HLH), designated XCH-62A. It appeared to be a scaled-up CH-47 without a conventional body, in a configuration similar to the S-64 Skycrane (CH-54 Tarhe), but the project was canceled in 1975. The program was restarted for test flights in the 1980s and was again not funded by Congress. The scaled-up model of the HLH was scrapped in late 2005 at Fort Rucker, Alabama.
Argentina
H-91 – CH-47C on display at the Museo Nacional de Aeronáutica de Argentina in Morón, Buenos Aires.
Australia
A15-104 – CH-47D on display at the Australian Army Flying Museum in Oakey, Queensland.
Canada
147201 – CH-47D on display at the National Air Force Museum of Canada in Trenton, Ontario.
147206 – CH-47D preserved as a gate guardian at CFB Petawawa.
Italy
MM80840 – CH-47C on display at Volandia in Somma Lombardo.
United Kingdom
83-24104 – CH-47D forward section on display at Royal Air Force Museum London.
ZA717 – Chinook HC.1 preserved at Newark Air Museum in Winthorpe, England.
United States
59-4984 – YCH-47B on display at the U.S. Army Transportation Museum in Fort Eustis, Virginia.
60-3451 – CH-47A on display at the United States Army Aviation Museum in Fort Rucker, Alabama.
61-2408 – CH-47A on display in a park across the street from the Don F. Pratt Memorial Museum in Fort Campbell, Kentucky.
64-13149 – ACH-47A on display at the Redstone Arsenal in Alabama.
65-7992 – Model 347 on display at the United States Army Aviation Museum in Fort Rucker, Alabama.
89-00153 – CH-47D on display at Castle Air Museum in Atwater, California.
90-00222 – CH-47D on display outside at Fort Knox, Kentucky.
Vietnam
65-8025 – CH-47A on display at the Khe Sanh Combat Museum.
66-0086 – CH-47A on display at the War Remnants Museum in Ho Chi Minh City.
66-19082 – CH-47A on display at the Vietnam Military History Museum in Hanoi.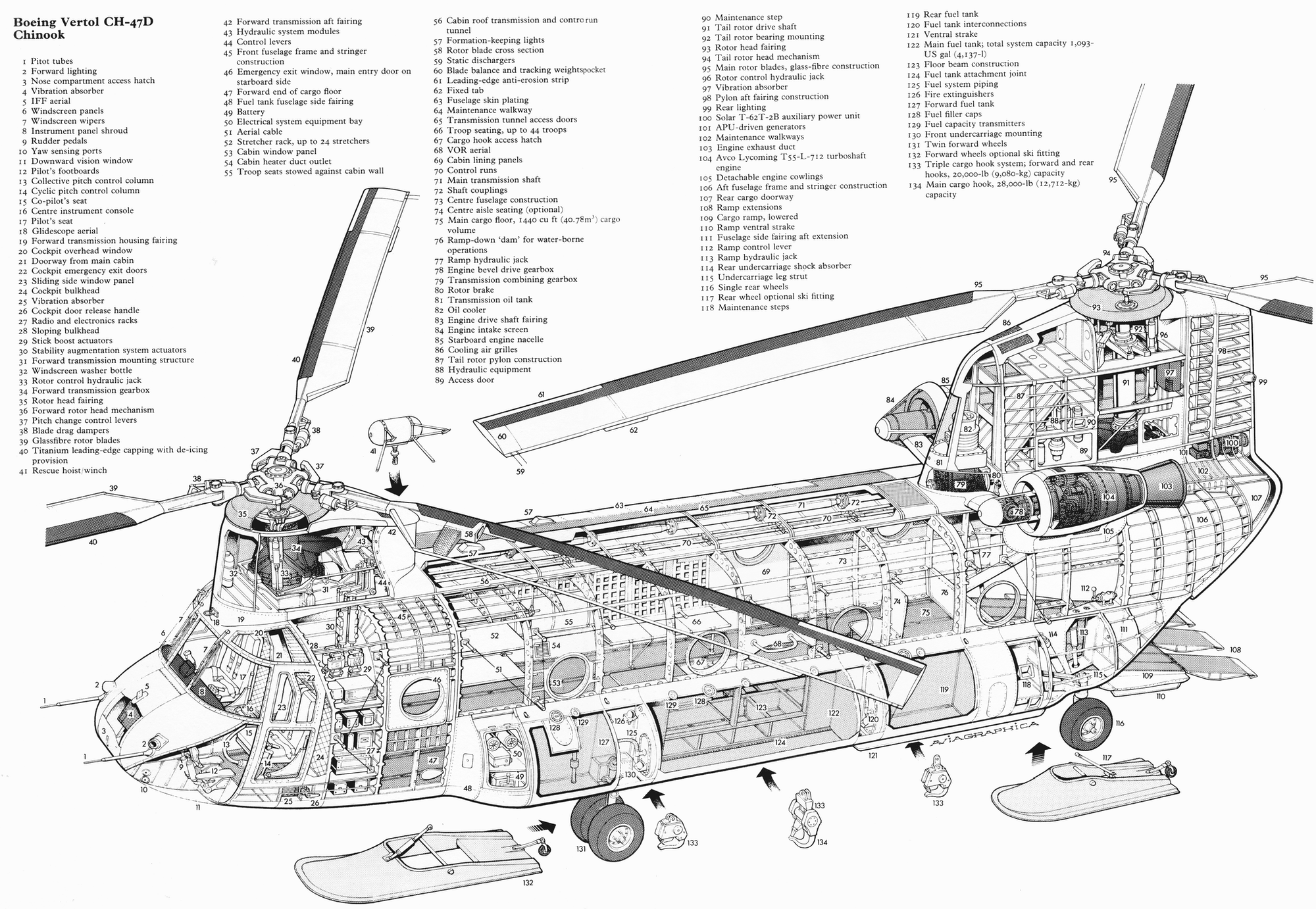 Boeing CH-47 Chinook in Action
---
Boeing CH-47 Chinook Compilation
---
US Army Introduction to the Chinook Helicopter, 1964