This is a limitation of the Mac OS X Preview program and the PDF files on our CDs and DVDs.
We always recommend our customers download and install the Adobe Acrobat Reader program and open the start.pdf file with Acrobat Reader, NOT the Mac OS X Preview program.
This is a recent security measure added to the Acrobat Reader to make the customer aware the Reader program is trying to load an external file.
In this case, you can click the checkbox to disregard the error and allow Acrobat Reader to always load the index file.
AirWingMedia discs use the index file to provide a keyword search capability across all of the magazines on the CD. This is a good thing.
Nope!  When ready to purchase, click the "Check out with Paypal" button at the bottom of the Shopping Cart page. Then enter your zip code or country on the LEFT side of the Paypal page that appears to calculate shipping and tax. IMPORTANT: Now click the "Don't Have Paypal Account?" text link on the LOWER RIGHT of that same Paypal page. That is how you can order without needing a Paypal account.
Be sure you've installed the Adobe® Acrobat Reader software.
Download the Acrobat Reader FREE from the Adobe web site now.
After installation, when you insert the Wings & Airpower CD-ROM, the main menu will auto-launch in the Adobe Acrobat Reader.
Auto-Launch only works on Windows computers. For Macintosh or other platforms, open the CD-ROM folder and double-click on the "start.pdf" main menu file.
Acrobat Reader supports linking to other files/websites and a bookmark table of contents.
Adobe's Acrobat Portable Document Format (PDF) technology allows documents to be stored, viewed, and printed using razor-sharp Postscript™ technology.
This enables our magazines to have a pristine digital quality that will last for years and years.
You can zoom in and out, search for text, and print out a full-color personal copy of each magazine (color printer required).
Open a Wings/Airpower PDF in the Acrobat Reader on your computer and then select File/Save from the Acrobat Reader main menu to save the PDFs to a new folder on your computer (preferably a folder on your Desktop so you can find it easier).
We recommend purchasing the GoodReader app from the Apple iTunes app store to view the PDFs on your iPad: https://goodreader.com
Once you have GoodReader installed on your iPad or iPhone, turn ON the Wi-Fi Transfer feature (lower-left WiFi icon in GoodReader).
Now enter this web address in to your PC or Mac web browser: http://10.0.1.9:8080 to access GoodReader file directory on your iPad.
Now you can upload each PDF you saved from the AirWingMedia DVD to the folder on your PC or Mac's Desktop to GoodReader on your iPad or iPhone.
If you have iTunes installed and your iPad connected via USB cable to your PC or Mac, you can copy the PDFs you saved to your Desktop directly into GoodReader. See the iTunes screenshot below: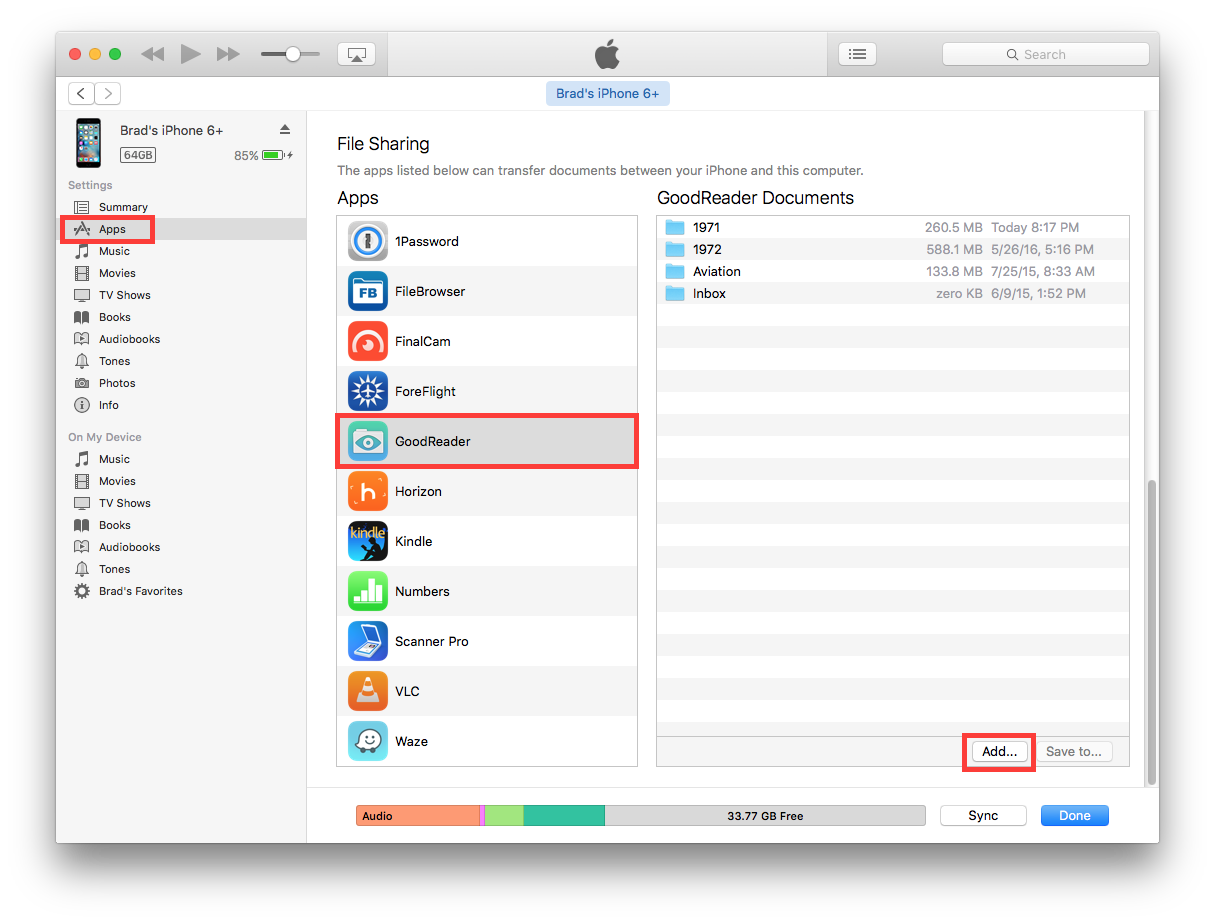 Go to our Store page: http://airwingmedia.com/store/  and click on the year or aircraft CD you want to buy (left side of page, shown below).

Once you are on the year or aircraft page you are interested in, click the orange "Add Shopping Cart" button on left side of year/aircraft page (shown below). You can go back and add other year/aircraft CDs to your shopping cart this way.

When you have all the CDs you want to buy in your shopping cart, then you click the orange "Check out with Paypal" (shown below) button on the lower left of the shopping cart page: http://airwingmedia.com/store/shopping-cart/

Note: You do not need a Paypal account. You can enter your credit card info instead to pay.
When you get to the Paypal "login" page, click the lower grey button labeled "Pay with Debit or Credit Card" (shown below).

Then fill out the "Paypal Guest Checkout" page (shown below) with your credit card and shipping info.

That's it!  We look forward to shipping your AirWingMedia discs soon!
Have a question not addressed here?