Price: $14.95
1 magazine, 5 manuals, & photos
PDF contains 1,276 pages
Content is keyword searchable
Print a personal copy
Pay via PayPal or Credit Card
International orders welcome!
Download files upon payment
Purchase This PDF
Vought F-7U Cutlass
Italy's C.R.32 Mercenary Scourge of the Spanish Civil War
Czech Avia – World's Fastest Biplane Fighter with Detailed Plans
Manuals & Photos
XF7U-1 Pilot's Handbook, 1948
F7U-1 Pilot's Handbook, 1952
F7U-3 Flight Handbook, 1952
F7U-3 Flight Handbook, 1956
F7U-3 Maintenance Instructions Handbook
Over 130 Vought F7U Cutlass photos
Vought F7U Cutlass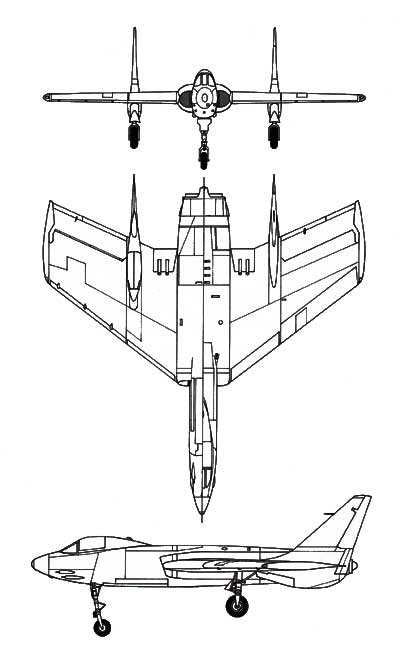 General Characteristics
Crew: 1
Length: 41 ft 3.5 in (12.586 m)
Wingspan: 39 ft 8 in (12.1 m)
Span wings folded: 22.3 ft (6.80 m)
Height: 14 ft 0 in (4.27 m)
Wing area: 496 sq ft (46.1 m2)
Empty weight: 18,210 lb (8,260 kg)
Gross weight: 26,840 lb (12,174 kg)
Max takeoff weight: 31,643 lb (14,353 kg)
Powerplant: 2 × Westinghouse J46-WE-8B after-burning turbojet engines, 4,600 lbf (20 kN) thrust each dry, 6,000 lbf (27 kN) with afterburner
Performance
Maximum speed: 606 kn (697 mph, 1,122 km/h) at sea level with Military power + afterburner
Cruise speed: 490 kn (560 mph, 910 km/h) at 38,700 ft (11,796 m) to 42,700 ft (13,015 m)
Stall speed: 112 kn (129 mph, 207 km/h) power off at take-off, 93.2 kn (173 km/h) with approach power for landing
Combat range: 800 nmi (920 mi, 1,500 km)
Service ceiling: 40,600 ft (12,375 m)
Rate of climb: 14,420 ft/min (73.3 m/s) with Military power + afterburner
Time to altitude: 20,000 ft (6,096 m) in 5.6 minutes, 30,000 ft (9,144 m) in 10.2 minutes
Wing loading: 50.2 lb/sq ft (245 kg/m2)
Thrust/weight: 0.45
Take-off run: in calm conditions 1,595 ft (486 m) with Military power + afterburner
Armament
Guns: 4 20mm M3 cannon above inlet ducts, 180 rpg
Hardpoints: 4 with a capacity of 5,500 lb (2,500 kg),with provisions to carry combinations of:

Missiles: 4 AAM-N-2 Sparrow I air-to-air missiles
XF7U-1 – Three prototypes ordered on 25 June 1946 (BuNos 122472, 122473 & 122474). First flight, 29 September 1948, all three aircraft were destroyed in crashes.
F7U-1 – The initial production version, 14 built. Powered by two J34-WE-32 engines.
F7U-2 – Proposed version, planned to be powered by two Westinghouse J34-WE-42 engines with afterburner, but the order for 88 aircraft was cancelled.
XF7U-3 – Designation given to one aircraft built as the prototype for the F7U-3, BuNo 128451. First flight: 20 December 1951.
F7U-3 – The definitive production version, 180 built. Powered by two Westinghouse J46-WE-8B turbojets. The first sixteen aircraft, including the prototype, were powered by interim J35-A-29 non-afterburning engines.
F7U-3P – Photo-reconnaissance version, 12 built. With a 25 in longer nose and equipped with photo flash cartridges none of these aircraft saw operational service, being used only for research and evaluation purposes.
F7U-3M – This missile capable version was armed with four AAM-N-2 Sparrow I air-to-air beam-riding missiles. 98 built of which 48 F7U-3 airframes under construction were upgraded to F7U-3M standard. An order for 202 additional aircraft was cancelled.
A2U-1 – Designation given to a cancelled order of 250 aircraft to be used in the ground attack role.
Seven F7U-3 Cutlass aircraft are known to have survived:
128451 – NAS North Island – San Diego, California. Prototype F7U-3. Stored awaiting cosmetic restoration. Originally slated for display at the USS Midway Museum in San Diego, California. Formerly located at the New Mexico Institute of Mining and Technology in Socorro, New Mexico.
129554 – Snohomish County Airport – Paine Field, Everett, Washington. Ex VA-212. Purchased by Len Berryman from Geiger Field, Washington in May 1958 and displayed outside the Berryman War Memorial Park in Bridgeport, Washington from 1958 until 1992. In June 1992 it was sold to Tom Cathcart of Ephrata, Washington. Sold in September 2014, and awaiting transport to Phoenix, Arizona for further restoration to airworthy condition.[13]
129565 – Grand Prairie, Texas. Ex VA-212. Under cosmetic restoration by the Vought Retirees Group for eventual display at the USS Midway Museum in San Diego, California.
129622 – Phoenix, Arizona. Ex VA-34 / VA-12 aircraft that was flown to Naval Air Reserve Training Unit (NARTU) Glenview, NAS Glenview, Illinois, where it was sporadically flown by Naval Air Reserve pilots and used for instruction of enlisted Naval Reserve aircraft maintenance personnel; ownership was then transferred to the Northbrook East Civic Association and the aircraft was moved to the Oaklane Elementary School for playground use. It was subsequently removed and dissected to be sold for its engines. Forward fuselage was part of Earl Reinart's collection in Mundelein, Illinois, while the rest of the aircraft went to J-46 dragster builder Fred Sibley in Elkhart, Indiana. Its components are currently reunited in the collection of F7U historian Al Casby.
129642 – Wings of Freedom Aviation Museum in Horsham, Pennsylvania. Ex VA-12 aircraft flown to NAS Willow Grove in May 1957 to take part in an air show. Upon arrival the aircraft was stricken from active duty. It was transferred to the Naval Reserve for use as a ground training aircraft, and eventually placed as a gate guard in front of the base on US Route 611. The airframe has only 326.3 hours total flight time. Currently undergoing cosmetic refurbishment for a return to display status.
129655 – National Naval Aviation Museum at NAS Pensacola, Florida. Ex VA-212. Cosmetically restored but incorrectly marked as an F7U-3M, this aircraft is a F7U-3. Formerly displayed at Griffith Park, California.
129685 – The aircraft collection of the late Walter Soplata in Newbury, Ohio. Ex VA-12. Demilitarized and incomplete, it is exposed to the elements and unrestored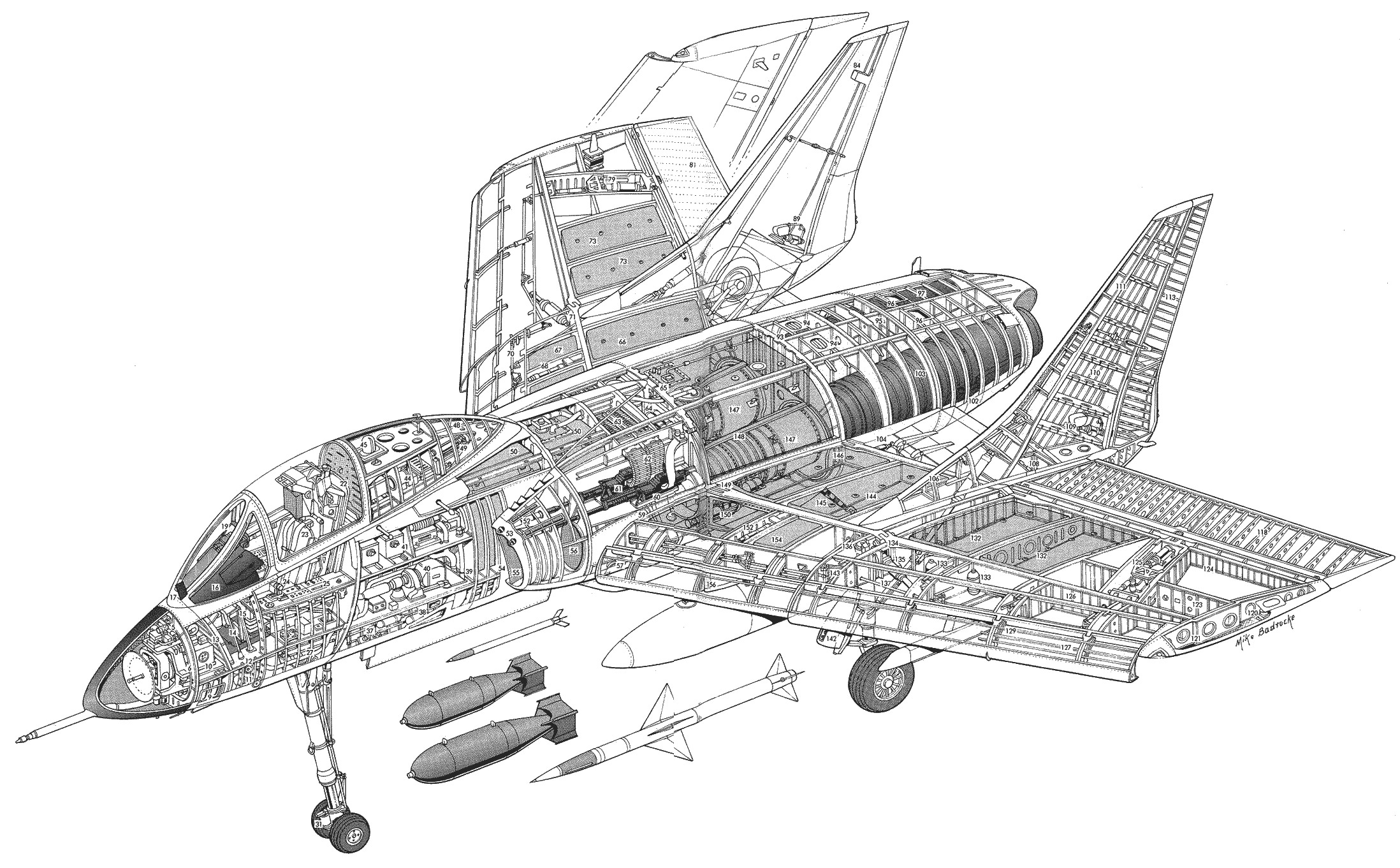 Vought F7U Cutlass Carrier Crash on USS Hancock Video
---
Vought F7U Cutlass on the U.S.S. Hancock Aircraft Carrier in San Diego, 1955
---
Great Planes: U.S Navy's Vought F7U Cutlass
---
Vought F7U Cutlass
---
Vought XF7U-1Cutlass prototype (1948)
---