Price: $24.95
8 magazines, 4 manuals, & photos
PDF contains 3,237 pages
Content is keyword searchable
Print a personal copy
Pay via PayPal or Credit Card
International orders welcome!
Download files upon payment
Purchase This PDF
F-85 Goblin, Fighter on a Trapeze
F-14 to F-20, Airpower rates combat fighters
Hollywood's Wartime Flying Films
Naval Airpower in to the 21st Century
Nuclear Carriers, Tomcats, Hornets, and Harriers vs. Soviet Threat
Top Gun at Twenty
The Real Stuff for The Right Stuff
Flying the B-1B
P-35 Gallery
Will the F-14 become the Navy's ATF?
Old Shaky, the C-124 Globemaster
Color photos of P-51 in Combat
Grumman's F-14 Tomcat
The Art of the Aerodynamicist, B-25 through F-100
Boeing B-52, The Airplane that Wouldn't Die
F-14 Tomcat and the mighty Phoenix Missile
Bell Rascal, Was it the first air-launched cruise missile?
50th anniversary of midair collision over the Grand Canyon
Special Farewell to the F-14
Fifth annual edition of Aviation Advertisements
Plowshares in to Swords
The making of Top Gun
Civil airplanes in uniform
PanAm Stratocruiser Pacific Ditching
Manuals & Photos
F-14A Preliminary Flight Manual 1972
F-14D Flight Manual 1997
F-14D Flight Manual 2004
F-14B Pocket Checklist
Over 100 F-14 photos
Grumman F-14 Tomcat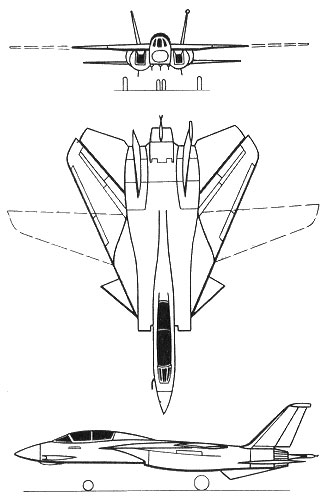 General Characteristics
Crew: 2 (Pilot and Radar Intercept Officer)
Length: 62 ft 9 in (19.1 m)
Wingspan: Spread: 64 ft (19.55 m), Swept: 38 ft (11.58 m)
Height: 16 ft (4.88 m)
Wing area: 565 ft² (54.5 m²)
Airfoil: NACA 64A209.65 mod root, 64A208.91 mod tip
Empty weight: 43,735 lb (19,838 kg)
Loaded weight: 61,000 lb (27,700 kg)
Max. takeoff weight: 74,350 lb (33,720 kg)
Powerplant: 2 × General Electric F110-GE-400 afterburning turbofans
Dry thrust: 13,810 lbf (61.4 kN) each
Thrust with afterburner: 27,800 lbf (123.7 kN) each
Maximum fuel capacity: 16,200 lb internal; 20,000 lb with 2x 267 gallon external tanks
Performance
Maximum speed: Mach 2.34 (1,544 mph, 2,485 km/h) at high altitude
Combat radius: 500 nmi (575 mi, 926 km)
Ferry range: 1,600 nmi (1,840 mi, 2,960 km)
Service ceiling: 50,000+ ft (15,200 m)
Rate of climb: >45,000 ft/min (229 m/s)
Wing loading: 113.4 lb/ft² (553.9 kg/m²)
Thrust/weight: 0.92
Armament
Guns: 1× 20 mm (0.787 in) M61A1 Vulcan 6-barreled Gatling cannon, with 675 rounds
Hardpoints: 10 total: 6× under-fuselage, 2× under nacelles and 2× on wing gloves with a capacity of 14,500 lb (6,600 kg) of ordnance and fuel tanks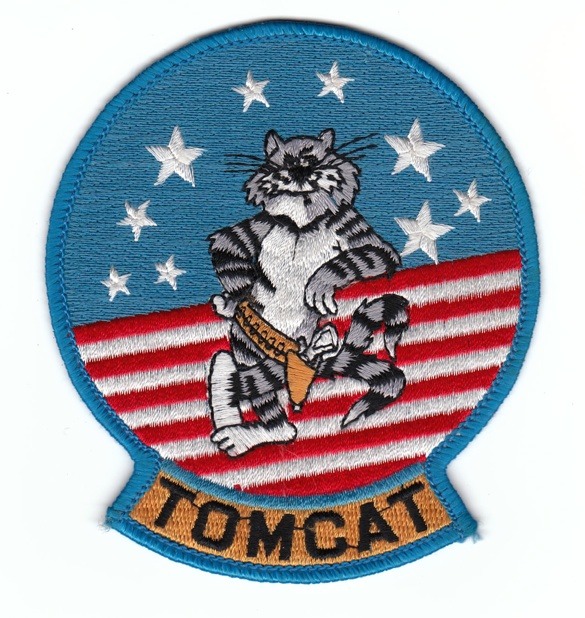 Missiles
Air-to-air missiles: AIM-54 Phoenix, AIM-7 Sparrow, AIM-9 Sidewinder
Loading configurations
2× AIM-9 + 6× AIM-54 (Rarely used due to weight stress on airframe)
2× AIM-9 + 2× AIM-54 + 3× AIM-7 (Most common load during Cold War era)
2× AIM-9 + 4× AIM-54 + 2× AIM-7
2× AIM-9 + 6× AIM-7
4× AIM-9 + 4× AIM-54
4× AIM-9 + 4× AIM-7
Bombs
JDAM precision-guided munition (PGMs)
Paveway series of laser-guided bombs
Mk 80 series of unguided iron bombs
Mk 20 Rockeye II
Others
Tactical Airborne Reconnaissance Pod System (TARPS)
LANTIRN targeting pod
2× 267 US gal (1,010 l; 222 imp gal) drop tanks for extended range/loitering time
Avionics
Hughes AN/APG-71 radar
AN/ASN-130 INS, IRST, TCS
Remotely Operated Video Enhanced Receiver (ROVER) upgrade
F-14A
157982 – Cradle of Aviation Museum, Garden City, New York. Prototype #3 Nonstructural Demonstration Testbed.
157984 – National Naval Aviation Museum, Naval Air Station Pensacola, Florida. Fifth F-14 manufactured and one of the prototypes used in flight testing. Mounted on pedestal at entrance to museum.
157988 – NAS Oceana Air Park, Virginia.
157990 – March Field Air Museum, Riverside, California.
158623 – Naval Base Ventura County, NAS Point Mugu, California. Pedestal mount at Front Gate Airpark.
158978 – USS Midway Museum, San Diego, California.
158985 – Yanks Air Museum, Chino, California.
158998 – Air Victory Museum, Lumberton, New Jersey.
158999 – Naval Air Station Joint Reserve Base Fort Worth (former Carswell AFB), Fort Worth, Texas.
159025 – Patriot's Point Naval and Maritime Museum, Charleston, South Carolina.
159445 – Naval Station Norfolk (former Naval Air Station Norfolk) East Gate Airpark, Virginia.
159448 – Naval Inventory Control Point, Pennsylvania.
159455 – NAS Patuxent River, Lexington Park, Maryland. Former VX-23 flight test squadron aircraft.
159600 – Fort Worth Aviation Museum, Fort Worth, Texas
159620 – NAF El Centro, California.
159626 – Naval Strike and Air Warfare Center, Naval Air Station Fallon, Nevada.
159631 – San Diego Aerospace Museum, San Diego, California.
159829 – Wings Over the Rockies Air and Space Museum, former Lowry AFB, Denver, Colorado. From VF-211, later used for aircraft maintenance training by Naval Air Reserve Center Denver at Buckley AFB.
159830 – Western Museum of Flight, Hawthorne, California.
159848 – Tillamook Air Museum, Tillamook, Oregon.
159853 – Defense Supply Center Richmond, Richmond, Virginia.
159856 – Naval Air Facility El Centro, California.
160382 – Museum of Flight, Tukwila, Washington. VF-84 "Jolly Rogers" AJ202. Stationed on the USS Nimitz. This aircraft, as well as several other F-14As from the famous "Jolly Rogers" squadron, appear in the 1980 film The Final Countdown which was filmed on board the USS Nimitz. On loan from the National Museum of Naval Aviation at Pensacola, Florida.
160386 – Naval Air Station Joint Reserve Base Willow Grove, Pennsylvania.
160391 – Texas Air Museum, Lubbock, Texas.
160395 – Air Zoo, Kalamazoo, Michigan.
160401 – Fleet Area Control and Surveillance Facility Virginia Capes (FACSFAC VACAPES), Naval Air Station Oceana, Virginia.
160403 – American Airpower Heritage Museum, Midland, Texas.
160411 – Empire State Aerosciences Museum, Glenville, New York.
160658 – NAES Lakehurst, New Jersey.
160661 – U.S. Space and Rocket Center's Aviation Challenge facility in Huntsville, Alabama.
160666 – Western Aerospace Museum, Oakland, California. Originally delivered to VF-111 in 1978, subsequently reassigned to NAVAIR test duties, permanently modified for development of follow-on avionics and weapons systems.
160684 – Pima Air and Space Museum, adjacent to Davis-Monthan AFB, Tucson, Arizona. Repainted in its original markings as "NL 211" of VF-111 aboard USS KITTY HAWK (CV-63), as this particular aircraft appeared in its initial operational squadron service, circa 1978-1981.
160694 – USS Lexington Museum, Corpus Christi, Texas. – Painted with Hi-Vis markings of VF-103 "Jolly Rogers". Aircraft is on loan from the National Museum of Naval Aviation at NAS Pensacola, Florida.
160889 – Pacific Coast Air Museum at Charles M. Schulz Sonoma County Airport, Santa Rosa, California.
160898 – Palm Springs Air Museum, Palm Springs, California.
160902 – Riverhead, New York.
160903 – Mid-America Air Museum, Liberal Mid-America Regional Airport, Liberal, Kansas.
160909 – Dobbins Air Reserve Base, Atlanta, Georgia.
160914 – Willmar Municipal Airport, Wilmar, Minnesota
161134 – Valiant Air Command Warbird Museum, Space Coast Regional Airport, Titusville, Florida.
161163 – Prairie Aviation Museum, Bloomington, Illinois. Depot Level Conversion performed September 1991. Retired as MODEX 205 of Fighter Squadron 213 (VF-213), Black Lions.
162591 – Quonset Air Museum, Quonset State Airport (former Naval Air Station Quonset Point), North Kingstown, Rhode Island.
162592 – Ronald Reagan Presidential Foundation and Library (Painted Buno 160403).
162608 – Southern Museum of Flight, Birmingham, Alabama.
162689 – USS Hornet (CV-12), USS Hornet Museum, former Naval Air Station Alameda, Alameda, California.
162694 – MAPS Air Museum, North Canton, Ohio.
162710 – National Naval Aviation Museum, Naval Air Station Pensacola, Florida.
F-14B
157986 – USS Intrepid (CV-11), Intrepid Sea-Air-Space Museum, Manhattan, New York. 7th Tomcat built, retained as research and development airframe.
161598 – Tulsa Air and Space Museum, Tulsa, Oklahoma. It has VF-41 "Black Aces" markings.
161605 – Wings of Eagles Discovery Center/National Warplane Museum, Horseheads, New York.
161615 – Combat Air Museum, Topeka, Kansas.
161620 – Selfridge Military Air Museum, Selfridge Air National Guard Base, Mount Clemens, Michigan.
161623 – Patuxent River Naval Air Museum, Naval Air Station Patuxent River, Lexington Park, Maryland. It is a former VX-23 flight test squadron aircraft.
162912 – Grissom Air Museum, Grissom Air Reserve Base (former Grissom AFB), Indiana.
162916 – Richard J. Goss Post #8896, East Berlin, Pennsylvania.
162926 – New England Air Museum, Windsor Locks, Connecticut.
F-14D(R)
159600 – OV-10 Bronco Museum, Fort Worth, Texas. On loan from the National Museum of Naval Aviation, NAS Pensacola, Florida. Nicknamed "Christine", it was the longest-serving F-14 Tomcat in U.S. Navy. Remanufactured from F-14A to F-14D(R) configuration, it was originally built in 1976 and made the final combat deployment/cruise of the F-14 in 2006.
159610 – Smithsonian National Air & Space Museum, Steven F. Udvar-Hazy Center, Chantilly, Virginia. This F-14 was one of those involved in the second Gulf of Sidra incident.
159619 – Florida Air Museum at Sun 'n Fun, Lakeland Linder Regional Airport, Lakeland, Florida.
161159 – National Naval Aviation Museum, Naval Air Station Pensacola, Florida. Completed the last combat flight and the last combat carrier arrested landing (trap) by a U.S. Navy F-14.
161166 – Carolinas Aviation Museum, Charlotte, North Carolina.
162595 – Naval Test Wing Atlantic, Naval Air Station Patuxent River, Maryland.
F-14D
163893 – main gate, Arnold Engineering and Development Center, Arnold AFB, Tennessee.
163897 – Aerospace Museum of California, McClellan Airfield (former McClellan AFB and current Coast Guard Air Station Sacramento), Sacramento, California.
163902 – Hickory Aviation Museum at Charlotte Douglas International Airport, Hickory, North Carolina. VF-31 Tomcatters aircraft Modex number 107; flew the F-14 retirement ceremony with LCDR Chris Richard and LT Mike Petronis at the controls.
163904 – Pacific Aviation Museum, Ford Island, Joint Base Pearl Harbor-Hickam, Hawaii.
164342 – Wings Over Miami, Miami, Florida.
164343 – Evergreen Aviation Museum, McMinnville, Oregon.
164346 – Virginia Aviation Museum, Richmond, Virginia. On loan from National Museum of Naval Aviation, Pensacola, Florida. Last Tomcat to operationally trap aboard a U.S. Navy aircraft carrier.
164350 – Texas Aviation Hall of Fame, Galveston, Texas.
164601 – Castle Air Museum at former Castle AFB, Atwater, California.
164603 – Grumman Headquarters, Bethpage, New York. Felix 101 from VF-31 is the last Tomcat to fly in U.S. Navy service. Final flight was from NAS Oceana, Virginia to the American Airpower Museum at Republic Airport Long Island, New York on 4 October 2006 were it was displayed for a year and a half before being moved to Grumman Plant 25.
164604 – NAS Oceana Memorial Park, Naval Air Station Oceana, Virginia. Last F-14 manufactured, assigned to VX-4, later VX-9, at Naval Air Station Point Mugu, California during its operational service and used the callsign "Vandy 1".
F-14A
The F-14A was the initial two-seat all-weather interceptor fighter variant for the U.S. Navy. It first flew on 21 December 1970. The first 12 F-14As were prototype versions (sometimes called YF-14As). Modifications late in its service life added precision strike munitions to its armament. The U.S. Navy received 478 F-14A aircraft and 79 were received by Iran. The final 102 F-14As were delivered with improved TF30-P-414A engines. Additionally, an 80th F-14A was manufactured for Iran, but was delivered to the U.S. Navy.
F-14B
The F-14 received its first of many major upgrades in March 1987 with the F-14A Plus (or F-14A+). The F-14A's P&W TF30 engine was replaced with the improved GE F110-GE400 engine. The F-14A+ also received the state-of-the-art ALR-67 Radar Homing and Warning (RHAW) system. Much of the avionics as well as the AWG-9 radar were retained. The F-14A+ was later redesignated F-14B on 1 May 1991. A total of 38 new aircraft were manufactured and 48 F-14A were upgraded into B variants.
The TF30 had been plagued from the start with susceptibility to compressor stalls at high AoA and during rapid throttle transients or above 30,000 ft (9,100 m). The F110-GE400 engine provided a significant increase in thrust, producing 30,200 lbf (134 kN) with afterburner at sea level. The increased thrust gave the Tomcat a better than 1:1 thrust-to-weight ratio at low fuel quantities. The basic engine thrust without afterburner was powerful enough for carrier launches, further increasing safety. Another benefit was allowing the Tomcat to cruise comfortably above 30,000 ft (9,100 m), which increased its range and survivability. The F-14B arrived in time to participate in Desert Storm.
In the late 1990s, 67 F-14Bs were upgraded to extend airframe life and improve offensive and defensive avionics systems. The modified aircraft became known as F-14B Upgrade or as "Bombcat".
F-14D
The final variant of the F-14 was the F-14D Super Tomcat. The F-14D variant was first delivered in 1991. The original TF-30 engines were replaced with GE F110-400 engines, similar to the F-14B. The F-14D also included newer digital avionics systems including a glass cockpit and replaced the AWG-9 with the newer AN/APG-71 radar. Other systems included the Airborne Self Protection Jammer (ASPJ), Joint Tactical Information Distribution System (JTIDS), SJU-17(V) Naval Aircrew Common Ejection Seats (NACES) and Infra-red search and track (IRST).
Although the F-14D was to be the definitive version of the Tomcat, not all fleet units received the D variant. In 1989, Secretary of Defense Dick Cheney refused to approve the purchase of any more F-14D model aircraft for $50 million each and pushed for a $25 million modernization of the F-14 fleet instead. Congress decided not to shut production down and funded 55 aircraft as part of a compromise. A total of 37 new aircraft were completed, and 18 F-14A models were upgraded to D-models, designated F-14D(R) for rebuild.[18] An upgrade to the F-14D's computer software to allow AIM-120 AMRAAM missile capability was planned but was later terminated.
While upgrades had kept the F-14 competitive with modern fighter aircraft technology, Cheney called the F-14 1960s technology. Despite an appeal from the Secretary of the Navy for at least 132 F-14Ds and some aggressive proposals from Grumman for a replacement, Cheney planned to replace the F-14 with a fighter that was not manufactured by Grumman. Cheney called the F-14 a "jobs program", and when the F-14 was canceled, an estimated 80,000 jobs of Grumman employees, subcontractors, or support personnel were affected. Starting in 2005, some F-14Ds received the ROVER III upgrade.
Projected variants
The first F-14B was to be an improved version of the F-14A with more powerful "Advanced Technology Engine" F401 turbofans. The F-14C was a projected variant of this initial F-14B with advanced multi-mission avionics.[74] Grumman also offered an interceptor version of the F-14B in response to the U.S. Air Force's Improved Manned Interceptor Program to replace the Convair F-106 Delta Dart as an Aerospace Defense Command interceptor in the 1970s. The F-14B program was terminated in April 1974.
Grumman proposed a few improved Super Tomcat versions. The first was the Quickstrike, which was an F-14D with navigational and targeting pods, additional attach points for weapons, and added ground attack capabilities to its radar. The Quickstrike was to fill the role of the A-6 Intruder after it was retired. This was not considered enough of an improvement by Congress, so the company shifted to the Super Tomcat 21 proposed design. The Super Tomcat 21 was a proposed lower cost alternative to the Navy Advanced Tactical Fighter (NATF). The Grumman design would have the same shape and body as the Tomcat, and an upgraded AN/APG-71 radar. New GE F110-129 engines were to provide a supercruise speed of Mach 1.3 and featured thrust vectoring nozzles. The version would have increased fuel capacity and modified control surfaces for improved takeoffs and lower landing approach speed. The Attack Super Tomcat 21 version was the last Super Tomcat proposed design. It added even more fuel capacity, more improvements to control surfaces, and possibly an active electronically scanned array (AESA) radar from the canceled A-12 attack aircraft.
The last "Tomcat" variant was the ASF-14 (Advanced Strike Fighter-14), Grumman's replacement for the NATF concept. By all accounts, it would not be even remotely related to the previous Tomcats save in appearance, incorporating the new technology and design know-how from the Advanced Tactical Fighter (ATF) and Advanced Tactical Aircraft (ATA) programs. The ASF-14 would have been a new-build aircraft; however, its projected capabilities were not that much better than that of the (A)ST-21 variants. In the end the Attack Super Tomcat was considered to be too costly. The Navy decided to pursue the cheaper F/A-18E/F Super Hornet to fill the fighter-attack role.