Price: $14.95
4 magazines, 4 manuals, & photos
PDF contains 3,326 pages
Content is keyword searchable
Print a personal copy
Pay via PayPal or Credit Card
International orders welcome!
Download files upon payment
Purchase This PDF
F/A-18 Hornet Special Edition
Canadian CF-18 Hornet
Convair's B-36 "Aluminum Overcast"
MiG-29 Fulcrum
Marine F/A-18 Hornets over Bosnia
Racing the P-63 Kingcobra from the Thompson Trophy
The Great Boeing B-29 Stratofortress Fire Storm Raids
Riding the Contrails of the Navy's Blue Angels
Rating WWII's Major Air Forces
Manuals & Photos
F-18E/F Performance Data
F-18E/F Flight Manual
F-18A/B/C/D Flight Manual
EA-18 Flight Manual
Over 960 Photos!
McDonnell Douglas F/A-18 Hornet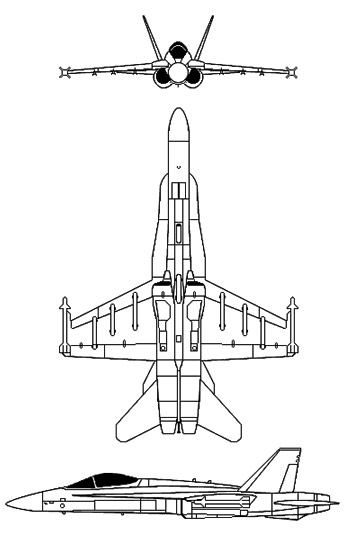 General characteristics
Crew: F/A-18C: 1, F/A-18D: 2 (pilot and weapons system officer)
Length: 56 ft (17.1 m)
Wingspan: 40 ft (12.3 m)
Height: 15 ft 4 in (4.7 m)
Wing area: 400 ft² (38 m²)
Airfoil: NACA 65A005 mod root, 65A003.5 mod tip
Empty weight: 23,000 lb (10,400 kg)
Loaded weight: 36,970 lb (16,770 kg)
Max. takeoff weight: 51,900 lb (23,500 kg)
Powerplant: 2 × General Electric F404-GE-402 turbofans

Dry thrust: 11,000 lbf (48.9 kN) each
Thrust with afterburner: 17,750 lbf (79.2 kN) each

Fuel capacity: 10,860 pounds (4,930 kg) internally
Performance
Maximum speed:

High altitude: Mach 1.8 (1,034 knots, 1,190 mph, 1,915 km/h) at 40,000 ft (12,190 m)
Low altitude: Mach 1.2 (795 knots, 915 mph, 1,473 km/h)

[121]

Range: 1,089 nmi (1,250 miles, 2,000 km)  with only two AIM-9s
Combat radius: 400 nmi (460 mi (740 km))  on air-air mission
Ferry range: 1,800 nmi (2,070 mi (3,330 km))
Service ceiling: 50,000 ft (15,240 m)
Rate of climb: 50,000 ft/min (254 m/s)
Wing loading: 93 lb/ft² (454 kg/m²)
Thrust/weight: 0.96 (1.13 with loaded weight & 50% internal fuel)
Armament
Guns: 1× 20 mm (0.787 in) M61A1 Vulcan nose mounted 6-barreled Gatling cannon, 578 rounds
Hardpoints: 9 total: 2× wingtips missile launch rail, 4× under-wing, and 3× under-fuselage with a capacity of 13,700 pounds (6,200 kg) external fuel and ordnance
Rockets: **2.75 inches (70 mm) Hydra 70 rockets

5 in (127.0 mm) Zuni rockets

Missiles:

Air-to-air missiles:

4× AIM-9 Sidewinder or 4× AIM-132 ASRAAM or 4× IRIS-T or 4× AIM-120 AMRAAM and
2× AIM-7 Sparrow or 2× AIM-120 AMRAAM

Air-to-surface missiles:

AGM-65 Maverick
AGM-84H/K Standoff Land Attack Missile Expanded Range (SLAM-ER)
AGM-88 HARM Anti-radiation missile (ARM)
AGM-154 Joint Standoff Weapon (JSOW)
AGM-158 Joint Air-to-Surface Standoff Missile (JASSM)
Taurus missile Cruise missile

Anti-ship missile:

Bombs:

B61 nuclear bomb
JDAM precision-guided munition (PGMs)
Paveway series of laser-guided bombs
Mk 80 series of unguided iron bombs
CBU-78 Gator
CBU-87 Combined Effects Munition
CBU-97 Sensor Fuzed Weapon
Mk 20 Rockeye II

Others:

SUU-42A/A Flares/Infrared decoys dispenser pod and chaff pod or
Electronic countermeasures (ECM) pod or
AN/AAS-38 Nite Hawk Targeting pods (US Navy only), to be replaced by AN/ASQ-228 ATFLIR or
LITENING targeting pod (USMC, Royal Australian Air Force, Spanish Air Force, and Finnish Air Force only) or
up to 3× 330 US gallons (1,200 l; 270 imp gal) Sargent Fletcher drop tanks for ferry flight or extended range/loitering time.
Avionics
Hughes APG-73 radar
ROVER (Remotely Operated Video Enhanced Receiver) antenna for use by US Navy's F/A-18C strike fighter squadrons
YF-18A
160780 – Virginia Air and Space Center, Hampton, Virginia.
F/A-18
161353 – Patuxent River Naval Air Museum, Lexington Park, Maryland.
161725 – Hill Aerospace Museum, Hill AFB, Utah.
161749 – Flying Leatherneck Aviation Museum, MCAS Miramar, California.
161942 – USS Lexington Museum on The Bay, Corpus Christi, Texas. Aircraft painted as Blue Angels #1. On loan from the National Museum of Naval Aviation in Pensacola, Florida.
162430 – Palm Springs Air Museum, Palm Springs, California.
162454 – NAS Oceana Air Park, Virginia.
162826 – Fort Worth Aviation Museum, Fort Worth, Texas. Aircraft painted as Blue Angels #3.
162901 – San Diego Aircraft Carrier Museum, San Diego, California.
163119 – Defense Supply Center Richmond, Richmond, Virginia.
163157 – MCAS Beaufort, South Carolina.
163486 – MCAS Beaufort, South Carolina. F/A-18D painted as VMFA(AW)-533 CO bird, aircraft 01 at the officer's club
160775 – On display at the The U.S. Naval Museum of Armament and Technology, NAWS China Lake, California.(F-18A-1-MC)
A/B
The F/A-18A is the single-seat variant and the F/A-18B is the two-seat variant. The space for the two-seat cockpit is provided by a relocation of avionics equipment and a 6% reduction in internal fuel; two-seat Hornets are otherwise fully combat-capable. The B-model is used primarily for training.
In 1992, the original Hughes AN/APG-65 radar was replaced with the Hughes (now Raytheon) AN/APG-73, a faster and more capable radar. A-model Hornets that have been upgraded to the AN/APG-73 are designated F/A-18A+.
C/D
The F/A-18C is the single-seat variant and the F/A-18D is the two-seat variant. The D-model can be configured for training or as an all-weather strike craft. The "missionized" D model's rear seat is configured for a Marine Corps Naval Flight Officerwho functions as a Weapons and Sensors Officer to assist in operating the weapons systems. The F/A-18D is primarily operated by the U.S. Marine Corps in the night attack and Forward Air Controller (Airborne) (FAC(A)) roles.[79]
The F/A-18C and D models are the result of a block upgrade in 1987[12] incorporating upgraded radar, avionics, and the capacity to carry new missiles such as the AIM-120 AMRAAM air-to-air missile and AGM-65 Maverick[8] and AGM-84 Harpoon air-to-surface missiles. Other upgrades include the Martin-Baker NACES (Navy Aircrew Common Ejection Seat), and a self-protection jammer. A synthetic aperture ground mapping radar enables the pilot to locate targets in poor visibility conditions. C and D models delivered since 1989 also have improved night attack abilities, consisting of the Hughes AN/AAR-50 thermal navigation pod, the Loral AN/AAS-38 NITE Hawk FLIR (forward looking infrared array) targeting pod, night vision goggles, and two full-color (formerly monochrome) multi-function display (MFDs) and a color moving map.
In addition, 60 D-model Hornets are configured as the night attack F/A-18D (RC) with ability for reconnaissance. These could be outfitted with the ATARS electro-optical sensor package that includes a sensor pod and equipment mounted in the place of the M61 cannon.
Beginning in 1992, the F404-GE-402 enhanced performance engine, providing approximately 10% more maximum static thrust became the standard Hornet engine. Since 1993, the AAS-38A NITE Hawk added a designator/ranger laser, allowing it to self-mark targets. The later AAS-38B added the ability to strike targets designated by lasers from other aircraft.
Production of the C- and D- models ended in 2000. The last F/A-18C was assembled in Finland and delivered to the Finnish Air Force in August 2000. The last F/A-18D was delivered to the U.S. Marine Corps in August 2000.
E/F Super Hornet
The single-seat F/A-18E and two-seat F/A-18F Super Hornets carry over the name and design concept of the original F/A-18, but have been extensively redesigned. The Super Hornet has a new, 25% larger airframe, larger rectangular air intakes, more powerful GE F414 engines based on F/A-18's F404, and upgraded avionics suite. Like the Marine Corps' F/A-18D, the Navy's F/A-18F carries a Naval Flight Officer as a second crew member in a Weapons Systems Officer (WSO) role. The Super Hornet is also operated by Australia.
G Growler
The EA-18G Growler is an electronic warfare version of the two-seat F/A-18F, which entered production in 2007. The Growler is replacing the Navy's EA-6B Prowler and carries a Naval Flight Officer as a second crewman in an Electronic Countermeasures Officer (ECMO) role.
Other US variants
F-18(R)

This was a proposed reconnaissance version of the F/A-18A. It included a sensor package that replaced the 20 mm cannon. The first of two prototypes flew in August 1984. Small numbers were produced.
RF-18D

Proposed two-seat reconnaissance version for the US Marine Corps in the mid-1980s. It was to carry a radar reconnaissance pod. The system was canceled after it was unfunded in 1988. This ability was later realized on the F/A-18D(RC).
TF-18A

Two-seat training version of the F/A-18A fighter, later redesignated F/A-18B.
F-18 HARV

Single-seat High Alpha Research Vehicle for NASA. High angles of attack using thrust vectoring, modifications to the flight controls, and forebody strakes
X-53 Active Aeroelastic Wing

A NASA F/A-18 has been modified to demonstrate the Active Aeroelastic Wing technology, and was designated X-53 in December 2006.
Export variants
F-18L
This was a lighter land-based version of the F/A-18 Hornet. It was designed to be a single-seat air-superiority fighter and ground-attack aircraft. It was originally intended to be assembled by Northropas the export version of the F/A-18 Hornet. The F-18L was lighter via removing carrier landing capability. Despite the advantages, customers preferred the standard Hornet, and the F-18L never entered mass production.
(A)F/A-18A/B
(A)F/A-18A: Single-seat fighter/attack version for the Royal Australian Air Force.
(A)F/A-18B: Two-seat training version for the Royal Australian Air Force.
"F/A-18A" was the original company designation, designations of "AF-18A" & "ATF-18A" have also been applied. Assembled in Australia (excluding the first two (A)F/A-18Bs) by Aero-Space Technologies of Australia (ASTA) from 1985 through to 1990, from kits produced by McDonnell Douglas with increasing local content in the later aircraft. Originally the most notable differences between an Australian (A)F/A-18A/B and a US F/A-18A/B were the lack of a catapult attachment, replacing the carrier tailhook with a lighter land arresting hook, and the automatic carrier landing system with an Instrument Landing System. Australian Hornets have been involved in several major upgrade programs. This program called HUG (Hornet Upgrade) has had a few evolutions over the years. The first was to give Australian Hornets F/A-18C model avionics. The second and current upgrade program (HUG 2.2) updates the fleet's avionics even further.
CF-18 Hornet
CF-18A: Single-seat fighter/attack version for the Royal Canadian Air Force. The official Canadian designation is CF-188A Hornet.
CF-18B: Two-seat training and combat version for the Royal Canadian Air Force. The official Canadian designation is CF-188B Hornet.
EF-18 Hornet
EF-18A: Single-seat fighter/attack version for the Spanish Air Force. The Spanish Air Force designation is C.15.
EF-18B: Two-seat training version for the Spanish Air Force. The Spanish Air Force designation is CE.15.
KAF-18 Hornet
KAF-18C: Single-seat fighter/attack version for the Kuwait Air Force
KAF-18D: Two-seat training version for the Kuwait Air Force
F-18C/D Hornet
The Finnish Air Force uses F/A-18C/D Hornets, with a Finland-specific mid-life update. The first seven Hornets (D models) were produced by McDonnell Douglas.

 The 57 single-seat F-18C model units were assembled by Patria in Finland.
F-18C/D Hornet
Switzerland uses F-18C/D, later Swiss specific mid-life update. The Swiss F-18s had no ground attack capability originally, until hardware was retrofitted.