Bonus 1971 Content!
This CD features a completely restored special edition of the first edition of Airpower magazine, September 1971 Volume 1, Number 1
That's 13 feature-packed magazines for the same low price!
Whistling Death – An exclusive intervew with the F4U Corsair's Chief Test Pilot

Northrop BT-1 – The fleet's first modern diver bomber

History's Forgotten Fighter – Bell's futuristic Airacuda, the bomber slayer

Geneology of the Tin Goose – Five decades with the Ford Trimotor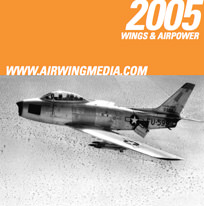 New Price! $29.95
CD contains 12 magazines
That's $2.50 per magazine!
All in Acrobat PDF format
Content is keyword searchable
Print a personal copy
Allow 1 week for US delivery
Bell X-2 – First airplane to fly Mach 3
P-47s over Berlin, 1946
Factory Fresh: B-24
Boeing 314 In Detail
F-117 Stealth Fighter: A Wings Exclusive!
Convair YB-60 – Could it compete with the Stratofortress?
Hughes XF-11 – Twin-Engine Ship of Doom
Me-262 – First Jet Fighter, the real story
Boeing's Flying Wings – Would they have had a chance in World War II?
Factory Fresh: F-104 Starfighter
Caravelle! World's first rear-engine jet
Turboprops – Why didn't these advanced designs ever succeed?
Class of '56 – It was a good year for new planes
Bat-Eye Squadron – Marine night fighters of WWII
Blitzkrieg over Muroc – Part II of our series on testing the German jets
XP-58 Chain Lightning – Son of P-38
XF-90, XF-91, XF-92 – Were they really failures?
Aviation Promo – Rare gems from the golden age of public relations
Experimental fighters of the fifties!
The Art of Jack Leynnwood – King of the Boxtops!
Hybrid Jets – Were they really the best of both worlds?
JATO Takeoffs – Thrust you can trust
P-61 Black Widow
History of InFlight Refueling – From C-1 to KC-10
WWI ACE! Fighter pilot from the past
Tail Design – The long and short of it
XB-70 – Rollout and First Flight
Lockheed U2 – 50th Anniversary Special
Aviation Advertising – 4th Annual Issue
50th Anniversary of the U2
Paul Mantz & Frank Tallman – Aviation's Movieland Legends
Factory Fresh: F-100 Super Sabre
F-105 Color Portfolio
Lockheed Starlifter – Venerable Jet-Powered Skytruck Finally Retires
Miami Clippers – The Story of Pan Am's First Seaplane Base
Good, Better, Best – How Jet Aircraft Designs Evolve
X-15 Pilots in Space – Were NASA's Pilots the First True Civilian Astronauts?
'Popeye' Intercept – The Cold War's First Hunter/Killer Jet
80 Years since Doolittle won the Schneider Cup Races
F-86D Sabre Dog
Special Issue – Salute to the U.S. Air Force
Top Ten Best USAF Planes!
Hughes XF-11 vs. Republic XF-12
"Hun Heaven" – A fond look back at the F-100