Price: $12.95
4 magazines, 2 manuals, & photos
PDF contains 690 pages
Content is keyword searchable
Print a personal copy
Pay via PayPal or Credit Card
International orders welcome!
Download files upon payment
Purchase This PDF
The B-45 Tornado, World's First Operational Jet Bomber
The First, Last, and Only – Douglas B-42/43 Prototypes
Kingcobra, solving the mystery of Bell's P-63 Fighter
Nieuport Chronicles, WWI's Premier Ace Maker
Getting the most from your Minecraft P-51D Mustang model
USAF Big Iron bombers, 1940-1990
Fleet Ranger, the Edo XOSE-1 seaplane
Missile From Mojave, The F-104 Starfighter
Midnight Mission, The RB-45
America's Great Jet Bomber Fly Off!
Manuals & Photos
B-45A/C Operating Instructions, 1949
RB-45C Operating Instructions, 1953
Over 290 photos of the B-45 Tornado
North American Aviation B-45 Tornado
General Characteristics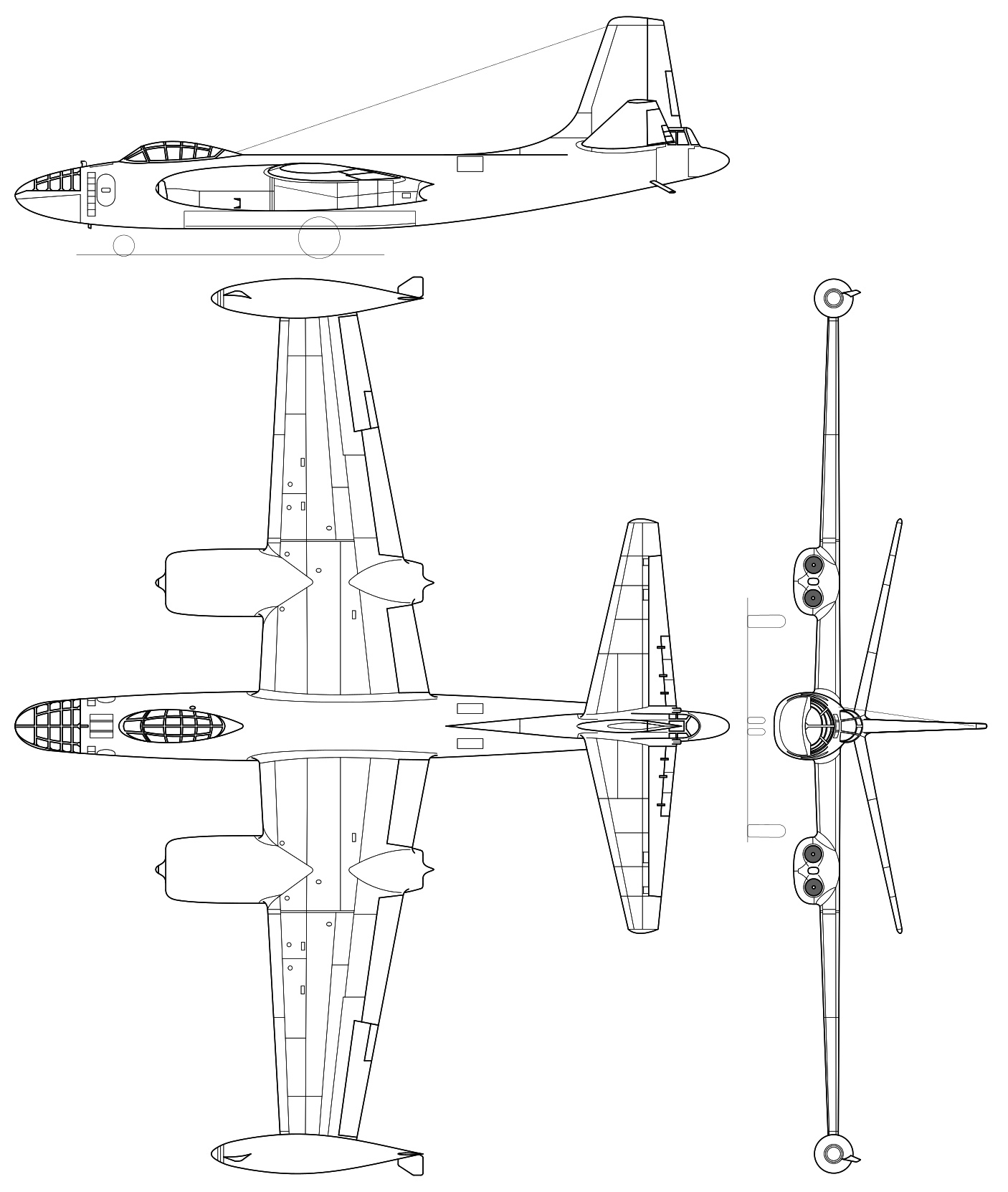 Crew: Four (Pilot, Co-Pilot, Bombardier-Navigator and Tail Gunner)
Length: 75 ft 4 in (22.96 m)
Wingspan: 89 ft 0 in (27.14 m)
Height: 25 ft 2 in (7.67 m)
Wing area: 1,175 ft² (109.2 m²)
Empty weight: 45,694 lb (20,726 kg)
Loaded weight: 81,418 lb (36,930 kg)
Max. takeoff weight: 91,775 lb (41,628 kg)
Powerplant: 4 × General Electric J47-GE-13 turbojets, 5,200 lbf (25 kN) each
Performance
Maximum speed: 566 mph (492 kn, 911 km/h)
Cruise speed: 365 mph (587 km/h)
Range: 1,192 mi (1,036 nmi, 1,919km)
Ferry range: 2,170 mi (1,886 nmi, 3,493 km)
Service ceiling: 46,000 ft (14,020 m)
Rate of climb: 5,200 ft/min (1,585 m/min)
Wing loading: 69.3 lb/ft² (338.4 kg/m²)
Thrust/weight: 0.26
Armament
Guns: 2 × .50 in (12.7 mm) M3 machine guns (tail turret).
Bombs: Up to 22,000 lb (10,000 kg)
XB-45
The first flight of the XB-45 was on February 24, 1947 from Muroc Army Air Field. A total of 131 test flights were flown by the three prototype aircraft, one being destroyed early on, killing two pilots.
The USAF accepted one of the two surviving aircraft on July 30, 1948, the other on August 31. One was damaged beyond repair in an accident. The last XB-45 was delivered to Wright-Patterson Air Force Base in 1949. It proved excessively difficult to maintain and was relegated as a ground trainer.
3 aircraft (45-59479 – 45-59481)
B-45A
The B-45A differed from the XB-45 in having improved ejection seats and communications equipment, an E-4 automatic pilot and bombing navigation radar.
The first production B-45 flew in February 1948, and the Air Force took delivery of 22 B-45s in April 1948. Powered by J35 turbojets and not considered combat-ready, they were assigned to training duties and to conduct various test programs. The next batch were powered by the more powerful J47 turbojets. The first B-45As entered service in November 1948 with the 47th Bombardment Group, and the initial order of 96 was completed in March 1950.
The first B-45As were not equipped with bomb fire control systems or bombsights. They suffered from gyrocompass failures at high speeds, unhooked bomb shackles, engine fires, and inaccurate cockpit gauges. The AN/APQ-24 bombing and navigation radar on some B-45s was maintenance heavy, and malfunctions in the pressurization limited the altitude at which the aircraft could operate.
Fifty-five nuclear-capable B-45s arrived in the United Kingdom in 1952. These were modified with a 1,200 gal (4,542 l) fuel tank in the aft bomb bay. Despite technical problems, these were Tactical Air Command's first-line deterrent in Europe.
B-45A-1 47-001 – 47-022 (21 aircraft)
B-45A-5 47-023 – 47-096 (73 aircraft)
B-45A 47-097 (static test airframe)
B-45B
The B-45B was a proposed variant of the B-45A with improved radar and fire-control systems. None were built.
B-45C
The B-45C was the first multiengine jet bomber in the world to be refueled in midair. It carried two 1,200 gal (4,542 l) wingtip fuel tanks, had a strengthened canopy, and an inflight refueling receptacle. The first B-45C was flown on May 3, 1949. Only ten were built, and the remaining 33 under construction were converted to RB-45Cs.
Ten aircraft (48-001 – 48-010)
RB-45C
The RB-45C was the final production variant of the B-45. The bombardier's canopy was faired over and replaced with an Oblique camera system. The RB-45C carried two 214 gal (810 l) external fuel tanks, or two JATO rockets. It could carry up to 12 cameras in four positions, or a single camera with a 100 in (2.5 m) focal length lens. The RB-45C first flew in April 1950, and was delivered from June 1950 to October 1951. Thirty-eight were built, including the 33 converted from B-45Cs. It was this variant that was operated (clandestinely) over the Soviet Union by the RAF "special duties" unit at RAF Sculthorpe, with the first sortie of three aircraft commanded by Squadron Leader John Crampton taking place on the night of April 17, 1952.
33 aircraft (48-011 – 48-043)
B-45A
AF Ser. No. 47-0008 – Castle Air Museum at the former Castle AFB in Atwater, California.
B-45C
AF Ser. No. 48-0010 – in the Cold War Hangar of the National Museum of the United States Air Force at Wright-Patterson AFB near Dayton, Ohio, The aircraft was used by Pratt & Whitney for engine testing, and was flown to the Museum in 1971.
RB-45C
AF Ser. No. 48-0017 – Strategic Air and Space Museum in Ashland, Nebraska.