Saker Aircraft Corp. has introduced the Saker S-1, which company officials claim will be "one of the world's fastest and most efficient civilian aircraft available for purchase when it receives FAA and EASA certification and goes into production."
Drawing inspiration from military fighters, the Saker S-1 is a MACH .99, two-seat personal jet for "aviators and the business elite who demand high-octane performance from their personal transportation," company official said in a prepared release.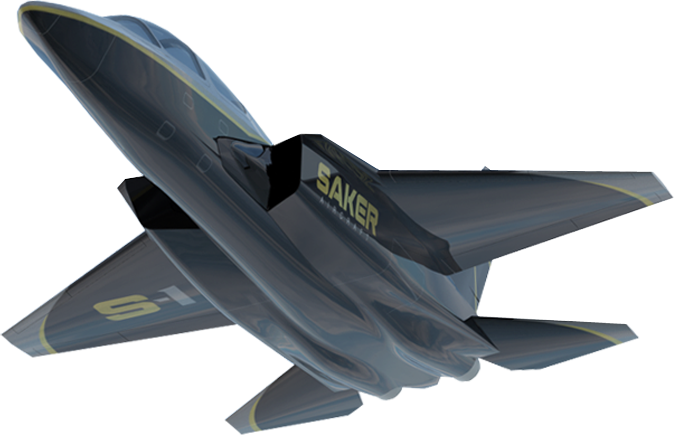 According to a brief fact sheet at Saker Aircraft's website, the 40.5ft (12.3m) long, 27 ft (8.2m) wide S-1 will be able to take off and land on runways as short as 1,500ft (457.2m) allowing it access to nearly every airport on the planet.
"Designing and building the S-1 is a lifelong journey for me," said Sean Gillette, founder and CEO. "After several years of designing and refining the style of the S-1, I am happy to see our company move to the next phase of the business plan. We are excited to share our concept with the world, and begin taking pre-orders for the S-1."
According to Gillette, the Saker S-1 is being designed with specific performance goals, such as the ability to takeoff and land on runways as short as 1,500 feet, climb at 14,000 ft/min and cruise at MACH .95. It is anticipated that the S-1 will have a service ceiling of 45,000 feet and it will travel a maximum distance of 1,600 miles with 500 US gallons of onboard fuel. The range can be extended to 2,200 miles by adding two external 100 gallon pods.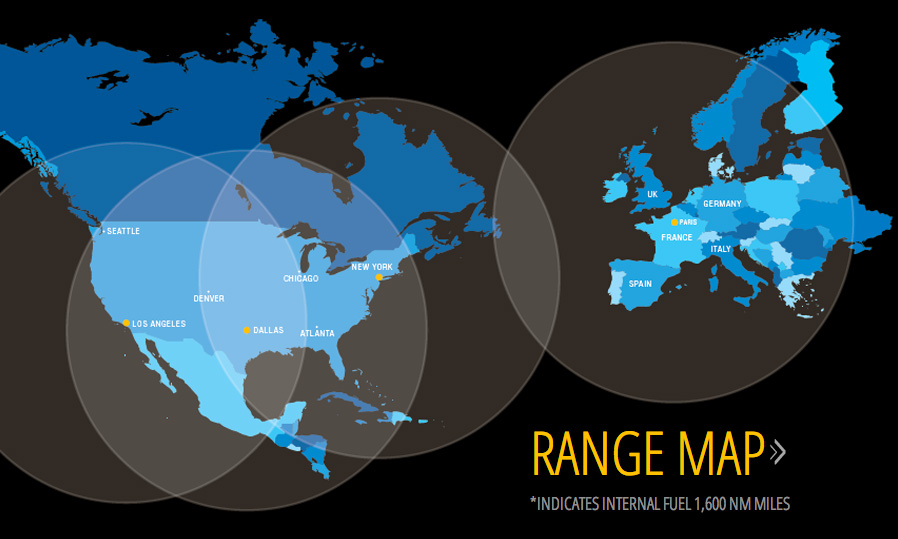 The plane's two Williams FJ44-4 engines can deliver near -sonic performance, reaching a top speed of Mach 0.99, while using twenty percent less fuel than rival aircraft. As an added bonus, the jet can also be flown for five thousand hours before it has to be taken in for an engine overhaul, bringing the operating cost of the S-1 to $2 per nautical mile.
"In designing the S-1 we put a tremendous amount of time and energy into three areas," he said. "First and foremost, we wanted to design an aircraft that was visually stunning and instantly identifiable. Second, we wanted to offer an aircraft that was incredibly simple to fly, so we have refined the entire cockpit environment, aircraft systems, and aerodynamics to allow any properly trained pilot to fly the S-1. Third, we wanted an aircraft that was high performing by all measures in terms of speed, fuel efficiency and safety."
The majority of the Saker S-1 will be designed and manufactured in North America, he noted.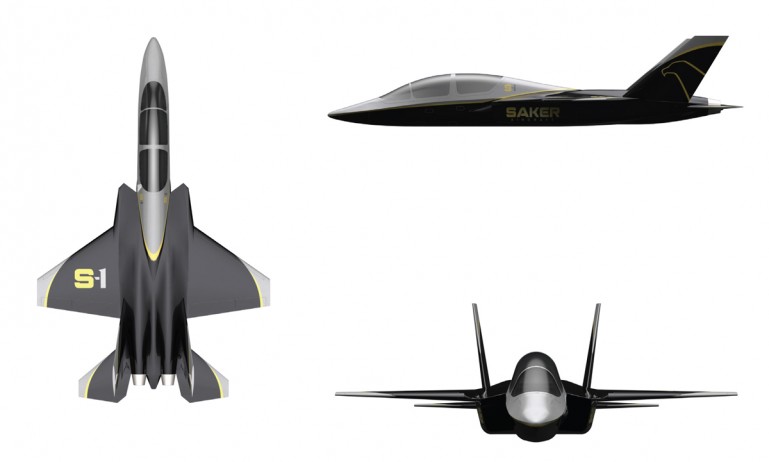 SPECIFICATIONS
Crew: 2, Tandem
Length: 40.5 ft
Wingspan: 27 ft
Height: 15 ft
Wing area: 170 sq. ft.
Empty weight: 5,500 lb
Max takeoff weight: 11,500 lb
Power plant: 2 x Williams FJ44-4
Take-off field length: 1500 ft
Landing field length: 1500 ft
Payload: 6,000 lb
Internal Fuel: 500 US gal
External Fuel: 200 US gal
(2 x 100 US gal pod
PERFORMANCE
Maximum speed: Mach 1.1
High Speed Cruise: Mach 0.99
Cruise: Mach 0.95
Range: 1,600 mi (2,200 mi w/pods)
Service ceiling: 45,000 ft
Rate of climb: 12,000 ft/min
Wing loading: 60 lb/ft²
Thrust/weight: .70
Max G: -3/+7g
Update: Saker Aircraft says the S-1's price tag will be somewhere in the ballpark of $5-7 million when it goes into production.
For more information: http://www.sakeraircraft.com