The battered hulk of the M2-F2 lifting body rests upside-down on Rogers Dry Lake after its crash on May 10, 1967.
On May 10, 1967, NASA research pilot Bruce Petersen was severely injured when the wingless M2-F2 lifting body crashed and flipped over numerous times on the bed of Rogers Dry Lake at Edwards Air Force Base. This was the 16th and last glide flight of the M2-F2 before it was scheduled to have begun powered flight with its XLR-11 rocket engine.
As Peterson neared the lakebed, the M2-F2 entered a "Dutch roll" oscillation. Peterson regained control, but then was distracted by a rescue helicopter that seemed to pose a risk of collision. Distracted, Peterson drifted in a crosswind to an unmarked area of the lakebed where it was very difficult to judge the height over the lakebed surface because of a lack of the guidance markers provided on the lakebed runway.
Although Peterson fired the landing rockets to provide additional lift, the M2-F2 hit the lakebed before the landing gear was fully down and locked and rolled over six times. Peterson eventually recovered from severe injuries he sustained in the crash, although he lost vision in his right eye.
The M2-F2 weighed 4,620 pounds without ballast, was roughly 22 feet long, and had a width of about 10 feet.
The "M" refers to "manned" and "F" refers to "flight" version. "HL" comes from "horizontal landing" and 10 is for the tenth lifting body model to be investigated by Langley.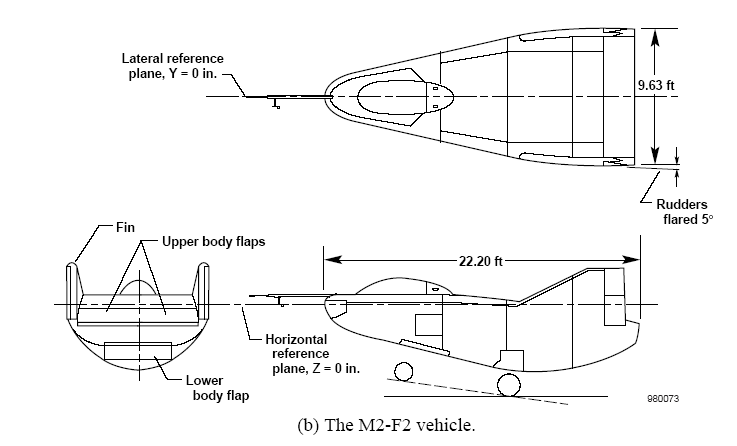 NASA pilots and researchers realized the M2-F2 had lateral control problems, even though it had a stability augmentation (control) system. When the M2-F2 was rebuilt at Dryden and redesignated the M2-F3, it was modified with an additional third vertical fin–centered between the tip fins–to improve control characteristics.
The M2-F2/F3 was the first of the heavy-weight, entry-configuration (i.e., configured for re-entry to the atmosphere from space) lifting bodies. Its successful development as a research test vehicle answered many of the generic questions about these vehicles.
NASA donated The M2-F3 vehicle to the Smithsonian Institute in December 1973. It is currently hanging in the Air and Space Museum along with the X-15 aircraft number 1, which was its hangar partner at Dryden from 1965 to 1969.