Skyflash is a revolutionary, German-based aircraft project.
The Skyflash shall be easily transported to your local airstrip and put together there with just a few strokes of work. You take off lying comfortably on your 10" offroad landing gear. After just a few moments you get airborne, harvesting the power of the two turbojet engines working in your back, now you're flying at more than 200 miles per hour.
Everything responds to the actions of your body. A slight motion of your finger accelerates. Outstretching your arm starts a turn. Finally bend your knees and accelerate skywards.
Landing works the same way you took off. But until that moment has come, you share boundless freedom with nothing but the clouds and the limitless sky. In case of an emergency you land safely using your total recovery parachute system.
The Skyflash is built out of aviation plywood. All parts will be precision engineered and lasered using CNC technology. Skyflash I shows the theoretical possibilities when using all GRP construction and realizing several changes, including better and more powerful jet engines.
The engines are build into the so called "WingBody", which is the backpack of the pilot, accompanied by the airborne computer  and the control electronics. The fuel tanks are wing integrated and connect to the fuel system automaticly when mounting the wings to the Wingbody.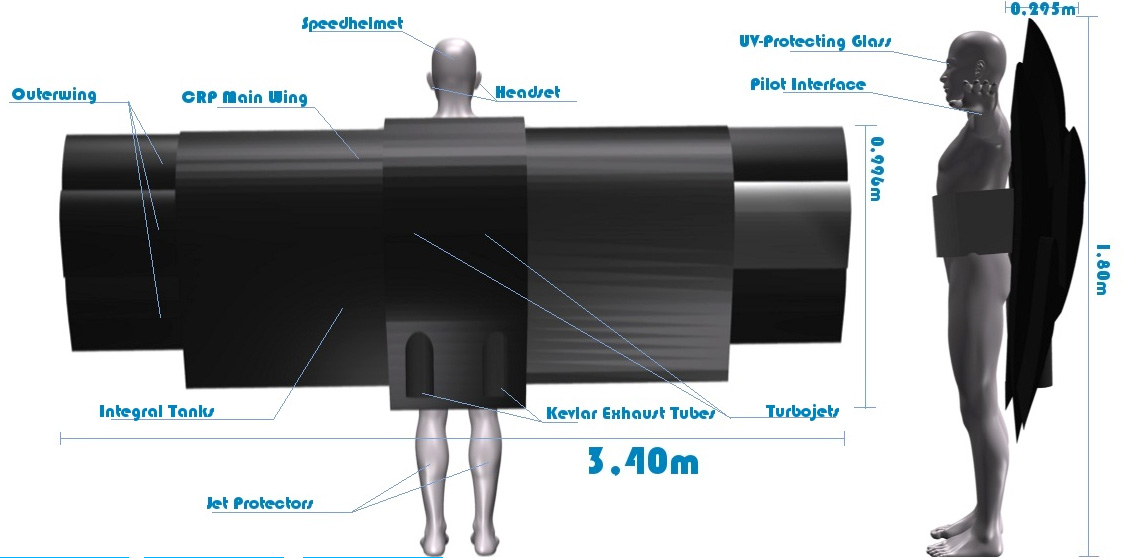 For take-off the pilot puts on the wingbody just like a backpack and fastens his safety harness. Thereafter the wings are connected to the wingbody from the sides using a quick release system.   The pilot is now strapped down to his landing gear which is also stabilizing his body in flight due to its structure. It consists of four 10" offroad tires able to cope with potholed grass runways.
The pilot is now ready to start his engines using the flight computers 8" graphic interface on his arm an the throttle in his right hand. Heat-proof boots will be able to deflect the thrust thus giving the pilot an extremly agile, thrust vector controlled flight.
Specifications
Skyflash
Skyflash I
Wingspan:
11,15
ft
11,15
ft
Depth:
3,27
ft
3,27
ft
Hight:
0,97
ft
0,97
ft
Wing area:
33,26
sq ft
33,26
sq ft
Aspect Ratio:
3,4
3,4
Empty weight:
55,12
lb
44,09
lb
Typical weight:
286,6
lb
352,74
lb
MTOW:
354,94
lb
440,92
lb
Engines:
2
2
Thrust total:
85,43
lbf
157,37
lbf
Battery (LiPo):
12.500
mAh @ 22,2V
20.000
mAh @ 22,2V
Take-off run (15m) MTOW:
985
ft
410
ft
Rate of climb max.:
19,42
ft/s
43,31
ft/s
Service ceiling:
11.800
ft
26.200
ft
Vr:
23,8
kn
29,2
kn
V1:
35,1
kn
38,9
kn
V2:
42,1
kn
48,6
kn
Vc(ruise):
68,0
kn
77,8
kn
Vmax:
109,1
kn
194,4
kn
Vne:
136,1
kn
213,82
kn
Crew:
1
Pilot
1
Pilot
Fuel:
Diesel
Diesel
Tank capacity:
3,96
US gal
15,85
US gal
Fuel consumption max.:
1,94
lb/min
2,82
lb/min
Range loaded:
54
nmi
270
nmi
Safety system:
Parachute (min. 200ft)
Total recovery (min. 80ft)
For more information, visit the Skyflash web site.