This is a souvenir fold-out map [View Full Size] given to passengers taking a transcontinental trip by air in 1929. Transcontinental Air Transport, Inc., the company that manufactured the map, looked to capitalize on the nation's new love affair with aviation by providing a sightseeing experience unlike any other.
Transcontinental Air Transport (T-A-T) was an airline founded in 1928 by Clement Melville Keys that merged in 1930 with Western Air Express to form what became TWA. Keys enlisted the help of Charles Lindbergh to design a transcontinental network to get government airmail contracts. Lindbergh established numerous airports across the country in this effort.
TAT constructed a glamorous image, riding on the fame of its celebrity promoters, who came from Hollywood and aviation royalty. These included Charles and Anne Lindbergh (Charles had a financial stake in TAT), Mary Pickford and Douglas Fairbanks, and Amelia Earhart.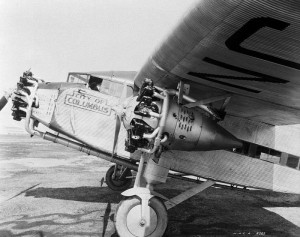 On July 7, 1929, it began the first transcontinental trips. It initially offered a 48-hour train/plane trip with the first leg being on the Pennsylvania Railroad overnight from New York City to Columbus, Ohio, where passengers boarded a plane at Port Columbus International Airport that included stops in Indianapolis, St. Louis, Kansas City, Wichita, and finally Waynoka, Oklahoma. There, passengers caught the Santa Fe Railroad for an overnight trip to Clovis, New Mexico, where they would take a flight to Albuquerque, Winslow, Az., Los Angeles, or San Francisco. Its slogan was "Harnessing the Plane and the Iron Horse."
The company used the Ford Trimotor and was one of the first to offer meals en route. It was also one of the first to be geared to passenger service (while most airlines at the time had focused on air mail). In 1929 it merged with Maddux Air Lines and in 1930, during what was to become the Air Mail scandal, it merged with Western Air Express to form Transcontinental & Western Air (T & WA) that was to become TWA.
For more information
American Heritage article on Transcontinental Air Transport
Transcontinental Air Transport brochure from 1929