The growing worldwide demand for air travel during the 1960s led to the development of the 747, the first "Jumbo Jet."
"Merely recalling the early days of the 747 program brings sweat to the palms of my hands," Boeing's then-president, William Allen, said years after the giant aircraft had been developed.
Requiring the company to risk much of its net worth, the development of the world's largest passenger aircraft was a formidable undertaking.
It is taller than a six-story building, has seating for 374 passengers (up to 550 in some configurations), a takeoff weight of more than 300 tons (or ten fully-loaded 18 wheel trucks), and enough fuel in its tanks to power a small automobile around the globe 36 times.
The 747 is one the most recognizable aircraft in the world and represents a milestone in the evolution of aviation design.
The Museum Of Flight's aircraft was the first 747 ever built – serial number 001. It first flew on February 9, 1969 over Western Washington. Later, this aircraft served as a testbed for 747 systems improvements and new engine developments for other Boeing commercial jets, including the state-of-the-art Boeing 777 engine program.
Now, after nearly two years of restoration, the aircraft's mysterious cabin is open to the general public. Tours of the Jumbo Jet are offered every day until Oct. 31, and are free with admission to the museum.
Beginning in November, regular interior tours will be suspended for the winter.
Museum Location
The Boeing Museum of Flight
9404 E. Marginal Way South, Seattle 98108 | Google Map
Open 7 Days a Week, 10am to 5pm
http://www.museumofflight.org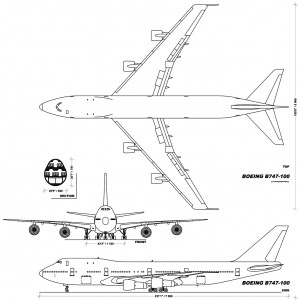 Boeing 747-100 Specifications
Serial Number: 20235
Registration: N7470
Wingspan: 195.67 ft
Length: 231 ft
Height: 63 ft
Wing Area: 5 500.00 ft²
Empty Weight: 370,816 lbs
Gross Weight: 735,000 lbs
Cruise Speed: 640 mph
Power Plant: Four Pratt & Whitney JT9D, 43,500 lbs. thrust each
Range: 6,000 miles
Video tour inside 1st Boeing 747
First Flight of Boeing 747, Part 1
First Flight of Boeing 747, Part 2