Some 2 ½ years after its retirement, the second of two modified Boeing 747 jetliners that ferried NASA's space shuttles across the nation for more than three decades has made its final journey – a ¾-mile ground tow from the NASA Armstrong aircraft operations facility to the nearby Joe Davies Heritage Airpark in Palmdale.
The retired early-model 747, distinguished by the two large vertical fins attached to the ends of its horizontal tail, reached its final destination shortly after 10 a.m. on Friday, Sept. 12, positioned adjacent to a retired Boeing B-52D bomber on the west side of the aircraft museum. Although NASA is retaining ownership of SCA 911, it is on long-term loan to the City of Palmdale for public display.
The second to two 747s that were acquired by NASA to transport the space shuttles, NASA 911 was acquired used from Japan Air Lines in 1989 and after modifications by Boeing, was delivered to NASA in 1991. Over the next 20 years, it made 66 flights with a shuttle atop its fuselage, including 17 missions in which it ferried shuttles from NASA's Dryden (now Armstrong) Flight Research Center after landings at Edwards Air Force Base to the Kennedy Space Center on Florida's east coastline. Upon its retirement on Feb. 8, 2012, it had amassed 33,004 flight hours over its 38-year flight career.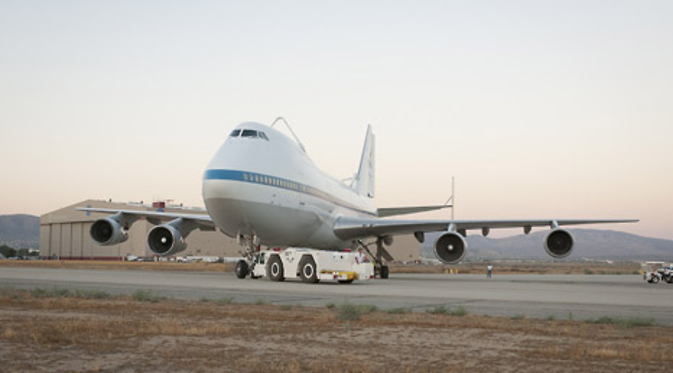 NASA's first Shuttle Carrier Aircraft, NASA 905, was acquired from American Airlines in 1974 and flew several aeronautic research projects at NASA Dryden before being modified by Boeing for the shuttle carrier role in 1976. It carried the shuttle prototype Enterprise, which was not designed for actual spaceflight, on the Approach and Landing Tests at Edwards in 1977 and also flew the majority of the shuttle ferry flights, including the final "Tour of California" ferry flight of the retired shuttle Endeavour to Los Angeles in September 2012. Endeavour is now on public display in the Samuel Oschin Pavilion at the California Science Center in Los Angeles.
NASA 905 is now undergoing conversion into an historical and educational exhibit that includes a shuttle mockup mounted on top at Space Center Houston, the privately operated visitor center adjacent to NASA's Johnson Space Center. The $12 million exhibit is scheduled to open next year.
The Joe Davies Heritage Airpark, located along Rancho Vista Boulevard just west of 25th Street East in Palmdale, features almost 25 historic aircraft and related artifacts in an outdoor park-like setting. Designed to highlight the aerospace heritage of the Antelope Valley, it is open to the public free of charge from 11 a.m. to 4 p.m. Friday, Saturday and Sunday. Guided tours are also available Monday through Saturday upon request. For more information, visit: http://www.cityofpalmdale.org/Airpark
For more on NASA's Shuttle Carrier Aircraft, visit: http://www.nasa.gov/centers/armstrong/news/FactSheets/FS-013-DFRC.html