AirWingMedia traveled to the NASA Johnson Space Center in Houston to participate in NASA's Social program to observe the December 5, 2014 unmanned test flight of NASA's Orion spacecraft on a Delta IV launch vehicle.
What we saw at the NASA Johnson Space Center, Houston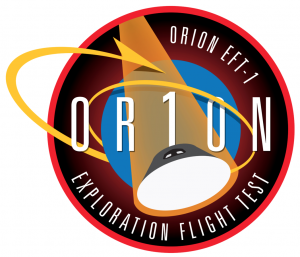 Neutral Buoyancy Laboratory
Apollo Era Mission Operations Control Room
Space Station Flight Control Room
Food lab samples and brief during lunch on how food is changing for long duration missions
Multi-center Q&A live from KSC
Orion Cockpit Development Lab
Systems Engineering Simulators/Dome simulator
Space Vehicle Mockup Facility
– ISS mockup
– Soyuz mockup
– Orion mockup
Orion technology demonstrations
[flickr_set id="72157647335323413″]
Photos, Videos, and Blogs from other NASA Social Tweeps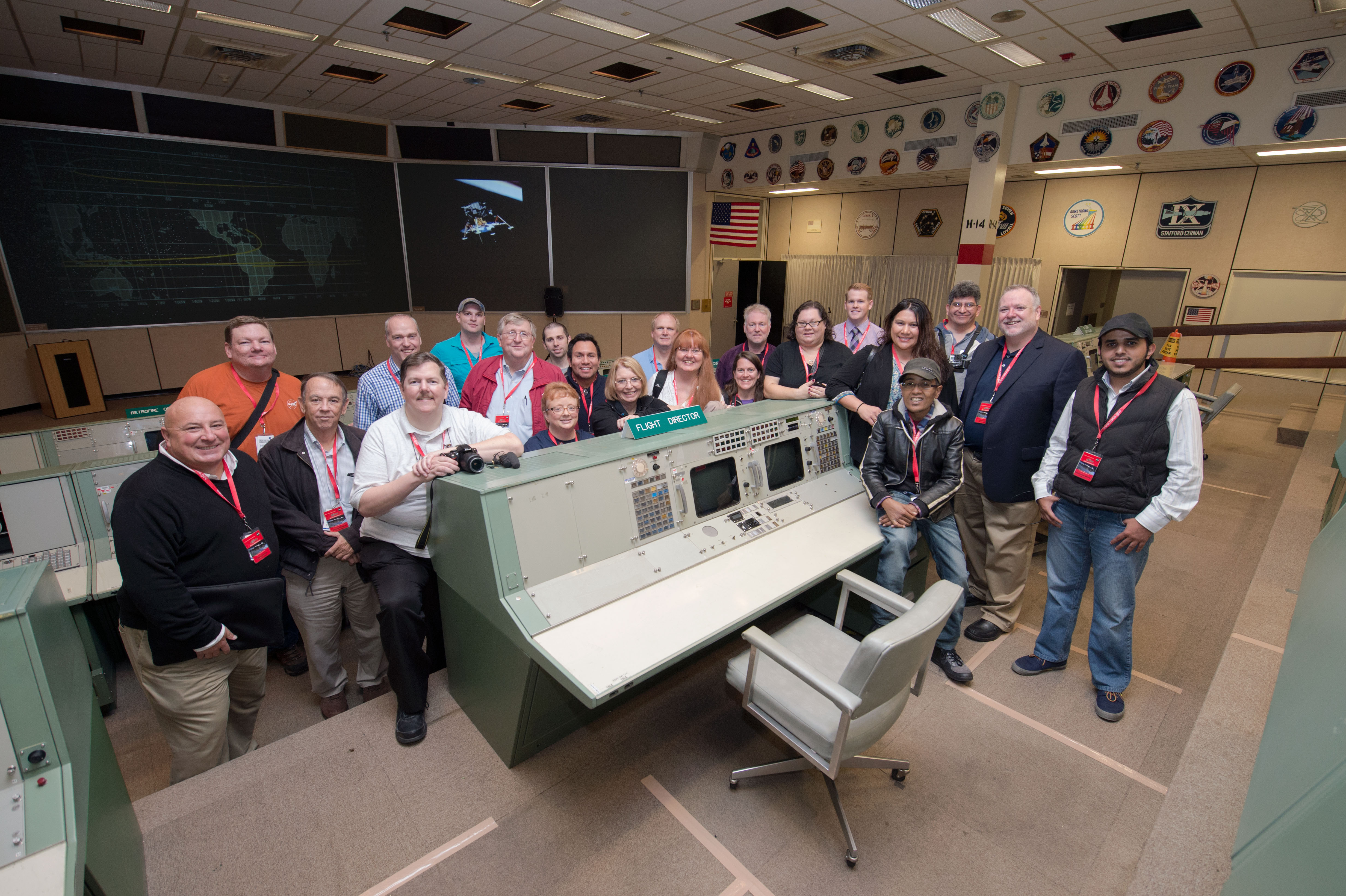 Orion EFT-1 Johnson Space Center NASA Social Team | Photo by David DeHoyos, NASA JSC Photographer
Orion at Naval Base San Diego | Flickr Album
[flickr_set id="72157649668937291″]
December 18: Astronaut's Eye View of Orion Re-entry
December 17: "Journey To Mars", by NASA/JSC Orion Social Participant
December 8: US Navy Returns NASA's Orion After Test Flight
December 8: Time Lapse of Orion Disembarking USS Anchorage
December 5: Orion Splashdown from NASA Ikhana UAV
December 5: Orion Splashdown from Recovery Ship
December 5: Orion Launch
December 5: Orion Launch from 40 Yards Away
December 2: NASA Orion EFT-1 Pre-Launch Briefing
During this Dec. 2 prelaunch news briefing about the first flight test of NASA's Orion spacecraft, officials from NASA, Lockheed Martin and United Launch Alliance discussed the status of prelaunch operations and the activities of the mission itself. The launch of Orion , on Exploration Flight Test-1, is scheduled for December 4, atop a United Launch Alliance (ULA) Delta IV Heavy rocket from Space Launch Complex 37 at Cape Canaveral Air Force Station in Florida. The uninhabited spacecraft will travel 3,600 miles in altitude to test many of the systems most critical to safety, before returning to Earth for a splashdown in the Pacific Ocean.
Orion: Exploration Flight Test-1 Animation
NASA Orion EFT-1 Mission Overview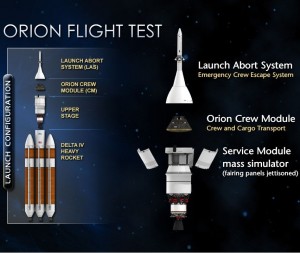 The Exploration Flight Test 1 is the first test flight of NASA's Orion Multipurpose Crew Vehicle that will become America's future space exploration vehicle, capable of carrying crews to the Moon, Mars and distant targets including Asteroids.
A two-orbit shakedown mission, this flight will demonstrate a number of key components of the Orion spacecraft architecture to prepare for the first Exploration Mission in 2018 – an uncrewed circumlunar flight lofted by the Space Launch System – followed by Orion's first crewed launch in 2021. Launching on its test flight on a Delta IV Heavy Rocket, Orion will demonstrate its crew module, Service Module panels, Launch Abort System and Orion to Stage Adapter. One of the major objectives of the test flight is the demonstration of the spacecraft's heat shield and parachute system.
The mission, planned to last four hours and 24 minutes from liftoff to splashdown, involves the Delta IV launcher placing the spacecraft in an orbit stretching out to 5,800 Kilometers to achieve a high-speed re-entry at 80% of the velocity seen in a lunar return. In addition to a test of Orion's heat shield and parachutes, the mission serves as a demonstration of major separation events of the Launch Abort System and Service Module Fairing and the flight puts Orion's avionics, communication system, attitude control systems and electrical system to the test in the space environment.
For More Information…
[flickr_set id="72157641969853204″]
Orion EFT-1 Mission Profile
Launch Vehicle: Delta IV Heavy  |  Launch Vehicle Overview
Launch Site: SLC-37B, Cape Canaveral Air Force Station, Florida
Launch Date: December 5, 2014
Launch Time: 12:05 UTC (7:05 am Eastern Daylight Time)
Launch Window Duration: 2 Hours & 39 Minutes
Countdown Initiation: T-5 Hours & 15 Minutes
Ascent Duration: 17 Minutes & 39 Seconds
Insertion Orbit: 185 by 888 Kilometers, 28.8°
Final Orbit: -23 by 5,808 Kilometers, 28.8°
Mission Duration: 4 Hours & 24 Minutes | Mission Outline
Landing Time: 16:29 UTC
Landing Site: Pacific Ocean, 1,000km West of Baja, California
Orion: Trial By Fire
Mission Timeline
| | |
| --- | --- |
| Time | Event |
| T-8:15:00 | SLC-37B: Mobile Service Tower Rollback |
| T-6:00:00 | Orion Spacecraft Power-Up |
| T-5:30:00 | Countdown Initiation (Launch Team on Console) |
| T-5:15:00 | RIFCA Activation (Delta IV Flight Computer) |
| T-5:00:00 | Launch Complex Clear |
| T-4:50:00 | Poll for Delta IV Heavy Propellant Loading Readiness |
| T-4:45:00 | Delta IV Propellant Loading (CBC Chilldown) |
| T-4:25:00 | Common Booster Core Propellant Loading |
| T-3:40:00 | Delta Cryogenic Second Stage Propellant Loading |
| T-3:30:00 | Orion Mission Control Team on Console |
| T-1:55:00 | Landing Weather Briefing |
| T-1:00:00 | Comm Checks, Flight Termination, Engine Slews complete |
| T-0:30:00 | Launch Weather Briefing |
| T-0:19:00 | T-4 Minute Hold (15-min Hold, can be extended) |
| T-0:16:00 | Orion Go/No Go for Launch |
| T-0:08:00 | Orion Transfer to internal Power |
| T-0:04:00 | Automated Countdown Sequence |
| T-0:03:00 | Tank Pressurization |
| T-0:00:10 | Handoff to Delta IV |
| T-0:00:07 | Ignition Sequence Start |
| T-0:00:00 | LIFTOFF |
| T+0:00:50 | Center CBC Throttle Down |
| T+0:01:23 | Maximum Dynamic Pressure |
| T+0:01:25 | Mach 1 |
| T+0:02:30 | Roll Adjustment |
| T+0:03:44 | Port & Starboard Common Booster Throttle Down to 55% |
| T+0:03:54 | Strap-On CBX Shutdown |
| T+0:03:56 | Port & Starboard Common Booster Core Separation |
| T+0:03:57 | Center CBC Throttle Up to 102% |
| T+0:05:14 | Center CBC Throttle Segment |
| T+0:05:30 | Common Booster Core Shutdown |
| T+0:05:33 | Common Booster Core Separation |
| T+0:05:35 | Nozzle Extension Deployment |
| T+0:05:49 | Delta Cryogenic Second Stage – RL-10B Ignition |
| T+0:06:15 | Service Module Fairing Separation |
| T+0:06:20 | Launch Escape Tower Jettison |
| T+0:17:39 | Second Stage Shutdown (Planned Orbit: 185 by 888km) |
| T+1:55:26 | Delta Cryogenic Second Stage Re-Start |
| T+2:00:09 | Second Stage Shutdown (Planned Orbit: -23 by 5,808km) |
| T+2:05:00 | Entering 1st High Radiation Period |
| T+2:20:00 | Leaving High Radiation Period |
| T+2:40:00 | Orion Crew Module Reaction Control System Activation |
| T+3:05:00 | Apogee (Peak Altitude) |
| T+3:09:00 | Maneuver to Crew Module Separation Attitude |
| T+3:23:41 | Crew Module Separation |
| T+3:30:00 | Entering 2nd High Radiation Period |
| T+3:57:11 | Orion Crew Module Translation Burn |
| T+4:05:00 | Leaving High Radiation Period |
| T+4:14:35 | Entry Interface at 32,000km/h |
| T+4:13:41 | Radio Blackout |
| T+4:15:03 | Peak Heating – 2,200°C |
| T+4:16:05 | Acquisition of Signal |
| T+4:19:29 | Forward Bay Cover Jettison |
| T+4:19:31 | Drogue Chute Deployment |
| T+4:20:40 | Pilot Chute Deployment, Main Chute Deployment |
| T+4:23:29 | SPLASHDOWN |
NASA Kennedy Space Center Orion Photos | Flickr Album
[flickr_set id="72157648527640819″]