George Hickman Jr., one of the original Tuskegee airmen and a longtime usher at University of Washington and Seattle Seahawks games, died Sunday in Seattle. He was 88.
Hickman was one of the country's first black military pilots and ground crew members who fought in World War II.
In 2007, he and other Tuskegee airmen traveled to Washington to receive the Congressional Gold Medal, the highest civilian honor that Congress can give. In 2009, he attended President Barack Obama's inauguration as a special guest.
Hickman was a beloved figure at Seattle sporting events and could often be seen shaking hands and hugging fans, athletes and reporters. He personalized the often anony- mous job of ushering, and most regulars to UW games knew him by name. Many athletes came to expect hugs, handshakes or pats from him before games.
"Things will be a little different right before we go out on the court not being able to shake the hand of George Hickman," UW basketball coach Lorenzo Romar tweeted Monday.
Romar recalled Hickman at games, doling out handshakes and encouraging words even when the team wasn't doing well.
"He is a guy that if everyone came forward and said how he touched their lives, we would probably fill up that arena," he said, adding: "He helped make history. He helped put African Americans on the map in the military."
Hickman worked a number of posts, including as usher and press box attendant, at Huskies games for several decades. He also was a press box greeter at Seahawks games. He raised the 12th Man flag before the Seahawks game against the Baltimore Ravens in November.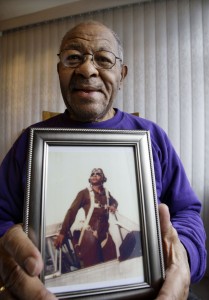 The grandson of slaves, Hickman nurtured an interest in aviation as a curious boy gazing up at the sky above St. Louis, Mo.
That passion evolved from buying model airplanes to joining the segregated pilot training program in Tuskegee, Ala., and later to a nearly three-decade long career at Boeing in Seattle.
He served from 1943 to 1945 in the Army Air Forces, which trained African Americans to fly and maintain combat aircraft, and was part of the graduating class of 1944, according to a 2012 Army profile.
He was initially eliminated from pilot training in 1943. As a cadet captain, he was effectively blocked from flying when he called out white superior officers for the mistreatment of a fellow black cadet.
"I felt like I had really been mistreated," he said in 2009.
But undeterred, he graduated from the program as a crewman.
"There was nothing better in the world. In that biplane, the guy wires between the wings were like musical instruments," he told a reporter in 2011.
But he also recalled in a 2009 Associated Press interview the humiliation of being pushed off sidewalks in the South and spit at while in uniform.
In 1955, he met and married his wife in Amarillo, Texas, while volunteering with her mother at a local library, according to an Army profile. Doris Hickman was drawn to her husband's character, she said, because "he has always put others first and tried to make the world a better place."
Hickman moved to Seattle in 1955 to work for Boeing as a B-52 engineering training instructor and executive in the aerospace division. He retired in 1984.
He attended the inauguration of President Barack Obama in 2009 and received the Congressional Gold Medal with other Tuskegee Airmen in 2007.