By Jay Levine, NASA Dryden Flight Research Center
On the eve of one of NASA's major space science milestones – the landing of its Mars Science Lab Curiosity rover on the red planet – retired Air Force test pilot and NASA astronaut Maj. Gen. Joe H. Engle recalled several earlier spaceflight milestones of which he was a part during a recent visit to NASA's Dryden Flight Research Center.
Milestones are something Gen. Engle understands as he frequently reached them during his experiences as an X-15 pilot, a pilot of the prototype Space Shuttle Enterprise during the 1977 Approach and Landing Tests at Edwards Air Force Base, Calif., and as commander of two Space Shuttle orbital missions.
Retired Air Force test pilot and NASA astronaut Joe Engle recalled the legacy of the famed X-15 rocket plane recently during a colloquium at NASA's Dryden Flight Research Center. Engle, the only person to fly into space in both air and spacecraft, flew 16 hypersonic flights in the X-15 in the 1960s, the Space Shuttle approach and landing tests in 1977, and two orbital space missions in the 1980s.
During a colloquium presentation before NASA Dryden employees Aug. 2, Engle recalled his experiences during 16 flights in the rocket-powered X-15 as an Air Force pilot assigned to the joint NASA, Air Force, Navy and North American Aviation program. He flew in the X-15 to an altitude of 280,600 feet, at age 32 becoming the youngest pilot ever to qualify as an astronaut. Three of his X-15 flights exceeded the 50-mile altitude requirement for an astronaut rating.
"It was the ultimate flying machine," he said. "No airplane can live up to what the X-15 did."
A key contribution of the X-15 flight research program was to help engineers develop confidence that an unpowered spacecraft could glide to a safe landing on Earth. Also, the maneuvers to slow the X-15 were nearly identical to those of the Space Shuttle from Mach 6 to landing. Reaction controls, essentially small rockets used for directional control in space, also were proven on the X-15.
Engle was one of the beneficiaries of his X-15 work when he later piloted Enterprise and operational Space Shuttles.
The X-15 program's 199 flights during a nine-year period contributed to advances in aerospace technology such as materials, hypersonic aerodynamics, astronomy and spaceflight. Launched from beneath the wing of a modified B-52, the X-15 was the first piloted aircraft to exceed Mach 4, 5 and 6. Information from the X-15 program contributed to the development of the Mercury, Gemini, Apollo and the Space Shuttle programs.
"My first flight was a highlight. It was a relatively benign profile as far as speed and altitude, but benign in the X-15 was several orders of magnitude faster and higher than I'd ever been. Altitude flights were the ones I enjoyed. All X-15 flights were as exciting and busy as can be. There just wasn't time to sit and look around much." Engle said.
North American X-15 "1960 Annual Report"
Engle was one of the beneficiaries of his X-15 work when he later piloted Enterprise and operational Space Shuttles, noting that the X-15 flights were a highlight of his career.
From June to October 1977 he was the commander of one of two crews that flew the Enterprise Approach and Landing Tests. Engle had another opportunity to validate the vehicle's landing characteristics in late 1981 during the second orbital Shuttle mission, STS-2. The mission was cut short and he was required to manually fly the orbiter from orbit to a landing – the first and only pilot to accomplish that task.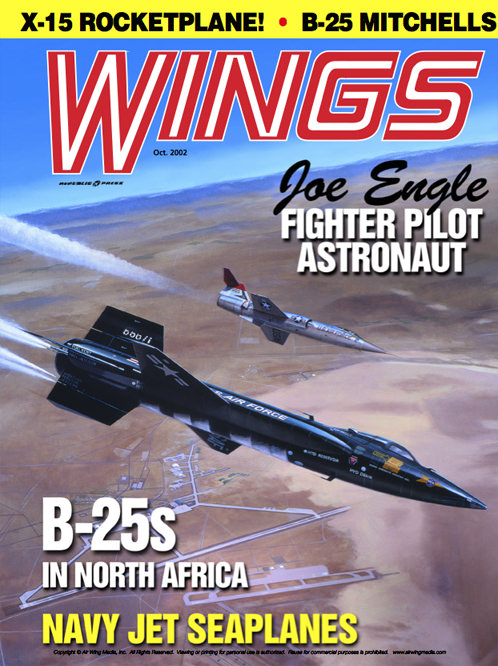 Joe Engle is featured in the October issue featured on the
2002 Wings & Airpower CD
He would later command a second orbital mission, STS-51I, on Space Shuttle Discovery that deployed three communication satellites and performed a successful on-orbit rendezvous and manual repair of a disabled communications satellite.
"STS-2 had a failure early on in its systems that required us to land after two days. We were totally busy and saturated with work and we didn't have time to look at or enjoy anything. In fact, we didn't have time to get any sleep. On 51-I I there were times in the missions when you would be able to float over to a window and look out the window down on Earth. I think that was one of the most awesome sights," he said.
Following his colloquium presentation at NASA Dryden Aug. 2, Engle joined NASA pilot Jim Less during a pilot-proficiency flight in a NASA F/A-18 the following day, visited XCOR Aerospace at the Mojave Air and Spaceport in Mojave, Calif., and was honored at the Lancaster JetHawks baseball team's Aerospace Appreciation Night Aug. 4. The event was highlighted by a pre-game flyover of a NASA F/A-18 flown by Dryden pilot Troy Asher.
XCOR, developer of the Lynx suborbital reusable launch vehicle, is a flight provider in NASA's Flight Opportunities Program managed at Dryden. Engle enjoyed seeing an entry into the next generation of spacecraft.
"With a small company it's easier to engage the entire team in all the phases of development," he said. "Their jobs overlap and they help each other. It is a wonderful environment to ensure the most efficient and safest machine."
"The previous re-entry profiles I have flown are not that different from what they will be doing (with the Lynx)," said Engle. "The problems of re-entry are not that different and in some cases they are very similar."
Via: http://www.nasa.gov/centers/dryden/Features/joe_engle_recalls_X-15_legacy.html
X-15 pilot Joe Engle, later a Space Shuttle astronaut, describes flying the X-15, and compares it with the upcoming Space Shuttle. Film also includes a brief overview of X-15 program history.
Joe Engle has the unique honor of having flown the X-15 and the Space Shuttle, bringing lifting-reentry vehicles full circle. Engle flew the X-15 for 24 months from 7 October 1963 until 14 October 1965, making 16 flights with the XLR99 engine. Engle reached Mach 5.71, a maximum speed of 3,888 mph, and an altitude of 280,600 feet.
Joe Henry Engle was born on 26 August 1932 in Abilene, Kansas, and graduated from the University of Kansas at Lawrence with a bachelor of science degree in aeronautical engineering in 1955. After graduation he worked at Cessna Aircraft as a flight-test engineer before being commissioned through the Air Force ROTC program in 1956. Engle earned his pilot wings in 1958 and flew F-100s for the 474th Fighter Squadron (Day) and later the 309th Tactical Fighter Squadron at George AFB, California.
Engle graduated from the Test Pilot School in 1962 and attended the ARPS at Edwards for training as a military astronaut. He graduated from the ARPS in 1963 and became a project pilot for the X-15 program in June 1963. Engle received an Air Force astronaut rating for making a flight above 50 miles in the X-15.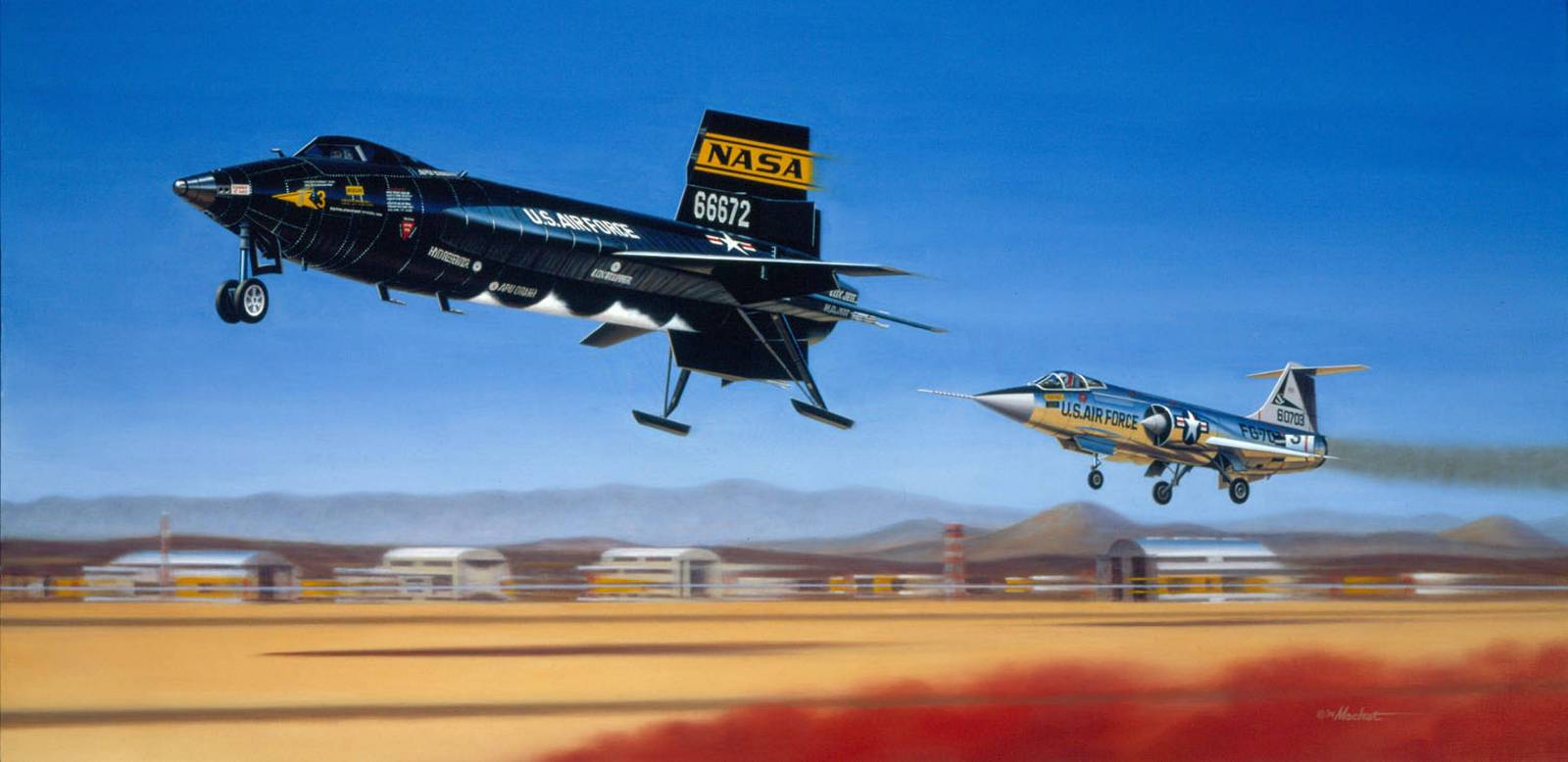 First Re-Entry, painting by Mike Machat – USAF Capt. Joe Engle returns from a high altitude X-15 mission in the which he has just qualified as an astronaut.
In 1966, at the age of 32 years, Engle became the youngest person selected to become an astronaut. First assigned to the Apollo program, he served on the support crew for Apollo X and then as backup lunar module pilot for Apollo XIV.
In 1977 he was commander of one of two crews that conducted the approach and landing tests with the Space Shuttle Enterprise. In November 1981 he commanded the second flight (STS-2) of the Columbia and manually flew the reentry, performing 29 flight-test maneuvers from Mach 25 through landing rollout. This was the first (and so far only) time a pilot has flown a winged aerospace vehicle from orbit through landing. He accumulated the last of his 224.5 hours in space when he commanded Discovery during mission 51-I (STS-27) in August 1985.
Engle has flown more than 180 different types of aircraft and logged nearly 14,000 flight hours. Among his many honors, Engle has been awarded the Distinguished Flying Cross (1964), the AIAA Lawrence Sperry Award for Flight Research (1966), the NASA Distinguished Service Medal and Space Flight Medal, and the Harmon International, Robert J. Collier, Lawrence Sperry, Iven C. Kincheloe, Robert H. Goddard, and Thomas D. White aviation and space trophies. In 1992 he was inducted into the Aerospace Walk of Honor.
1962 NASA Documentary "Research Project X-15"