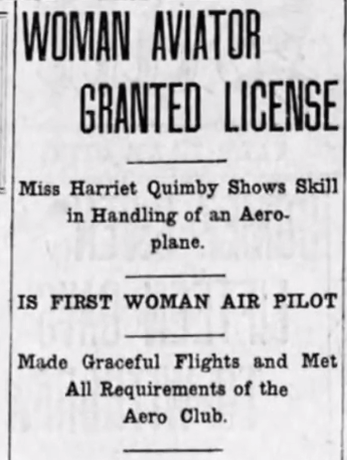 Although her career as a pilot lasted a mere 11 months, Harriet Quimby left an indelible mark on aviation history as both the first American woman to become a licensed pilot and the first woman to cross the English Channel.
Harriet Quimby was born in Michigan in 1875, and lived on a farm with her family until it failed. By the turn of the century, Harriet had relocated to San Francisco, California. Here, Harriet developed a passion for the stage, longing to be an actress. Instead, her curious "nose for news" and intelligent writing style channeled her toward a career in journalism.
Fortified with a farm girl's practicality and the individualism of a woman from the wild west's most sophisticated city, Harriet headed for New York.
A gifted journalist with a deep love of the theatre, Harriet Quimby first made a name for herself as a writer at Leslie's Illustrated Weekly. Primarily a writer of feature articles and stage reviews, Quimby also took photos for the publication of her many journeys around the world. Quimby even found success in the world of cinema. Quimby's old theater friend, D. W. Griffith, made several of her scripts into films, making Quimby one of the first female screenwriters.
In October of 1910, Quimby met Matilde and John Moisant at an aviation exhibition at the Belmont Park International Aviation Tournament. John and his brother, Alfred, ran an aviation school.
Since the Wright Brothers did not teach women, Quimby convinced Alfred to teach her and his sister, Matilde, how to fly. Harriet quickly excelled in her new ambition, becoming the first licensed female pilot in the U. S. With her friend, Matilde Moisant, Quimby began touring with the Moisant International Aviators and performing at flying exhibitions.
"The thrill of pleasure with which the eager and anxious university student after years of patient endeavor secures his diploma has been mine.  It takes four years of study to win a college diploma.  It takes a much shorter time, if you have a competent instructor and if fate deals kindly with you, to secure your license to pilot an airplane." – How I Won My Aviator's License, August 24, 1911
Understanding the power of drama, Quimby created a look for herself which became her trademark – a purple satin flying suit with a hood. With her tall, elegant looks, she instantly caught the public's imagination. Harriet chronicled her adventures in articles for Leslie's Weekly, sharing with the public the exhilaration of flying.
"The men flyers have given out the impression that aeroplaning is very perilous work, something that an ordinary mortal should not dream of attempting. But when I saw how easily the man flyers manipulated their machines I said I could fly."
Quimby's flair for the theatrical led her to design her trademark purple flying suit.
"I do feel well qualified to tell a beginner how she must dress and what she must do if she expects to be a flyer. If a woman wants to fly, first of all, she must, of course, abandon skirts and don a knickerbocker uniform."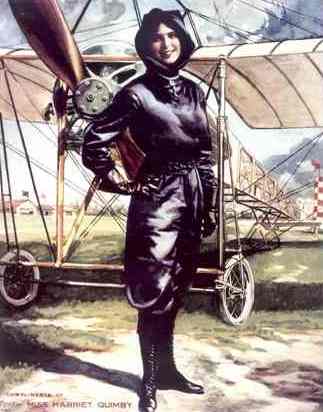 Ever seeking new adventures, Quimby set out to become the first woman to cross the English Channel. In March of 1912, Quimby set sail for England with a letter of introduction to Louis Blériot. Quimby managed to convince Blériot to lend her a 50-horsepower monoplane for her attempt. While Blériot agreed to the arrangement, most everyone around her was convinced she would fail. Even her friend and instructor, Gustav Hamel, offered to disguise himself in her purple suit, fly the plane in her place, and then secretly switch places with her on the French shores. But Quimby refused.
"Everyone asks me 'how it feels to fly.' It feels like riding in a high powered automobile, minus bumping over the rough roads, continually signaling to clear the way and keeping a watchful on the speedometer to see that you do not exceed the speed limit and provoke the wrath of the bicycle policeman or the covetous constable."
On April 16 she departed for France in a plane she had never flown before and a compass she had just learned how to use. Despite poor visibility and fog, Quimby landed 59 minutes later near Hardelot, France. Upon landing, Quimby was greeted with shouts of adulation by a cheering crowd and was hoisted upon the shoulders of local residents. Quimby, however, would not receive the same worldwide acclaim as her male counterpart, Louis Blériot. The Titanic had sunk just days earlier, casting a large shadow over Quimby's achievement.
Harriet describes her flight in 'An American Girl's Daring Exploit,' May 16, 1912:
"…the [borrowed Bleriot monoplane] machine was shipped very secretly to the aerodrome on Dover Heights, …a fine smooth ground from which to make a good start. The famous Dover Castle stands on the cliffs, overlooking the channel. It points the way to Calais. I saw at once I only had to rise in my machine, fix my eyes upon the castle, fly over it and speed directly across to the French coast. It seemed so easy that it looked like a cross-country flight. I am glad I thought so and felt so, otherwise I might have had more hesitation about flying in the fog with an untried compass, in a new and untried machine, knowing that the treacherous North Sea stood ready to receive me if I drifted only five miles too far out of my course…

…It was a cold five-thirty a.m. when my machine got off the ground…the motor began to make its twelve hundred revolutions a minute, and I put up my hand to give the signal of release.  Then I was off. The noise of the motor drowned the shouts and cheers of friends below. In a moment I was in the air, climbing steadily in a long circle. I was up fifteen hundred feet within thirty seconds. From this high point of vantage my eyes lit at once on Dover Castle…In an instant I was beyond the cliffs and over the channel…the thickening fog obscured my view.  Calais was out of sight…There was only one thing for me to do and that was to keep my eyes fixed on the compass…

…The distance straight across from Dover to Calais is only twenty-two miles, and I knew that land must be in sight if I could only get below the fog and see it.  So, I dropped from an altitude of about two thousand feet until I was half that height.  The sunlight struck upon my face and my eyes lit upon the white and sandy shores of France. I felt happy…rather than tear up the farmers' fields [below] I decided to drop down on the hard and sandy beach…A crowd of fishermen…came rushing from all directions toward me. They were congratulating themselves that the first woman to cross in an aeroplane had landed on their fishing beach…It was now nearly seven o'clock and I felt like eating breakfast…"
Quimby's notoriety did draw large crowds at public flying exhibitions. On July 16th, 1912 she flew at the Third Annual Boston Aviation Meet near Quincy, Massachusetts for the hefty sum of $100,000. In her gleaming new Blériot monoplane, Quimby flew out over Dorchester Bay with the event's organizer, William A. P. Willard. As they were returning, the plane violently pitched forward, Harriet lost control, and Willard was ejected from his seat. Seconds later, Harriet was also thrown out. Both fell to their deaths in front of the entire crowd. Quimby, who had written about safety precautions in flying, was not wearing a safety belt at the time of the accident.
"There is no reason why the aeroplane should not open up a fruitful occupation for women. I see no reason they cannot realize handsome incomes by carrying passengers between adjacent towns, from parcel delivery, taking photographs or conducting schools of flying. Any of these things it is now possible to do."
Harriet left behind a legacy, not just as a pilot, but as a woman ahead of her time. Even though she was not a self-proclaimed suffragette, her independence and sense of adventure inspired many women, and helped to pave the way for other female pilots.
Timeline

1875 May 11 — Born in Arcadia, Michigan.
1900 — Moved to San Francisco, wrote articles for—'San Francisco Bulletin'.
1903 — Moved to New York City. Theatre critic for 'Leslie's Weekly Illustrated'.
1910 – Attended an air show in Belmont Park, New York to write a story aviation and became interested in flying.
1911 — Wrote five screenplays for 'Biograph Company'.
1911 August 1 — First American woman to earn pilots' license. Taught by John Moissant, Long Island, New York. Achieved a landing accuracy record of 7 feet 9 inches from the mark set for her on the field by the officials, thereby passing the requirements for her pilot's license.
1911 September — First female to make night-flight over crowd of 15,000.
1912 March — Sailed to England to make sponsored crossing of Channel.
1912 March — Journeyed to France to meet Blériot and borrow a monoplane.
1912 April 16 — First female to fly across the English Channel. Flight lasted 59 minutes, landing about 25 miles (40 km) from Calais on a beach in Hardelot-Plage, Pas-de-Calais.
1912 July 1 — Died after being ejected from monoplane in flight with organiser, William Willard, at a Boston Air show.
Harriet Quimby's Legacy
The Old Rhinebeck Aerodrome's restored and flyable Anzani-powered Blériot XI, which bears the Blériot factory's serial number 56, and the still-current registration number N60094, could be the aircraft that Quimby was flying in 1912 during the Boston Aviation Meet.
The previously wrecked aircraft that now is flown at Old Rhinebeck was found stored in a barn in Laconia, New Hampshire in the 1960s and fully restored to flying condition, most likely by Cole Palen, ORA's founder.
A 1991 United States airmail postage stamp featured Quimby. She is memorialized in two official Michigan historical markers, one in Coldwater, and one at her birthplace in Manistee County, Michigan.
In 2012 Quimby was inducted into the Long Island Air and Space Hall of Fame.
For More Information…