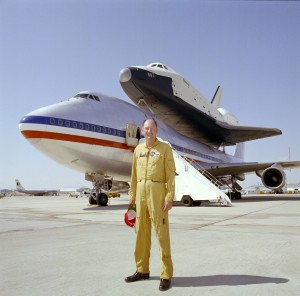 Distinguished former NASA research pilot Fitzhugh L. Fulton Jr., described by colleagues as, "The Dean of Flight Test," died Feb. 4, 2015. He was 89. During a career in the military, civil service and industry, he logged over 16,000 flying hours in more than 240 types of aircraft from the triple-sonic, titanium and composite SR-71 to the corrugated tin, prop-driven Ford Tri-motor. He piloted airplanes of all sizes, from the diminutive Cessna 210 to the behemoth C-5A.
Fulton retired from NASA in 1986 after 20 years at the agency's Flight Research Center (now Armstrong) and 23 years of Air Force service that included support of the Operation Crossroads atomic bomb tests in 1946 and more than 200 missions during the Berlin Airlift in 1948 and 1949.Following combat service in Korea and a 14-year assignment as an Air Force test pilot at Edwards Air Force Base, Fulton joined NASA on August 1, 1966. Over the next two decades he flew more than 60 different types of aircraft from sailplanes and helicopters to high-performance supersonic jet fighters and bombers. He piloted some of the world's fastest jet planes including the XB-70 and YF-12, each capable of speeds in excess of 2,000 mph and altitudes above 70,000 feet.
First space shuttle landing remembered by Fitz Fulton
Fulton was project pilot on the NB-52B mothership that launched the rocket-powered X-15 research aircraft, wingless lifting bodies and a variety of remotely piloted vehicles. While in the Air Force he had also flown the B-29 and B-50 motherships used to air-launch the X-1 and X-2 rocket planes.
He was the pilot of the Boeing 747 Shuttle Carrier Aircraft (SCA) on all captive and free-flight tests of the Space Shuttle orbiter prototype Enterprise in the 1977 Approach and Landing Test series. Fulton was twice awarded NASA's Exceptional Service Medal for flying the SCA, which he also piloted during ferry missions to return operational orbiters to Kennedy Space Center, Florida, following their return from space.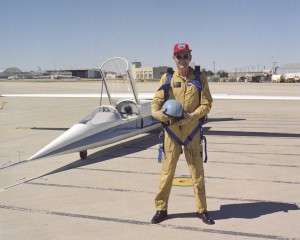 Fulton served as project pilot on a specially modified C-140 JetStar for the Laminar Flow Control Leading Edge research program. He also flew numerous research and support aircraft including the AD-1 oblique wing demonstrator, F-8 Supercritical Wing test bed, NT-33A variable stability trainer, NC-131B flying simulator, and NC-8A Quiet Short-haul Research Aircraft. With extensive experience in supersonic delta-winged jet aircraft he was also invited to fly the Anglo-French Concorde supersonic transport. During a cooperative research program between NASA and the Federal Aviation Administration, Fulton remotely piloted a heavily instrumented Boeing 720 airliner from a cockpit on the ground, guiding the plane to a controlled impact on Rogers Dry Lake to test the flammability of anti-misting jet fuel in a simulated crash situation.
He retired from NASA on July 3, 1986, for a job with Scaled Composites in Mojave, California, where he served as flight operations director and chief research pilot.
by Peter Merlin, Public Affairs
NASA Armstrong Flight Research Center
Awards