Joe Sutter, the legendary Boeing engineer who led development of the 747 jumbo jet, has died at age 95.
By Dominic Gates, Seattle Times
In a message to employees Tuesday, Boeing Commercial Airplanes Chief Executive Ray Conner said,
"This morning we lost one of the giants of aerospace and a beloved member of the Boeing family. Joe lived an amazing life and was an inspiration – not just to those of us at Boeing, but to the entire aerospace industry. He personified the ingenuity and passion for excellence that made Boeing airplanes synonymous with quality the world over."
Mr. Sutter joined Boeing on leaving the Navy after World War II.
He worked on Boeing's first jet aircraft, the 707, riding along on early demonstration flights with airline officials.
Later he did design work on Boeing's first short-haul jet, the 727. And in development of the 737, Mr. Sutter earned a patent for the way the engines were placed tightly under the wings.
Then in 1965, Mr. Sutter began a study of a new long-distance jet, the 747, with which his name will forever be closely linked.
Built to an unprecedented size, the initial model would carry two and a half times as many passengers as the 707.
As Conner noted in his message to employees, Sutter's team "became known as the Incredibles for producing what was then the world's largest airplane in record time – 29 months from conception to rollout."
"It remains a staggering achievement and a testament to Joe's 'incredible' determination," Conner wrote.
The 747 established Boeing's supremacy in international long-haul flying for more than two decades after it entered service in January 1970.
To get it into the air, Mr. Sutter fought technical and corporate battles within Boeing.
He successfully argued against the idea of basing his engineering team in California, instead of Everett, where the plane was to be assembled.
"The engineers have to be with the production people," he told executives discussing the possible move.
When development money was tight and Boeing Chairman Bill Allen requested cuts, Mr. Sutter insisted to all the top brass in a tense meeting that cutting his team of 4,500 engineers by 1,000 heads would ruin the program.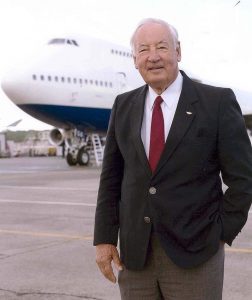 Mr. Sutter walked out of that meeting certain he would be fired, he said in an interview this spring. But he kept his job, and so did all his engineers.
He also had to win over customers, such as Juan Trippe, the head of 747 launch customer Pan Am.
To persuade Trippe to let go of his wish for a double-decker aircraft in favor of Mr. Sutter's alternative concept of a cabin interior wider than anyone had ever seen, Boeing had a plywood mock-up built that suitably impressed the airline executive.
Thus was the widebody jet born.
As recently as May, Mr. Sutter was going to his office at Boeing Commercial Airplane headquarters in Longacres once a week and was still an able salesman for the giant airplane he created.
That month, the president of Russian air-cargo company Volga-Dnepr, Alexey Isaikin, visited Boeing in Seattle during sales negotiations and specifically requested dinner with Mr. Sutter.
That pilgrimage surely played a part in Isaikin's sealing the deal that allowed Boeing to announce at the Farnborough Air Show in July that Volga-Dnepr would firm up an order for sixteen 747-8 freighter jets.
Boeing 747 "Queen of the Skies" Interview with Joe Sutter
Joe Sutter "Father of 747" Interview after 747-8F First Flight and Landing